Russian Lawyer In Trump Tower Meeting Admits She's A Russian Informant
The lawyer who met with President Trump's oldest son and other top Trump campaign officials is now admitting that she is a Russian informant.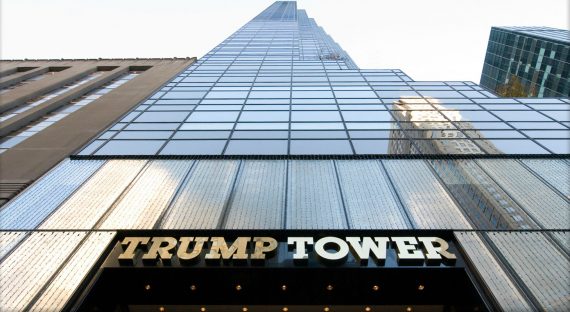 Late yesterday, The New York Times reported that the Russian lawyer at the center of a June 2016 meeting with top Trump campaign advisers including Donald Trump Jr., Paul Manafort, and Jared Kushner, is now saying that she was, and apparently still is, an informant for the Russian Government:
MOSCOW — The Russian lawyer who met with Trump campaign officials in Trump Tower in June 2016 on the premise that she would deliver damaging information about Hillary Clinton has long insisted she is a private attorney, not a Kremlin operative trying to meddle in the presidential election.

But newly released emails show that in at least one instance two years earlier, the lawyer, Natalia V. Veselnitskaya, worked hand in glove with Russia's chief legal office to thwart a Justice Department civil fraud case against a well-connected Russian firm.

Ms. Veselnitskaya also appears to have recanted her earlier denials of Russian government ties. During an interview to be broadcast Friday by NBC News, she acknowledged that she was not merely a private lawyer but a source of information for a top Kremlin official, Yuri Y. Chaika, the prosecutor general.

"I am a lawyer, and I am an informant," she said. "Since 2013, I have been actively communicating with the office of the Russian prosecutor general."

The previously undisclosed details about Ms. Veselnitskaya rekindle questions about who she was representing when she met with Donald Trump Jr., Jared Kushner, Paul Manafort and others at Trump Tower in Manhattan during the campaign. The meeting, one focus of the special counsel investigation into Russia's election interference, was organized after an intermediary promised that Ms. Veselnitskaya would deliver documents that would incriminate Mrs. Clinton.

Ms. Veselnitskaya had long insisted that she met the president's son, son-in-law and campaign chairman in a private capacity, not as a representative of the Russian government.

"I operate independently of any governmental bodies," she wrote in a November statement to the Senate Judiciary Committee. "I have no relationship with Mr. Chaika, his representatives and his institutions other than those related to my professional functions as a lawyer."

But that claim had already been undercut last fall by revelations that her talking points for the Trump Tower meeting — detailing tax and financial fraud accusations against two Democratic Party donors tied to a Kremlin opponent — matched those in a confidential memorandum circulated by Mr. Chaika's office.

And a sheaf of Ms. Veselnitskaya's email correspondence released Friday appeared to show that her relationship with Mr. Chaika's office is far closer than she has described.

The emails were obtained by Dossier, an organization set up by Mikhail B. Khodorkovsky, a former tycoon who was stripped of his oil holdings, imprisoned and then exiled from his native Russia. He has emerged as a leading opponent of President Vladimir V. Putin of Russia.

Shown copies of the emails by Richard Engel of NBC News, Ms. Veselnitskaya acknowledged that "many things included here are from my documents, my personal documents." She told the Russian news agency Interfax on Wednesday that her email accounts were hacked this year by people determined to discredit her, and that she would report the hack to Russian authorities.

The Russian prosecutor general's office did not respond to requests for comment. In an email, Ms. Veselnitskaya said she would respond in two weeks.
This revelation is hardly a surprise, of course, it has long been assumed that Veselnitskaya had some ties to the Russian government and to oligarchs close to Russian President Vladimir Putin. Some reports have indicated that these ties may have been known to Trump Jr., Manafort, and Kushner at the time they agreed to hold the meeting on the eve of the Republican National Convention at which Trump would be formally nominated as the Republican candidate for President, or at least that the contact who put them in touch with Veselnitskaya initially was aware of these ties. Whatever the truth of that speculation might be, though, the fact that Veselnitskaya is now admitting that she had ties to Russian government officials is only likely to increase the obvious interest that the investigators under Special Counsel Robert Mueller have shown in this meeting and the intentions behind it on behalf of all the parties involved.
This story began, of course, with the initial New York Times report about the meeting in June 2016 that included Donald Trump Jr., Jared Kushner, and Paul Manafort, who was Trump's campaign manager at the time as well as Veselnitskaya. That meeting was scheduled after Trump Jr. and others in the campaign were told that Veselnitskaya had access to damaging information about Hillary Clinton. When the reports initially dropped, both Trump Jr. and the White House claimed that the purpose of the meeting was to discuss the issue of the adoption of Russian orphans by American couples and other issues unrelated to the campaign. This claim was most prominently made in the statement that was drafted in response to those initial reports. It later became clear, of course, that this statement was false, and that Trump Jr. and the other campaign officials went into the meeting believing that they were going to be told something about damaging information about Clinton. This was made clear just days later when Trump Jr. released a string of emails between himself and other campaign officials regarding the meeting. Those emails made it clear that the purported purpose of the meeting was based on the claim that the Kremlin-linked lawyer could deliver allegedly damaging information about Hillary Clinton. Later, Veselnitskaya said in interviews that Trump Jr. offered a quid pro quo in exchange for information about Clinton. In one of those emails, Trump Jr. responded "That's great" when informed that the lawyer had access to damaging information about Clinton and the Democrats. In other words, the initial explanation for the meeting provided by the White House was a fabrication. This is significant because we learned soon after news of the meeting broke that the President himself participated in drafting that initial statement on the way home from a trip to Europe on Air Force One. On its surface, that statement seemed questionable since it didn't make sense that three of Trump's closest campaign advisers would take a meeting on such an esoteric topic. The fact that we now know it was false makes the President's involvement in what may constitute an attempted cover-up extremely significant. Adding to all of this the fact that we now know that Veselnitskaya is a Russian agent of some kind makes this meeting all the more interesting and the White House response to the reports about it that came out last year all the more interesting.