That Donald Trump Jr. Meeting Is Looking More And More Like Collusion
The revelations about Donald Trump Jr.'s June 2016 meeting with someone represented as being a Russian government official just keep getting worse.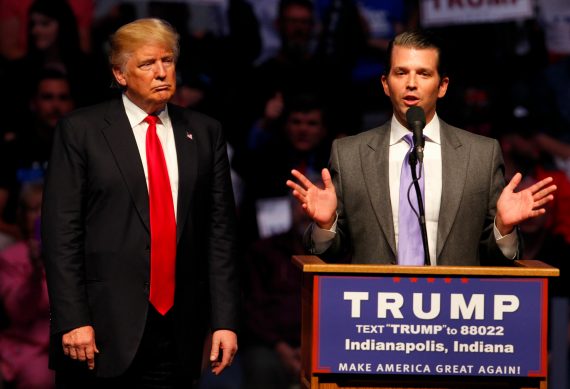 Donald Trump Jr. spent a good part of this morning digging further down into the hole that he has fallen into given the recent revelations regarding his June 2016 meeting with a lawyer purporting to have ties to the Russian Government and information damaging to Hillary Clinton, which Steven Taylor has previously detailed in posts that can be found here, here, and here. Today, in a series of tweets, the younger Trump posted for all the world to see the email chain that led up to that meeting, and it only adds to the questions that have been generated about him over the past several days:
The June 3, 2016, email sent to Donald Trump Jr. could hardly have been more explicit: One of his father's former Russian business partners had been contacted by a senior Russian government official and was offering to provide the Trump campaign with dirt on Hillary Clinton.

The documents "would incriminate Hillary and her dealings with Russia and would be very useful to your father," read the email, written by a trusted intermediary, who added, "This is obviously very high level and sensitive information but is part of Russia and its government's support for Mr. Trump."

If the future president's elder son was surprised or disturbed by the provenance of the promised material — or the notion that it was part of a continuing effort by the Russian government to aid his father's campaign — he gave no indication.

He replied within minutes: "If it's what you say I love it especially later in the summer."

Four days later, after a flurry of emails, the intermediary wrote back, proposing a meeting in New York on Thursday with a "Russian government attorney."

Donald Trump Jr. agreed, adding that he would most likely bring along "Paul Manafort (campaign boss)" and "my brother-in-law," Jared Kushner, now one of the president's closest White House advisers.

On June 9, the Russian lawyer was sitting in the younger Mr. Trump's office on the 25th floor of Trump Tower, just one level below the office of the future president.

Over the last several days, The New York Times has disclosed the existence of the meeting, whom it involved and what it was about. The story has unfolded as The Times has been able to confirm details of the meetings.

But the email exchanges, which were reviewed by The Times, offer a detailed unspooling of how the meeting with the Kremlin-connected Russian lawyer, Natalia Veselnitskaya, came about — and just how eager Donald Trump Jr. was to accept what he was explicitly told was the Russian government's help.

The Justice Department, as well as the House and Senate Intelligence Committees, is examining whether any of President Trump's associates colluded with the Russian government to disrupt last year's election. American intelligence agencies have determined that the Russian government tried to sway the election in favor of Mr. Trump.

The precise nature of the promised damaging information about Mrs. Clinton is unclear, and there is no evidence to suggest that it was related to Russian-government computer hacking that led to the release of thousands of Democratic National Committee emails. But in recent days, accounts by some of the central organizers of the meeting, including Donald Trump Jr., have evolved or have been contradicted by the written email records.

After being told that The Times was about to publish the content of the emails, instead of responding to a request for comment, Donald Trump Jr. tweeted out images of them himself on Tuesday.

"To everyone, in order to be totally transparent, I am releasing the entire email chain of my emails" about the June 9 meeting, he wrote. "I first wanted to just have a phone call but when that didn't work out, they said the woman would be in New York and asked if I would meet."

He added that nothing came of it.

On Monday, Donald Trump Jr. said on Twitter that it was hardly unusual to take information on an opponent. And on Tuesday morning, he tweeted, "Media & Dems are extremely invested in the Russia story. If this nonsense meeting is all they have after a yr, I understand the desperation!"
Here are the relevant Tweets from Trump Jr.'s account, including a statement and the attached email chain:
Here's my statement and the full email chain pic.twitter.com/x050r5n5LQ

— Donald Trump Jr. (@DonaldJTrumpJr) July 11, 2017
Here is page 4 (which did not post due to space constraints). pic.twitter.com/z1Xi4nr2gq

— Donald Trump Jr. (@DonaldJTrumpJr) July 11, 2017
The New York Times goes on to summarize the chain:
The initial email outreach came from Rob Goldstone, a British-born former tabloid reporter and entertainment publicist who first met the future president when the Trump Organization was trying to do business in Russia.

In the June 3 email, Mr. Goldstone told Donald J. Trump Jr. that he was writing on behalf of a mutual friend, one of Russia's biggest pop music stars, Emin Agalarov. Emin, who professionally uses his first name only, is the son of Aras Agalarov, a real estate tycoon sometimes called the "Donald Trump of Russia."

The elder Agalarov boasts close ties to President Vladimir V. Putin of Russia: his company has won several large state building contracts, and Mr. Putin awarded him the "Order of Honor of the Russian Federation."

Mr. Agalarov joined with the elder Mr. Trump to bring the Miss Universe contest to Moscow in 2013, and the Trump and Agalarov families grew relatively close.

When Emin released a music video with a theme borrowed from the television show, The Apprentice, Mr. Trump, then the show's star, made a cameo appearance, delivering his trademark line: "You're fired!" The elder Mr. Agalarov had also partnered with the Trumps to build a Trump hotel in Moscow, but the deal never came to fruition.

"Emin just called and asked me to contact you with something very interesting," Mr. Goldstone wrote in the email. "The Crown prosecutor of Russia met with his father Aras this morning and in their meeting offered to provide the Trump campaign with some official documents and information that would incriminate Hillary and her dealings with Russia and would be very useful to your father."

He added, "What do you think is the best way to handle this information and would you be able to speak to Emin about it directly?"'

There is no such title as Crown Prosecutor in Russia – the Crown Prosecution Service is a British term – but the equivalent in Russia is the Prosecutor General of Russia.

That office is held by Yury Yakovlevich Chaika, a Putin appointee who is known to be close to Ms. Veselnitskaya.

After sending back his "love it" reply, Donald Trump Jr. arranged to speak with Emin, sending along his private cellphone number on June 6.

"Ok he's on stage in Moscow but should be off within 20 Minutes so I'm sure can call," Mr. Goldstone wrote at 3:43 p.m.

Within the hour, Donald Trump Jr. had responded

"Rob thanks for the help. D"

The following day, Mr. Goldstone followed up:

"Don Hope all is well Emin asked that I schedule a meeting with you and The Russian government attorney who is flying over from Moscow for this Thursday. I believe you are aware of this meeting – and so wondered if 3pm or later on Thursday works for you?"
As has been the case with other aspects of this story, the extent to which the younger Trump's admissions regarding his contacts with the Russian government or those who may have been reacting on its behalf has changed significantly as more information has been revealed. Back in March, Trump Jr. was denying that he had been involved in any such meeting and dismissed reports to the contrary that, at the time, could not be corroborated. When the current series of reports about the June 2016 meeting first became public on Saturday, he said that the subject matter of the meeting was regarding the issue of the adoption of Russian orphans by American citizens, something that has been a point of controversy between the U.S. and Russia for several years now. On Sunday, in response to additional reporting from the New York Times and other news sources, the younger Trump essentially admit that he met with the attorney in question after being told that she had information that could prove damaging to Hillary Clinton. Today, he essentially admitted that he agreed to this meeting even after being told, or at least led to believe, that the person he was meeting someone who was represented as being a Russian government and that they had information directly from the government designed to help the Trump campaign defeat Clinton in the General Election. The prospect of having access to that information was apparently so appealing to the Trump campaign, that Trump Jr. was joined at this meeting Paul Manafort, who was still serving as Campaign Manager at the time, and by Jared Kushner, Trump's son-in-law and someone who, along with his wife and Trump daughter Ivanka, has become one of President Trump's closest advisers in the White House.
As it turned out, the attorney that Trump Jr. and the others met with had no relevant information at all, and the emails themselves don't provide the kind of direct evidence of collusion between the campaign and Russian officials that would constitute a 'smoking gun' in this case. At the same time, though, the chain of emails, and the fact that the meeting took place at all is certainly evidence that the campaign was open to the idea of working with a foreign government whose interests are plainly adverse to those of the United States in an attempt to influence an American election. That fact alone is likely to mean that these revelations will ultimately lead to a significant expansion of the investigations being conducted by the House and Senate Intelligence Committees and by special counsel Robert Mueller, who has been quietly hiring a fairly well-experienced stable of lawyers and investigators to assist him in what is becoming an investigation that seems as though it will last for quite a long time and continue to chip away at the White House and the Republican Party's ability to get anything done in Congress.
The White House response to all of this so far has amounted to an effort to distance the President from all these reports. While there hasn't been a live on-camera press briefing for a week, Deputy Press Secretary Sarah Huckabee Sanders has told reporters that the President didn't even know this meeting took place until the reports started coming out this week. Given the fact that the people who attended the meeting included his campaign manager, his son, and his son-in-law, though, the idea that he was completely unaware of what was happening seems bizarre to say the least. Perhaps it will turn out that this is true and that Trump Jr., Manafort, and Kushner were doing this on their own without consulting the candidate. As things stand right now, that's an explanation that simply defies credulity.
Whatever the truth is, though, this much is clear. Once again, we have a series of revelations regarding the Trump campaign that show that top officials in that campaign went to a meeting with someone represented to them as being a representative of the Russian government who had damaging information about the Democratic nominee for President. At the very least, it shows that they were open to the idea of colluding with a foreign government to influence an American election. If that doesn't convince even the most diehard Republcian that there is something very wrong going on with this White House, I'm not sure what will.
Here are the emails in question as tweeted by Trump Jr. They are in reverse chronological order:
Donald Trump Jr. Emails Regarding June 2016 Meeting by Doug Mataconis on Scribd