Yet Another Russia Meeting from the Campaign
Add another example of an undisclosed Russia-linked meeting and Team Trump.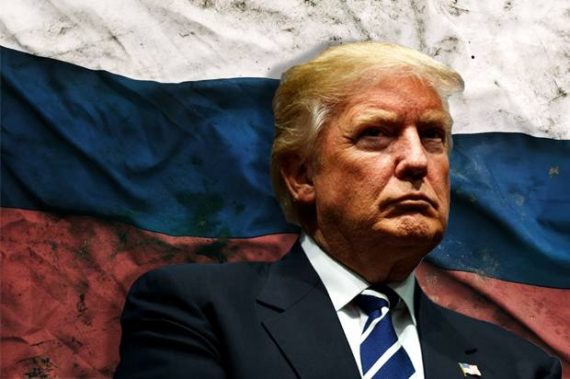 Via the NYT:  Trump Team Met With Lawyer Linked to Kremlin During Campaign
Two weeks after Donald J. Trump clinched the Republican presidential nomination last year, his eldest son arranged a meeting at Trump Tower in Manhattan with a Russian lawyer who has connections to the Kremlin, according to confidential government records described to The New York Times.

The previously unreported meeting was also attended by Mr. Trump's campaign chairman at the time, Paul J. Manafort, as well as the president's son-in-law, Jared Kushner, according to interviews and the documents, which were outlined by people familiar with them.

While President Trump has been dogged by revelations of undisclosed meetings between his associates and Russians, this episode at Trump Tower on June 9, 2016, is the first confirmed private meeting between a Russian national and members of Mr. Trump's inner circle during the campaign. It is also the first time that his son Donald Trump Jr. is known to have been involved in such a meeting.

Representatives of Donald Trump Jr. and Mr. Kushner confirmed the meeting after The Times approached them with information about it. In a statement, Donald Jr. described the meeting as primarily about an adoption program. The statement did not address whether the presidential campaign was discussed.
So, here we have a meeting with three members of the Trump inner circle during the campaign.  The purpose of the meeting was ostensibly adoption policy, although even if that was the case, it is less innocent than it sounds:
The Russian lawyer invited to the Trump Tower meeting, Natalia Veselnitskaya, is best known for mounting a multipronged attack against the Magnitsky Act, an American law that blacklists suspected Russian human rights abusers. The law so enraged Mr. Putin that he retaliated by halting American adoptions of Russian children.

The adoption impasse is a frequently used talking point for opponents of the Magnitsky Act. Ms. Veselnitskaya's campaign against the law has also included attempts to discredit its namesake, Sergei L. Magnitsky, a lawyer and auditor who died in mysterious circumstances in a Russian prison in 2009 after exposing one of the biggest corruption scandals during Mr. Putin's rule.
In other words, at a minimum the Russian in question was likely lobbying against a law aimed at stopping human trafficking.
A spokesperson for Trump's attorney suggests that the meeting was a setup:
Late Saturday, Mark Corallo, a spokesman for the president's lawyer, issued a statement implying that the meeting was a setup. Ms. Veselnitskaya and the translator who accompanied her to the meeting "misrepresented who they were," it said.
This may well have been the case, although I would note that it would not have been difficult for the Trump campaign to determine who Ms. Veselnitskaya was and what her past record had been.  At a minimum, taking the meeting was not a very good idea from a PR point of view.  Or, worse, it would show a lack of regard for serious human rights issues.  Even if a Trump administration wanted to address the adoption issue (which is unlikely, as that suggest thinking about public policy), this would not be the way to do it.
The fact of this meeting is also evidence that it is extremely hard (yes, an understatement) to trust any statements made by Team Trump regarding Russian contacts, since this revelation contradicts previous statements made by Donald Trump, Jr.:
Donald Trump Jr. had denied participating in any campaign-related meetings with Russian nationals when he was interviewed by The Times in March. "Did I meet with people that were Russian? I'm sure, I'm sure I did," he said. "But none that were set up. None that I can think of at the moment. And certainly none that I was representing the campaign in any way, shape or form."
I suppose the weasel-words "campaign related" could be seen as coverage, but, quite frankly, any meeting with foreign officials that had even a tinge of policy to it was a "campaign related" meeting.  Really, any meeting of any kind with a team of persons linked to the presumptive nominee of one of the major parties is, pretty much by definition, "campaign related."  Beyond that, this was clearly a meeting that was "set up."  The collective amnesia (see, e.g., AG Sessions) of members of the Trump team on the matter of Russia-linked meetings is pretty astounding.
At this point I think that it is wholly possible that no one on the Trump team engaged in conscious collusion with the Russian (although it seems also quite plausible that they did). However, at a minimum it is clear to me that members of the Trump team were, at best, "useful idiots" beguiled into unconscious collusion by Russian contacts  who were able to exploit these political amateurs who were likely easily beguiled by having their egos stroked.