Russian Lawyer Alleges Donald Trump, Jr. Offered Quid Pro Quo For Information On Clinton
Yet more evidence of potential collusion between Trump campaign officials and Russians.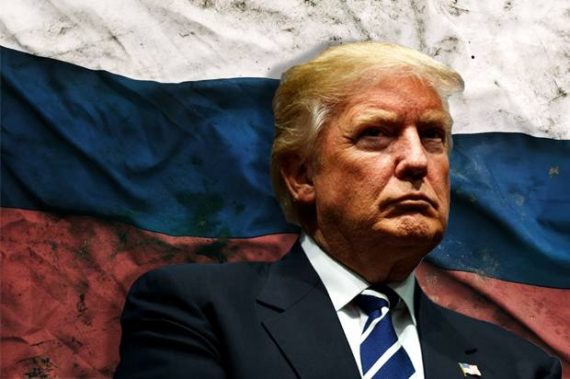 The Kremlin linked Russian lawyer who was the subject of the summer 2016 meeting attended by Donald Trump, Jr., Paul Manafort, and Jared Kushner is saying in a new interview that the President's eldest son offered to ease sanctions on Russia in exchange for information on Hillary Clinton:
Safely ensconced in Moscow, the Russian lawyer with Kremlin ties who met with three top Trump campaign figures at Trump Tower last summer is now offering her own version of what went down at the private meeting that has become a central focus of Special Counsel Robert Mueller's investigation.

In an interview with Bloomberg published Monday, attorney Natalia Veselnitskaya claims that Donald Trump Jr. suggested that a law imposing sanctions on high-profile Russians could be reviewed if his father was elected and also requested written evidence for her allegations about Hillary Clinton's campaign receiving illicit funds.

Veselnitskaya told Bloomberg she is prepared to provide this account to the Senate Judiciary Committee as well as to special counsel Robert Mueller. She said that she would only testify before Congress if her answers were made public—a condition that the committee has not yet agreed to.

This is the first time Veselnitskaya has offered details of her version of the June 2016 sit-down at Trump Tower. Her willingness to testify highlights the precarious position of Trump Jr., Trump son-in-law Jared Kushner, and former Trump campaign chairman Paul Manafort, who were all in attendance at the meeting, which didn't become public until after Trump took office. The eldest Trump son eagerly accepted an invitation to the meeting, which was billed as an opportunity to receive Russian government "dirt" on Clinton.

Though both Veselnitskaya and the Trump campaign have said the encounter was a bust and that she possessed no valuable information about the Democratic candidate, Mueller is investigating their exchange as part of his probe into possible collusion between the Trump campaign and Russia.

Alan Futerfas, Trump Jr.'s attorney, told Bloomberg that his client had no comment on the interview.

As Veselnitskaya recalled, Trump Jr. offered to review the 2012 Magnitsky Act, which imposed sanctions on a group of Russian officials implicated in the murder of a Russian accountant who exposed widespread government tax fraud. The law is a particular irritant to Russian President Vladimir Putin, who retaliated against its passage by barring Americans from adopting Russian children.

"Looking ahead, if we come to power, we can return to this issue and think what to do about it," Veselnitskaya told Bloomberg, allegedly quoting Trump Jr
Obviously, Veselnitskaya's allegations should be taken with a grain of salt at the very least. Given her ties to the Kremlin and the fact that this interview took place in Moscow, it's entirely possible that she's not telling the truth, or even that she's part of ongoing Kremlin efforts to thread chaos and uncertainty into both the investigation into Russian meddling in the 2016 election and American politics in general. It is worth noting, though, that these allegations are consistent with other reporting about the June 2016 between Veselnitskaya and Trump Jr., Kushner, and Manafort. While both Trump Jr. and the Trump White House initially claimed the purpose of the meeting was to discuss the state of the law regarding American adopting of Russian orphans. This was the claim made in a statement released after the initial reports about the meeting that we know now the President himself participated in drafting on the way home from a trip to Europe on Air Force One. On its surface, that statement seemed questionable since it didn't make sense that three of Trump's closest campaign advisers would take a meeting on such an esoteric topic. However, that statement quickly proved to be untrue after Trump Jr. released a string of emails between himself and other campaign officials regarding the meeting. Those emails made it clear that the purported purpose of the meeting was based on the claim that the Kremlin-linked lawyer could deliver allegedly damaging information about Hillary Clinton. Veselnitskaya's allegations, if true, make it clear that this was the only reason Trump Jr. and the others were meeting with her.
If these allegations are true then the would constitute the clearest evidence yet that the Trump campaign was willing to take any steps necessary to uncover dirt about Hillary Clinton, even if it meant secretly colluding with the chief geopolitical rival of the United States. It would also even further undermine Trump Administration claims that there was no collusion or attempted collusion with Russians in connection with Russian officials and officials with connections to the Russian government. Of course, this fact has become increasingly clear in the wake of things such as the guilty plea of Trump campaign foreign policy adviser George Papadopoulos, the news that has come out in the wake of that guilty plea, and the dealings that other campaign officials such as Carter Page reportedly had with Russians while they were working on the campaign. At the very least, all of this demonstrates that the Trump campaign and Administration's continued denials are ringing more hollow by the day, and that there is obviously something here that needs to be investigated further.