Rudy Giuliani Joining Trump Legal Team
Rudy Giuliani is joining President Trump's legal team but it's unclear what he actually brings to that team.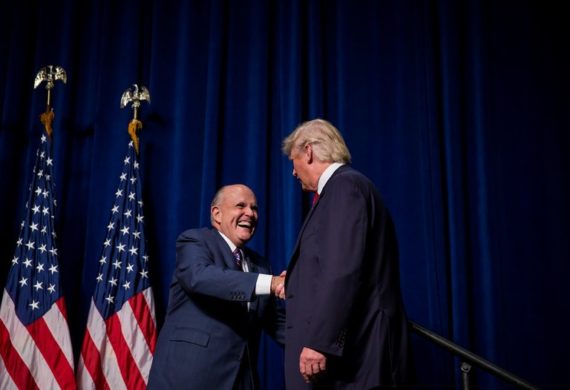 Former New York City Mayor Rudy Giuliani, who has been a supporter of the President's dating back to the early days of the Presidential campaign, will be joining the legal team representing President Trump in connection with the Russia investigation:
Rudolph W. Giuliani, the former New York City mayor and longtime friend of President Trump, will join the president's legal team in an effort to "quickly" resolve the special counsel investigation into Russian election interference and possible ties to Trump associates.

Mr. Trump will also bring on Jane Serene Raskin and Martin R. Raskin, former federal prosecutors based in Florida, according to Mr. Trump's lawyer Jay Sekulow. Mr. Giuliani is himself a former federal prosecutor.

"The president said: 'Rudy is great. He has been my friend for a long time and wants to get this matter quickly resolved for the good of the country,'" Mr. Sekulow said in a statement.

The three new lawyers give Mr. Trump a broader legal stable to rely on as he faces not just the special counsel, Robert S. Mueller III, but the threat of an investigation by federal prosecutors in Manhattan into the president's longtime personal lawyer and fixer, Michael D. Cohen. Federal agents raided Mr. Cohen's office and hotel room last week.

Mr. Trump has a difficult time retaining top-flight lawyers as the inquiries have increasingly unsettled him, and he has angrily chafed against his lawyers' legal strategies.

Mr. Trump and his associates believe the issues in New York pose a far greater challenge to the president than even Mr. Mueller's investigation. They do not know what was taken from Mr. Cohen's office, and it is not clear what exactly investigators are looking into. But the fact that the authorities were able to get a federal judge to give them permission to raid Mr. Cohen's office and residences has led Mr. Trump and his associates to believe the government possesses some evidence of wrongdoing by Mr. Cohen.

In hiring Mr. Giuliani, Mr. Trump has turned to someone who is a reliable, loyal surrogate and an attack dog on television. Mr. Giuliani is a former top official at the Justice Department and served as the United States attorney in Manhattan. But at age 73 he is no longer known as a powerhouse white-collar litigator and in recent years has been more active as a worldwide consultant.

One person close to Mr. Trump said the Raskins will be the longer-term and more durable additions to the team. Mr. Giuliani, by contrast, is coming on board as a short-timer not only to appear on television but also to see if he can use his decades-long ties with Mr. Mueller to re-establish a working relationship with the special counsel's team. The relationship between the president's lawyers and Mr. Mueller's team blew up after agents raided Mr. Cohen.

Mr. Giuliani's main focus will be on bringing an end to Mr. Mueller's investigation into whether Mr. Trump obstructed justice and links between his campaign and Russia. As part of those efforts, Mr. Giuliani will take the lead dealing with Mr. Mueller's office on an interview with Mr. Trump. The president and his lawyers do not believe Mr. Trump has any real legal exposure but are wary of the interview.

At the same time, though, they have determined that for Mr. Mueller to complete his inquiry in a timely manner, Mr. Trump will need to sit down for questioning. Mr. Giuliani plans to try to work with Mr. Mueller to come up with a way to question Mr. Trump that both sides are comfortable with.

The addition of Mr. Giuliani comes at a particularly tumultuous time for the president. Last month the president's lead lawyer, John Dowd, quit the team after he determined the president was not following his advice. For much of the past month, the team has been led by Mr. Sekulow, who has had to assemble a new group of lawyers to deal with the issues in New York and another team to confront Mr. Mueller.

At the same time, Mr. Mueller has been pressuring Mr. Trump to sit down for an interview. The president, who initially said he was eager to answer Mr. Mueller's questions under oath, is said to be more skeptical of an interview in the wake of the raid on Mr. Cohen's office.

(…)

Mr. Giuliani will be taking a leave of absence from his law firm, Greenberg Traurig, while he works for Mr. Trump. Three people close to the former mayor said that Greenberg Traurig lawyers were distressed that Mr. Giuliani was taking on the new role. Many at the firm were already uncomfortable with Mr. Giuliani's work for the Trump campaign, his outspoken opinions and his role in helping to write the president's first travel ban that affected mostly Muslim countries.

James B. Comey, the F.B.I. director Mr. Trump fired, is critical of Mr. Giuliani in his new book, "A Higher Loyalty: Truth, Lies, and Leadership." (Mr. Giuliani was Mr. Comey's boss when Mr. Comey went to work for the United States attorney's office in Manhattan in 1987.)

"Though Giuliani's confidence was exciting, it fed an imperial style that severely narrowed the circle of people with whom he interacted, something I didn't realize was dangerous until much later: a leader needs the truth, but an emperor does not consistently hear it from his underlings," Mr. Comey wrote.
As noted, Giuliani's joining the team comes at a time when the President has seen significant turnover in the legal team representing him in connection with the Mueller investigation. Last month, John Dowd, who had been the main point of contact between Trump and the Special Counsel's office left his position amid disputes about the direction that the team's representation of the President of the investigation. Shortly after that, it was reported that Ted Olsen, one of the most preeminent lawyers in Washington, had turned down an invitation to join the team after being courted for what seemed as though it would be a role similar to the one Giuliani is taking on now. Around the same time, it was announced that Joseph DiGenova, who has been a vocal defender of the President's on television for some time, including pushing implausible conspiracy theories, and his wife Victoria Toensing would be joining the team but that ultimately fell through. Additionally, it was reported that several top-flight Republican lawyers were declining to join the team, leaving Jay Sekulow, an attorney who has no real experience in Federal criminal matters, as the main legal representative of the President aside from Ty Cobb, who is actually employed by the White House.
In any case, the choice of Rudy Giuliani to join the team is a curious one at best, at least from a legal point of view. Notwithstanding the fact that he served as United States Attorney in New York City, it's unclear what legal skills he brings to the team that could not be found in someone else. Perhaps his main asset are his long-standing ties to the Justice Department which could prove useful in negotiations with the Special Counsel Mueller's office and, potentially, with the U.S. Attorney's Office for the Southern District of New York, which just happens to be the position that he held before being elected Mayor of New York City. Additionally, he has been a vocal defender of the President on television, a role he'll no doubt continue in now that he's on the team officially. From a legal perspective, though, I don't see any particular value he has that will have a real impact on the outcome of the investigation.
For his part, Giuliani is saying that he's joining the legal team to negotiate an end to Mueller's investigation:
Giuliani, who spoke to CNN on the phone soon after news broke about his role, was careful to praise Trump's current legal team, but he said that sometimes it helps to bring on a fresh perspective.

Giuliani also noted that he has known Mueller for a long time. They worked together in the Justice Department as well as when Mueller was FBI director and Giuliani was New York's mayor.

Giuliani said he is going to get a list from Mueller of what is needed to "comply" with the rest of the investigation as soon as he can, and depending on what is on the list, that compliance might go quickly, even as soon as "a couple of weeks."

Giuliani pushed back on the idea that Trump ever had any intention of firing Mueller. He said the President never gave him any indication he was considering such a move because he knows it would be "counterproductive." Dismissing Mueller would mean the investigation would take longer,

Giuliani said, adding that "Bob is the best we can do" and saying he is fair.

(…)

A source familiar said part of the reason for Giuliani joining the team was the departure of Dowd.

"John Dowd left abruptly and put Sekulow in a hole. He needs white-collar support," the source said.
The idea that Giuliani, or anyone else, can negotiate an end to Mueller's investigation at any point prior to the time that Mueller himself believes it has been complete is utterly silly. While his prior relationship with Mueller and other Justice Department insiders may make negotiations with Trump's team go more smoothly, the idea that Rudy is just going to walk in there and get Mueller to bring the investigation to a close is simply false and, if he means it, rather naive wishful thinking. In any event, we'll see what happens I suppose.