Michael Cohen Heads To Capitol Hill
Donald Trump's former lawyer begins three days of testimony before Congress today. By the time he's done, he could end up doing real damage to the Trump Presidency.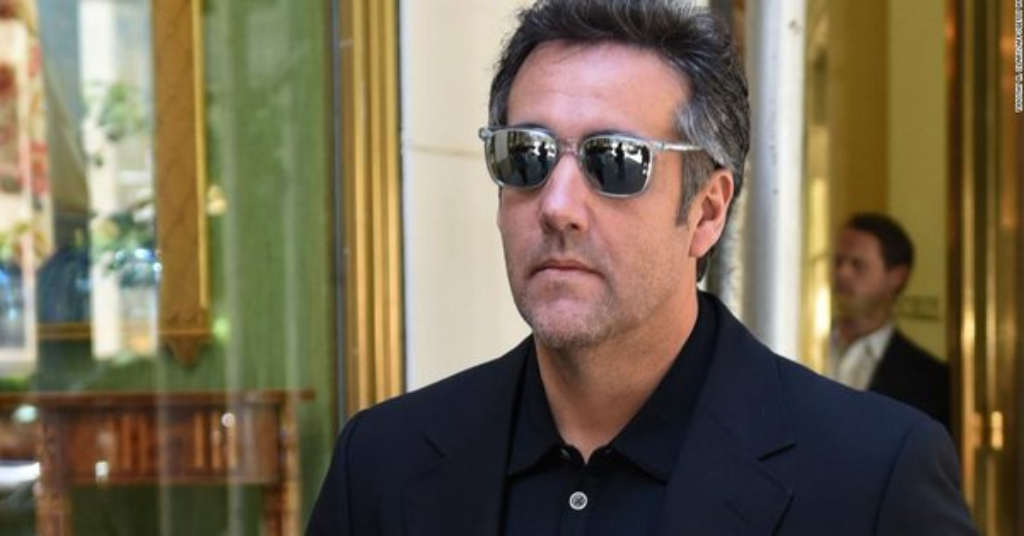 Michael Cohen, Donald Trump's former personal lawyer and "fixer" begins three days of testimony on Capitol Hill today, much of it behind closed doors, and it appears that he's going to have a lot to say about the President:
WASHINGTON — Michael D. Cohen, President Trump's former personal lawyer and fixer, is planning on portraying his onetime client in starkly negative terms when he testifies Wednesday before a House committee, and on describing what he says was Mr. Trump's use of racist language, lies about his wealth and possible criminal conduct.

Mr. Cohen's plans were laid out in broad strokes by a person familiar with what he intends to say in his testimony. And they indicate that Mr. Cohen will use documents and his personal experiences to support his statements.

A White House spokesman did not immediately respond to a request for comment.

Mr. Trump and his allies have been preparing for days for Mr. Cohen's testimony, which will take place over several hours while the president is in Vietnam for a summit meeting with the North Korean leader, Kim Jong-un. The president's aides have been anxious about the effect that the testimony might have on him.

They anticipate, though, that Republican allies on the House Committee on Oversight and Reform will aggressively question Mr. Cohen's credibility, trying to paint him as a liar and accusing him of fabricating stories to help his cause.

Lanny J. Davis, a lawyer and adviser to Mr. Cohen, declined to discuss details of Mr. Cohen's testimony, saying only that Mr. Cohen "worked very hard on this moment to not only tell the truth, but to back it up with documents." Mr. Davis said Mr. Cohen's response to questions about his truthfulness will be "I take full responsibility, I lied in the past; now you have to decide if I'm telling the truth."

The testimony provides Mr. Cohen with the opportunity to tell his story under penalty of perjury before an audience of millions of people, about two months before he is scheduled to report to prison.

Among the most explosive and potentially damning aspects of Mr. Cohen's testimony will be providing evidence of potential criminal conduct since Mr. Trump became president, according to the person familiar with the plans.

That potential conduct stems from reimbursements that were made to Mr. Cohen in 2017 for hush money payments that he made to Stormy Daniels, a pornographic film actress. In October 2016, during the height of the presidential campaign, Mr. Cohen paid Ms. Daniels $130,000 to keep quiet about her claims of a previous affair with Mr. Trump.

Mr. Cohen will describe in what was called "granular detail" the plan to pay Ms. Daniels, which he will say was initiated by Mr. Trump, the person familiar with the testimony plans said. Mr. Cohen has pleaded guilty to a federal campaign finance-related charge in connection with that payment. Prosecutors have implicated Mr. Trump, identifying him as "Individual 1," in connection with that charge in documents filed in the case.

He will also discuss how long Mr. Trump continued to ask about plans for a Trump Tower project in Moscow after the Iowa caucuses had taken place in February 2016. Mr. Cohen pleaded guilty last November to lying to Congress in testimony in 2017 about the duration of time over which the Moscow project discussions took place.

Mr. Cohen was paid $35,000 a month under what was described by Mr. Trump's lawyer, Rudolph W. Giuliani, as a retainer agreement, some of which was a reimbursement for the payment to Ms. Daniels. There was never a retainer agreement signed between Mr. Cohen and Mr. Trump or the Trump Organization, the person familiar with the payments said.

The person briefed on Mr. Cohen's plans said he is planning to bring documents that will illustrate his claims. The person familiar with the plans indicated that Mr. Cohen will present other documents beyond the financial statements, but the person did not specify what those might be. The documents will be shared in a way for the viewing public to see them, the person said.
More from The Washington Post:
President Trump's former lawyer and fixer Michael Cohen returns this week to Capitol Hill, where he is expected to deliver specific and scathing testimony about his former boss's business interests in Russia and a scheme to buy the silence of adult film actress Stormy Daniels before the 2016 election.

According to a person familiar with his planned testimony, Cohen intends to paint Trump as a liar, a cheater and a racist during interviews with three congressional committees, two of which will take place behind closed doors. He is expected to share anecdotes about Trump's behavior — Daniels alleged she had an affair with Trump years ago, a claim the president denies — as well as his financial dealings, the person said. The person spoke on the condition of anonymity because they were not authorized to describe Cohen's expected testimony.

Lawmakers are likely to ask Cohen to explain his knowledge of a possible Trump Tower project in Moscow — the details of which he previously misrepresented to Congress, precipitating his guilty plea in federal court late last year. He was sentenced to three years in prison for those lies, along with financial crimes, and is scheduled to begin serving his time in May.

Per an agreement with the panels, Cohen will address topics related to Russia only in private.

Cohen's highly anticipated appearances begin Tuesday with a closed-door interview before the Senate Intelligence Committee. He is scheduled to testify publicly on Wednesday before the House Committee on Oversight and Reform, and again in private on Thursday with the House Intelligence Committee.
At the very least, Cohen's testimony is shaping up to be quite explosive and potentially a huge legal and political headache for the Administration. Last year, Cohen pled guilty to a number of charges unrelated to the Russia investigation but which implicated the President in a conspiracy to buy the silence of adult film actress Stormy Daniels and Playboy model Karen McDougal, both of whom have claimed to have had an affair with Trump during the time that his wife was pregnant with his youngest son Barron. In the course of his plea and admission of guilt in Court at that point, Cohen stated on the record that he entered into both agreements on the direction of, and with the full knowledge of, the President. It was also reported that Cohen did not choose to pursue an agreement with Stormy Daniels until after the release of the Access Hollywood tape, a fact that makes it far more likely that this payoff to Daniels, as well as the contemporaneous payoff to McDougal were made to benefit the Trump campaign than that it was to protect the Trump marriage or shield Melania Trump from embarrassment.
This is made even more significant by the fact that campaign finance law violations are among the charges to which Cohen pled guilty, and the fact that we know the President knew about the payoff to Daniels and that he had reimbursed Cohen for the $130,000 that was paid to Daniels. The prospect that this could lead to future legal problems for the President is rather obvious. Cohen's guilty plea also revealed that Trump was kept aware, through Cohen, of the negotiations between McDougal and the publisher of the National Enquirer to buy the rights to Karen McDougal's story regarding her affair with Trump and that, later, he was involved with Cohen in efforts to negotiate a subsequent sale of those rights by the publisher to a dummy corporation that Cohen had established to facilitate the payments in question. While that part of the deal was apparently never formalized, the fact that it was undertaken at all is further evidence that the purpose of the payment to McDougal was to benefit the Trump campaign in advance of the election. As I noted at the time, what all of this meant is that President Trump was, effectively, an unindicted coconspirator along with Cohen in a conspiracy to violate Federal election law in order to keep certain information out of the public domain in advance of the election. More recently, Cohen pled guilty to additional charges of lying to Congress about the status of negotiations for a Trump Tower project in Moscow and it has been reported that Trump may have directed Cohen to mislead Congress regarding this project. Additionally, Cohen was recently sentenced to three years in prison related to all of these charges, a sentence he is expected to begin serving in March.
Needless to say, the fact that Cohen was charged with, and has admitted to, lying means that the credibility of his testimony will be brought into question, especially by the Republicans on the various committees that he will appear before in the coming days. This is to be expected, and a perfectly legitimate question, as it would be if Cohen were testifying in a trial. Those objections regarding Cohen's credibility, though, are at least somewhat rebutted by the fact that it appears that much of Cohen's testimony can be corroborated by documentary evidence, by the testimony of other potential witnesses and, apparently, by audio tapes that Cohen made of his conversations with the President at which the payoffs to Daniels and McDougal were discussed. This kind of corroborating evidence that backs up what a witness who may otherwise be unreliable is important because it strongly indicates that, notwithstanding his previous lies, Cohen is likely telling the truth now. Additionally, it is expected that Cohen will use his appearances to explain why he lied to Congress about the Russia deal and that in and of itself could prove to be explosive.
Even more explosive, though, is the fact that Cohen is expected to testify about potentially criminal acts that Trump engaged in after he became President during the time that Cohen continued to represent him in some capacity. This could be related to the Daniels and McDougal payments, the Russia deal, both of these matters, or something entirely different. While Cohen's testimony should be taken with a grain of salt, if he's able to back up his claims with documentary or other evidence, then he has the potential to be the John Dean of the Trump investigation, and the single witness who could prove to be the most dangerous person for Trump in this entire scandal.