Michael Cohen Releases Tape Of Conversation With Trump About McDougal Payoff
A new recording of a conversation between Donald Trump and his one-time attorney/"fixer" Michael Cohen appears to put the President in a more difficult position than he has already been in.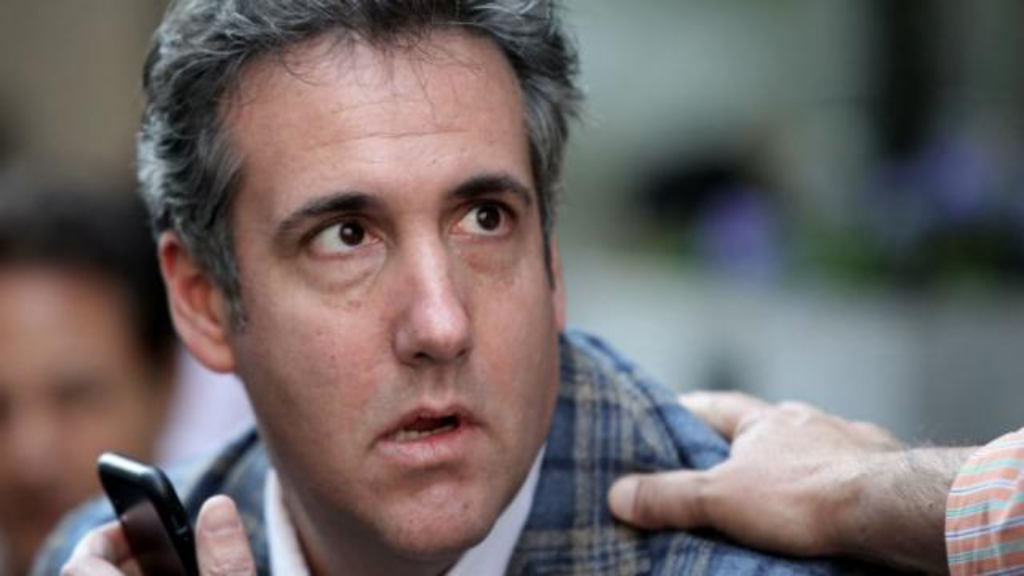 Late last night, the attorneys representing former Donald Trump attorney and "fixer" Michael Cohen released a tape of a conversation between Cohen and Trump reportedly made just days prior to the 2016 election where the two men apparently are discussing a payment to Playboy model Karen McDougal, who has alleged she had a months-long affair with the President while Melania Trump was pregnant with their child:
WASHINGTON — President Trump's former personal lawyer, Michael D. Cohen, escalated his dispute with the president on Tuesday by releasing a secret recording of a conversation in which Mr. Trump appears to have knowledge about hush money payments to a former Playboy model who said she had an affair with Mr. Trump.

The recording, which was broadcast by CNN, is sometimes muddled but provides details on payments to the former model, Karen McDougal. However, it does not definitively answer the question about whether Mr. Trump directed Mr. Cohen to make them in cash or by check just two months before the 2016 presidential election.

Mr. Cohen is heard telling Mr. Trump that he will need to set up a company to arrange the payments.

Mr. Trump then asked, "What financing?"

"We'll have to pay," Mr. Cohen said.

Mr. Trump then appears to say, "Pay with cash."

Mr. Cohen then says, "No, no."

The word "check" is uttered, but it is not clear by whom, and the audio is then cut off.

Lanny J. Davis, a lawyer for Mr. Cohen and a longtime supporter of Bill and Hillary Clinton, told The New York Times on Tuesday night that Mr. Cohen released the tape because he is "on a new path — it's a reset button to tell the truth and to let the chips fall where they may."

Ms. McDougal was paid $150,000 by The National Enquirer for her story in summer 2016. The tabloid, which has often given Mr. Trump favorable coverage, then did not publish the story. According to people close to Mr. Cohen and Mr. Trump, the two men were discussing on the tape a second payment to The Enquirer that would continue to keep Ms. McDougal from speaking publicly about Mr. Trump.

On the recording, Mr. Trump shows some familiarity with a deal between Ms. McDougal and American Media Inc., the publisher of The Enquirer, and does not act as if he is only learning about it then. When The Times reported on the existence of the payment on Friday, Mr. Trump's personal lawyer, Rudolph W. Giuliani, said the tape would prove "exculpatory," indicating that the conversation was the first time that Mr. Trump had heard about the deal Ms. McDougal struck with A.M.I.

On the tape, Mr. Cohen raises the possibility of creating a separate company to buy the rights to Ms. McDougal's story from A.M.I.

"I need to open up a company for the transfer of all of that info regarding our friend David," Mr. Cohen is heard saying. David Pecker is the chairman of A.M.I.; he has acknowledged being "personal friends" with Mr. Cohen and Mr. Trump.

(…)

As they discuss Ms. McDougal and A.M.I., Mr. Trump and Mr. Cohen appear to be concerned that in leaving the rights to Ms. McDougal's story in A.M.I.'s hands, they are ceding an uncomfortable level of control in trusting a tabloid publisher, even such a friendly one, with such a delicate story.

Mr. Cohen is heard saying, "You never know where that company — you never know where he's gonna be," to which Mr. Trump is heard raising the fear that "he gets hit by a truck."
Here's the full audio of the tape in question, which lasts for just about two minutes. Additionally, The Washington Post has a helpfully annotated transcript of the tape:
Full audio: Presidential candidate Trump is heard on tape discussing with his attorney Michael Cohen how they would buy the rights to a Playboy model's story about an alleged affair Trump had with her years earlier, according to the audio recording "https://t.co/YmC0QuDqTx pic.twitter.com/fBbq7r1Lq9

— Cuomo Prime Time (@CuomoPrimeTime) July 25, 2018
Not surprisingly, President Trump responded to the reports this morning on Twitter in much the same manner that he did when the existence of the tape was first disclosed:
What kind of a lawyer would tape a client? So sad! Is this a first, never heard of it before? Why was the tape so abruptly terminated (cut) while I was presumably saying positive things? I hear there are other clients and many reporters that are taped – can this be so? Too bad!

— Donald J. Trump (@realDonaldTrump) July 25, 2018
The context of all of this is well-known at this point, of course. Karen McDougal, who had appeared as a centerfold in Playboy in December 1997 and went on to be named "Playmate of the Year" in 1998, has claimed that she had an affair with Donald Trump that lasted several months and which coincided with the time when Trump's wife Melania was pregnant with their son Barron, which places it roughly in the 2005-2006 time frame.
Two months prior to the 2016 election, McDougal entered into an agreement with American Media Inc., which owns the National Enquirer among other publications and whose CEO happens to be David Pecker, a long-time friend of Trump's. Under that agreement, McDougal was paid $150,000 for the rights to her story regarding the affair and also apparently promised column space in AMI publications which she has alleged she was never actually given. McDougal has also said that her attorney at the time was also in communication with Michael Cohen regarding such an agreement, although she was not aware of those conservations at the time and the contents of those communications were never revealed to her. In March of this year, McDougal filed suit against AMI alleging that it had not complied with its obligations under the agreement and that the entire purpose for entering into the agreement was to obtain the rights to the story of McDougal's affair with Trump and then never publish it, a practice known as "catch and kill" that AMI has been known to use in the past when it came to stories about people with whom Pecker has a close relationship, such as President Trump. That lawsuit was settled in April, with the result being that McDougal was allowed to keep the payment and retained the rights to tell her story.
For his part, up until the release of this tape the President had denied the affair, denied having any knowledge of payments to McDougal, and denied having any discussions regarding the McDougal matter prior to the election. This tape appears to make it clear that all of these denials are false and, as Jennifer Rubin notes, raises several other questions:
First, what kind of lawyer secretly tapes his client? It would be instructive to find out whether Cohen knew what he was discussing with Trump was legally problematic. Was he taping the conversation to protect himself in case Trump later denied knowledge of Cohen's actions? This is not the normal conduct of a lawyer.
This is a question many people are asking this morning. As far as the law is concerned, and as I've noted before, New York is a one-party consent state meaning that it is perfectly legal for one person to record a conversation with another person or persons without the knowledge or consent of the other party. Additionally, while I'm not familiar with the Disciplinary Rules governing lawyers in New York, where Cohen is admitted to practice, it's been reported that this does not necessarily violate applicable rules.
That being said, it certainly isn't common for a lawyer to record their conversations with their clients, for what I would assume are rather obvious reasons, and even less common for this to be done without the knowledge or consent of the client. As I said during a Twitter conversation I had this morning regarding this issue, this is not something I would consider doing without the client's knowledge and consent and the fact that it's happening at all seems to be a strong indication that the lawyer has reason to distrust the client to the point where they think secretly recording conversations is necessary. At that point, though, it's arguably the case that the relationship between the attorney and the client has deteriorated to such an extent that the attorney ought to seriously consider withdrawing from the representation.
All that being said,  it was reported months ago that Cohen had the habit of routinely recording conversations he had with third parties, although he had reportedly claimed that he had never recorded conversations with Trump. It's now obvious that this last part was inaccurate, and it also appears that there may be other Cohen-Trump recordings out there, although we don't know (yet) what the subject matter of those recordings might be.
Second, why did Cohen's lawyer Lanny Davis think releasing the tape to CNN would help his client? Maybe it's an attempt to signal that he has the goods on Trump (there are purportedly about a dozen tapes), but prosecutors already would know what's in the tapes. Frankly, the recording makes both Cohen and Trump seem sleazy. Trump's TV lawyer Rudy Giuliani inexplicably commented that "I've got 4,000 hours of mafia people on tape. I know how to listen to them, I know how to transcribe them. I've dealt with much worse tapes than this." Alrighty then. (One wonders whether there is a "bad lawyer" contest underway between Davis and Giuliani.)
The answer to this question seems to be a fairly obvious one to me. Just as Giuliani has been engaged mostly in being a public relations spokesperson for the President since becoming a part of Trump's legal team, the addition of former Bill Clinton adviser and lawyer Lanny Davis on to the Cohen team seems to be as much about fighting a public relations war with the Trump camp as anything else. In releasing this tape, which Trump and his lawyers apparently had decided to waive any attorney/client privilege claim, Davis is basically engaging in a PR battle with Giuliani and, on behalf of his client, sending a message to the Trump Team that whatever hope they might have had that Michael Cohen would remain loyal to his former boss, client, and, at least in Cohen's previous estimation, friend, is essentially out the window. This fact became even clearer in the light of an off-camera interview with ABC News in which Cohen essentially said that his primary concerns were for himself and his family. Considering that this is the same person who once said he'd "take a bullet" for Trump, this is significant.
Third, isn't this evidence of a possible illegal campaign-finance issue? Maybe. Cohen discussed the McDougal payoff in conjunction with other campaign matters, including a poll and possible revelation of documents from Trump's divorce from his second wife. In this case, Trump/Cohen never purchased the rights to McDougal's story from AMI, but we do not know whether they previously urged AMI to tie up the rights. In any case, using a corporation to disguise the payment (and apparently considering a payment of cash) suggests a deliberate effort to conceal what would have amounted to a campaign expenditure, one that Trump certainly did not report. A pattern of secret payments deliberately left off financial disclosures can transform run-of-the-mill civil campaign violations into a criminal matter. While some may think campaign violations are trifles, remember that Al Capone was brought down by financial crimes (tax cheating), not his underlying deeds.
The short answer to Rubin's third question is an emphatic yes. Whether you look at the payment to McDougal from AMI, which took place in September 2016, or the discussion just days before the campaign that apparently centered around buying the rights to McDougal's story that AMI had purchased, both of these transactions involve what can quite plainly be described as an "in-kind" contribution to the Trump campaign. The only question that we don't have direct evidence for is whether it was intended by AMI that the payment to McDougal was for the purpose of assisting the Trump campaign by buying McDougal's story so that she could be kept silent in the remaining weeks of the Presidential campaign. The timing of the payment and agreement, though, seems to make it clear that this was exactly the intent behind the agreement. Additionally, it seems clear that the discussions between Cohen and Trump regarding purchasing the rights to McDougal's story from AMI were clearly intended to protect Trump in the waning days of the campaign. There's nothing per se illegal about this kind of in-kind contribution, although one could make the argument that it potentially violates the donation limits set forth in applicable Federal law.
Fourth, how many other payments and women are out there? It is far from clear that McDougal and adult-film actress Stormy Daniels are the only women Trump considered paying off. If there were other payments to hush up women, investigators will need examine who made the payments, the context in which they were made and whether a pattern of deliberate campaign-finance violations emerges. One does wonder just how many "mulligans" Trump's evangelical flunkies are willing to give him.
This has been a question that's been hanging over Trump for the better part of 2018, of course, ever since the reports about the payoffs to McDougal and Stormy Daniels became public. At various times, Michael Avenatti, the attorney representing Daniels in her claims against Trump and others, has hinted that he has heard from other women who received payments under similar circumstances as his client but so far at least none of those women have come forward. If those payments exist, though, and if they also coincided with Trump's Presidential campaign, then that could create some significant legal headaches for the President.
Fifth, did anyone else, including the Russians, know about Trump's payments? For those who think the Russians "have" something on Trump, this provides an interesting line of inquiry. Russian operatives' knowledge of Trump's sex life, of a list of accusers and of payoffs, would be powerful leverage for Moscow. One thing is clear: Trump conducted himself in such a way as to leave himself open to blackmail. There may or may not have been the Steele dossier's alleged tape of Trump in Moscow with prostitutes, but there is certainly reason to believe that there was enough evidence of Trump's poor personal conduct to fill a whole file cabinet in some Russian intelligence agency's office.
This too is an interesting question, but ultimately one we cannot know the answer to without more direct evidence. As things stand, though, it does seem like Trump is acting toward Russia in a manner that indicates he's trying to hide something. What that something is, though, is another question entirely.
All of this leads back to an observation I made last Friday:
It's too early to tell what impact this tape, and any others that might exist, could have on the investigations swirling around the President, but it's clearly not good news and yet another indication of just how important the developments regarding Michael Cohen could end up being. Within weeks after the F.B.I. search of Cohen's home and office, there were signs that the President was clearly worried that his former attorney might cooperate with investigators and that, generally speaking, he was more worried about the Cohen investigation than the Mueller investigation. Those reports resurfaced in May. Last month, we learned that Cohen's defense team had terminated a joint defense agreement with Trump's legal team and that Cohen has said in an off-camera interview with ABC News that he was primarily concerned with himself and his family. Both of these were seen as pointing to the possibility that Cohen, the man who reportedly knows all of Donald Trump's secrets might be about to become a cooperating witness with prosecutors in both New York and Washington. If true, that could be the most significant development of all in this entire investigation.
In and of itself, this tape doesn't necessarily prove anything. It is, however, another piece to the puzzle that is Donald Trump, his business dealings, and any potential wrongdoing he may have been a part of. Too bad we didn't know about it sooner.