Trump More Worried About Cohen Investigation Than Mueller, He Should Be
Donald Trump could have more to worry about regarding the investigation of Michael Cohen than he does regarding the Mueller investigation.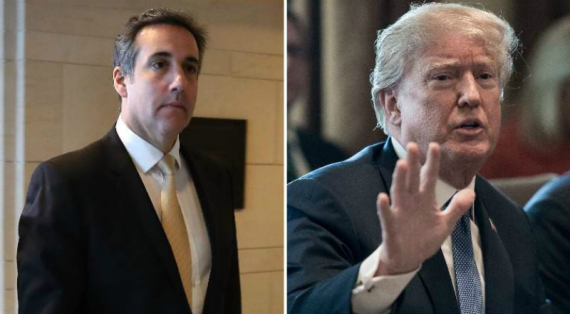 The New York Times is reporting that President Trump sees the investigation of his longtime attorney Michael Cohen as a bigger threat than Robert Mueller's investigation:
WASHINGTON — President Trump's advisers have concluded that a wide-ranging corruption investigation into his personal lawyer poses a greater and more imminent threat to the president than even the special counsel's investigation, according to several people close to Mr. Trump.

As his lawyers went to court in New York on Friday to try to block prosecutors from reading files that were seized from the personal lawyer, Michael D. Cohen, this week, Mr. Trump found himself increasingly isolated in mounting a response. He continued to struggle to hire a new criminal lawyer, and some of his own aides were reluctant to advise him about a response for fear of being dragged into a criminal investigation themselves.

The raids on Mr. Cohen came as part of a monthslong federal investigation based in New York, court records show, and were sweeping in their breadth. In addition to searching his home, office and hotel room, F.B.I. agents seized material from Mr. Cohen's cellphones, tablet, laptop and safe deposit box, according to people briefed on the warrants. Prosecutors revealed in court documents that they had already secretly obtained many of Mr. Cohen's emails.

Mr. Trump called Mr. Cohen on Friday to "check in," according to two people briefed on the call. Depending on what else was discussed, the call could be problematic, as lawyers typically advise their clients against discussing investigations.

Mr. Cohen has publicly declared that he would defend the president to the end, but court documents show that prosecutors are building a significant case that could put pressure on him to cooperate and tell investigators what he knows.

The documents seized by prosecutors could shed light on the president's relationship with a lawyer who has helped navigate some of Mr. Trump's thorniest personal and business dilemmas. Mr. Cohen served for more than a decade as a trusted fixer and, during the campaign, helped tamp down brewing scandals about women who claimed to have carried on affairs with Mr. Trump.

Mr. Trump, Mr. Cohen and their teams were still scrambling on Friday to assess the damage from the raid early Monday morning. They remained unsure what had been taken, an uncertainty that has heightened the unease around Mr. Trump.

Although his lawyers had projected confidence in their dealings with the special counsel, Robert S. Mueller III, they were caught flat-footed by the New York raids. The lawyers fear that Mr. Cohen will not be forthcoming with them about what was in his files, leaving them girding for the unknown.

Mr. Cohen and Mr. Trump, through their lawyers, argued in federal court on Friday that many of the seized records were protected by attorney-client privilege. They asked for an order temporarily prohibiting prosecutors from reading the documents until the matter could be litigated. Mr. Cohen argued that he or an independent lawyer should be allowed to review the documents first.

"Those searches have been executed, and the evidence is locked down," Joanna C. Hendon, a lawyer for Mr. Trump, said in court. "I'm not trying to delay. I'm just trying to ensure that it's done scrupulously."

Mr. Cohen's lawyer, Stephen Ryan, wrote in a court filing that the search "creates constitutional concerns regarding officers of the executive branch rummaging through the private and privileged papers of the president."

Prosecutors argued that the previously seized emails revealed that Mr. Cohen was "performing little to no legal work, and that zero emails were exchanged with President Trump." They said their investigation was focused on Mr. Cohen's business dealings, not his work as a lawyer.

But it is difficult to extract Mr. Cohen from his work for Mr. Trump. For more than a decade, Mr. Trump has unleashed Mr. Cohen on his foes — investigative journalists, business rivals and potential litigants. And the New York search warrant makes clear that the authorities are interested in his unofficial role in the campaign.

Prosecutors demanded all communication with the campaign — and in particular two advisers, Corey Lewandowski and Hope Hicks, according to two people briefed on the warrants.

Prosecutors also seized recordings of conversations that Mr. Cohen had secretly made, but he told people in recent days that he did not tape his conversations with Mr. Trump. Mr. Cohen frequently taped conversations with adversaries and opposing lawyers, according to the two people briefed.
This report comes on top of several reports yesterday regarding the scope of what was potentially uncovered by the raid on Cohen's office, home, and hotel room on Monday. For example, it is being reported that Cohen had the habit of routinely recording conversations he had with third parties, although he has reportedly stated that he did not record conversations he had with Trump himself. While some of those recordings could be said to fall within the attorney-client privilege, most of them probably would not. Among the parties that there may be recordings of include the publisher of the National Enquirer which has apparently been involved in the past in buying stories from people who made accusations against Trump only to then proceed to "spike" those stories and not run them at all. There are also reports that Cohen may have recorded his conversations with the attorney who initially represented adult film star Stormy Daniels and Playboy model Karen McDougal and who played a role in negotiating the agreements that the two women entered into regarding their agreement to remain silent regarding their respective relationships with Trump. The possibility that the Feds now have these recordings have many of Trump's allies worried:
President Trump's personal attorney Michael D. Cohen sometimes taped conversations with associates, according to three people familiar with his practice, and allies of the president are worried that the recordings were seized by federal investigators in a raid of Cohen's office and residences this week.

Cohen, who served for a decade as a lawyer at the Trump Organization and is a close confidant of Trump's, was known to store the conversations using digital files and then replay them for colleagues, according to people who have interacted with him.

"We heard he had some proclivity to make tapes," said one Trump adviser, who spoke on the condition of anonymity because of the ongoing investigation. "Now we are wondering, who did he tape? Did he store those someplace where they were actually seized? . . . Did they find his recordings?"

Cohen did not respond to requests for comment. Stephen Ryan, an attorney for Cohen, declined to comment. A White House spokeswoman referred a request for comment to Cohen and his attorney.

(…)

It is unknown whether Cohen taped conversations between himself and Trump. But two people familiar with Cohen's practices said he recorded both business and political conversations. One associate said Trump knew of Cohen's practice because the attorney would often play him recordings Cohen had made of his conversations with other top Trump advisers.

It was his standard practice to do it," this person said.

Legal experts said Cohen's taped conversations would be viewed by prosecutors as highly valuable.

"If you are looking for evidence, you can't do any better than people talking on tape," said Nick Akerman, a former Watergate prosecutor.

Such recordings "would be considered a gold mine," said Stephen Gillers, a law professor at New York University who specializes in legal ethics.

"The significance is 9.5 to 10 on a 10-point scale," he added, noting that investigators know "that when people speak on the phone, they are not guarded. They don't imagine that the conversation will surface."

Federal investigators would not automatically get access to any tapes that might have been seized in the raids. First, the recordings would be reviewed by a separate Justice Department team and possibly by a federal judge. The review is designed to protect lawyer-client privilege and to be sure that the conversations turned over are within the terms of the search warrant, legal experts said.

They noted that the privilege accorded to attorney-client communications does not apply if the conversation was conducted to further commission of a crime or fraud.

Cohen wanted his business calls on tape so he could use them later as leverage, one person said. He frequently noted that under New York law, only one party had to consent to the taping of a conversation, this person added.
In addition to this news, McClatchy is also reporting that Mueller has evidence that Cohen visited Prague in 2016, which would seem to confirm one of the central accusations made in the dossier prepared by former British intelligence official Christopher Steele. As The Washington Post's Philip Bump notes, if accurate this report would be a significant development in the Russia investigation:
A trip to Prague by Cohen was included in the dossier of reports written by former British intelligence official Christopher Steele. Those reports, paid for by an attorney working for Hillary Clinton's campaign and the Democratic National Committee, included a broad array of raw intelligence, much of which has not been corroborated and much of which would probably defy easy corroboration, focusing on internal political discussions in the Kremlin.

Cohen's visiting Prague, though, is concrete. Over the course of three of the dossier's 17 reports, the claim is outlined — but we hasten to note that these allegations have not been confirmed by The Washington Post.

t suggests that Cohen took over management of the relationship with Russia after campaign chairman Paul Manafort was fired from the campaign in August (because of questions about his relationship with a political party in Ukraine). Cohen is said to have met secretly with people in Prague — possibly at the Russian Center for Science and Culture — in the last week of August or the first of September. He allegedly met with representatives of the Russian government, possibly including officials of the Presidential Administration Legal Department; Oleg Solodukhin (who works with the Russian Center for Science and Culture); or Konstantin Kosachev, head of the foreign relations committee in the upper house of parliament. A planned meeting in Moscow, the dossier alleges, was considered too risky, given that a topic of conversation was how to divert attention from Manafort's links to Russia and a trip to Moscow by Carter Page in July. Another topic of conversation, according to the dossier: allegedly paying off "Romanian hackers" who had been targeting the Clinton campaign.

There is a lot there — but it hinged on Cohen's having traveled to Prague. If he was not in Prague, none of this happened. If he visited Prague? Well, then we go a level deeper.

McClatchy notes that there is no evidence of who, if anyone, Cohen met with, but that the time frame was in late August or early September, as the dossier suggests.
When Buzzfeed first released the dossier, Cohen responded with a Tweet that said that he'd never been to Prague and included a picture of the front of his U.S. Passport. That picture, of course, was rather meaningless since the front of a passport doesn't get stamped when you visit another country. More importantly, as Bump notes, if Cohen had visited another nation in the European Union during the time frame set forth in the Steele dossier, his passport wouldn't necessarily show entry into Prague since the open borders within the European Union generally don't require travel checks at interior borders. This would be especially true if someone travels from one E.U. country to another by a means other than via plane, such as by car or train. While this doesn't confirm that Cohen was in fact in Prague, or anywhere else in the E.U. during the relevant time period, the McClatchy report seems to indicate that Mueller can prove that he was there. If true, then the rest of the claims in the dossier regarding that meeting would be strong evidence of at least some collusion or coordination between the Trump campaign and Russian officials.
 All of this leads National Review's Andrew McCarthy, who has been rather critical of the ongoing Mueller investigation, to call the investigation of Cohen "the real investigation":
The matter now under investigation by the FBI and federal prosecutors in the Southern District of New York (SDNY), however, is a very live criminal investigation. Anyone potentially connected to it should be worried.

Much of the commentary about the SDNY investigation puts the cart before the horse. When Cohen's law office, hotel residence, and home were searched pursuant to court-approved warrants this week, there were howls about a purportedly unconscionable violation of the attorney-client privilege. As I pointed out in the aftermath, however, whether this was an egregious constitutional affront or textbook investigative rigor depends on (a) exactly what was under investigation and (b) whether the materials sought from Cohen were, in fact, privileged attorney-client communications.

We did not know that at the time, and we are still not fully informed. Still, as an alum who spent nearly 20 years as an SDNY prosecutor, I'm always inclined to assume my old office is up to serious business. I also know well the ostentatiously careful steps the SDNY typically takes to avoid unconstitutional interference in the right to counsel — meaning to distinguish real legal assistance from schemes masquerading as attorney-client relationships.

That, however, is not what's going on here — or, at least, I don't think it is all that is going on here.

I believe that the government is investigating whether there was, in connection with Trump's White House bid, a conspiracy to commit fraud and extortion for the purpose of silencing potentially compromising sources — specifically, people in a position to portray Donald Trump as a womanizer. Clearly, the prosecutors regard Trump and Cohen as potential co-conspirators. That does not mean a conspiracy will be proven, but the possibility is certainly being scrutinized. Here, it is important to bear in mind a distinction from the Russia investigation: This is not a counterintelligence matter; the SDNY is unquestionably conducting a criminal investigation, and a federal judge would not have authorized search warrants absent finding probable cause that federal crimes may have been committed.

(…)

As I explained earlier this week, the only thing protected in a lawyer's office are attorney-client communications and work product. If Cohen had incriminating items unrelated to attorney work in his office, being a lawyer does not shield him from liability. Furthermore, if there is no attorney-client relationship on a particular matter, there is no privilege. Trump and Cohen both say that Cohen did not tell Trump about the Clifford arrangement. Sounds implausible, but on its face it means there was no attorney-client relationship regarding that transaction.

More important, if a lawyer is involved with a client in a criminal conspiracy, the crime-fraud exception to the attorney-client privilege strips their communications of privileged status. It seems evident that prosecutors are investigating on the theory that Clifford, McDougal, and perhaps others were defrauded or extorted into silence. The fact that they accepted money does not foreclose the possibility that their agreement to remain silent was procured, in part, by trickery or threats.

When Hillary Clinton inserted lawyers at various stages of her email scandal, in order to conceal the mishandling of classified information, the destruction of government records, and the obstruction of investigations, some of us pointed out that when lawyers become actors in criminal schemes, there is no privilege. That's still true.

No wrongdoing has been established at this point. But the SDNY investigation is a serious matter.
As others have noted, the reports out of the West Wing since Monday's raid have painted a picture of a President who has become even more unhinged, irritated, and agitated than he has been even in the wake of other seemingly more serious revelations about the Russia investigation or other points when his Administration under siege. Much of this has manifested itself in his tweeting, which has been more active in the past five days than it had been in some time, and seemingly more aggressive and incoherent. Perhaps that's because Trump knows that his real legal liability lies not in the events of 2015-2016, but in his long and complicated financial and business dealings in New York City that stretch back decades, and Michael Cohen has been in the middle of all of that.