Sean Hannity Is Michael Cohen's Mystery Client, But That Shouldn't Matter
Sean Hannity was Michael Cohen's "secret client," but it's not clear that should matter to anyone.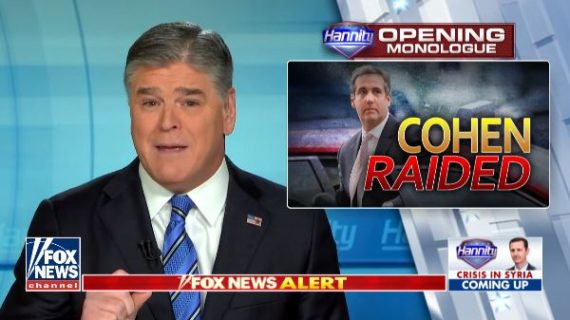 Yesterday's hearing resulting from the search of the office, home, and hotel room of longtime Donald Trump lawyer and so-called "fixer" Michael Cohen ended on a somewhat inconclusive note. The Judge presiding in the case, Judge Kimba Wood, did not grant the relief that Cohen and Trump's lawyers were requesting, she did enter an order providing that those attorneys would be allowed to have access to the documents after the F.B.I.'s so-called "taint team" is done reviewing them and that she would then review whatever claims they may put forward with respect to attorney/client privilege claims. Judge Wood, a Reagan judicial appointee who Bill Clinton's second nominee for Attorney General in 1993 but was forced to withdraw her name after it was revealed she had hired an undocumented immigrant as a nanny, also hinted that she could turn the matter over to a Special Master who would be charged with preparing a report evaluating the privilege claims.
The big news, though, came when Judge Wood ordered one of Cohen's attorneys to reveal the identity of a client that Cohen was seeking to be held a secret. That client turns out to be none other than radio and Fox News Channel host Sean Hannity, who has been a booster of President Trump's for the better part of the past three years:
From his Fox News pulpit, Sean Hannity has been one of the most ardent supporters of President Trump, cheering his agenda and excoriating his enemies.

He has gone from giving advice on messaging and strategy to Mr. Trump and his advisers during the 2016 campaign to dining with him at the White House and Mar-a-Lago.

Now, Mr. Hannity finds himself aligned even more closely with the president.

During a hearing at a packed courtroom in Lower Manhattan on Monday, he was named as a client of Mr. Trump's longtime personal lawyer and fixer, Michael D. Cohen.

That revelation nudged the conservative commentator into the orbit of those who have lately come under legal scrutiny related to the investigations of Mr. Trump and his associates by the special counsel, Robert S. Mueller III, and the United States attorney's office in Manhattan. Both inquiries have provided fodder for Mr. Hannity's prime-time cable show and nationally syndicated radio program.

The host's closeness with the president may not sit well with media watchdogs, but the cozy relationship has been good for the Hannity business: "Hannity" is the most-watched cable news program, averaging 3.2 million viewers in the first quarter of 2018, up from 1.8 million in the early months of 2016.

The courtroom disclosure about Mr. Hannity occurred during the expanding criminal investigation into Mr. Cohen by the United States attorney's office in Manhattan. F.B.I. agents raided Mr. Cohen's home, office and hotel room on the morning of April 9, a move that Mr. Trump called an "attack on our country."

In a legal filing before the hearing on Monday, Mr. Cohen said that, since 2017, he had worked as a lawyer for 10 clients, seven of whom he served by providing "strategic advice and business consulting." The other three comprised Mr. Trump, the Republican fund-raiser Elliott Broidy and a third person who went unnamed.

The mystery was solved when Kimba M. Wood, a judge for the United States District Court for the Southern District of New York, ordered that Mr. Cohen's lawyer, Stephen Ryan, disclose the name of the client in question — who turned out to be Mr. Hannity.

Mr. Hannity denied on Monday that he was a client of Mr. Cohen's, saying that he had never paid him for his services and that his discussions with him were brief and centered on real estate.

The surprise naming of Mr. Hannity took place after several minutes of back and forth among government representatives, members of Mr. Cohen's legal team and Judge Wood.

Before the name was revealed, Mr. Ryan argued that the mystery client was a "prominent person" who wanted to keep his identity a secret because he would be "embarrassed" to be identified as having sought Mr. Cohen's counsel.

Robert D. Balin, a lawyer for various media outlets, including The New York Times, CNN and others, interrupted the hearing to argue that embarrassment was not a sufficient cause to withhold a client's name, and Judge Wood agreed.

After Mr. Hannity was named, there were audible gasps from the spectators.

On Fox News, the anchor Shepard Smith reported that his colleague had been named as a client of Mr. Cohen's, saying that it was time for him to address "the elephant in the room."

At roughly the same time, Mr. Hannity, on his radio show, said it was strange to see his name appearing on Fox News and wondered aloud if he should release a statement.

Just before 4 p.m., he posted a message on Twitter: "Michael Cohen has never represented me in any matter. I never retained him, received an invoice, or paid legal fees. I have occasionally had brief discussions with him about legal questions about which I wanted his input and perspective."

In a follow-up tweet, Mr. Hannity added, "I assumed those conversations were confidential, but to be absolutely clear they never involved any matter between me and a third-party."

The reference to a third party seemed to be an allusion to one of Mr. Cohen's specialties: drawing up confidential settlements. The lawyer has acknowledged paying $130,000 to Stephanie Clifford, an adult-film actress known as Stormy Daniels, as part of a nondisclosure agreement to secure her silence soon before Election Day in 2016.

Last week, it came to light that Mr. Cohen had arranged for Mr. Broidy to pay $1.6 million to a former Playboy model, Shera Bechard, who became pregnant during an affair with Mr. Broidy. After the confidential deal became public, Mr. Broidy resigned from his post as a deputy finance chairman of the Republican Party.

Fox News declined to comment beyond Mr. Hannity's statements. On his prime-time show on Monday night, Mr. Hannity seemed to suggest that he had not disclosed his link to Mr. Cohen to his network, saying, "My discussions with Michael Cohen never rose to any level that I needed to tell anyone that I was asking him questions."

(…)

On "Hannity" on Monday night, the Fox host offered a welcome "to all you liberals in the media and across America" who do not normally tune into his show, and went on to denounce the media speculation over his link to Mr. Cohen as "absolutely insane."

To demonstrate this, Mr. Hannity aired a montage, culled from Monday's television coverage of cable news hosts saying his name over and over again. It lasted for 46 seconds.

Mr. Hannity did face an unexpected challenge from one of his guests, the lawyer Alan Dershowitz, who unexpectedly told the host that it would have been "much, much better" to disclose that he was a Cohen client.
Not surprisingly, the incident led to much discussion on the cable news networks (well, except for Fox News Channel) and on social media, with many people wonder how and why Wood could require that Cohen's attorney reveal who is clients were. The short answer to that question is that, under the binding precedent of the Second Circuit, which Wood's Court is a part of, the identity of a client is generally not considered to be subject to the attorney/client privilege. Even outside the Second Circuit, though, the general rule has long been that an attorney can be required to reveal the identity of a client unless doing so would somehow violate the attorney/client communication privilege or there were some other extraordinary reasons why a particular client's identity should be kept confidential. For the purposes of the hearing that Judge Wood was presiding over yesterday as well as the motions the hearing was based on, the identity of Cohen's clients is crucial to evaluating whether or not certain documents were considered privileged. For example, email exchanged between Hannity and Cohen would probably be considered privileged unless it dealt with subjects falling outside of the attorney/client relationship. Additionally, if Cohen had prepared a memorandum for his files memorializing an oral communication he had with Hannity (or any other client) regarding something covered by that relationship, it too would be considered privileged. In summary, though, the identity of Cohen's "secret" client was relevant because it would be difficult if not impossible to properly evaluate any privilege claim Cohen's attorneys may make regarding the documents seized by Federal investigators.
Beyond the legal issues, though, the revelation that Cohen was representing Hannity even on a limited basis has raised questions of journalistic ethics and the question of whether or not Hannity should have disclosed to his listeners, viewers, and employers on the radio and on television, that he was a present or former client of Cohen at the same time he was attacking the legitimacy of the search warrant that led to the search last Monday. Some observers have argued that Hannity was not under a duty to disclose anything due to the fact that he had said that he did not believe he was a client of Cohen's. As others have observed, though, the fact that Hannity may not have believed that there was an attorney/client relationship between himself and Cohen does not necessarily mean that one did not exist. In any case, these pundits argued, Hannity was under an obligation to disclose the relationship because of his vociferous condemnation of the raid itself.
One good example of the former argument is made by Washington Post media critic Erik Wemple, who argues that it is time for Fox News to investigate Hannity:
As important as Hannity's explanations may be, the word of his employer matters far more. Fox News, after all, is supposed to be supervising Hannity. Though there are few apparent standards governing an opinion host on Fox News, there have to be at least one or two, right? In the past, Hannity's obeisance to Trump and his cronies has embarrassed the network, like the time that he appeared in a promotional video for Trump-the-presidential-candidate. That bit of line-crossing surprised the Fox News brass: "We had no knowledge that Sean Hannity was participating in this, and he will not be doing anything along these lines for the remainder of the election," said a Fox News spokesperson at the time.

o: Did this tight legal relationship with the president's personal attorney surprise Fox News? Did Hannity apprise his bosses of things? Does Fox News believe there's an issue here? Is it concerned about Hannity's independence? Has the brass at Fox News discussed this matter with Hannity since the news broke? We've placed those questions before Fox News and are awaiting a reply.

At some point soon — and we're willing to be patient — Fox News needs to speak up. Does this behavior accord with standards, or would it be okay for Laura Ingraham, Steve Doocy, Bret Baier, Shepard Smith and Harris Faulkner to dial up Cohen for advice? And we'll endeavor right here to head off a likely argument before it pops up: No — conflict-of-interest requirements for opinion-side hosts shouldn't be any less stringent than they are for straight-news personnel. Whether you're offering opinions or just the facts, it's best not to have entanglements and private loyalties to newsmakers.

This particular Hannity scandal will bump along for a few days. It's safe to say he will stay defiant, lashing out at critics and questioning their political motivations — essentially the formula that has made him a multimillionaire. Fox News may or may not maintain its silence.

But it needs to do its own internal probe of Sean Hannity. With what other Trump figures does he have formal or informal relationships? Has he given money to any charities or causes associated with Trump and his friends? Has he pulled a George Stephanopoulos? What else should viewers know?

Fox News wouldn't likely share the results of any such investigation, though the Erik Wemple Blog would welcome any leaks. But how many times must Hannity embarrass his employer before it shows some spine?
Wemple's arguments are well-taken, but it occurs to me that his argument that the standard ought to be the same for actual journalists and people who are quite obviously offering opinion/entertainment programming in the prime-time spotlight that Fox News, and MSNBC, typically give to those kinds of shows. Has anybody really believed, for example, that Sean Hannity, Laura Ingraham, or Tucker Carlson are journalists in the same way that Fox News colleagues such as Bret Baier Ed Henry, Chris Wallace hold themselves out to be? I would venture to guess that not even the most naive Fox News Channel viewer believes this, or believes that what Hannity, Ingraham, and Carlson engage in is "reporting" in the sense that the latter three individuals do on a daily or, in the case of Wallace, weekly basis. Indeed, it is precisely for their opinions, as well as the sheer entertainment value, at least for them, that many of the viewers tune in on a regular basis to see. Given that, I'm not sure that they should be held to the same standards as someone who sits in the White House Briefing Room trying to get answers out of White House Press Secretary Sarah Huckabee Sanders.
In the end, whether or not Fox News investigates Hannity's conduct in regard to the Cohen matter, or requires him to disclose similar relationships should they arise in connection to other matters he opines on is, in the end, up to them. Much like Taylor Millard at Hot Air, whatever the network decides to do, I don't think Fox should necessarily end its relationship with Hannity over this, although that too would be up to them and the terms of the network's contract with Hannity. Beyond that, if they want to require him to disclose in the future that would probably be for the best, but as far as this particular incident is concerned I don't think that failure to disclose his relationship with Cohen was as serious an offense as some are making it out to be. None of this is to condone Hannity's actions, of course, or his previous behavior with regard to other issues such as his insistence on pushing the debunked conspiracy theories regarding the death of a DNC staffer, but it is to say that given the nature of what he does he shouldn't necessarily be held to the same standards as an actual journalist. Because he clearly isn't one.
Update: The Huffington Post is reporting that Fox News says Hannity has the networks full support, but also reported that Hannity has had a relationship with two other attorneys who have frequently appeared on Hannity's program:
Fox News is standing by Sean Hannity after it was revealed Monday that he was once represented by Michael Cohen, President Donald Trump's personal lawyer.

Cohen's own counsel identified Hannity as one of Cohen's clients during a court hearing Monday, after a judge rejected his request to withhold Hannity's name.

"While FOX News was unaware of Sean Hannity's informal relationship with Michael Cohen and was surprised by the announcement in court yesterday, we have reviewed the matter and spoken to Sean and he continues to have our full support," a spokeswoman for Fox News told HuffPost in a statement Tuesday.

(…)

The Atlantic reported Tuesday that Hannity had previously sought legal counsel from two other Trump-connected lawyers. Victoria Toensing and Jay Alan Sekulow signed a cease-and-desist letter to an Oklahoma radio station in 2017, identifying themselves as "counsel for Sean Hannity," according to The Atlantic.

Sekulow, a personal attorney for Trump assigned to deal with special counsel Robert Mueller's Russia probe, announced in March that Toensing would be joining Trump's legal team. But days later, Sekulow said "conflicts" prevented her from doing so. Both lawyers have been guests on Hannity's show.

A representative for Fox News did not immediately respond to a request for comment on Hannity's reported relationships with Toensing and Sekulow.
Most likely, Fox will dismiss this report as well.