F.B.I. Raids Office Of Longtime Trump Attorney Michael Cohen
In a move apparently connected to the Stormy Daniels affair, Federal authorities have raided the office of longtime Trump attorney Michael Cohen.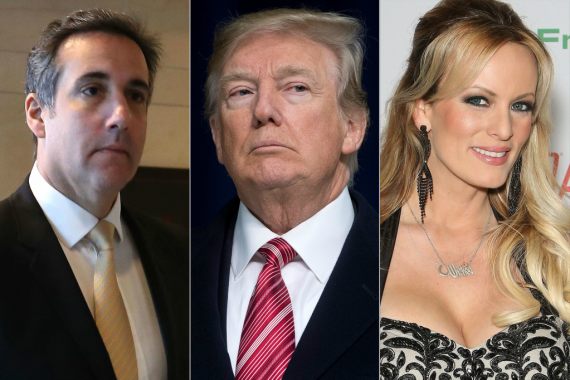 The New York Times is reporting that the F.B.I. has raided the office of Michael Cohen, President Trump's longtime attorney who is in the middle of the Stormy Daniels affair and the payment made to her to remain silent about her relationship with Trump on the eve of the 2016 election:
The F.B.I. on Monday raided the office of President Trump's longtime personal lawyer, Michael D. Cohen, seizing records related to several topics including payments to a pornographic-film actress.

Federal prosecutors in Manhattan obtained the search warrant after receiving a referral from the special counsel, Robert S. Mueller III, according to Mr. Cohen's lawyer, who called the search "completely inappropriate and unnecessary." The search does not appear to be directly related to Mr. Mueller's investigation, but likely resulted from information he had uncovered and gave to prosecutors in New York.

"Today the U.S. Attorney's Office for the Southern District of New York executed a series of search warrants and seized the privileged communications between my client, Michael Cohen, and his clients," said Stephen Ryan, his lawyer. "I have been advised by federal prosecutors that the New York action is, in part, a referral by the Office of Special Counsel, Robert Mueller."

Mr. Cohen plays a role in aspects of the special counsel's investigation into Russian interference in the 2016 presidential election. He also recently said he paid $130,000 to a pornographic-film actress, Stephanie Clifford, who said she had an affair with Mr. Trump. Ms. Clifford is known as Stormy Daniels.

Mr. Ryan said Mr. Cohen has cooperated with authorities and turned over thousands of documents to congressional investigators looking into Russian election meddling.
According to reports, among the documents seized include records of communications between Trump and Cohen, which is significant because of the fact that, as Trump's attorney, many of the communications between the two men could be protected by the attorney/client privilege. This means that the documents in question would have to be reviewed by a special team of agents unconnected to the underlying investigation to determine which of the documents may be protected by the privilege and which documents may be unrelated to that investigation. It's also possible that some, if not all, of these documents, may need to be reviewed by the Federal Judge who issued the warrant for an independent determination of what documents investigators can have access to and which must remain confidential. This may be one reason why the warrant that was executed in this raid was referred to the U.S. Attorney for the Southern District of New York, although there could be other reasons for that as well.
While we can't know for sure what was seized, initial reports indicate that it included documents related to the agreement that Cohen entered into, via a limited liability company, with adult film actress Stormy Daniels under which he arranged for the payment of $130,000 to Daniels in exchange for her silence regarding her relationship with then-candidate Trump. It's unclear, though, if there were also other documents seized in the course of the raid. Given the fact that Cohen has acted as Trump's lawyer for decades, and was reportedly involved in negotiations in the years prior to the time Trump entered into the race regarding the construction of a Trump hotel in Moscow. While that project ultimately fell through, it had been relatively well known that it was a deal that Trump himself had been pursuing for years and one that he had a personal interest in. This could be relevant to questions of connections between Trump and his business entities and Russian banks or oligarchs who are close to Vladimir Putin and the rest of the Russian government.
Based on other reporting, though, it seems clear that this raid was not part of Robert Mueller's investigation but was related to matters outside of the current scope of that investigation. Those reports also seem to indicate that the material was at least in part uncovered by Mueller's investigators. However, because it fell outside the scope of the mandate that Mueller had received from Deputy Attorney General Rod Rosenstein when he was appointed last year, the decision was made to refer the matter to the U.S. Attorney's office that would have jurisdiction over the matter, which in this case is the office in the Southern District of New York since that is where Cohen's Manhattan office is located. This would suggest that it is this part of the Justice Department that is investigating the payment to Daniels and the significant legal issues that it raises.
As Ken White, a former Federal prosecutor who now works as a defense attorney in California notes this is a very big deal:
1. According to Cohen's own lawyer, the U.S. Attorney's Office for the Southern District of New York (widely regarded within itself as being the most important and prestigious U.S. Attorney's Office in the country) secured the search warrants for the FBI,based on a referral from Robert Mueller's office. Assuming this report is correct, that means that a very mainstream U.S. Attorney's Office — not just Special Counsel Robert Mueller's office — thought that there was enough for a search warrant here.

2. Moreover, it's not just that the office thought that there was enough for a search warrant. They thought there was enough for a search warrant of an attorney's office for that attorney's client communications. That's a very fraught and extraordinary move that requires multiple levels of authorization within the Department of Justice. The U.S. Attorney's Manual (USAM)—at Section 9-13.320—contains the relevant policies and procedures. The highlights:

The feds are only supposed to raid a law firm if less intrusive measures won't work. As the USAM puts it:

In order to avoid impinging on valid attorney-client relationships, prosecutors are expected to take the least intrusive approach consistent with vigorous and effective law enforcement when evidence is sought from an attorney actively engaged in the practice of law. Consideration should be given to obtaining information from other sources or through the use of a subpoena, unless such efforts could compromise the criminal investigation or prosecution, or could result in the obstruction or destruction of evidence, or would otherwise be ineffective.

Such a search requires high-level approval. The USAM requires such a search warrant to be approved by the U.S. Attorney—the head of the office, a Presidential appointee—and requires "consultation" with the Criminal Division of the U.S. Department of Justice. This is not a couple of rogue AUSAs sneaking in a warrant.

Such a search requires an elaborate review process. The basic rule is that the government may not deliberately seize, or review, attorney-client communications. The USAM—and relevant caselaw—therefore require the feds to set up a review process. That process might involve a judge reviewing the materials to separate out what is privileged (or what might fall within an exception to the privilege), or else set up a "dirty team" that does the review but is insulated from the "clean team" running the investigation. Another option is a "special master," an experienced and qualified third-party attorney to do the review. Sometimes the reviewing team will only be identifying and protecting privileged material. Sometimes the reviewing team will be preparing to seek, or to implement, a court ruling that the documents are not privileged. (Robert Mueller is aggressive on this sort of thing; he already sought and obtained a court ruling that some of Paul Manafort's communications with his lawyers were not privileged because they were undertaken for the purpose of fraud — the so-called "crime-fraud exception" to the attorney-client privilege.

3. A Magistrate Judge signed off on this. Federal magistrate judges (appointed by local district judges, not by the President) review search warrant applications. A Magistrate Judge therefore reviewed this application and found probable cause — that is, probable cause to believe that the subject premises (Cohen's office) contains specified evidence of a specified federal crime. Now, Magistrate Judges sometimes are a little too rubber-stampy for my taste(notably, recall the time that a Magistrate Judge signed off on a truly ludicrous gag order forbidding Reason from revealing that it had been served with a subpoena for information identifying commenters). But here, where the Magistrate Judge knew that this would become one of the most scrutinized search warrant applications ever, and because the nature of the warrant of an attorney's office is unusual, you can expect that the Magistrate Judge felt pretty confident that there was enough there.

4. The search warrant application (the lengthy narrative from the FBI agent setting for the evidence) is almost certainly still under seal, and even Michael Cohen doesn't get to see it [yet]. But the FBI would have left the warrant itself — and that shows (1) the federal criminal statutes they were investigating, and (2) the list of items they wanted to seize. Much can be learned for those. Assuming Michael Cohen doesn't release it, watch for it to be leaked.
Executing a search warrant on an attorneys office is not an everyday occurrence for obvious reasons, and it's even less common for investigators to do so utilizing a warrant that authorizes them to carry out the raid without needing to forewarn the apparent target of the investigation beforehand. The fact that they were able to obtain such a warrant indicates strongly that investigators were able to present a Judge with compelling evidence that may well go beyond the probable cause requirements that are required for all search warrants. Specifically, it's likely that investigators had to have presented the Judge with evidence that the crime-fraud exception to the attorney-client privilege would be implicated by the documents they expected to find and that there was a danger that those records could be destroyed if Cohen was given advance warning of a raid.
As I've noted before, the entire Daniels affair raises several significant legal issues, including potential violations of Federal election laws as well as fraud, mail fraud, bank fraud, and tax fraud issues. The fact that it's being investigated is thus not at all surprising. Nonetheless, as I said, it's not every day that a lawyer's office is raided under circumstances like this and that applies even more so when you're talking about the office of the longtime personal attorney of the President of the United States. Even if this isn't directly related to the Russia investigation, this is likely to become a legal headache not just for Cohen but also potentially the President himself. The only question is whether they'll be fighting two prosecutors or just one.