Michael Cohen Pleads Guilty Again, Admits Lying About Trump Project In Russia
Donald Trump's former attorney Michael Cohen plead guilty to lying to Congress about Trump's business dealings with Russia, and has agreed to cooperate with Robert Mueller's investigation.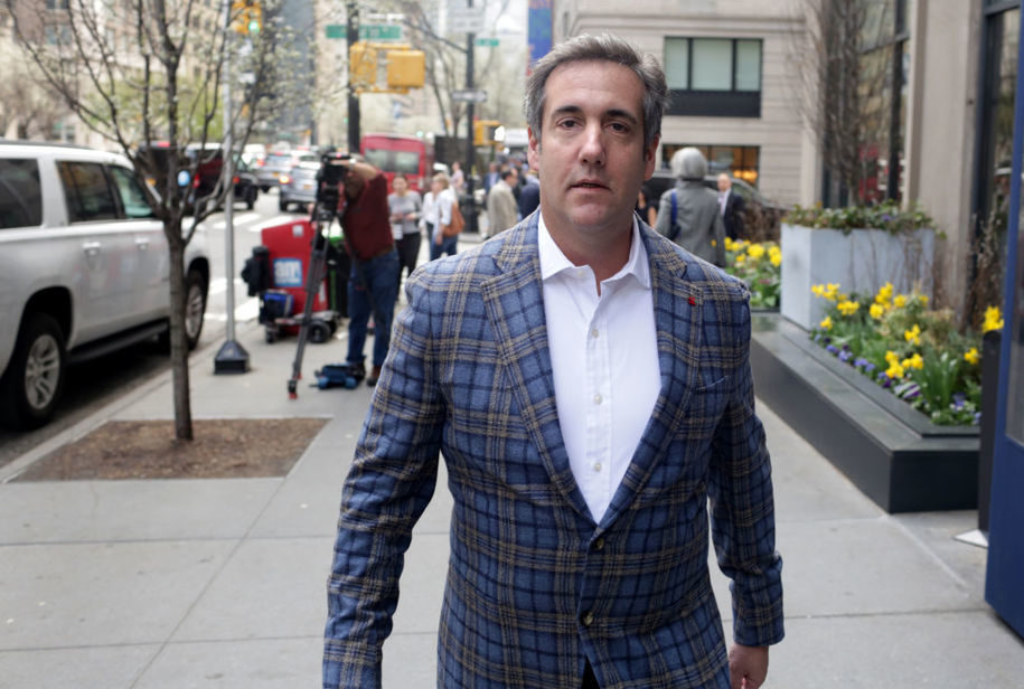 Michael Cohen, the man who for years served as one of Donald Trump's personal lawyers who was heavily involved in a number of Trump-related matters both before and during the campaign, appeared in a Federal Court in Manhattan today and pled guilty to lying to Congress regarding efforts to construct a Trump Tower in Moscow, revealing for the first time that those efforts continued well after Trump had entered the race for President, a revelation that contradicts claims that the President himself had made to the press for the past three years:
Michael D. Cohen, President Trump's former lawyer, who pleaded guilty in August to breaking campaign finance laws, made a surprise appearance in a Manhattan courtroom on Thursday morning and pleaded guilty to a new criminal charge, the latest turn in the special counsel's investigation of Mr. Trump and his inner circle.

At the court hearing, Mr. Cohen admitted to making false statements to Congress about his efforts to build a Trump Tower deal in Moscow during the 2016 presidential campaign. That real estate deal has been a focus of the special counsel investigation into whether the Trump campaign conspired with Russian operatives.

In written testimony to the Senate Intelligence Committee, Mr. Cohen played down the extent of his contact with the Kremlin about the potential project and made other false statements about the negotiations, which never led to a final deal.

Mr. Cohen's new guilty plea comes at a particularly perilous time for Mr. Trump, whose presidency has been threatened by Mr. Cohen's statements to investigators. In recent days, the president and his lawyers have increased their attacks on the Justice Department and the special counsel's office.

The new guilty plea in Federal District Court marks the first time the office of the special counsel, Robert S. Mueller III, has charged Mr. Cohen. In exchange for pleading guilty and continuing to cooperate with Mr. Mueller, he may hope to receive a lighter sentence than he otherwise would.

The move comes just two weeks before Mr. Cohen, 52, is scheduled to be sentenced for his earlier guilty plea. That case, which also included bank and tax crimes, was brought by federal prosecutors in Manhattan.

This week, Mr. Mueller accused Mr. Trump's onetime campaign manager, Paul Manafort, of repeatedly lying to investigators in breach of a plea agreement. And Mr. Trump's lawyers recently submitted his written responses to questions from Mr. Mueller, who the president accused on Tuesday of operating a "Phony Witch Hunt."

It was just three months ago that Mr. Cohen, pleading guilty for the first time, stood up in a different Manhattan courtroom and accused Mr. Trump of directing hush-money payments during the 2016 campaign to conceal potential sex scandals. Those payments formed the basis of the campaign finance charges against Mr. Cohen.

Although Mr. Cohen's first plea agreement did not include a formal cooperation deal, he had sat for repeated interviews with Mr. Mueller's investigators.

He also offered assistance to the office prosecuting him, the United States attorney's office for the Southern District of New York, according to a person briefed on the matter. (Mr. Mueller's investigators referred the investigation of Mr. Cohen to the Southern District earlier this year).

The Southern District said last month in a court filing that it was continuing to investigate "Michael Cohen and others." While the filing did not identify other suspects, the prosecutors are expected to examine whether people in Mr. Trump's circle were aware of Mr. Cohen's criminal conduct.
Michael Cohen, a former personal attorney to President Trump, pleaded guilty Thursday in New York to lying to Congress about a Moscow real estate project that Trump and his company pursued during the months he was running for president.

In a nine-page filing, prosecutors laid out a litany of lies that Cohen admitted he told to congressional lawmakers about the Moscow project — an attempt, Cohen said, to minimize links between the proposed development and Trump as his presidential bid was taking off.

Cohen falsely said efforts to build a Trump-branded tower in Moscow ended in January 2016, when in fact discussions continued through that year, the filing said. Among the people Cohen briefed on the status of the project was Trump himself, on more than three occasions, according to the document.

Trump has repeatedly said that he had no business dealings in Russia, tweeting in July 2016, "For the record, I have ZERO investments in Russia" and telling reporters in January 2017 that he had no deals there because he had "stayed away."

Cohen's new guilty plea is the latest development in a wide-ranging investigation by special counsel Robert S. Mueller III into Russian interference in the 2016 election.

On Thursday, Trump denounced Cohen when reporters asked about the case as he left the White House.

"Michael Cohen is lying and he's trying to get a reduced sentence for things that have nothing to do with me," the president said. "This was a project that we didn't do, I didn't do… There would be nothing wrong if I did do it."

"He's a weak person," Trump added.

During the campaign, Cohen acted as Trump's point person in an attempt to build the Trump development in Moscow. He has said the project was in its early stages in the fall of 2015, as Trump's presidential campaign heated up.

Cohen previously said the project stalled in January 2016, prompting him to email a top aide to Russian President Vladi­mir Putin seeking help. Cohen previously said he never received a response and the project was halted that month.

In fact, according to the filing, Cohen received a response and discussed the project for 20 minutes on the phone with an assistant to a Russian official, seeking help with both securing land and financing.

Prosecutors also said that that Cohen continued to have contact into the summer of 2016 with Felix Sater, the Russian-born developer who was assisting on the project. Some of those contacts were first reported by The Washington Post.

In June 2016, Sater invited Cohen to attend an economic conference in St. Petersburg, assuring Cohen he could be introduced to Russian Prime Minister Dmitry Medvedev, top financial leaders and perhaps Putin, The Post reported.

According to the criminal information filed by prosecutors, Cohen sent a two-page letter to the committee in which he "knowingly and deliberately" made false statements, including that the Moscow project "ended in January 2016 and was not discussed extensively with others in the company," that Cohen "never agreed to travel to Russia in connection with the Moscow project and 'never considered' asking Individual 1 to travel for the project," and that Cohen "did not recall any Russian government response or contact about the Moscow Project."

The document does not identify "Individual 1," but according to people familiar with the case, that person is President Trump.

"Cohen discussed the status and progress of the Moscow Project with Individual 1 on more than the three occasions Cohen claimed to the committee, and he briefed family members of Individual 1 within the Company about the project," according to the information.

The document goes on to say Cohen made those statements attempting to conceal or minimize a number of facts, including that the project "was discussed multiple times within the company and did not end in January 2016," but rather Cohen and "Individual 2" discussed the efforts as late as June 2016.

The document does not identify Individual 2, but people familiar with the investigation said it is Sater.

The document also says that Cohen discussed in May of 2016 the possibility that he might travel to Russia before the Republican National Convention and that Individual 1 might travel there after the convention, but a month later, told "Individual 2" – Sater – that he would not be making such a trip.

Federal sentencing guidelines would call for Cohen to face a prison sentence of only six months at high end, and no time in prison at the low end, according to his plea agreement for false statements. Both sides agreed they would not ask for a sentence outside of those range, provided Cohen continues to cooperate.
This isn't the first guilty plea by Cohen, of course. Three months ago, Cohen pled guilty to a number of charges unrelated to the Russia investigation but which implicated the President in a conspiracy to buy the silence of adult film actress Stormy Daniels and Playboy model Karen McDougal, both of whom have claimed to have had an affair with Trump during the time that his wife was pregnant with his youngest son Barron. In the course of his plea and admission of guilt in Court at that point, Cohen stated on the record that he entered into both agreements on the direction of, and with the full knowledge of, the President. It was also reported that that Cohen did not choose to pursue an agreement with Stormy Daniels until after the release of the Access Hollywood tape, a development that makes it far more likely that this payoff to Daniels, as well as the contemporaneous payoff to former Playboy model Karen McDougal were made to benefit the Trump campaign than that it was to protect the Trump marriage or shield Melania Trump from embarrassment. This is brought home to an even greater extent by the fact that campaign finance law violations are reportedly among the charges that Cohen will plead guilty to today, and the fact that we know  the President knew about the payoff to Daniels but that he had reimbursed Cohen for the $130,000 that was paid to Daniels, the prospects that this could lead to future legal problems for the President are rather obvious. It was also revealed that Trump was kept aware, through Cohen, of the negotiations between McDougal and the publisher of the National Enquirer to buy the rights to Karen McDougal's story regarding her affair with Trump and that, later, he was involved with Cohen in efforts to negotiate a subsequent sale of those rights by the publisher to a dummy corporation that Cohen had established to facilitate the payments in question. While that part of the deal was apparently never formalized, the fact that it was undertaken at all is further evidence that the purpose of the payment to McDougal was to benefit the Trump campaign in advance of the election. As I noted at the time, what all of this meant is that President Trump was, effectively, an unindicted coconspirator along with Cohen in a conspiracy to violate Federal election law in order to keep certain information out of the public domain in advance of the election.
Today's guilty plea involves an entirely different matter, and potentially provides a piece of the puzzle explaining what many have noted has been the President's sometimes odd relationship with Russia in general and Russian President Vladimir Putin in particular. Specifically, it centers on efforts on the part of The Trump Organization to develop real estate in Moscow for what some have referred to as "Trump Tower Moscow." but which some reports have said included both a hotel and a Trump Tower like project that would have consisted of a mixed-use commercial and residential building. Previously, both Trump and Cohen had claimed that any discussions that were had with Russian officials had ended either before Trump ran for President or, at the very least, before the Presidential campaign began in earnest in the early months of 2016. Today, Cohen admitted that this was a lie and that he was involved with negotiations related to this project that lasted at least well into 2016, that he communicated about it with the President and members of his family who worked at The Trump Organization on a regular basis, and that there were ongoing discussions about Trump actually taking time off the campaign trail to meet with Russian President Putin. That meeting never took place, but the significance of Cohen's tesitmony today is that he, Trump, and other Trump officials lied on multiple occasions regarding this project, and that this claim was falsely repeated to Congressional cmmittees investigating the Russia matter by Cohen and perhaps by others, possibly including Trump family members such as Donald Trump Jr.
In any case, it is hard to understate the significance of today's developments. Cohen's guilty  plea in August is important, of course, because it implicates the President in a criminal conspiracy to violate campaign laws, and we have yet to fully understand what the consequences of that admission on Cohen's part will be for the President. Under the terms of that plea agreement, though, Cohen did not formally agree to cooperate with Mueller's investigation or to reveal everything he may know about Trump, his businesses, and the ties that either may have to Russia or Russian business interests. This agreement, though, is directly between Cohen and the Special Counsel's office and makes clear that Cohen will be cooperating with Mueller's investigation going forward even more than he has been over the past three months. Additionally, these revelations by Cohen make it clear that Trump has been lying about potential business interests and dealings with Russia for an extended period of time. This is significant both because it is potentially a link that could substantiate charges of collusion and conspiracy as well as an explanation for why the Trump White House may have sought to obstruct the Russia investigation from the beginning.
In addition to all of this, both Donald Trump Jr. and Eric Trump, both of whom were already serving in high-ranking positions in their father's business at this time, were quoted at the time as saying in an almost braggadocious manner that the real estate developer was getting a lot of money from Russian banking interests. We also know that Trump had an interest in building a tower in Moscow that dates back to the 1990s, that he openly pursued relationships with people close to Putin in an effort to get permission to hold the Miss Universe pageant there (which happened in 2013), and that he had at least signed a letter of intent to build in Moscow back in 2015 just months before he entered the race for President. Finally, several news outlets have reported that Trump has a long history with Russian banking interests, including banks owned by individuals known to be within the inner circle of Russian President Vladimir Putin, that raise serious questions about whether or not he has a conflict of interest regarding U.S. relations with Russia in general and Putin in particular. All of this is significant, of course, because the fact that Trump has publicly denied any ties to Russia could potentially make him vulnerable to outside influence if the opposite were true and Russian officials were to threaten, even obliquely, to reveal the truth.
In any case, now that we know that Michael Cohen has been cooperating with Mueller and will continue to do so in the future means that before this is all over Robert Mueller will know everything there is to know about Donald Trump. Where that heads is anyone's guess, but I don't think it's going to be good news for the President.
Here is the Criminal Information filed this morning in the new case against Cohen:
United States v Michael Coh… by on Scribd
And here is the Plea Agreement itself:
United States v Michael Coh… by on Scribd