Donald Trump Is Clearly Worried That Michael Cohen Might Flip
Based on his recent behavior, it's clear that the President is worried about how loyal Michael Cohen might actually turn out to be.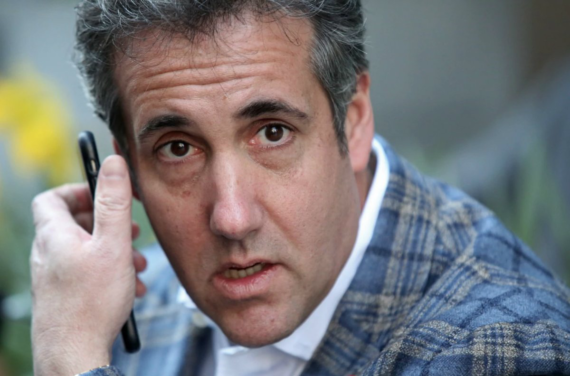 President Trump spent a good part of his morning yesterday reacting to reports that people close to the President that his longtime attorney Michael Cohen could end up cooperating with prosecutors to avoid a long prison sentence:
WASHINGTON — President Trump on Saturday criticized a report by The New York Times that described his years of poor treatment of his longtime personal lawyer, Michael D. Cohen, and concerns among the president's advisers that Mr. Cohen will cooperate with the federal officials who are now investigating him.

Mr. Trump, in a series of tweets on Saturday morning, accused The Times and one of the reporters who wrote the article, Maggie Haberman, of "going out of their way to destroy Michael Cohen and his relationship with me in the hope that he will 'flip.'" Mr. Trump accused The Times of using "non-existent 'sources,'" though he did not assert that the article was false.

He also said that "I don't speak to" Ms. Haberman and "have nothing to do" with her. In fact, she has interviewed the president twice in the Oval Office and three times by telephone.

Dean Baquet, the executive editor of The Times, said in a statement that "the story is filled with named quotes on the record, and everything Maggie has reported from inside the White House has proven true."

Mr. Trump often assails news organizations over reports he sees as unfavorable. While he rarely criticizes reporters by name, it was not the first time that he has singled out Ms. Haberman, who was part of a team that was awarded a Pulitzer Prize this past week for its reports on the Russia investigation. In March, he disputed an article describing his discussions about expanding the legal team that is dealing with the special counsel.

The president issued his attack on the new article after traveling Saturday morning from his Palm Beach, Fla., estate to Trump International Golf Club in West Palm Beach. He called the investigation into Mr. Cohen, which was approved by his own Justice Department, a "horrible Witch Hunt."
Here are the President's tweets, delivered while he was on the way to play golf and while his wife and 1,500 other invitees were gathering in Houston for the funeral of former First Lady Barbara Bush:
The New York Times and a third rate reporter named Maggie Haberman, known as a Crooked H flunkie who I don't speak to and have nothing to do with, are going out of their way to destroy Michael Cohen and his relationship with me in the hope that he will "flip." They use….

— Donald J. Trump (@realDonaldTrump) April 21, 2018
….non-existent "sources" and a drunk/drugged up loser who hates Michael, a fine person with a wonderful family. Michael is a businessman for his own account/lawyer who I have always liked & respected. Most people will flip if the Government lets them out of trouble, even if….

— Donald J. Trump (@realDonaldTrump) April 21, 2018
….it means lying or making up stories. Sorry, I don't see Michael doing that despite the horrible Witch Hunt and the dishonest media!

— Donald J. Trump (@realDonaldTrump) April 21, 2018
The impetus for Trump's latest Twitter tirade appears to be a series of reports from Politico, NBC News, and, most especially, The New York Times suggesting that Trump's longtime attorney and "fixer" Michael Cohen could end up flipping on his boss and cooperating with Federal investigators:
For years, a joke among Trump Tower employees was that the boss was like Manhattan's First Avenue, where the traffic goes only one way.

That one-sidedness has always been at the heart of President Trump's relationship with his longtime lawyer and fixer, Michael D. Cohen, who has said he would "take a bullet" for Mr. Trump. For years Mr. Trump treated Mr. Cohen poorly, with gratuitous insults, dismissive statements and, at least twice, threats of being fired, according to interviews with a half-dozen people familiar with their relationship.

"Donald goes out of his way to treat him like garbage," said Roger J. Stone Jr., Mr. Trump's informal and longest-serving political adviser, who, along with Mr. Cohen, was one of five people originally surrounding the president when he was considering a presidential campaign before 2016.

Now, for the first time, the traffic may be going Mr. Cohen's way. Mr. Trump's lawyers and advisers have become resigned to the strong possibility that Mr. Cohen, who has a wife and two children and faces the prospect of devastating legal fees, if not criminal charges, could end up cooperating with federal officials who are investigating him for activity that could relate, at least in part, to work he did for Mr. Trump.

Last week federal agents raided Mr. Cohen's office and hotel room and seized business records, emails and other material as part of what Mr. Trump has called a "witch hunt" by his own Justice Department. The trove included documents dating back decades, as well as more recent ones related to a payment in 2016 to a pornographic film actress who has said she had a sexual encounter with Mr. Trump, which Mr. Trump denies.

Although Mr. Trump called Mr. Cohen last Friday, four days after the raid, to "check in," according to people familiar with the call, he and Mr. Cohen have spoken little since Mr. Trump entered the White House. The two men did have dinner together at Mar-a-Lago, Mr. Trump's private club in Florida, a few weeks ago, but since the raid Mr. Cohen has told associates he feels isolated.

Mr. Trump has long felt he had leverage over Mr. Cohen, but people who have worked for the president said the raid has changed all that.

"Ironically, Michael now holds the leverage over Trump," said Sam Nunberg, a former aide to Mr. Trump who worked with Mr. Cohen and Mr. Stone. Mr. Nunberg said that Mr. Cohen "should maximize" that leverage.

"The softer side of the president genuinely has an affection for Michael," Mr. Nunberg said. For instance, Mr. Trump attended the bar and bat mitzvahs of Mr. Cohen's children. "However, the president has also taken Michael for granted." Mr. Nunberg added that "whenever anyone complains to me about Trump screwing them over, my reflexive response is that person has nothing to complain about compared to Michael."

Mr. Stone recalled Mr. Trump saying of Mr. Cohen, "He owns some of the finest Trump real estate in the country — paid top dollar for it, too." In Mr. Trump's worldview, there are few insults more devastating than saying someone overpaid.

For years, Mr. Cohen has described himself as unflinchingly devoted to Mr. Trump, whom he has admired since high school. He has told interviewers that he has never heard Mr. Trump utter an inaccuracy or break a promise. He has tweeted about Mr. Trump nearly 3,000 times.

In a Fox News interview last year, Mr. Cohen declared: "I will do anything to protect Mr. Trump." He told Vanity Fair in September that "I'm the guy who would take a bullet for the president," adding, "I'd never walk away."
The Times report goes on to note the numerous times that Cohen has gone out of his way to do his boss's bidding and curry favor with him in matters related to his personal and business life, as well as with respect to Trump's political ambitions when those began to make themselves apparent in advance of the 2012 Presidential election. In return, Trump has seemingly been stunningly dismissive of Cohen to the point of treating him like just another member of the hired help no matter how obsequious Cohen was toward his boss. In fact, from the descriptions contained in the Times report as well as the others linked to above it almost seems as though the worse Trump has treated Cohen the more obsequious he became.
All of this is relevant, of course, because of the fact that Cohen's office, home, and hotel room were subjected to an F.B.I. search earlier this month that seems aimed at uncovering details of several subject matters that link Cohen and Trump closely together. The most prominent of these, of course, would be the transaction in which Cohen arranged for the payment of $130,000 to adult film star Stormy Daniels in exchange for her silence regarding her relationship with Trump back in 2005 and 2006 when Trump's wife Melania was pregnant with his fifth child and third son. Additionally, Cohen is also rumored to have been involved in the transaction between Playboy model Karen McDougal and the owner of the National Enquirer the alleged purpose of which was to silence her from speaking about her own relationship with Trump during the same time period. In addition to all of this, Cohen is believed to have been involved in a host of Trump business deals over the past twenty years, including his efforts to build a hotel in Moscow, his dealings with Russian officials in connection with the Miss Universe pageant, and various other business and financial dealings that, until now, have largely been hidden behind the hundreds of shell companies that make up the so-called "Trump Organization." Outside of Trump's own family, there are probably very few people who know as much about Donald Trump and his finances as Michael Cohen.
Added on top of this is the fact that yesterday Cohen's own attorney told the Judge presiding over the civil case that Stormy Daniels against Cohen and Trump to invalidate the confidentiality and arbitration provisions of the settlement agreement that Cohen negotiated in 2016. During that hearing, Cohen's attorney told the Judge that he expected his client will be indicted within the next 90 days:
Michael Cohen's attorney argued in a Los Angeles court Friday that a lawsuit against Donald Trump's personal lawyer filed by porn actress Stormy Daniels should be delayed because Cohen could soon be indicted.

Cohen and the president were seeking a 90-day delay to a lawsuit filed by Daniels arguing that a nondisclosure agreement she signed before the 2016 election was invalid because Trump never signed it. On Friday, U.S. District Court Judge S. James Otero postponed ruling on the matter, giving Cohen until Wednesday to file a declaration that he will refuse to answer questions by invoking the Fifth Amendment's protection against self-incrimination.

Cohen had his office, home and hotel room raided by the FBI last week, with agents seizing documents related to the $130,000 payment he made to Daniels, whose real name is Stephanie Clifford. As part of his push for a delay, Cohen lawyer Brent Blakely claimed that "the potential indictment of client" puts Cohen "in a very difficult situation," according to CNBC.
After the hearing, Michael Avenatti, the attorney representing Stormy Daniels in the civil suit, said pretty much the same thing. while also continuing to be perhaps the most effective thorn in President Trump's side so far in all of the bizarre sagas that have been unfolding since Trump became President:
Avenatti appeared on CNN's "The Lead" with Jake Tapper later Friday afternoon and boldly predicted that President Donald Trump would end up resigning because of all of this.

"You said this week that you don't think President Trump will serve out his entire term. Where does that come from? That is a pretty wild claim," Tapper asked.

Avenatti responded that he hasn't been wrong yet.

"Well, it is really not wild. My record thus far has been spot on. I don't think I've been wrong about anything yet in the last five to six weeks," he said. "Jake, there is a lot of evidence in this case, there is a lot of shoes yet to drop. Michael Cohen is not going to hold up."

"Michael Cohen is going to flip on this president and he knows where the bodies are buried, or at least many of them," he added. "I do not think that the president will last through the balance of his term. I just don't. Now, we'll find out if I'm right or wrong, but I think he's going to ultimately resign the presidency."
All of this comes on top of reports last week that Trump and those close to him are more worried about the investigation into Michael Cohen than they are about the Congressional and Mueller investigations into Russian interference in the election and collusion between the Trump campaign and Russia. These worries are reinforced by things such as reports that  Cohen had the habit of routinely recording conversations he had with third parties, although he has reportedly stated that he did not record conversations he had with Trump. Nonetheless, those reports have many of Trump's allies worried  and reports out of the West Wing since the search warrant was executed against Cohen paint a picture of a President who has become even more unhinged, irritated, and agitated than he has been even in the wake of the most serious allegations regarding the Russia investigation. Yesterday's tweetstorm is just the latest evidence of that. If Cohen is indicted, that paranoia is only likely to increase, as is the danger that Cohen may decide that cooperating with investigators and prosecutors makes more sense than spending the rest of his life in prison to protect a man who, in the words of many of Trump's own friends, has treated him like garbage in the past.