Michael Cohen Recorded Conversation With Trump Regarding Payoff To Playboy Model
Donald Trump's longtime attorney and "fixer" Michael Cohen apparently recorded a conversation where the two men discussed paying off a Playboy model who claims she had an affair with him.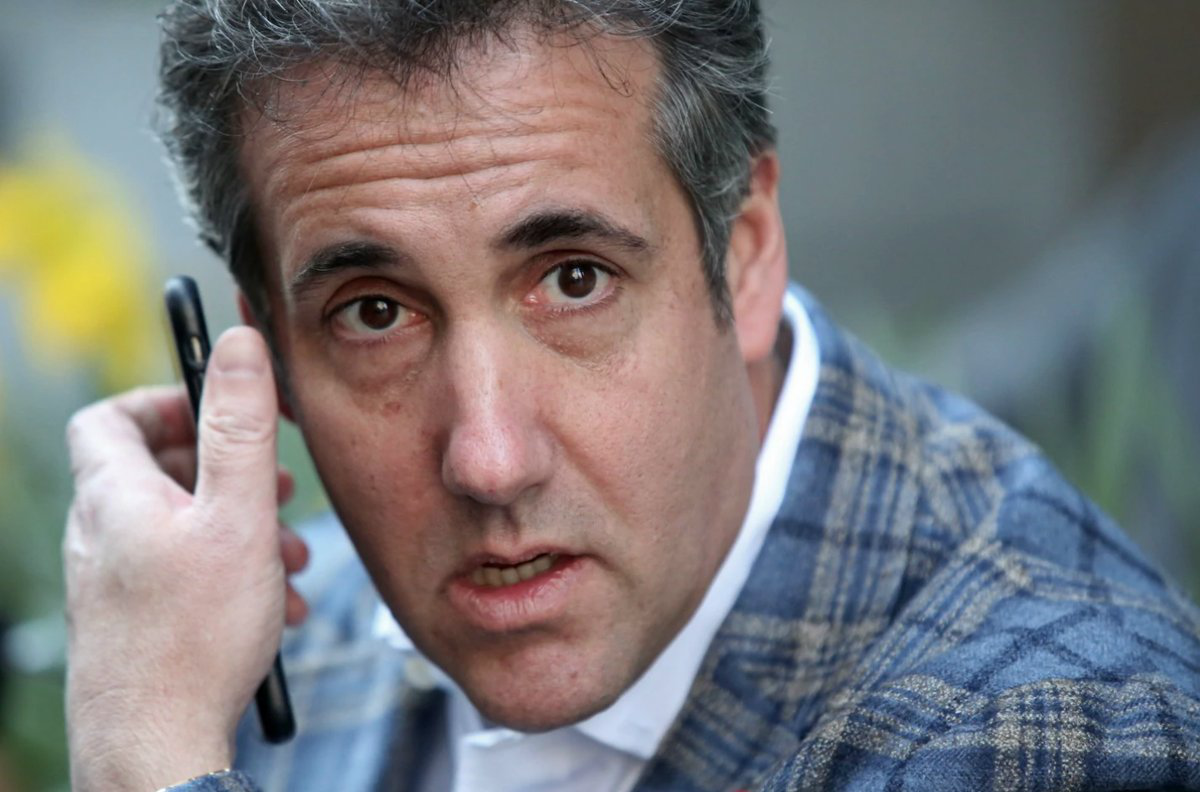 The New York Times is reporting that Michael Cohen, Donald Trump's longtime attorney and "fixer" who is the subject of an ongoing investigation by Federal prosecutors in New York City, recorded a conversation between himself and Donald Trump in the month prior to the 2016 election discussing paying off Karen McDougal, the Playboy model who says she had an affair with Trump while his wife Melania was pregnant with their son Barron:
WASHINGTON — President Trump's longtime lawyer, Michael D. Cohen, secretly recorded a conversation with Mr. Trump two months before the presidential election in which they discussed payments to a former Playboy model who said she had an affair with Mr. Trump, according to lawyers and others familiar with the recording.

The F.B.I. seized the recording this year during a raid on Mr. Cohen's office. The Justice Department is investigating Mr. Cohen's involvement in paying women to tamp down embarrassing news stories about Mr. Trump ahead of the 2016 election. Prosecutors want to know whether that violated federal campaign finance laws, and any conversation with Mr. Trump about those payments would be of keen interest to them.

The recording's existence further draws Mr. Trump into questions about tactics he and his associates used to keep aspects of his personal and business life a secret. And it highlights the potential legal and political danger that Mr. Cohen represents to Mr. Trump. Once the keeper of many of Mr. Trump's secrets, Mr. Cohen is now seen as increasingly willing to consider cooperating with prosecutors.

The former model, Karen McDougal, says she began a nearly yearlong affair with Mr. Trump in 2006, shortly after Mr. Trump's wife, Melania, gave birth to their son Barron. Ms. McDougal sold her story for $150,000 to The National Enquirer, which was supportive of Mr. Trump, during the final months of the presidential campaign, but the tabloid sat on the story, which kept it from becoming public. The practice, known as "catch and kill," effectively silenced Ms. McDougal for the remainder of the campaign.

Rudolph W. Giuliani, Mr. Trump's personal lawyer, confirmed in a telephone conversation on Friday that Mr. Trump had discussed payments to Ms. McDougal with Mr. Cohen on the tape. He said the recording was less than two minutes long and claimed that the president had done nothing wrong.

Mr. Giuliani said there was no indication on the tape that Mr. Trump knew before the conversation about the payment from the Enquirer's parent company, American Media Inc., to Ms. McDougal.

"Nothing in that conversation suggests that he had any knowledge of it in advance," Mr. Giuliani said.

The men discussed a payment from Mr. Trump to Ms. McDougal — separate from the Enquirer payment — to buy her story and ensure her silence, Mr. Giuliani said. That payment was never made, Mr. Giuliani said, adding that Mr. Trump had told Mr. Cohen that if he were to make a payment related to the woman, to write a check rather than send cash, so it could be properly documented.

Mr. Cohen's lawyers discovered the recording as part of their review of the seized materials and shared it with Mr. Trump's lawyers, according to three people briefed on the matter.

Mr. Cohen rejected repeated requests for comment. "We have nothing to say on this matter," Mr. Cohen's lawyer, Lanny J. Davis, said when asked about the tape.

David J. Pecker, the chairman of A.M.I., is a friend of Mr. Trump's, and Ms. McDougal has accused Mr. Cohen of secretly taking part in the deal — an allegation that is now part of the F.B.I. investigation.

When The Wall Street Journal revealed the existence of the A.M.I. payment days before the election, Mr. Trump's campaign spokeswoman, Hope Hicks, said, "We have no knowledge of any of this." She said Ms. McDougal's claim of an affair was "totally untrue."

It is not clear how explicit Mr. Trump and Mr. Cohen were in their recorded conversation. Any evidence showing that Mr. Trump knew about the financial arrangement would undercut the Trump campaign's statements.

Because the tape showed Mr. Trump learning about the A.M.I. payment, it actually helps Mr. Trump, Mr. Giuliani argued. "In the big scheme of things, it's powerful exculpatory evidence," he said.

The recording is potential evidence in the campaign finance investigation, but became tied up in a legal fight over what materials are protected by attorney-client privilege and thus off limits to prosecutors. It is not clear whether a federal judge has ruled on whether prosecutors can listen to the recording.
This would not be the first time that Cohen would be at the center of an effort to keep a woman who has claimed to have had a sexual relationship with Trump quiet during the course of the Presidential campaign.  During roughly the same time period that this conversation took place, Cohen was closely involved with the negotiation of an agreement with adult film star Stormy Daniels on the eve of the 2016 General Election under which Daniels was paid $130,000 for her silence regarding an alleged relationship with Trump some ten years earlier at roughly the same time as McDougal has alleged she had a longer-term relationship with the real estate mogul. Initially, the President denied having any knowledge about Cohen's agreement with Daniels and said that he knew nothing about the payment to Daniels and never reimbursed Cohen for the payment. Cohen backed up these statements by the President, saying that he had negotiated the agreement on his own, that the money came from a second mortgage he took out on his home, and that he was never reimbursed for that payment. While that explanation did not make sense when taken into context with the story that Daniels herself told regarding the circumstances of the agreement, it's one that Trump's camp and Cohen maintained for a number of months after the story became close.
All of this changed, though, soon after Cohen's office and home were searched by the F.B.I. pursuant to a search warrant and after information regarding the Daniels payment and other legal matters were passed along to the United States Attorney for the Southern District of New York by Special Counsel Robert Mueller's investigators and the Justice Department in Washington. Within a month after that, Rudy Giuliani, who had only recently been hired as one of President Trump's attorneys, revealed that Trump had in fact reimbursed Cohen for the payment and suggested that the President did know about Cohen's payment to Daniels notwithstanding his previous denials. Subsequently, the President has filed a financial disclosure acknowledging the fact that he reimbursedCohen after all. As noted above, while Cohen didn't go into details about the Stormy Daniels affair, his response certainly seems to hint that he knows more than what's been made public, and that could be of interest to prosecutors.
The circumstances surrounding the McDougal case are different from the Daniels case in several respects, but also similar enough that they raise the question of whether there was a common practice of making payments to women that Donald Trump had affairs with in an effort to keep them quiet. In the McDougal case, the payment that was made to her that we know about came not from Cohen, but from the owner of the National Enquirer David J. Pecker, who is the Chairman and CEO of American Media, Inc., the publisher of that and a number of other publications who also happens to be a close friend of Trump's. McDougal has claimed that Pecker and AMI essentially sought to deceive here into selling her story to AMI so that it would have exclusive rights to that story, in exchange for which she apparently received $150,000 as well as promises that she would be given space in the pages of other AMI publications in the future. McDougal has also said that her attorney at the time was also in communication with Michael Cohen regarding such an agreement, although she was not aware of those conservations at the time and the contents of those communications were never revealed to her. In March of this year, McDougal filed suit against AMI alleging that it had not complied with those provisions of the agreement and that the entire purpose for entering into the agreement was to obtain the rights to the story of McDougal's affair with Trump and then never publish, a practice known as "catch and kill" that AMI has been known to use in the past when it came to stories about people with whom Pecker has a close relationship, such as President Trump. That lawsuit was settled in April, with the result that McDougal was released from the agreement and is now free to speak about her relationship with Trump, although she had already done so in an interview with CNN's Anderson Cooper a month prior to settling the case.
There are several things that are unclear about this tape and what it might mean going forward. As a preliminary legal matter, it's worth noting that New York is a "one-party" consent state when it comes to recording conversations, meaning that the recording was legal as long as one of the parties knew it was being recorded. Since Cohen was the one who made the recording, that's clearly the case here. Additionally, it was reported months ago that Cohen had the habit of routinely recording conversations he had with third parties, although he had reportedly claimed that he had never recorded conversations with Trump. Therefore, it isn't entirely surprising that this recording exists.
What isn't clear, though, is whether or not this conversation would be covered by the attorney/client privilege. The answer to that question depends on whether or not Cohen was acting as Trump's attorney with respect to this matter, or whether Trump at least he believed it was. If that's the case, then the conversation would be considered privileged and it would be a serious ethical violation for Cohen to make the recording, or even a summary of what's contained in the recording, public. There would be no violation, though, if Cohen was not acting as Trump's attorney in this matter or if it was Trump's side that leaked the recording, thus waiving any claim to the privilege regarding its contents. The final possibility, of course, is that the tape's existence was leaked by someone close to the Southern District's investigation but that seems unlikely both because such an action would be a serious problem for the U.S. Attorney's office and because this initial report seems to suggest that the tape has not yet been turned over to the F.B.I. because of the ongoing inquiry into what material seized from Cohen's office may be covered by an applicable attorney/client privilege.
It's too early to tell what impact this tape, and any others that might exist, could have on the investigations swirling around the President, but it's clearly not good news and yet another indication of just how important the developments regarding Michael Cohen could end up being. Within weeks after the F.B.I. search of Cohen's home and office, there were signs that the President was clearly worried that his former attorney might cooperate with investigators and that, generally speaking, he was more worried about the Cohen investigation than the Mueller investigation. Those reports resurfaced in May. Last month, we learned that Cohen's defense team had terminated a joint defense agreement with Trump's legal team and that Cohen has said in an off-camera interview with ABC News that he was primarily concerned with himself and his family. Both of these were seen as pointing to the possibility that Cohen, the man who reportedly knows all of Donald Trump's secrets might be about to become a cooperating witness with prosecutors in both New York and Washington. If true, that could be the most significant development of all in this entire investigation.