Congress To Investigate Payoffs To Karen McDougal and Stormy Daniels
House Democrats are set to investigate the payoffs made to Karen McDougal and Stormy Daniels in advance of the 2016 election.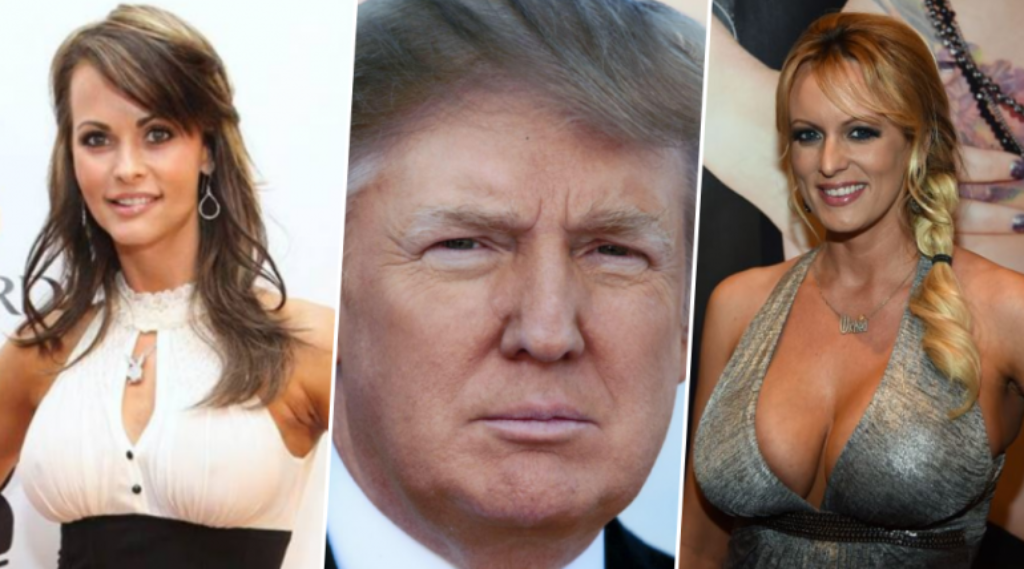 With Congress set to reconvene next week, House Democrats are announcing plans to investigate the President's involvement in the efforts to purchase the silence of Stormy Daniels and Karen McDougal in advance of the 2016 election, an action which potentially violates several provisions of campaign finance law:
House Democrats plan to make President Trump's alleged involvement in a 2016 scheme to silence two women who claimed they hadaffairs with him a major investigative focus this fall, picking up where federal prosecutors left off in a case legal experts say could have led to additional indictments.

The House Judiciary Committee is preparing to hold hearings and call witnesses involved in hush-money payments to ex-Playboy model Karen McDougal and adult-film star Stormy Daniels as soon as October, according to people familiar with the plans who spoke on the condition of anonymity to describe internal discussions.

Democrats say they believe there is already enough evidence to name Trump as a co-conspirator in the episode that resulted in his former attorney, Michael Cohen, pleading guilty to two campaign finance charges.

Cohen, who is serving a three-year prison sentence for those counts and other crimes, testified under oath that Trump directed the payments that helped land him behind bars. Federal prosecutors in Manhattan also described Trump's alleged role in the scheme, referring to him in court papers as "Individual-1." But they concluded their investigation this summer without bringing any additional charges.

The hush-money inquiry will open a new chapter in the House's months-long consideration of whether to draft articles of impeachment against the president.

More than 130 House Democrats have called for an official impeachment inquiry to begin, although House Speaker Nancy Pelosi (D-Calif.) has cautioned that trying to remove Trump would be divisive and politically risky without public support.

The new congressional inquiry will reopen questions about the extent of Trump's involvement in the episode — and whether he would have been charged if not for Justice Department opinions that a sitting president cannot be indicted.

"The fingerprints are all over this one — it's not like a big mystery," said Rep. Jamie B. Raskin (D-Md.), a member of the Judiciary panel. "As with the evidence of presidential obstruction of justice, the conclusion seems inescapable: that [Trump] would have been tried had he been anybody else. And now it's left to Congress again to figure out what to do with the lawbreaking and apparent impunity of the president."

Trump, his aides and attorneys have made contradictory statements about the president's knowledge of the payments. But his lawyers have repeatedly denied that Trump committed wrongdoing.

"No campaign violations were engaged in by the president," said Jay Sekulow, Trump's personal attorney.

As part of the probe, Democrats plan to explore whether the investigation was stymied or obstructed. The Judiciary Committee is also considering as a potential witness David Pecker, the chairman and CEO of American Media Inc., the parent company of the National Enquirer, which admitted making the payment to McDougal.

AMI complied with a document request Democrats made earlier this year, giving the committee all communications it previously turned over to law enforcement, according to the people familiar with the inquiry.
The story behind these payoffs is fairly well-known at this point. Back in the mid-2000s when Trump's wife Melania was pregnant with their son, Trump apparently had multiple affairs and sexual dalliances. Most notably, these included Stephanie Clifford, a pornographic film actress who goes by the name Stormy Daniels, and Karen McDougal, a former Playboy model who Trump. The Daniels affair was apparently a short-lived one that lasted no longer than one or two encounters, while the affair with McDougal apparently lasted for several months at least. Rumors about these relationships, which were not dissimilar from those that Trump had while married to his first and second wives, apparently floated around Hollywood and New York for several years although they never became well-known to the public.
Fast forward to the fall of 2016, when Donald Trump was running for President. At that point, there was some concern that these twin stories would come out in advance of the election and damage the President's campaign. This fear apparently became stronger after the release of the Access Hollywood tape, which was quickly followed up by allegations from more than a dozen women of sexually inappropriate behavior by Trump over the years. It was roughly around this time that negotiations began on two fronts.
First, representatives for Stormy Daniels were approached regarding an agreement between her and Trump that would involve being paid a certain amount of money in exchange for her silence regarding her affair with Trump. The agreement was negotiated between an attorney representing Trump and Michael Cohen, who was, of course, Trump's personal lawyer at the time.
The original claim from the White House was that the President had no idea what was going on with regard to these payments, and the President himself restated this position several times when asked about it by reporters. In addition to the fact that these claims of ignorance did not pass the test of credulity, generally speaking, these claims quickly began to fall apart in the spring of this year. In May, for example, Rudy Giuliani, who had at that point only recently joined the President's legal team, appeared on Fox News Channel and revealed, to the surprise of many, that not only did the President know about the payoff to Daniels but that he had reimbursed Cohen for the $130,000 that was paid to Daniels. A week later, the President released an updated financial disclosure in which he acknowledged having reimbursed Cohen beginning late in 2016 and continuing into the beginning months of his time as President.
At roughly the same time that the payment was being negotiated with Daniels, separate negotiations were taking place between McDougal and American Media, Inc, the parent company of the National Enquirer and a number of other publications. The CEO of AMI happens to be David Pecker, a long-time friend of Trump's. AMI and McDougal ultimately reached an agreement that effectively silenced her in advance of that election. Under that agreement, McDougal was paid $150,000 for the rights to her story regarding the affair and apparently promised column space in AMI publications which she has alleged she was never actually given. McDougal has also said that her attorney at the time was also in communication with Michael Cohen regarding such an agreement, although she was not aware of those conservations at the time and the contents of those communications were never revealed to her. In March of last year, McDougal filed suit against AMI alleging that it had not complied with its obligations under the agreement and that the entire purpose for entering into the agreement was to obtain the rights to the story of McDougal's affair with Trump and then never publish it, a practice known as "catch and kill" that AMI has been known to use in the past when it came to stories about people with whom Pecker has a close relationship, such as President Trump. That lawsuit was settled in April, with the result being that McDougal was allowed to keep the payment and retained the rights to tell her story. As with the payment to Stormy Daniels, Michael Cohen has stated that Trump was fully aware of the payment to McDouglas.
As election law expert Rick Hasen noted more than a year ago, all of this is very significant legally:
Cohen's payment to Daniels, if motivated to help the campaign, would be a likely campaign finance violation. Depending on his motive, either Cohen made an excessive and unreported "in kind" contribution to the campaign—by funding a payment in excess of the $2,700—or Cohen made an unreported loan to the campaign which the Trump campaign should have reported. If Trump knew about it at the time, Trump could be implicated in a conspiracy with Cohen.

The problem with this case, as in the 2012 case against John Edwards for payments by supporters to his mistress, is the question of whether the funds were campaign-related. Edwards' defense was that his payments were personal to help his relationship with his wife—not campaign related—an argument that led to Edwards being acquitted on one charge and the jury deadlocked on the others.

So too it could be with the Cohen-Daniels payment. If Cohen intended the payment to preserve Trump's relationship with his wife Melania, for example, rather than to bolster the campaign, then there would be no campaign finance violation. As I have been saying for a while, the case could turn on whether there is documentary evidence indicating an intent one way or the other.

(…)

The Journal reports federal prosecutors view the release of the "Access Hollywood" tape as the "trigger" for Cohen's payments to Daniels.

That's a big deal. Two important Republican election lawyers have attempted to set a high bar for how to tell when a payment in this context might be campaign-related rather than personal. Charlie Spies told the Journal in February that the payment to Daniels was "an expense that would exist irrespective of whether Mr. Trump was a candidate and therefore should not be treated as a campaign contribution." And former Federal Election Commission chair Brad Smith wrote in an April op-ed in the Journal that "FEC regulations explain that the campaign cannot pay expenses that would exist 'irrespective' of the campaign, even if it might help win election. At the same time, obligations that would not exist 'but for' the campaign must be paid from campaign funds."

Even under these tough standards for what counts as campaign-related, the proof of the timing would be damning for Cohen. Why should Cohen not care a whit about protecting Trump's reputation in his wife's eyes in September 2016, but be anxious to close the deal—and shut Daniels up—right as the campaign faced a crisis involving allegations of Trump's treatment of women? The Daniels payment was not an expense that existed until the campaign needed it. But for the campaign, it seems that Cohen would not have paid.
The most paramount legal implication comes from the potential violation of campaign finance laws. If it can be established that the payment to Daniels was made primarily out of the fear that her allegations could become public immediately prior to the 2016 election then that payment could be interpreted as being an illegal in-kind campaign contribution. In that respect, these revelations are potentially quite significant if they turn out to be accurate. From the report, it seems as though Cohen (and by extension Trump) rejected the idea of making any kind of payment when initially approached by the lawyer that was representing Daniels in September 2016 but that they significantly changed their tune after the release of the Access Hollywood tape, which was quickly followed by a group of women that ended up numbering nearly two dozen who accused then-candidate Trump of having sexually harassed them in the past. The immediate impact of those revelations, of course, was exceedingly negative for Trump's campaign. Not only did it lead many Republicans to openly attack their party's nominee less than a month before Election Day but it also had a measurable impact on the polling that was only reversed by the release of the letter regarding reopening the Clinton email investigation that James Comey sent to Congress about two weeks later. As Hasen notes, this makes it highly probable that the payment to Daniels was meant to protect Trump the candidate and the Trump campaign, not to protect Trump the person or the Trump marriage. If that's the case, then the payment would seem to clearly fall within the kind of illegal in-kind campaign contribution that the election laws contemplate.
Where this all leads is unclear, but it does seem to reinforce the reasons why, as was reported repeatedly throughout the summer, Trump has as much to worry about from a legal perspective from what Michael Cohen might tell prosecutors than he did from the Russia investigation. Now that Democrats will have control of the House and its investigatory powers starting in January, it seems inevitable that we'll be learning more about all of this, and more, as time goes on.