Michael Cohen Set To Deliver Potentially Blockbuster Evidence Against Trump
Michael Cohen, the President's former lawyer and "fixer," is set to deliver several bombshells in his testimony before Congress today.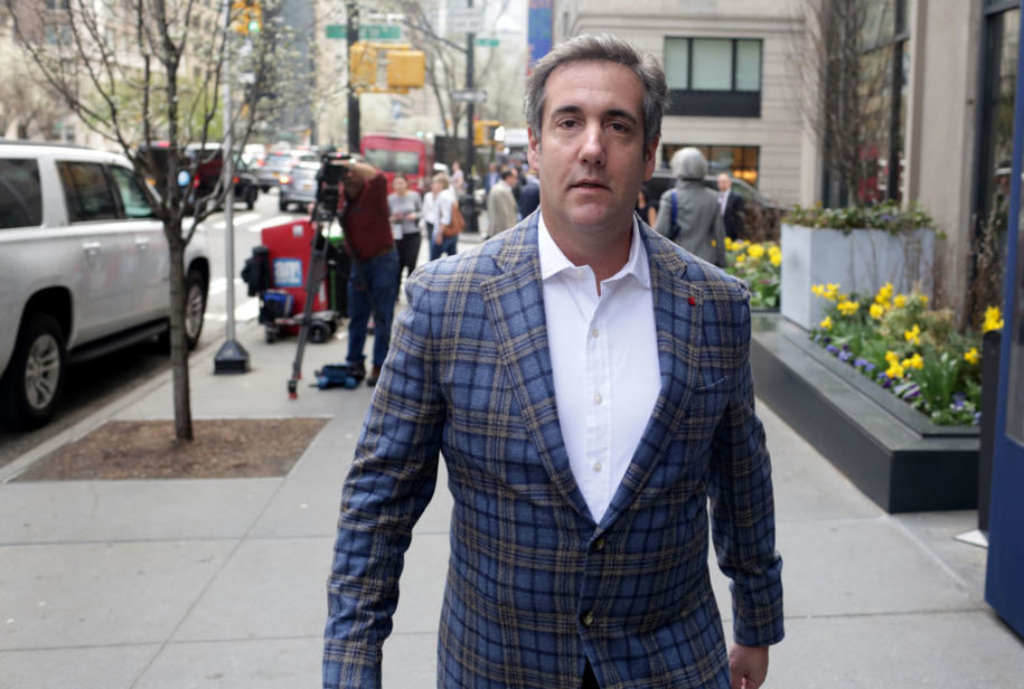 Michael Cohen, who testified yesterday behind closed doors before the Senate Intelligence Committee, is set to testify publicly today, and it appears he'll be delivering several bombshells even as Republicans seek to defend the President:
WASHINGTON — Michael D. Cohen plans to tell Congress on Wednesday that President Trump is a "con man" and a "cheat" who knew a longtime adviser was communicating with WikiLeaks — and who implicitly instructed Mr. Cohen to lie about a Trump Tower project in Moscow that was underway during the 2016 presidential campaign.

The extraordinary testimony will take place when Mr. Cohen, the president's former lawyer and fixer, publicly appears before the House Oversight and Reform Committee. An advance copy of Mr. Cohen's testimony was obtained Tuesday night by reporters at multiple news organizations, including The New York Times, just as Mr. Trump began meetings in Vietnam before convening with the North Korean leader, Kim Jong-un.

Mr. Cohen and his lawyer and adviser, Lanny J. Davis, did not immediately reply to requests for comment.

In a statement earlier Tuesday, Sarah Huckabee Sanders, the White House press secretary, condemned Mr. Cohen as a "disgraced felon."

"It's laughable that anyone would take a convicted liar like Cohen at his word, and pathetic to see him given yet another opportunity to spread his lies," she said.

In vivid and at times tortured language, Mr. Cohen plans to use his opening remarks to unspool a narrative laced with regret of his decade working alongside Mr. Trump, including episodes during the 2016 campaign that are believed to be at the center of investigations by the special counsel, Robert S. Mueller III, and federal prosecutors in New York.

The testimony underscores many of the unsavory themes and stories that have recurred in public reporting about Mr. Trump — he inflates his wealth, makes racist remarks, threatens his enemies and tries to bend the law to his favor — but puts them on the record, under oath, in the voice of a man who was one of Mr. Trump's closest aides.

"I am ashamed that I chose to take part in concealing Mr. Trump's illicit acts rather than listening to my own conscience," Mr. Cohen plans to say. "I am ashamed because I know what Mr. Trump is. He is a racist. He is a con man. He is a cheat."

But there are also more perilous claims that could further highlight Mr. Trump's potential legal exposure in the investigations that have already ensnared Mr. Cohen and other Trump associates. Mr. Cohen's testimony before the Oversight Committee will be his first in public, before Congress, but he has already spent more than 70 hours with Mr. Mueller's investigators and with federal prosecutors in New York investigating a scheme hatched in the run-up to the 2016 election to make hush money payments to a pornographic film actress who claimed to have had an affair with Mr. Trump.

Mr. Cohen and his account will be subjected to deep scrutiny by Republicans, who have already begun to hammer away with questions about his past business dealings and credibility. They plan to use Wednesday's hearing to paint Mr. Cohen as self-centered and untrustworthy — a man who ran afoul of the law, including by lying to Congress once before, and then once he was caught, sought to spin lies about his former boss to reduce his time in prison.

Mr. Cohen will address his own past lies head-on and plans to use documents to try to bolster certain claims. He plans to draw a picture of Mr. Trump using the type of nonspecific directives more often associated with organized crime bosses than with American presidents.

"In conversations we had during the campaign, at the same time I was actively negotiating in Russia for him, he would look me in the eye and tell me there's no business in Russia and then go out and lie to the American people by saying the same thing," Mr. Cohen plans to say. "In his way, he was telling me to lie."

He will add: "Mr. Trump did not directly tell me to lie to Congress. That's not how he operates."

Mr. Cohen also plans to say that Mr. Trump's personal lawyers approved his testimony, suggesting that they signed off on him telling a false version of events to the House and Senate Intelligence Committees. Mr. Cohen is meeting with both committees again in private this week in part to correct those earlier false statements.

"Mr. Trump knew of and directed the Trump Moscow negotiations throughout the campaign and lied about it," Mr. Cohen will say. "He lied about it because he never expected to win the election. He also lied about it because he stood to make hundreds of millions of dollars on the Moscow real estate project."

What Mr. Trump said to Mr. Cohen has emerged as a central question, after the website BuzzFeed reported last month that Mr. Mueller had evidence that the president had "personally directed" his former lawyer to lie about the project when he testified before Congress in 2017. Mr. Mueller's office called the report "inaccurate."

Mr. Cohen's account under oath will state that something took place, but not that Mr. Trump made an overt directive.

(…)

Mr. Cohen will also tell Congress that Mr. Trump had advance knowledge through his longtime adviser Roger J. Stone Jr. that WikiLeaks would publish hacked emails that would damage his opponent, Hillary Clinton.

"In July 2016, days before the Democratic convention, I was in Mr. Trump's office when his secretary announced that Roger Stone was on the phone. Mr. Trump put Mr. Stone on the speakerphone," his written remarks say. "Mr. Stone told Mr. Trump that he had just gotten off the phone with Julian Assange and that Mr. Assange told Mr. Stone that, within a couple of days, there would be a massive dump of emails that would damage Hillary Clinton's campaign. Mr. Trump responded by stating to the effect of 'wouldn't that be great.'"

Mr. Stone, who was recently indicted on charges that include witness tampering and false statements to Congress, has denied to reporters that such a conversation took place. The recent indictment against him made no mention of such a conversation, but it did state that a senior campaign official was directed to contact Mr. Stone around that period of time about what material WikiLeaks had.

And Mr. Cohen will reference a conversation he claims to have observed between the president's eldest son, Donald Trump Jr., and his father, which he believes happened around the time of a planned meeting with a Russian lawyer promising "dirt" on Hillary Clinton.

He does not claim to have heard a direct reference to the meeting. Instead, Mr. Cohen will say, he recalled this event after The Times revealed the June 2016 meeting had taken place.

"I recalled Don Jr. leaning over to his father and speaking in a low voice, which I could clearly hear, and saying, 'The meeting is all set.' I remember Mr. Trump saying, "O.K. good … let me know,'" Mr. Cohen will say.

(…)

Mr. Cohen will chronicle less legally dubious but unflattering encounters, as well, according to the prepared remarks. He plans to say that as a candidate, Mr. Trump directed him to write letters to his high school, college and other entities threatening them not to release transcripts of his standardized test scores.

He will claim that Mr. Trump asked him to put off reporters asking about his medical deferment from the Vietnam draft, telling Mr. Cohen privately that there were no medical records of the bone spurs that he has said affected his heel.

"You think I'm stupid? I wasn't going to Vietnam," Mr. Trump said, according to Mr. Cohen.

And he will assert that "it was my experience" that Mr. Trump inflated his wealth to garner attention, and deflated his assets to lower his tax bills.

Mr. Cohen plans to describe his former boss as a jumble of conflicts, but one who is ultimately a dishonorable person.

"Mr. Trump is an enigma," Mr. Cohen will say. "He is complicated, as am I. He has both good and bad, as do we all. But the bad far outweighs the good, and since taking office, he has become the worst version of himself."
Just hours before the beginning of meetings in Hanoi with North Korean leader Kim Jong-Un, the President was tweeting obsessively about Cohen and his upcoming public testimony:
Michael Cohen was one of many lawyers who represented me (unfortunately). He had other clients also. He was just disbarred by the State Supreme Court for lying & fraud. He did bad things unrelated to Trump. He is lying in order to reduce his prison time. Using Crooked's lawyer!

— Donald J. Trump (@realDonaldTrump) February 27, 2019
As I said yesterday, the fact that Cohen has already pled guilty to lying to a Congressional Committee obviously calls his credibility into question, and it's likely to be a topic that the Republicans on the House Oversight Committee will return to several times over the course of the day in an effort to undermine Cohen's testimony and distract from what Cohen is saying. Given Cohen's admitted lying, it is appropriate that his credibility is considered in evaluating his testimony, of course, but in this case, there are likely to be several reasons to believe what Cohen has to say regarding his former boss.
First, according to early reports Cohen will be bringing with him documentary evidence to support what he will be saying about the President today. According to one report, this will include items such as a personal check from the President to Cohen for $35,000, which Cohen will testify was intended to be reimbursement for the payment engineered to porn star Stormy Daniels to keep her silent about the affair she claims to have had with Trump in 2006. There are also tapes on which Cohen and Trump can be heard discussing the Daniels payment and the separate payment being made at the same time in October 2016 to former Playboy model Karen McDougal, who received $130,000 in exchange for her silence. This personal check is apparently dated August 2017, eight months after Trump became President. Cohen will also reportedly provide checks also intended as reimbursement for those payments that are written on an account in the name of Trump's company and signed off on by Donald Trump Jr. and Allen Weisselberg, the CFO of Trump's companies who has entered into a cooperation agreement with Federal prosecutors. Corroborating evidence of this kind will go a long way toward rehabilitating Cohen's testimony notwithstanding his admitted lying. Finally, it's worth noting that Cohen met with investigators working for Special Counsel Robert Mueller for more than 70 hours and that they likely have their own cache of documents that corroborate what Cohen said to them and what he will say today.
Another reason to be inclined to believe Cohen at this point is the fact that he has a lot to lose if he lies under oath now. Cohen's plea agreement is limiting his criminal liability to some degree given the fact that has been sentenced to just three years for all of the crimes that he has been charged with both in connection with the Russia investigation and the matters being investigated by the U.S. Attorney for the Southern District of New York. As a result, he was sentenced to three years in offenses in a situation where he theoretically could be sentenced to a far longer period. If he commits any crimes after the plea agreement, then he risks having that agreement being revoked and the full hammer of Federal law being brought down upon him. Additionally, Cohen could have his sentence reduced in the future if he continues to be a helpful witness for the government, something that can only happen if he is truthful. As a lawyer, Cohen is no doubt aware of this and, just in case he isn't the fate of Paul Manafort, who recently had his plea agreement nullified and faces the prospect of spending the rest of his life in prison, so this suggests strongly that he has the incentive be truthful.
The hearing today will bring what it will bring, but the prepared statement that Cohen will read at the start of the hearing which was released last night and is embedded below indicates that there will be quite a few blockbuster claims that, if true, could be a serious problem for the President going forward. For example, Cohen will reportedly testify that he was present in Trump's office during the 2016 campaign when Roger Stone called to tell Trump that he had just spoken to Wikileaks founder Julian Assange, who told him that emails that could prove to be problematic for the Clinton campaign will become public in the coming days. It was shortly after this that those emails, mostly from the Democratic National Committee, were released to the public. As noted above, he will also testify about an incident in June 2016 when Donald Trump Jr. came into his father's office while Cohen was there and, in whispered tones, that "the meeting" was set. This was allegedly just before the now infamous Trump Tower meeting between Trump Jr., Paul Manafort, and Jared Kushner on one side and nd a Russian lawyer named Natalia  Veselnitskaya, a Russian attorney who had previously been linked to the Russian government and who has since admitted to being an informant for the Russian Government. As we now know, that meeting was initially sold to the Trump campaign as being one at which "dirt" about Hillary Clinton would be revealed. When this meeting was made public a year later, the Trump Administration and Donald Trump Jr. would initially claim that the purpose of the meeting was to discuss the state of the law regarding adoption of Russian babies by American couples. It soon became apparent, though, that this claim was false. This is significant because we learned soon after news of the meeting broke that the President himself participated in drafting that initial false statement on the way home from a trip to Europe on Air Force One.
In any case, this hearing appears to be one of the more significant of the Trump Administration and we could be in a very different world once it's over and the smoke has cleared. Stay tuned.
Note: I'll post a wrap-up thread regarding Cohen's testimony either late today or tomorrow morning. In the meantime, feel free to use the comment thread to this post as an open thread to discuss Cohen's testimony throughout the day, which will be broadcast by all three cable news networks, C-Span and, I believe, the three broadcast networks as well. 
Update (2/28/2019): I've posted a wrap-up post on yesterday's testimony.
---
Here is a copy of Cohen's prepared opening remarks:
Michael Cohen Opening State… by on Scribd