Van Attack Outside London Mosque Kills One, Injures Ten, In Apparent Anti-Muslim Attack
A van struck a crowd outside a London mosque late last night in an attack by a man who said he wanted to kill Muslims.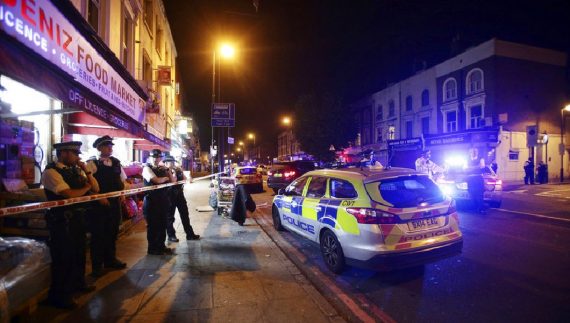 Late last night, a van struck a crowd of people leaving a mosque in London, killing at least one person and injuring ten:
LONDON — A van plowed into a group of Muslim worshipers leaving prayers at a pair of north London mosques early Monday, leaving one person dead and injuring 10 others in what is being called a "terrorist attack."

Witnesses said the driver of the vehicle was heard shouting that he wanted to kill Muslims.

"This is being treated as a terrorist attack," said Metropolitan Police Deputy Assistant Commissioner Neil Basu told reporters. He added that the driver of the van was arrested on suspicion of murder.

The latest terrorist attack in London — the third in three months — was "every bit as sickening" as those that have come before, said British Prime Minister Theresa May. She hailed the "bravery" of locals for detaining the driver at the scene in the north London district of Finsbury Park.

"Hatred and evil of this kind will never succeed," she said.

The attack unfolded as Muslims finished nighttime prayers during the holy month of Ramadan. The incident occurred near two mosques: the Finsbury Park Mosque and the Muslim Welfare House.

Abdulrahman Aidroos and his friends were attending to an elderly man who had collapsed on the ground when suddenly he saw a man in a van driving "straight into us."

The driver of the van jumped out of the vehicle and tried to run, Aidroos said.

"I tackled him on the floor until the police came," he told the BBC. "When he was running, he said 'I want to kill more people, I want to kill more Muslims,'" he said.

"When I got him on the ground, I said, 'Why are you doing this?' He said, 'I want to kill more Muslims.'"

Hussain Ali, 28, told the Press Association, a British news agency, that the leader of the mosque told the crowd "do not touch him" as they waited for the police to arrive.

A witness, who gave his name as Adil Rana, said the attacker tried to taunt onlookers as he was arrested.

"He said, 'I'd do it again,'" Rana told The Washington Post. "It was a premeditated attack. He picked this area well and he knows Finsbury Park is predominantly a Muslim area."

(…)

On Monday, police said that all of the victims outside the mosque were from the Muslim community, but it was "too early to tell" if the man who died at the scene did so as a result of the attack. The man who died was receiving first aid before the incident, they said.

In a statement, police said eight people were hospitalized while two others were treated at the scene.

Police said they had deployed extra officers "to reassure communities, especially those observing Ramadan."

London Mayor Sadiq Khan, the city's first Muslim mayor, called the incident a "horrific terrorist attack," which was "clearly a deliberate attack on innocent Londoners, many of whom were finishing prayers during the holy month of Ramadan."

"While this appears to be an attack on a particular community, like the terrible attacks in Manchester, Westminster and London Bridge it is also an assault on all our shared values of tolerance, freedom and respect," he said in a statement.
This attack comes just about two weeks after an attack by vehicle in Central London that left six dead and dozens injured in an attack that was committed by a British-born Muslim man who apparently was inspired by ISIS in his attack, and some three months after another attack just steps from the buildings housing Parliament that resulted in three dead and about two dozen injured. Sandwiched in between those two attacks, of course, was the deadly bombing outside a Manchester arena that resulted in the death of twenty-two people and the wounding of hundreds of people. The difference here, of course, is that the attacker is not Muslim and appears to have been directed in his attack by a hatred for Muslims. Given the circumstances it would appear that he staged the attack to mimic recent events as part of some perverted sense of revenge for the attacks that have taken place in London over the past three months. Fortunately, the damage done by his attack was less extensive than those previous attacks and his capture means that we'll be able find out more about his motivation and whether he was assisted in any way by other people who may be plotting similar revenge attacks against innocent Muslims.
The fact that this was an apparent revenge attack raises some rather obvious concerns for British authorities in particular, and anti-terror efforts in particular. The only thing that an attack like this is likely to accomplish is to encourage the next jihadi to pull of their attack, which will then inspire more revenge against British Muslims in what could easily become an escalating cycle of violence that will burden law enforcement, endanger innocent people, and lead to exactly the kind of chaos that ISIS and other terrorist groups are aiming to create. At the same time, though, this incident showed us something hopeful in the fact that the perpetrator of the attack was saved from possible revenge by the crowd he had targeted by the Imam of the mosque, who stepped in to make sure that nothing happened to him while they waited for authorities to arrive. That's the kind of restraint that situations like these need, and it's too be admired.