At Least Three Dead, Twenty Injured, In Apparent Terror Attack In London
An apparent terror attack outside Parliament in London.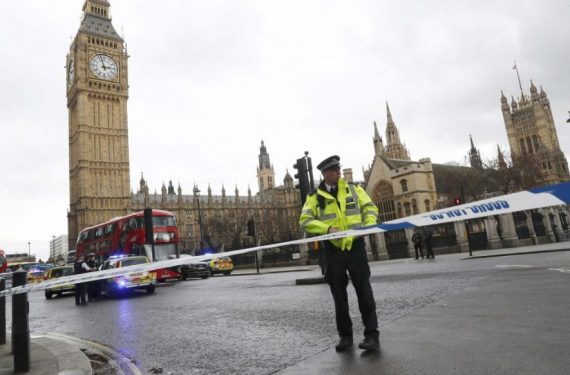 At least three people are dead and twenty injured in what police in London are treating as a terrorist attack:
LONDON — An assailant fatally stabbed a police officer at the gates to Britain's Parliament compound and a vehicle plowed through terrified pedestrians along a landmark bridge Wednesday in what authorities treated as a "terrorist incident."

The suspected attacker was shot amid a range of casualties over some of the most famous streets in central London.

Crumpled bodies lay on the Westminster Bridge over the River Thames as a Foreign Office official — covered in the blood of the stabbed police officer — tried to save his life. British media later reported that the police officer died, and a hospital official said at least one civilian was killed.

Even before full details emerged, the apparent attacks and chaos were certain to raise security levels in London and other Western capitals and bring further scrutiny on counterterrorism measures.

Meanwhile, authorities tried to piece together the sequence of events at one of the city's most highly protected sites. The questions included whether the bedlam on the nearby Westminster Bridge was part of a coordinated attack that possibly employed elements of past terrorist strikes — including vehicles ramming crowds in Nice and Berlin last year.

"We are treating this as a terrorist incident until we know otherwise," said a Twitter message from London Metropolitan Police.

Britain's opposition leader, Jeremy Corbyn, praised police for quick intervention in an "extremely serious" situation, which put Parliament chambers and offices on full lockdown for more than two hours and forced the closure of the famous London Eye Ferris wheel.

Britain's Press Association news agency, citing a doctor at a London hospital, said one woman was killed and other people were under medical treatment. The report could not be independently verified.

Metropolitan Police Cmdr. B.J. Harrington said there were "a number of casualties including police officers," but did not give further details or figures.

The attack occurred on Parliament's busiest day of the week, when the prime minister appears for her weekly questions session and the House of Commons is packed with visitors.

The Palace of Westminster, the ancient seat of the British Parliament, is surrounded by heavy security, with high walls, armed officers and metal detectors. But just outside the compound are busy roads packed with cars and pedestrians.

Britain has been on high alert for terrorist attacks for several years, with top security officials warning that a strike was all but inevitable. But until Wednesday, the country had been spared the sort of mass-casualty attacks that have afflicted France, Belgium and Germany in recent years.

David Lidington, a member of Parliament, said a police officer was stabbed and the suspected assailant was shot.

"Suddenly police cars drove down the road and locked it down. People threw themselves to the ground and hid behind trash cans, walls and in cafes. But the situation seemed to be under control fairly quickly," said Lee Stevens, 34, who was standing outside Downing Street, about 500 yards from Parliament and near the offices of British Prime Minister Theresa May.

Among those providing emergency aid was Tobias Ellwood, a senior official at the Foreign Office and a British military veteran. Photos showed Ellwood's face streaked with blood after supplying mouth-to-mouth resuscitation to a police officer who had been stabbed just inside the gates of the Parliamentary compound.

French Prime Minister Bernard Cazeneuve said that among those wounded in the vehicle attack were a group of French students

Raffaello Pantucci, director of international security studies at the Royal United Services Institute think tank, said the rapid response suggested that police "were expecting that an attack was highly likely for some time."

(…)

In Washington, State Department spokesman Mark Toner said the United States was "ready to assist in any way."

The Department of Homeland Security said it was in "close contact with our British counterparts to monitor the tragic events and to support the ongoing investigation." It noted that U.S. security threat levels remained unchanged.

A year ago to the day, attackers carried out three coordinated suicide bombings in Belgium, killing 32 civilians and injuring more than 300 others in two blasts at Brussels Airport and one at a metro station in the Belgian capital. The Islamic State claimed responsibility for the attacks, in which three perpetrators were also killed. Another bomb that failed to explode was found at the airport.
As of the time I'm writing this post, there has been no claim of responsibility from any organization and British authorities have not released any information regarding the identity of the attacker or attackers. NBC News, meanwhile is reporting that the apparent assailant was shot by police outside the gates that would lead directly to the buildings housing Parliament itself and that at least one of the dead was a police officer, although that has yet to be confirmed at this time.. Nonetheless, the pattern of this attack follows that which we saw last year in Nice, France when a person apparently inspired by ISIS rammed a holiday crowd near the beach, killing 87 people and injuring more than 400 others as well as following a pattern apparently recommended by ISIS propaganda to people in the West. We've also seen attacks similar to this in places ranging from Canada to Turkey in recent years. Given all of that, it's likely safe to assume that we're dealing with what is likely to at least turn out to be a 'lone wolf' terror attack not dissimilar to those that we've seen in the United States in recent years in places such as Boston, Orlando, and San Bernardino.
Assuming that this is an act of terror, whether inspired or planned overseas, it would be the first serious attack in the United Kingdom since the attacks in July 2005 that left more than 50 people dead and 700 injured and seems sure to add to the ongoing political debate in Great Britain regarding its relationship with Europe. It was just a few days ago that Prime Minister Theresa May announced that she would begin the Brexit process at the end of March, and a large part of last year's 'Leave' campaign included raising the specter of terrorists being able to easily enter Britain from other parts of Europe. Depending on who this attacker is, it's likely that this incident will be used by those forces to reinforce their argument and pressure the government to move quicker than they might otherwise like to in the process of leaving the E.U. so that Britain is no longer required to allow free passage from Europe to all who wish to visit. It's also likely to put the issue of terrorism back on the front burner around the world after a period of time in which we've gone without a major attack in the west since last summer. That could influence elections upcoming in both France and Germany where government policies toward refugees from Syria and elsewhere has been a serious controversy after terror attacks in the past. If nothing else, though, this incident reminds us of just how random these attacks can be since it doesn't appear that there was any advance alert that an attack was imminent.