Top Trump Adviser Justifies Travel Ban By Citing 'Massacre' That Never Happened
Today in "Alternative Facts."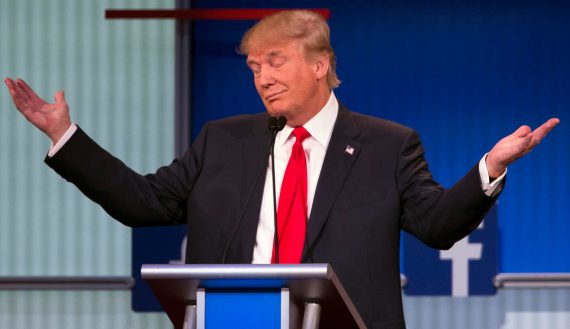 Of all the things that have come out in the first two weeks of the Trump Administration, the concept of "Alternative Facts" is perhaps the most bizarre. It started, apparently, with Trump's claim that the media was lying about the size of the crowd on the National Mall to witness his Inauguration, claims that were repeated by Press Secretary Sean Spicer during his very first press briefing the day after the Inauguration. Later that weekend, Trump's former campaign manager and current White House adviser Kellyanne Conway appeared on Meet The Press and defended Trump and Spicer by saying they were relying on "alternative facts" in making their claims, a statement that basically left host Chuck Todd flabbergasted as he pointed out, correctly, that "alternative facts" are lies. Commenting on all of this in the aftermath of that first weekend of the Trump Era, The Atlantic's David Graham made this observation:
[I]t fits with a long-running mantra from Trump aides and supporters that there's no such thing as an objective reality. The question for Trump and his aides is simple: If you're willing to lie about stuff this minuscule, why should anyone believe what you say about the really big things that matter?

The Trump campaign made a winning wager that enough voters didn't care that they could get away with that, and the nascent Trump administration seems to be going double-or-nothing on the gamble. Perhaps that's a winning bet, and objective facts are a thing of the past. But that's a claim that's been advanced before, not that long ago, in American history, by a Republican administration whose top aides disdained the "reality-based community." That administration left office amid an enormous economic recession, and Trump himself called George W. Bush's war in Iraq "a big fat mistake." It's a strange precedent for Trump to adopt at the start of his presidency.
Given how fast and loose Trump and his supporters played with the truth during the course of his seventeen month campaign for President, I have to disagree with Graham's final point that this idea of "alternative facts" is a "strange precedent" for the Administration to adopt. Throughout the time that he was running for President, it was clear that Trump really didn't care whether the claims that he made during the course of his campaign speeches, whether it was about crimes committed by undocumented immigrants or the state of the War On Terror or virtually any other issue, were true or not. Moreover, it also quickly became clear that his hard core base of supporters either didn't care about such misrepresentations of the truth or simply refused to listen to any argument that contradicted that Trump made during his largely stream of consciousness stump speeches, debate appearances, or media interviews .Time after time, fact checkers at The Washington Post and elsewhere in the media would point out that something Trump had claimed was in fact utterly false, and time after time his supporters would brush it off as the claims of a "biased media" distorting what they believed to be the truth, which just so happened to coincide with whatever bizarre claims were coming out of Trump's mouth at any given point in time. Given that this is how he ran his campaign, it's not at all surprising or strange that President Trump has started out his time in office in the same manner and that one of his top adviser would come up with the positively Stalinist concept of "alternative facts" to justify the fact that both the President of the United States and his chief press spokesman found it so easily to tell bald faced lies just hours after the President took the Oath Of Office.
Last night, though, Conway came up with a new set of "alternative facts" to justify the travel ban imposed by the Executive Order that the President signed last Friday:
Kellyanne Conway has taken "alternative facts" to a new level.

During a Thursday interview with MSNBC's Chris Matthews, the counselor to the president defended President Trump's travel ban related to seven majority-Muslim countries. At one point, Conway made a reference to two Iraqi refugees whom she described as the masterminds behind "the Bowling Green massacre."

"Most people don't know that because it didn't get covered," Conway said.

The Bowling Green massacre didn't get covered because it didn't happen. There has never been a terrorist attack in Bowling Green, Ky., carried out by Iraqi refugees or anyone else.
Here's the video:
There was, of course, no massacre or terrorist attack of any kind in Bowling Green, Kentucky (or Bowling Green, Ohio for that matter unless Conway was referring to the 67 point September 2016 defeat of Bowling Green University by the Ohio State Buckeyes). This morning, Conway says that she was misspoke and that she was referring to a case from six years ago involving two Iraqi refugees who were caught in an FBI sting operation attempting to raise money to send overseas for the purpose of providing arms to terrorist cells in their home country. That story was last in the news in 2013 when the two men were sentenced and the FBI announced that their arrest had led to the discovery of additional al Qaeda supporters in the United States, all of whom were arrested prior to being about to carry out any attack. Her point, she claims, was that what happened in Bowling Green was evidence in support of both banning travel from Iraq and six other majority Muslim nations and essentially halting the acceptance of refugees into the country for now. The problem with that argument, of course is that two men out of the thousands of refugees, immigrants, and visitors that the United States has let in the country from Muslim nations over the last decade or more is hardly a sign of a serious problem and hardly a justification for the kind of blanket ban that Trump imposed last week. Moreover, the ease with which Conway cited an event that never occurred in support of her argument during the interview last night shows yet again the fast and loose relationship that the Trump campaign has had with the truth from the very start. As I said in the wake of the lies about Inaugural crowd size, if we can't trust the Administration on the small stuff what can we trust it on?