The Paris Attacks Have Made The Syrian Refugee Crisis Much More Complicated
The news that at least some of the men who were involved in the terrorist attacks in Paris were among the refugees who have arrived in Europe since the summer is likely to complicate an already complicated situation.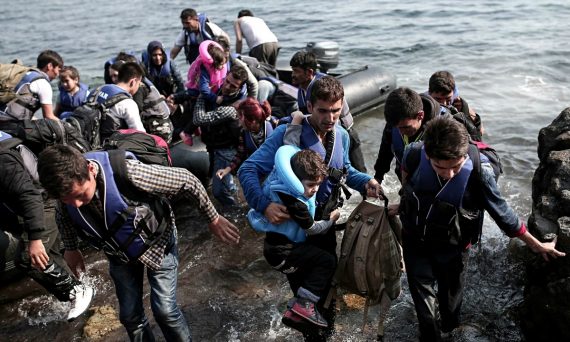 While the investigation into the attackers behind Friday's terrorist attacks in Paris, and those in France and elsewhere who may have been involved in supporting the attack, is still ongoing, it is becoming increasingly apparent that at least some of the men involved arrived in Paris via other parts of Europe where the arrived along with the tens of thousands of refugees from Syria that have been coming to the continent from Syria since the summer. James Joyner already made note of this in a Quick Pick, but this morning CNN is reporting that at least one of the attackers posed as a refugee in Greece before making his way to Paris:
Investigators in France and beyond have begun making arrests as they piece together the identities and back stories of the terrorists who killed more than 120 people in gun and bomb attacks across Paris.

And the clues and evidence appeared Sunday to be piling up.The French channel BFMTV, a CNN affiliate, reported that authorities had found three Kalashnikov automatic rifles were found in an abandoned car in the eastern Paris suburb of Montreiul that was believed to have been used by perpetrators of the attacks.

And CNN's Christiane Amanpour reported that Europe's worst nightmare is now taking place — that Islamic extremist group ISIS is making good on its pledge to hide operatives among the wave of refugees now entering Europe.

The first bomber to blow himself up at the Stade de France on Frida was Syrian, and he landed with migrants on the Greek island of Leros on October 2, where he was issued an emergency passport under the name Ahmad al-Mohammad. The fingerprints on that passport matched those of the Stade de France bomber, Amanpour said, citing an unnamed French senator who was briefed by the Ministry of the Interior.

European officials believe, Amanpour said, that there is "a very professional new squad of terrorists inserting themselves into some of these migrant voyages."

The two others who detonated themselves that the stadium carried false Turkish passports, Amanpour reported.

ISIS has claimed responsibility for Friday night's coordinated series of deadly assaults, the worst violence in France since World War II.

Officials are still trying to figure out who the assailants were and how they planned and carried out near-simultaneous massacres at restaurants, bars and a concert hall in the French capital without being detected by intelligence agencies.

One of the suicide bombers has been identified as Ismael Omar Mostefai, according to Jean-Pierre Gorges, the mayor of the French town of Chartres. Mostefai lived in Chartres at least until 2012, Gorges, who is also a member of Parliament, said in a Facebook post Saturday.
As it was, the vast number of migrants arriving in Europe from Syria was raising security and other fears from many of the nations that were being asked to take them in and take care of them as they were being processed, a logistical process that quickly became overwhelming. Quickly, the stream of refugees became a humanitarian crisis. The summer, for example, brought us images of overloaded boats capsizing while at sea and refugees reaching the shore only to die in the effort to get to land. Those who made it onshore were not exactly welcomed, either. In many cases, the nations where the refugees initially arrived simply transported them to their border and sent them on their way after being processed.  Hungary, which became at the very least a transit way for refugees trying to reach nations such as Germany and beyond quickly began imposing restrictions including erecting a border fence, The fence and other restrictions, though, proved futile in stemming the tide of migrants, and officials soon began using tear gas and water cannons on refugees while government official demeaned the refugees by tossing food at them. Additionally, right-wing political leaders protested against the migrants and we saw supporters of those political parties physically stomping on migrants as they tried to made their way through a border crossing. Hungary's Prime Minister said that the policies are designed to discourage the refugees from crossing into Hungary, and their seems to be little sympathy for them in the country. While some nations, such as Germany and France, and even Great Britain and Iceland, were more welcoming, the overwhelming concern across Europe was the concern that at least some of these refugees could pose security risks.
The fact that we are now confirming that at least some of the attackers involved in the attacks in Paris on Friday came into Europe with the migrant wave seems only likely to make Europe less welcoming to these refugees even as the West seems more likely to engage in actions that will probably create even more of them:
BERLIN — For months, hundreds of thousands of men, women and children have literally marched their way into Europe, fleeing war, poverty and hunger, arriving in such huge numbers that they set off uncommon displays of compassion — and outright acts of fear.

Even before the attacks in Paris on Friday, some of the most welcoming of Europeans were beginning to lose patience. Borders were closed, benefits cut, warnings issued in Arabic to stay away.

But on Saturday, French officials revealed what could prove to be a turning point in the debate over migration: One of the attackers was carrying a Syrian passport and, perhaps more ominously, may have entered Europe along the migrant trail.

Poland moved first to shut the door.

"After Paris, we lost security guarantees," said Konrad Szymanski, Poland's new minister for relations with other European nations. He added, "The tragic events in Paris showed weakness in Europe."

Europe never knew how to deal with the migrants. Greece pushed them to Macedonia. Hungary put up a fence. Austria and Germany welcomed them, for a time. But there was no coordinated strategy for the 28 members of the European Union. The only agreement, after summit meetings and other talks, was a plan to distribute 160,000 refugees among all the member states. It was a fraction of the total migrant population, and the agreement was achieved only under intense pressure from Germany.

Now, Poland is moving toward undoing that deal.

The incoming conservative government in Warsaw quickly criticized the plan, Mr. Szymanski wrote in wPolityce.pl, a right-wing journal. "In view of the tragic events in Paris, we do not see the political possibility of executing this policy. Poland must retain full control over its borders."

Under the relocation plan, Poland would receive only 9,000 of the migrants, but Mr. Szymanski said via email Saturday that Poland would agree to accept them only with "security guarantees," including a full security check on "every person covered by international protection in Europe."

Poland's determination to scuttle the pact may spread, dooming it even as investigators in Paris are still trying to establish the identities and backgrounds of the assailants who killed more than 120 people on Friday.

Although the practice appears rare, a French intelligence official said it would not be the first time that a militant had mingled in the stream of migrants arriving in Europe via Turkey and Greece. He said French security services had recently identified one in Calais. A former senior intelligence official, who is still well briefed, said: "This is becoming a strategy for them: to embed among the migrants."

Indeed, the attacks emboldened some politicians who had already voiced fears about the security risks and financial costs of trying to accommodate hundreds of thousands of people seeking refuge in a region with its own economic troubles. Populist and conservative leaders around Europe on Saturday stepped up their calls to tighten or shut borders and to halt the flow of migrants, many of them from Syria, where the Islamic State looms large.

Former communist countries in Central and Eastern Europe have insisted that their largely homogeneous, impoverished societies cannot cope with a large influx of outsiders — who usually prefer to head for wealthier, more multicultural countries like Germany, Austria or Sweden.

On Saturday, conservative politicians from Slovakia and populist and nationalist leaders in Western Europe, like Marine Le Pen in France and Geert Wilders in the Netherlands, swiftly used denunciations of the Paris violence to bolster their calls for keeping migrants out and borders shut.

In Slovakia, Prime Minister Robert Fico, who has opposed refugee quotas, announced tightened security on his country's borders, particularly the one with Ukraine, and insisted that "everyone who illegally crosses borders must be seen as a security threat."

After the Paris attacks, he said, his government would watch for signs of right-wing extremism, as well as other forms. He added, "I hope that the events that took place open the eyes of some people now."

Margus Tsahkna, Estonia's minister of social protection and a member of a small right-wing party in the governing coalition who has opposed the niqab, or full-face veil, worn by some Muslim women, said on Facebookthat Estonians must face a "harsh reality" and that "Europe is at war."

A party colleague, Marko Mihkelson, who is a member of Parliament, echoed the sentiment. "If this is not declaring war on Europe, then what is?" he asked. "The terrorists must know they are facing a force that has no mercy and is capable of striking back."
The attacks in Paris have spawned responses that seem likely to lead to more restrictive policies toward refugees not only in many Eastern European nations where right-leaning populations and government controlled by right-wing governments — Poland, for example, recently saw its right-wing coalition sweep national elections — but also elsewhere in Europe. In the wake of the attacks, the government in Sweden, which had already seen a rise in anti-migrant sentiment prior to the events in Paris, announced that it too would begin cracking down on the number of refugees that would be allowed in the country. In Germany, which has been among the most welcoming of the nations of Europe in the past several months, politicians are beginning to question the policies that have been in place for the past several months. As more news comes out regarding the extent to which the refugee crisis may have been used to smuggle ISIS agents, and possibly even weapons or other material support, into Europe, it's likely that we'll see many more European nations step back and at least reconsider their policies. Here in the United States, meanwhile, the Obama Administration's announcement in September that more refugees would be brought to the U.S., which was already being called into question, has become a renewed focus of attack by pretty much all of the Republican candidates for President, while the Democratic candidates appeared to continue to support Administration policy and even argue that we should take in more refugees.
The vast majority of the refugees fleeing Syria, and to some extent the areas of Iraq that are the focus of the attacks against ISIS by the U.S., Iraqi, and Kurdish forces, are, of course, not terrorists. These are people who are fleeing war just like refugees have been doing since time immemorial and many of them are doing so in the face of ISIS encroachments that threaten to draft the men and boys into military service and the women and girls into some form of sexual slavery. It's a refugee crisis that has been going on since the civil war started in Syria, and which has resulted in some four million refugees who already inhabit camps and other areas in Turkey, Jordan, as well as Iraq, Egypt and Lebanon. With these nations nearly at the brink of their capacity to care for refugees even with international support, the refugees are doing what refugees do and heading north and west into Europe. Under international law and simple human decency, they obviously need to be assisted rather than abandoned. At the same time, though, the security concerns that have been expressed from the beginning about the security risks that European and other nations were taking in accepting so many people at once, especially given the fact that screenings for security purposes could only be cursory at best in many cases. are entirely understandable. Add to that the fact that ISIS communiques long before the events in Paris were saying that it would use the flood of refugees to sneak operatives into Europe, and it's not entirely unreasonable to expect political leaders, and citizens, in Europe to be wary of the flood of new arrivals. The attacks in Paris are only going to enhance these concerns.
Whether it's legitimate or not, and that's a matter that will be subject of debate going forward, the news of links between the Paris attacks and the refugees arriving in Europe is only likely to make nations less hospitable toward refugees and strengthen the hand of right-wing political parties, such as the National Front in France. This isn't going to stem the tide of refugees, of course, but it could have an impact on how they are treated when they arrive in nations like Greece, Hungary, Slovenia, Italy and elsewhere along the Mediterranean Coast. One possible solution to this, of course, would be to expand refugee camps in the areas around Syria, but the truth of the matter there is that Turkey and Jordan are already stretched to the limits of their capacity to take care of the people they have taken in already, and expanding the demand for services could prove problematic even with international assistance. Many people have pointed out that some of the primary movers in the Arab world behind the anti-Assad rebels in Syria — specifically, Saudi Arabia, the United Arab Emirates, and Bahrain — have taken in a relatively small amount of refugees and don't appear to be contributing much to the care of refugees that, to a great extent, their own policies have helped create. The Saudis in particular have pushed back against this criticism and noted that they have taken in some 100,000 refugees, but that seems like a paltry number compared to Syria's immediate neighbors, and especially Europe where, at least prior to know, Germany itself was preparing to take in as many as 800,000 people seeking shelter from Syria's civil war. In the end, I'm not sure that sending these people to camps in Saudi Arabia is the answer, and both the U.A.E. and Bahrain are simply physically too small to take take in many refugees on their own, but it seems clear that more could be done.
As a practical matter, the news that some of the people who brought terror to the streets of Paris Friday night is going to have an understandably negative impact on Europe's willingness to take in refugees. At the very least, it is likely to slow the process of screening these people before letting them roam free throughout the European Union. It's also likely to call the Obama Administration's decision to bring more refugees to the United States into even more question, both on the campaign trail and on Capitol Hill. In the long-term, of course, the solution to the refugee crisis is to end the war in Syria so that these people can return home, but that's something that seems to be a long-term goal with only a limited chance of success to say the very least. Until that happens, the refugees are going to continue trying to flee, and the fears that ISIS agents will be hidden among them will only increase. How Europe, and the rest of the world responds to that in a way that addresses both the humanitarian concerns of a helping war refugees and the perfectly valid security concerns that Friday's events have raised is a short-term question that will have to be answered soon.