France Strikes ISIS As Investigation Into Paris Attacks Continues
France launched its first attacks against ISIS even as the investigation into Friday's attacks continues, but it's not clear that the retaliation really accomplished anything.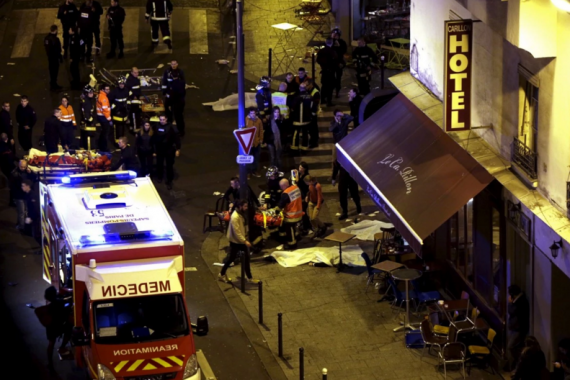 French air assets struck at the putative ISIS capital in Syria overnight in retaliation for the attacks in Paris on Friday, but it's not clear that they were anything other than symbolic:
PARIS — France bombed the Syrian city of Raqqa on Sunday night, its most aggressive strike against the Islamic State group it blames for killing 129 people in a string of terrorist attacks across Paris only two days before

President François Hollande, who vowed to be "unforgiving with the barbarians" of the Islamic State after the carnage in Paris, decided on the airstrikes in a meeting with his national security team on Saturday, officials said.

While France has been conducting scores of airstrikes against the Islamic State in Iraq, it had been bombing inside Syria only sparingly, wary of inadvertently strengthening the hand of President Bashar al-Assad by killing his enemies.

But after militants with AK-47 rifles and suicide explosives vests shattered the peaceful revelry of Paris on Friday night, killing dozens of civilians in restaurants and at a concert hall, France seemed intent on sending a clear message of its determination to curb the Islamic State and its ability to carry out attacks outside the territory it controls.

The French Defense Ministry said in a statement that the air raid, coordinated with American forces, was led by 12 French aircraft, including 10 fighter jets, and had destroyed two Islamic State targets in Raqqa, the radical group's self-proclaimed capital.

The United States provided French officials with information to help them strike Islamic State targets in Syria, known as "strike packages," American officials said.

Initial reports from activists on the ground in Raqqa, which could not be verified independently, said that hospitals had not reported any civilian casualties. Yet they also said the targeted sites included clinics, a museum and other buildings in an urban area, leaving the full extent of the damage unknown.

(…)

The French airstrikes on Raqqa began at 7:50 p.m. Paris time, first taking aim at an Islamic State "command post, jihadist recruitment center and weapons and ammunition depot," the Defense Ministry said. The second target, it said, was a "terrorist training camp."

Warplanes continued to hover over the city close to midnight, according to residents and activist groups. Residents have seen the city bombed by Syrian, American and Russian warplanes. They have been terrorized by public executions by the Islamic State. Now they are wary of yet another power arriving to pummel the city.

Khaled al-Homsi, an antigovernment activist from Palmyra, who uses a nom de guerre for his safety and is the nephew of an archaeologist who was beheaded by Islamic State fighters, issued a plea on Twitter to France, saying not all of the city's residents were Islamic State members and urging caution for the safety of civilians.

"To the people & government in #France, #Raqqa City residents are not all #ISIS," he wrote in a post on Twitter. "Please do not targets at random."

Reports on the strikes began flowing from the Raqqa area about 9:30 p.m. local time, with activists on the ground counting six at first, the numbers mounting minute by minute. It was a heavier barrage than had typically hit the city and its environs, and it knocked out electricity and water service, spreading more fear than usual among civilians.

(…)

Mr. Hollande's government began bombing Islamic State-held territory in Iraq in September 2014, and it has carried out about 280 airstrikes since then.

But it had only begun to strike targets inside Syria in the last seven weeks, and had carried out fewer than a half dozen bombings there before Sunday. France has struck training camps, and just last week it attacked an oil and gas depot, according to a statement by the French Defense Ministry.

Jean Yves le Drian, the French defense minister, in an interview in the Journal du Dimanche, said the oil and gas target was chosen because the Islamic State uses the black market sale of oil and gas as a way to finance its weapon acquisition.

There is a growing focus on both reducing the Islamic State's territory and its financing, said French government officials and experts.

"We need to push the organization away from its territories," said Jean Charles Brisard, a terrorism expert, who worked in the French government and now is the chairman for the Center for the Analysis of Terrorism, a Paris-based research group.

"Most of its resources are from the territory, so we have to push it away from its resources in Syria and Iraq and that means going in on the ground with a regional power," he said.
As the reports about the French strikes in Raqqa began coming in around late afternoon in the United States, many people began wondering why the areas that France targeted in this raid had not been hit before, especially given the fact that ISIS really doesn't have anything resembling an air-defense network that would prevent American or other planes from bombing at will. Part of the answer to that question, of course, is that ISIS has adopted the long-standing strategy of other insurgent groups of placing many of its command and control centers among civilian populations, thus presenting those nations who might attack from the air with the dilemma of possibly creating civilian casualties that only serve to give them recruitment propaganda. The Israelis deal with this problem every time a group like Hamas strikes them from Gaza, and they've largely responded by limiting their targeting as best they can and warning civilians in areas that are about to be targeted to evacuate. It doesn't seem as though we have the same ability to provide warnings in a city like Raqqa without tipping off the targets of an attack, even if we know that civilians are in the area. Additionally, the lack of forward intelligence on the ground makes it hard to precisely select targets. The reality, though, about France's airstrikes last night is that it now appears that they largely hit areas that had been hit by Western airstrikes before and buildings that had been abandoned, so it's not at all clear that they accomplished anything significant beyond sending the message that France was getting more involved in the fight against ISIS than it has been in the past.
While French jets were pounding Raqqa, the investigation into the attacks continues and suspects are being sought across Europe:
BRUSSELS — Heavily armed police officers wearing balaclavas descended on the Molenbeek neighborhood of Brussels on Monday in a manhunt for Salah Abdeslam, who is believed to have helped carry out the Paris terrorist attacks on Friday with his two brothers.

"Salah has not been arrested, no one has been arrested, the operations are continuing," Eric van der Sypt, a Belgian federal magistrate, said. "There is still an operation continuing right now in Molenbeek."

Mr. van der Sypt also said that news accounts that the authorities had homed in on a possible planner of the attack — Abdelhamid Abaaoud, an Islamic State affiliate now fighting in Syria — were premature.

Despite widespread reports in the news media "about the supposed identity of the jihadist Abdelhamid Abaaoud," Mr. van der Sypt said, "I can't confirm any of this — neither his name nor his implication in the attacks

Also on Monday, French authorities announced they had conducted sweeping police raids around the country overnight and detained 104 people.

Under a state of emergency declared on Friday by President François Hollande, the police are empowered to conduct raids without a search warrant, and Mr. Cazeneuve said 168 such raids had taken place in 19 French departments, including the Paris region and in Lille, Lyon, Marseille and Toulouse. The police arrested 23 people and confiscated 19 weapons, including 19 handguns, eight long guns and four heavy weapons, as well as computer hardware, mobile phones and narcotics.

In one home in the Rhône department, Mr. Cazeneuve said, the police found a Kalashnikov assault rifle, three automatic pistols, ammunition and bulletproof vests. Officers obtained a warrant to search the home of the parents of one suspect, where they found several automatic pistols, ammunition, police armbands, military clothing and a rocket-launcher.

Mr. Cazeneuve said that the investigation on the attacks in Paris was "making quick progress" but that the threat of terrorist attacks "remains high." Six attacks on French territory have been foiled or avoided since the spring, Mr. Cazeneuve said.

The raids in both countries were carried out as the authorities continued a manhunt for Mr. Abdeslam, 26, who is believed to have been a central figure in the attacks, along with two brothers, Mohamed and Ibrahim. Salah Abdeslam was stopped by the French police early Saturday as he drove on a highway into Belgium, but he was let go when his papers appeared to be in order.

"We are using all the possibilities given to us by the state of emergency, that is to say administrative raids, 24 hours a day," Prime Minister Manuel Valls said in an interview on RTL radio on Monday. He vowed to keep intense pressure on "radical Islamism, Salafist groups, all those who preach hatred of the Republic."

The authorities also confirmed on Monday that one of the terrorists who struck Paris on Friday evening had entered Europe through Greece on a Syrian passport last month, providing new evidence that the attackers used the flow of hundreds of thousands of migrants to further their plot.

The Paris prosecutor, François Molins, said in a statement that the man — identified on his passport as Ahmad al-Mohammad, 25, a native of Idlib, Syria — was one of the men who blew himself up outside the Stade de France on Friday night, where the French and German national soccer teams were playing, with President François Hollande in attendance. The passport was found at the scene.

Mr. Molins said the suicide bomber's fingerprints were consistent with those recorded at a border check in Greece last month — but that additional verification was needed. The Greek authorities said that the holder of the passport passed through the island of Leros on Oct. 3, and the Serbian authorities said he passed through the border town of Presovo on Oct. 7, after entering from Macedonia. It remains unclear if the passport was authentic.
As the investigation expands, it seems fairly clear that the plot involved far more than just the seven or eight men who actually carried out the attacks on Friday. At least one of the attackers, for example, seems to have been able to escape Paris in the wake of the attacked and made his way all the way to the border with Belgium, where he was allowed to proceed through largely because it doesn't appear that anyone on the scene knew that he could have been connected to the events in Paris at the time. It also appears that Belgium in general, and Brussels in particular, have become something of a hub for many of these radical groups. The group that carried out the Charlie Hebdo attack in January, for example, had links to radicals in that area, and at least one of the people involved in that attack was apparently attempting to get there in the wake of the attack. That group was linked to al Qaeda's spin-off group in Yemen rather than ISIS, of course, but it does lead one to wonder what it might be about Brussels that leads these groups to see it as some kind of a safe haven. It may be something as simple as geography and Belgium's location between France and Germany, or it may be something more sinister and potentially dangerous. Politico Europe provides some insight into what may be going on in a piece this morning about the extent to which some parts of Brussels have become a haven for jihadist recruitment. Whatever it might be, it deserves further investigation.
The bigger problem for France, and other European nations, going forward, of course, is the fact that at least some of the people involved in Friday's attacks, as well as those involved in past attacks are 'home grown' citizens who have been radicalized. In some cases, these may be people who traveled to Syria to fight with ISIS and have used their passport to return with nefarious motives. In other cases, these are people who never left the country been have nonetheless become radicalized. Much like it difficult for American law enforcement to have detected and prevented the Tsarnaev brother from attacking the Boston Marathon two years ago, these attacks in Paris were apparently pulled off with little advance warning, if any, precisely because they were carried out by seemingly average French-born Muslims. As more than one analyst commented over the weekend, detecting that kind of attack in advance is essentially impossible, which makes it all the more worrisome, and which makes the White House's claim over the weekend that there's no indication that ISIS could not pull off attacks like what happened in Paris here ring rather hollow. Since the French had almost no idea that anything was going to happen in Paris on the night of the 13th of November, how can we know that something similar wouldn't happen in Manhattan, or Chicago, or anywhere else in the United States? And how, exactly, do you even prepare to prevent such attacks?
I'm not going to pretend that I know the answers to those questions. The worrisome thing is that I don't believe that anyone really does.