Trump Administration Spends First Day Lying About Crowd Size And Attacking Reporters
The first full day of Donald Trump's Presidency consisted largely of obsessions with irrelevant facts and outright lies.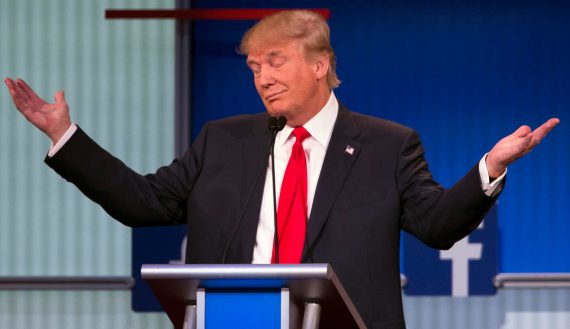 On the same day that American cities, and cities around the world, were crowded with men and women protesting the incoming Administration in Washington, the Trump Administration spent its first full day in office attacking the media and arguing about the size of the crowd at Friday's Inauguration:
WASHINGTON — President Trump used his first full day in office on Saturday to unleash a remarkably bitter attack on the news media, falsely accusing journalists of both inventing a rift between him and intelligence agencies and deliberately understating the size of his inauguration crowd.

In a visit to the Central Intelligence Agency intended to showcase his support for the intelligence community, Mr. Trump ignored his own repeated public statements criticizing the intelligence community, a group he compared to Nazis just over a week ago.

He also called journalists "among the most dishonest human beings on earth," and he said that up to 1.5 million people had attended his inauguration, a claim that photographs disproved.

Later, at the White House, he dispatched Sean Spicer, the press secretary, to the briefing room in the West Wing, where Mr. Spicer scolded reporters and made a series of false statements.

He said news organizations had deliberately misstated the size of the crowd at Mr. Trump's inauguration on Friday in an attempt to sow divisions at a time when Mr. Trump was trying to unify the country, warning that the new administration would hold them to account.

The statements from the new president and his spokesman came as hundreds of thousands of people protested against Mr. Trump, a crowd that appeared to dwarf the one that gathered the day before when he was sworn in. It was a striking display of invective and grievance at the dawn of a presidency, usually a time when the White House works to set a tone of national unity and to build confidence in a new leader.

Instead, the president and his team appeared embattled and defensive, signaling that the pugnacious style Mr. Trump employed as a candidate will persist now that he has ascended to the nation's highest office.

Saturday was supposed to be a day for Mr. Trump to mend fences with the intelligence community, with an appearance at the C.I.A.'s headquarters in Langley, Va. While he was lavish in his praise, the president focused in his 15-minute speech on his complaints about news coverage of his criticism of the nation's spy agencies, and meandered to other topics, including the crowd size at his inauguration, his level of political support, his mental age and his intellectual heft.

"I just want to let you know, I am so behind you," Mr. Trump told more than 300 employees assembled in the lobby for his remarks.

In recent weeks, Mr. Trump has questioned the intelligence agencies' conclusion that Russia meddled in the United States election on his behalf. After the disclosure of a dossier with unsubstantiated claims about Mr. Trump, he accused the intelligence community of allowing the leak and wrote on Twitter, "Are we living in Nazi Germany?"

On Saturday, he said journalists were responsible for any suggestion that he was not fully supportive of intelligence agencies' work.

"I have a running war with the media," Mr. Trump said. "They are among the most dishonest human beings on earth, and they sort of made it sound like I had a feud with the intelligence community."

"The reason you're the No. 1 stop is, it is exactly the opposite," Mr. Trump added. "I love you, I respect you, there's nobody I respect more."

Mr. Trump also took issue with news reports about the number of people who attended his inauguration, complaining that the news media used photographs of "an empty field" to make it seem as if his inauguration did not draw many people.

"We caught them in a beauty," Mr. Trump said of the news media, "and I think they're going to pay a big price."
Trump's speech at the CIA was notable because of what he had been saying about the intelligence community since the election and its conclusions regarding Russian efforts to influence the outcome of the election and, as noted above, it was initially seen as an effort by the new Administration to extend an olive branch to a part of the government that will be an important part of the new President's decision making when it comes to foreign policy over the next four years. It was also significant because Trump spoke while standing before the Memorial Wall at the entrance to CIA headquarters, a wall which memorialized the men and women, some of them still unnamed because even their names remain classified, who have died while working for the CIA. The fact that he chose to use that opportunity to attack the media and make false claims about the size of his Inauguration Day crowd quickly came under attack from recently departed CIA Director James Brennan:
Donald Trump traveled to CIA headquarters Saturday to offer reassurance to the workforce after he spent weeks criticizing American intelligence, but his unscripted, self-referential remarks before a wall of stars memorializing fallen officers are drawing criticism, including a pointed denunciation from the agency's recently departed director.

"Former CIA Director Brennan is deeply saddened and angered at Donald Trump's despicable display of self-aggrandizement in front of CIA's Memorial Wall of Agency heroes," Nick Shapiro, a former aide to John Brennan at CIA, told NBC News' Andrea Mitchell.

Brennan, Shapiro said, believes Trump "should be ashamed of himself."

Trump was greeted with cheers by the CIA officers who volunteered to be there to greet him on a Saturday.

But the wall of 117 stars in the CIA lobby is a revered place, and presidents who have spoken there tend to do so carefully and with a close attention to their subject — usually the sacrifices of the CIA officers and their families.

Trump expressed support for the CIA, but he also veered into political territory, denouncing the news media, boasting about the size of his inaugural crowds, and even discussing his own appraisal of his intellect.

"And then they say, 'Is Donald Trump an intellectual?'" Trump said. "Trust me, I'm like a smart person."

A former senior CIA officer told NBC News he was embarrassed, watching the remarks, which he called a "free-wheeling, narcissistic diatribe."

Another former senior official noted that that early on in his remarks Trump interrupted himself as he was commenting on the stars behind him and never returned to the topic.

"Not quite a `this hallowed ground moment,'" the official said.

Former CIA Director Mike Hayden, a Republican who opposed Trump, said in an email, "I was heartened that the President gave a speech at CIA. It would have been even better if more of it had been about CIA."
Not only after Trump spoke, White House Press Secretary Sean Spicer, who has had a long career in Washington during which he has generally been well-respected by journalists and people on both sides of the political aisle and previously served as spokesperson for the Republican National Committee, spent what was effectively his first White House Press Briefing attacking the media and repeating his boss's completely unsupported statements about the size of the crowd at the Inauguration:
"That's what you guys should be writing and covering," new White House press secretary Sean Spicer angrily lectured reporters on Saturday during his first remarks from the podium of the press briefing room.

He was referring to the delay in Senate confirmation for President Donald Trump's pick to lead the CIA, Congressman Mike Pompeo, but the comment came after a long digression about how many people had shown up to watch Trump be sworn in as president.

"This was the largest audience to ever witness an inauguration, period," Spicer said, contradicting all available data.

Aerial photos have indicated that former president Barack Obama's first inauguration attracted a much larger crowd. Nielsen ratings show that Obama also had a bigger television audience.

Spicer said, without any evidence, that some photos were "intentionally framed" to downplay Trump's crowd.

He also expressed objections to specific Twitter posts from journalists. And he said, "we're going to hold the press accountable," partly by reaching the public through social networking sites.

His statement included several specific misstatements of fact in addition to the overarching one.

"This is the first time in our nation's history that floor coverings have been used to protect the grass on the Mall," Spicer said, claiming that this "had the effect of highlighting areas people were not standing whereas in years past the grass eliminated this visual."

In fact, coverings were used for Obama's second inauguration in 2013.

"This was also the first time that fencing and magnetometers went as far back on the Mall, preventing hundreds of thousands of people from being able to access the Mall as quickly as they had in inaugurations past," Spicer said.

In fact, a United States Secret Service spokesperson told CNN, no magnetometers were used on the Mall.

And Spicer said, "We know that 420,000 people used the D.C, Metro public transit yesterday, which actually compares to 317,000 for president Obama's last inaugural."

Spicer's number for ridership on Friday was actually low — the correct number, according to Metro itself, was 570,557. But there were actually 782,000 trips taken for Obama's second inaugural in 2013.

Spicer, at times almost yelling while reading a prepared statement, took no questions. CNNMoney called his cell phone a few minutes later; he did not answer.

Some longtime White House correspondents were stunned by the tirade.

Glenn Thrush of The New York Times wrote on Twitter, "Jaw meet floor."

"I've run out of adjectives," wrote Chuck Todd, the moderator of NBC's "Meet the Press."

Karen Tumulty of the Washington Post said Spicer's assertion about "what you guys should be writing" was "chilling."

Reactions were overwhelmingly negative, and not just from journalists.

Ari Fleischer, who had the same job as Spicer during the George W. Bush administration, tweeted, "This is called a statement you're told to make by the President. And you know the President is watching."

And Brian Fallon, who was in line to become press secretary if Hillary Clinton had won, wrote, "Sean Spicer lacks the guts or integrity to refuse orders to go out and lie. He is a failure in this job on his first full day."

Conservative commentator Bill Kristol said "it is embarrassing, as an American, to watch this briefing by Sean Spicer from the podium at the White House. Not the RNC. The White House."
As I've said before when there have been large public events in Washington, D.C. and elsewhere, arguments over crowd size are perhaps among the silliest parts of the American political system. and yet it's something that advocates and politicians have done on a regular basis for quite some time now. In fact, the National Park Service ended the practice of providing crowd size estimates for politically motivated events due to the manner in which they would quickly become the fodder for political argument. Despite that fact, though, advocates on both sides of the aisle continue to argue about crowd size when events such as the Inauguration or yesterday's march are held in major American cities. The difference this time around is that the Administration's claims are demonstrably untrue. It was false, for example, for Spicer to claim that the photographs of Obama's Inauguration in 2009 and Trump's on Friday were intentionally framed to make Obama's crowd seem larger and Trump's smaller. In reality, the photograph of the crowd from Friday had come directly from the Inaugural ceremonies committee that was largely staffed by Trump supporters and that the photograph from 2009 came from Getty Images and is a matter of historical record. Second, his claims about ridership on Washington's Metro system, which provides the most direct access to the National Mall for events such as this and which is often used as a rough corollary to estimate crowd size, were similarly false. By 11am on Friday, just an hour before Trump took the Oath Of Office, the system says that 193,000 people had ridden the Metro that morning; this compared to the 513,000 riders the system saw in 2009 and the 317,000 it was for Obama's Second Inaugural in 2013. In fact, the number for Trump were slightly lower than the 197,000 riders the system had by 11am on the morning of George W.  Bush's Second Inaugural. (Source and Secondary Source) By way of contrast, the ridership numbers for yesterday's march in Washington. D.C. far exceeded those for any Inauguration, reaching more than one million for the entire day and making Saturday the second busiest day ever. The busiest full day of ridership for Metro, incidentally, was Obama's first Inauguration. (Source)  Even taking into account the fact that many people who attended the Inauguration may have driven in or taken chartered busses, these numbers, this would seem to make it obvious that Trump's ceremony had a smaller audience than any since 2004  at the very least.
All of this makes yesterday's conduct by the Administration troublesome both in and of itself and because of what it tells us about what the future is likely to portend for at least the next four years. Not only did the President and his chief spokesperson, who was no doubt acting under the direct orders of the President when he spoke last night, spend most of the first day in office talking about something as trivial as the size of a crowd on the National Mall, but they were blatantly lying in the process. President Trump started the lies with his speech at the CIA, where he claimed that he had never attacked the intelligence community even though his Twitter feed during the time the stories about Russian efforts to influence the election is full of such attacks and he had made comments critical of the CIA and other intelligence agencies while campaigning for President. That speech also included his bizarre for the location decision to attack the media over alleged misrepresentations about the Inauguration crowd size and did so on what is supposed to be solemn ground in front of a wall memorializing men and women who have died in service to their country. Then he sent out his chief spokesperson on his first day before the media to repeat those blatant lies, and add a few more, while refusing to answer any questions from the media that might have pointed out just how egregious these misrepresentations were. None of this should come as a surprise to anyone who followed Trump's campaign, of course, but it is nonetheless troubling to see it actually happening.
As the day came to an end yesterday, I asked a question on social media:
If the Trump Administration is going to lie about crowd sizes, and it did, then how can we trust it on stuff that actually matters?,

— Doug Mataconis (@dmataconis) January 22, 2017
If the answer is that we can't, and I fear that is the direction that we're headed, then it is going to be a long and troublesome four years indeed.