The Narcissistic, Hypersensitive Presidency Of Donald Trump
Donald Trump is turning out to be a man uniquely obsessed with appearances, and it's impacting his entire Administration.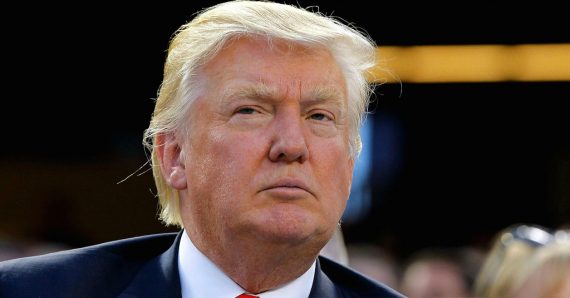 The parody of White House Press Secretary Sean Spicer, performed by comedian Melissa McCarthy this past Saturday on Saturday Night Live, has apparently ruffled feathers in the White House:
As the press secretary for a president who's obsessed with how things play on cable TV, Sean Spicer's real audience during his daily televised press briefings has always been an audience of one.

And the devastating "Saturday Night Live" caricature of Spicer that aired over the weekend — in which a belligerent Spicer was spoofed by a gum-chomping, super soaker-wielding Melissa McCarthy in drag — did not go over well internally at a White House in which looks matter.

More than being lampooned as a press secretary who makes up facts, it was Spicer's portrayal by a woman that was most problematic in the president's eyes, according to sources close to him. And the unflattering send-up by a female comedian was not considered helpful for Spicer's longevity in the grueling, high-profile job in which he has struggled to strike the right balance between representing an administration that considers the media the "opposition party," and developing a functional relationship with the press.

"Trump doesn't like his people to look weak," added a top Trump donor.

Trump's uncharacteristic Twitter silence over the weekend about the "Saturday Night Live" sketch was seen internally as a sign of how uncomfortable it made the White House feel. Sources said the caricature of Spicer by McCarthy struck a nerve and was upsetting to the press secretary and to his allies, who immediately saw how damaging it could be in Trump world.

Spicer on Monday was traveling aboard Air Force One from Florida to Washington, D.C., and gamely shrugged off the spoof that was playing in loops on cable news throughout the day.

McCarthy "needs to slow down on the gum chewing; way too many pieces in there," he joked in an interview with Extra.

And on Monday, Spicer's allies were trying to put a happy face on the incident. "He takes the job seriously but doesn't take himself that seriously," said a person close to Spicer, who said he also understood the instant-viral skit helped him reach a new level of fame. "He knows that put him up on the stratosphere of recognition on a level," this person said. "You've got to embrace it."

But on Tuesday, Spicer has the uncomfortable task of facing reporters once again in the briefing room — where the elephant in the room will be the unflattering McCarthy caricature.
In a rational universe, of course, the parody on SNL would be shrugged off by the White House and dismissed by Spicer with some good-natured humor when he gets back before the White House press corps later today. More importantly, ordinarily this would be something that any other President would simply not worry about. Politicians and their aides have long been the subjects of jokes and ridicule and, since he is the public face of the Administration on a daily bais, it's only natural that Spicer would end up being the subject of some jokes on a show that take particular delight in making fun of politicians. This is especially true in light of the fact that Spicer's first two weeks on the job have been, to say the least, less than ideal. To some extent, this can be attributed to the fact that he's obviously still adjusting to having a position that gives him such a high public profile and that it would be extremely hard for anyone to defend some of the things Trump has done in the past two weeks.
In the world of Donald Trump, though, this is apparently seen as a serious problem, and as Chris Cillizza notes this says as much about the President as it does about Spicer:
So, the fact that "Saturday Night Live" chose a woman to play Spicer was Trump's biggest problem with the sketch. And, according to a major Trump donor, that's because a woman playing a man makes Spicer look weak. (That idea deserves its own blog post, or maybe book.) Spicer's long-term viability in the job could also be affected by the impression, which a) he had nothing to do with and b) he had zero control or influence over.

This isn't the first time that Spicer has come under Trump's withering glare for not measuring up. This comes from an Axios report: "Unfortunately for Spicer, Trump is obsessed with his press secretary's performance art. Our Jonathan Swan hears that Trump hasn't been impressed with how Spicer dresses, once asking an aide: 'Doesn't the guy own a dark suit?'"

In any past presidency, such a focused view on appearance — or, more accurately, a willingness to be so looks-obsessed in public — would be remarkable. Not so in the Trump White House, where, if we've learned anything over the past two weeks, it's that appearances matter more than anything else to this president. He picked a Cabinet, in part, based on whether they looked like the best and the brightest. He fought a factually empty argument for days over how big (or small) the crowd was at his inauguration. He ran the announcement of his Supreme Court selection like an episode of "The Apprentice."

The line running through almost everything that Trump has done in his early days in the White House is appearances. He is someone who has been consumed by the look of things for his entire adult life. A creature of the New York tabloid press, Trump always spent time crafting his own image — sometimes using a nom de plume to sell himself as a much-coveted playboy. Trump's second act — as a reality TV star — only cemented his belief that appearances and perception were the most important things to master. Trump as the hard-assed boss — with an occasional heart of gold — was the image being sold on "The Apprentice." And people ate it up.
It should come as no surprise, of course, that President Donald Trump is obsessed with appearances and how he and his Administration appear to the public as a whole. He has demonstrated this same obsession throughout the thirty-odd years that he has been in the public eye, and we can see it in everything from the banal ostentatiousness of his properties and the views he's permitted of his home at the top of Trump Tower to the fact that everything he touches ends up being stamped with his name on it, as if he's so insecure that people will forget who he is. It's the reason that he's sold everything from Trump Steaks and Trump wine to Trump branded clothing and even bottled water with the Trump name on it. In fact, as we learned when he was running for President, licensing of the "Trump" name has become a significant portion of Trump's income and wealth stream. Given all of that, it's not really a surprise that he would continue to be obsessed by appearances once he became President.
What this bodes for the future only time will tell. If the President, and the White House, can get this rattled by a five-minute skit on Saturday Night Live then how are they going to respond when something truly serious happens and they come across as being as bumbling and incompetent as they've appeared to be in the past two weeks?
Much of this, of course, can be blamed on the fact that Trump apparently has few hobbies or outside interests and, with his wife and youngest son staying in New York City at least until the end of the school year, nothing to do after hours when most of the staff has gone home and there isn't some crisis that demands his attention. According to numerous reports since he took office, Trump apparently spends a good part of his morning, and his evenings, watching cable news networks, In the mornings, it's Morning Joe and Fox & Friends, in the evening's it's apparently a channel surfing adventure that includes Bill O'Reilly and Sean Hannity on Fox News Channel and Anderson Cooper and Don Lemon on CNN. Indeed, several reporters have noted a correlation between stories that have been featured on one of these shows and the timing of many of Trump's more recent Twitter rants. Not unlike the images of Lyndon Johnson during the darkest days of the Vietnam War, when he would watch all three evening broadcast network news shows simultaneously, Trump is a man who has become so narcissistic and obsessed with his image that anything that makes him look bad comes under immediate attack. That's a dangerous quality in a President that a lead to no good whatsoever.