Trump Lies, The Truth Dies
Donald Trump's Presidency is young, but he's already on track to become the biggest liar ever to occupy the Oval Office.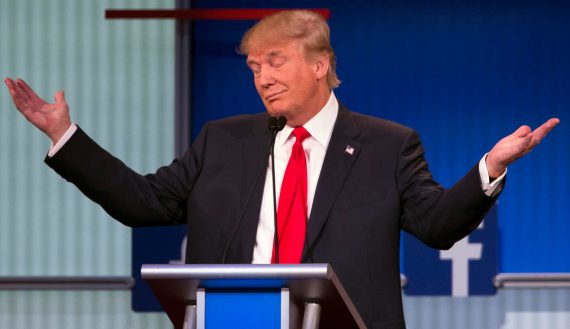 David Leonhardt and Stuart Thompson at The New York Times have put together a comprehensive list of the lies and half-truths that President Trump has uttered since Inauguration Day, and it's really quite astounding albeit utterly unsurprising:
President Trump's political rise was built on a lie (about Barack Obama's birthplace). His lack of truthfulness has also become central to the Russia investigation, with James Comey, the former director of the F.B.I., testifying under oath about Trump's "lies, plain and simple."

There is simply no precedent for an American president to spend so much time telling untruths. Every president has shaded the truth or told occasional whoppers. No other president — of either party — has behaved as Trump is behaving. He is trying to create an atmosphere in which reality is irrelevant.

We have set a conservative standard here, leaving out many dubious statements (like the claim that his travel ban is "similar" to Obama administration policy). Some people may still take issue with this standard, arguing that the president wasn't speaking literally. But we believe his long pattern of using untruths to serve his purposes, as a businessman and politician, means that his statements are not simply careless errors.

We are using the word "lie" deliberately. Not every falsehood is deliberate on Trump's part. But it would be the height of naïveté to imagine he is merely making honest mistakes. He is lying.

The list above uses the conservative standard of demonstrably false statements. By that standard, Trump told a public lie on at least 20 of his first 40 days as president. But based on a broader standard — one that includes his many misleading statements (like exaggerating military spending in the Middle East) — Trump achieved something remarkable: He said something untrue, in public, every day for the first 40 days of his presidency. The streak didn't end until March 1.

Since then, he has said something untrue on at least 74 of 113 days. On days without an untrue statement, he is often absent from Twitter, vacationing at Mar-a-Lago in Florida, or busy golfing.

The end of May was another period of relative public veracity — or at least public quiet — for the president. He seems to have been otherwise occupied, dealing with internal discussions about the Russia investigation and then embarking on a trip through the Middle East and Europe.\
As Leonhardt and Thompson note, all of this lying has had an impact on Trump. While his core supporters haven't abandoned him, he remains the most unpopular incoming President since World War II. His job approval numbers continue to remain in the negative and only seem to be getting worse, his personal favorability continues to become more negative by the day, and most Americans consider him dishonest. According to the latest Quinnipiac poll, for example, only 35% consider him honest while 60% of Americans consider the President dishonest, a number that has only increased since Inauguration Day: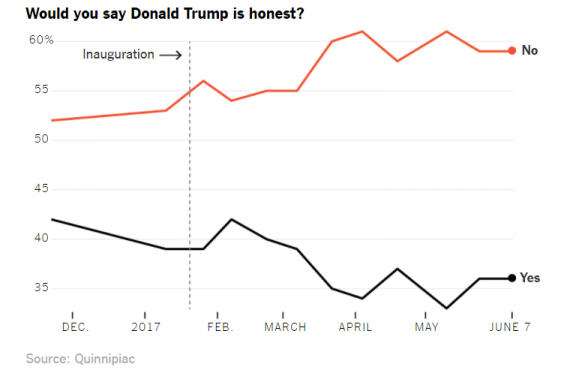 For anyone who has paid attention to Trump going back to the 2012 election when he was building up his political profile by pushing discredited and baseless claims regarding President Obama's birthplace, none of this is a surprise. Trump repeated this pattern of relying on lies to advance his political agenda throughout his campaign, as several journalists and news outlets documented quite well at the time. Indeed, this habit of not telling the truth has been part of Trump's modus operendi from the time he first became a public figure back in the 1980s. The fact that he's continuing to lie as President, then, should not come as a surprise to anyone.
The fact that Trump's behavior isn't a surprise, though, doesn't mean it isn't troubling. While all politicians have the habit of shading or spinning the truth in ways that benefit their message, the extent to which this President and his surrogates are able to get in front of cameras and crowds and blatantly tell what are obvious falsehoods is a sign both of their own moral turpitude and of the fact that they don't believe that they will pay a political price for their behavior. At least in the short term, that appears to be the case. While Trump's job approval among the general public, Democrats, and independents remain highly negative, it's clear that his core supporters still remain in his corner. As long as that's the case, there is not going to be any foreseeable ends to the lies that this Administration tells and supportive news outlets such as Fox News Channel, conservative talk radio, and the right-wing blogosphere will do little to point out the truth. Unless and until that happens, Trump will pay no price for his lies and will see no need to change.