Let's Face It, Donald Trump Is A Pathological Liar
Donald Trump has been in office just over 600 days, and he's proven beyond any doubt that he doesn't care if what he says is the truth or not.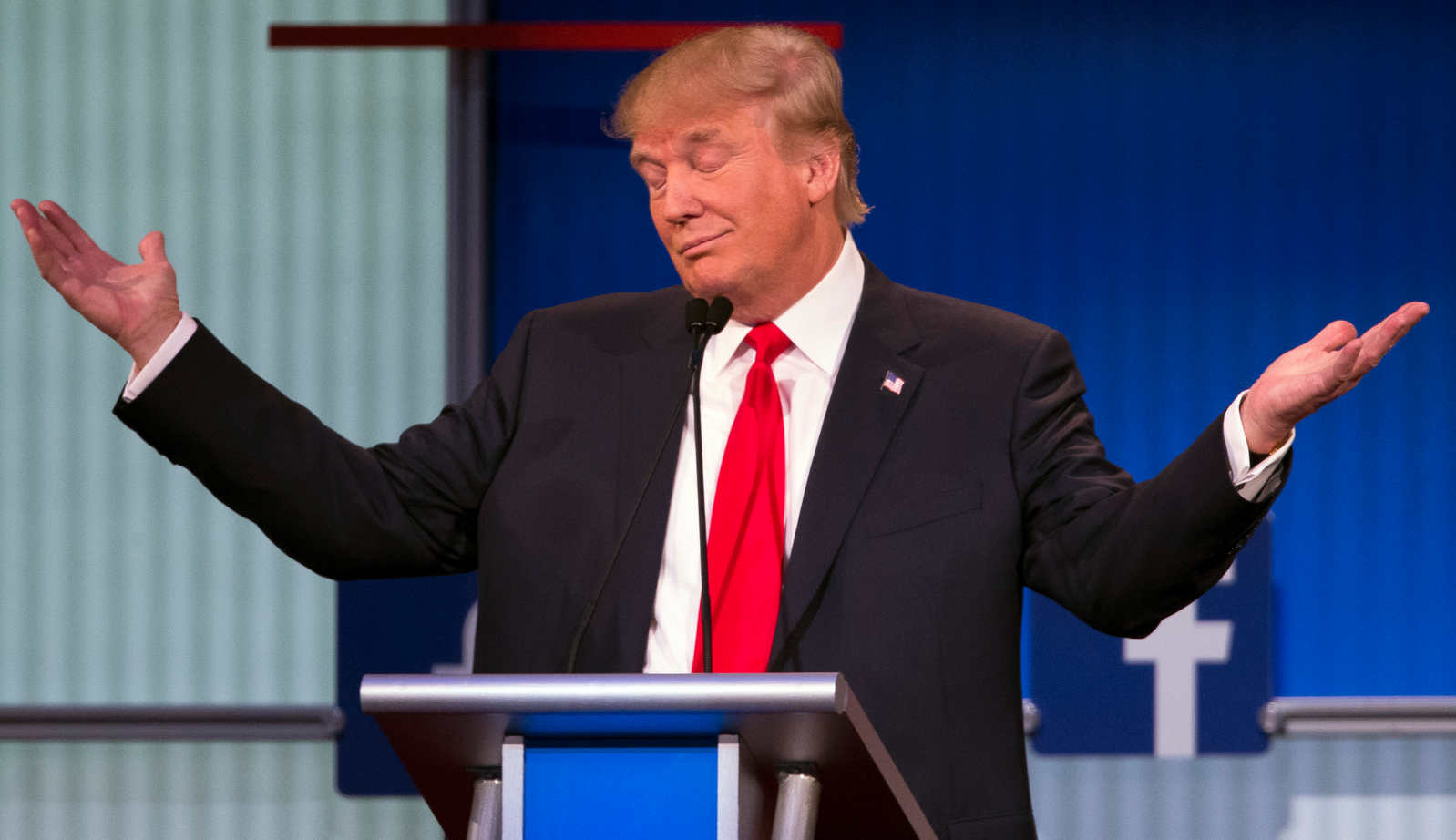 Last week, the President marked his 600th day in office, but the fact checkers at The Washington Post noted that he had also crossed another threshold. By their count, he's told more than 5,000 lies since taking office in late January 2017:
On Sept. 7, President Trump woke up in Billings, Mont., flew to Fargo, N.D., visited Sioux Falls, S.D., and eventually returned to Washington. He spoke to reporters on Air Force One, held a pair of fundraisers and was interviewed by three local reporters.

In that single day, he publicly made 125 false or misleading statements — in a period of time that totaled only about 120 minutes. It was a new single-day high.

The day before, the president made 74 false or misleading claims, many at a campaign rally in Montana. An anonymous op-ed article by a senior administration official had just been published in the New York Times, and news circulated about journalist Bob Woodward's insider account of Trump's presidency.

Trump's tsunami of untruths helped push the count in The Fact Checker's database past 5,000 on the 601st day of his presidency. That's an average of 8.3 Trumpian claims a day, but in the past nine days — since our last update — the president has averaged 32 claims a day.

When we first started this project for the president's first 100 days, he averaged 4.9 claims a day. He passed the 2,000 mark on Jan. 10 — eight months ago.

Fittingly, the 5,000th claim was a tweet about the investigation led by special counsel Robert S. Mueller III: "Russian 'collusion' was just an excuse by the Democrats for having lost the Election!"

On nearly 140 occasions, the president has falsely claimed that the Russia investigation was made up or a hoax. But the information on Russian efforts to sway the 2016 election was developed by the intelligence community and published in a declassified report, in which the agencies said they had "high confidence" it was correct.

One of his campaign aides has pleaded guilty to lying to the FBI about his contacts overseas, including one connection who disclosed that the Russians had Democratic Party emails. The president's son, son-in-law and campaign chairman met at Trump Tower in June 2016 with someone they thought was a representative of the Russian government and who had promised "dirt" on Hillary Clinton — and then tried to cover up that fact.

(…)

Almost one-third of Trump's claims — 1,573 — in The Fact Checker's database relate to economic issues, trade deals or jobs. He frequently takes credit for jobs created before he became president or company decisions with which he had no role. He cites his "incredible success" in terms of job growth, even though annual job growth under his presidency has been slower than the last five years of President Barack Obama's tenure. Almost 50 times, Trump has claimed that the economy today is the "greatest" in U.S. history, an absurd statement not backed up by data.

In the wake of the Woodward book, Trump resurrected a claim that dates from his first 100 days in office — that he has accomplished more than any other president in history in the same period of time. He made that statement six times in four days after news reports about the Woodward book.

Besides the tax bill, Trump has signed few noteworthy pieces of legislation, in contrast with the whirlwind of major bills passed in the first two years of the administrations of Franklin D. Roosevelt, Lyndon B. Johnson or Obama. As of his 600th day, Trump had signed about the same number of bills as Obama and George W. Bush but is behind every other president since Dwight D. Eisenhower, according to a calculation by Joshua Tauberer of GovTrack. He noted that Trump is just behind Obama in terms of the number of pages, indicating that much of the legislation he has signed has been about increasing government spending.
At the rate of 8.2 lies per day, which is the average that Trump has run over the 602 days that the Post's latest update covers, this would mean that the President would have told an extraordinary number of provable lies over the course of his Presidency. If he were to maintain this average over the course of his first term, for example, the President will have told nearly 12,000 lies in just four years in office. If this average were maintained over the course of eight years, it would mean nearly 24,000 lies between January 20th, 2017 and January 20th, 2025. While I'm as cynical as the next person when it comes to the tendency of politicians tell the truth, this is an extraordinary number of lies coming from one person and it's arguably consistent with the type of person who either does not believe he is obliged to tell the truth or that he is simply so used to lying that it comes as easily to him as putting on a pair of shoes.
This latest update should come as no surprise. Not longer after the Republican National Convention, Politifact found that nearly 80% of the claims that candidate Trump had made on the campaign trail since entering the race the year before had been a lie of some form or another. That trend continued for the balance of the campaign, including even during Trump's Presidential debates with Democratic nominee Hillary Clinton. While there were several points during those debates that either one of the moderators or Clinton herself called these lies out, their sheer number was almost impossible for any one person to keep track of without losing their mind. This trend continued after the election, of course, and Trump wasn't even in office for twenty-four hours before he told the first of his many lies regarding the size of his Inauguration Day crowd. From that point forward, the trend was set and we're now at the point where I'm sure that Glenn Kessler and the rest of the fact checkers at the Post and other similar outfits are glad to have access to a computer that can keep track of the numbers for them.
Given the extent to which he makes things up on the fly, whether it's during one of his rallies, during an interview, or on Twitter, it's hardly surprising that the President has faired so badly with the fact-checkers. From the start of his campaign, he's made false and easily disproven claims about Mexicans and crime, about immigrants in general, about Muslims, and about policy issues ranging from international trade to foreign policy to history. Indeed, it can truly be said there are few politicians in American history who have been quite as skilled as Donald Trump when it comes to being able to lie so easily and so frequently. Additionally, the ease with which he does so makes it seem as though he believes what he's saying, or that he simply doesn't care if it's true or not. It's a skill he honed during the time he was considered a "celebrity" before becoming a Presidential candidate. Back then, of course, even his most obviously exaggerated claims about his own business success would be slavishly repeated by the media rather investigated to see if they were actually true. If Trump learned from that experience is that it largely did not matter if the claims he made were true or not. For the most part, the people reporting the "news" about Trump back then were not inclined to check just how much of what he said was true. Indeed, given the fact that it was his status as an ostentatious celebrity that caused the public to tune in or buy newspapers and magazines when they covered him, it was not in their interest to deflate him, but rather to build him up since the relationship between celebrities and the media that covers them is largely a symbiotic one where the media benefits by inflating the ego of the celebrity, and the celebrity benefits by letting the media cover him or her.
From these years, Trump no doubt learned the lesson that making things up didn't really matter because the media wasn't going to check anyway, and he has carried that lesson over to his political career. Things are a bit different when it comes to political reporters, of course, but the fact that Trump was, from the beginning such a high ratings draw for all the cable news outlets means that they were much less inclined to challenge his factual assertions lest he decide to issue one of the several "boycotts" that he's engaged in over the course of the campaign. Those media outlets that have challenged him on the facts, such as The Des Moines Register, The Washington Post, and even Fox News Channel have found themselves subjected to one of Trump's mercurial reprisal efforts.
Of course, the extent to which he is able to lie so brazenly has raised several questions about Trump's psychology and mental state. I am not enough an expert in that field to make any specific judgments about Trump himself except to note that the lying, along with other aspects of his personality do not exactly speak very highly to the kind of person Donald Trump is at the core. In that regard, several words have been tossed around, including narcissist and many others. In the end, though, it seems fairly clear that liar fits just as well as anything else.
Tom Toles, meanwhile, suggests it's time to stop counting Trump's lies:
Counting up and/or refuting President Trump's lies is an exercise with diminishing returns. It is like adding additional littering citations on top of a garbage landfill. Everybody knows now that Trump's statements are more likely to be untrue than true. It's time to start addressing the implications of that.

Counting up lies is starting to feel more like a parlor game than a response to a cancer. A culture of lies is being introduced and normalized in the government of the United States, and it is that culture that needs to be understood. Just like with [Alex] Jones, it's a waste of everyone's time to try to fact-check and refute every new crazy theory that he introduces. Identifying him as what he is, a conspiracy theorist, gets to the heart of the problem. That Trump is a habitual liar is the heart of the problem of his communication to the American people.

But, you might say, Alex Jones isn't president of the United States. And I would say even MORE reason to identify Trump for what he is. Reporting his statements without adding "compulsive liar" gives those statements a veneer of plausibility and respectability that they absolutely do not deserve.

Yes, Donald Trump, compulsive liar, is president of the United States. It is a circumstance you don't want to contribute to prolonging
Toles has a point here. Counting up the President's lies and misstatements can become something of a parlor game and there's a danger that people become immune to the generalized truth that this President is a compulsive, habitual, and indeed pathological liar. That being said, keeping track of the number in the manner that Glenn Kessler and his colleagues are doing does serve the useful purpose of providing something that people can cite to back up the claims that are made against the President. That won't matter to his die-hard supporters, of course, but I'd like to think that we still live in a world where the truth matters. If we give up on that idea, then it means that Trump and his supporters have won and that we've crossed the Rubicon into a world where truth is relative and facts don't matter. If that happens, we may as well just give up because the battle will have been lost.