In Latest Attack On A Free Press, Donald Trump Denies Credentials To The Washington Post
Donald Trump continues his war on freedom of the press and reporters who cover him critically by barring The Washington Post from covering campaign events.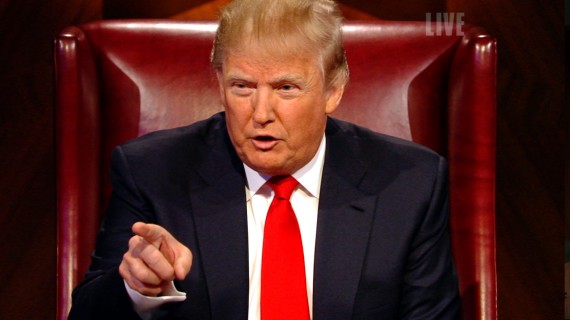 In his latest sign of petulance, Donald Trump has barred The Washington Post from receiving credentials to cover Trump campaign events due to coverage that he didn't like:
Donald J. Trump on Monday said his campaign would revoke the press credentials of The Washington Post, effectively prohibiting journalists from one of the nation's largest newspapers from joining the traveling press corps of the presumptive Republican nominee.

Barring journalists is an almost unheard-of practice for a modern presidential candidate. The Post is the latest major news organization that Mr. Trump has barred from his rallies and events this year, following Politico, BuzzFeed News, The Huffington Post and others.

In a Facebook post on Monday, Mr. Trump accused The Post of "incredibly inaccurate coverage and reporting" and deemed it "phony and dishonest," although he has granted frequent interviews to the paper's editors and reporters in the past.

It was not immediately clear if Mr. Trump's announcement meant he would end all his communications with Post journalists. Mr. Trump has a propensity to attack the news media, but he is also a keen cultivator of journalists, and he has been known to criticize reporters, then meet with them cordially shortly afterward.

Combined with Mr. Trump's promise to "open up" the nation's libel laws, his punitive attitude toward the press has prompted concern among media and free-speech advocates. Martin Baron, the executive editor of The Post, issued a statement on Monday calling Mr. Trump's action "nothing less than a repudiation of the role of a free and independent press."

"When coverage doesn't correspond to what the candidate wants it to be, then a news organization is banished," Mr. Baron wrote, referring to Mr. Trump's practice. "The Post will continue to cover Donald Trump as it has all along — honorably, honestly, accurately, energetically and unflinchingly."

Mr. Trump's pique stemmed from a Post headline on Monday that suggested that the Republican candidate had linked President Obama to the Orlando, Fla., shooting massacre. The article, published on Monday, cited vague but insinuating comments made by Mr. Trump in a Fox News interview, in which he said Mr. Obama's response to the shooting meant "he doesn't get it or he gets it better than anybody understands."

The Trump campaign cited the Post headline in a statement, adding: "We no longer feel compelled to work with a publication which has put its need for 'clicks' above journalistic integrity." The campaign added: "Mr. Trump does not mind a bad story, but it has to be honest."

On Twitter, news outlets facing similar treatment from the Trump campaign reached out in sympathy. "Welcome to the club," Ben Smith, BuzzFeed's editor in chief, wrote to Mr. Baron.
This isn't the first time that Trump's campaign has barred a major news outlet from receiving press credentials during the course of his campaign. Nearly a year ago, shortly after the start of his campaign, Trump barred the Des Moines Register from his campaign events after the paper published an editorial calling on Trump to leave the race for President based on his rhetoric against Mexicans and other minority groups. Eventually, it appeared as though that rift had healed, perhaps as Trump came to realize that barring the largest newspaper in Iowa from covering you while running for President wasn't the wisest decision after all. Additionally, barring the Post or any other news outlet from covering the campaign as credentialed media doesn't really mean much of anything. Even without credentials, Des Moines Register reporters were still able to cover the campaign and the rallies, the main impact of the lack of credentials was that they were denied access to the press area at campaign events and were not able to coordinate logistics with the campaign press office, one assumes that the Post will be able to operate in much the same way until such time as Trump changes his mind, which one suspects he ultimately will.
On some level, this action by the Trump campaign comes as something of a surprise considering the fact that several Post reporters have been given unique access to Trump and other top-level campaign staffers, and that Trump has been the subject of reporting by Robert Costa, Philip Rucker, David Weigel and other reporters who have been following the campaign around the country. In any case, this is yet another example of Donald Trump's petulance and his tendency toward authoritarianism that constitutes yet another reason why he should be considered unqualified to hold the Presidency. If your immediate response to criticism or negative coverage as a candidate is to attack the press and bar them from covering your events, then what does that say about how you'd respond to critics if you are President and have all of the powers that office implies backing you up? I'd submit that it suggests nothing good, and that it's a line that, as Ben Jacobs of The Guardian notes, even Nixon didn't cross:
Worth noting that even during the height of Watergate, Nixon never banned the Washington Post from the White House

— Ben Jacobs (@Bencjacobs) June 13, 2016
Post political reporter Chris Cillizza explains why this matters:
This should worry you. And by "you," I mean everyone who is a citizen of the United States.

Donald Trump is one of two people who have a chance at being elected president Nov. 8. That is the most powerful job in the world. Period.

Given that reality, reporting on what Trump says and does is extremely important to people making an informed decision about the choice before them this fall. Same goes for Hillary Clinton, of course. The job of journalists — at The Post and everywhere else — is to give voters the fullest and most accurate picture of the two people who want to represent all of us as president.

That is a task that is, inherently, at conflict — at least at times — with the story the candidates want to tell about themselves. That tension is natural and often leads to uncomfortable relationships between the candidates and the media who cover them. Both sides push — the media for more accountability and transparency, the candidate for more "straight" reporting of what they are proposing without alleged editorializing.

It's how things work.  It's how things have always worked. The media's job isn't to simply write down whatever the candidate says and regurgitate it. The candidate's job isn't to kowtow to the media or do and say things the way he or she thinks the media wants to hear.

The problem with what Trump is doing is that he is revoking access because he disagrees with the coverage. Not because we have the facts wrong. It's because he doesn't like how the facts are being presented.

If you believe in a free press, you should also believe it's not his right to do that. Trump can complain. He can not grant interviews with The Post (or the other organizations he has banned). He can call them out in speeches as being "dishonest." But barring reporters from public events because you disagree with what they write is a dangerous precedent.

(…)

[R]emember the slippery slope. Sure, saying one outlet is biased and banning it doesn't seem like a big deal. But if there are no referees, no objective judges to say "this is true and this isn't," then what are we left with? Each side with its own collection of "facts." And that is a very dangerous place for a democracy to be — and one we are closer to than many people realize.

You don't have to like the media. You can even hate us. But you should recognize that we are necessary for the functioning democracy that we all want.
Cillizza is correct, of course. The news media isn't perfect, of course, and they should be criticized just as much as political leaders when they make mistakes, such as the fact that they spent the better part of the six months between the time Trump entered the race until the voting began in Iowa in February giving him free airtime to spew his demogogery and xenophobia unchallenged, but on the whole they perform a vital function in a free society that ought to be jealously guarded and defended. When a political leader like Trump comes along and seeks to attack them in the way that he has on a regular basis, that leader ought to be called out, not cheered as someone willing to challenge what conservatives have come to call the "lamestream media." After all, if this is how they are going to act as mere candidates, one can only imagine how they'd act if they ever actually gained political power.