CNN Sues White House Over Revocation Of Correspondent's Press Pass
CNN fires back in the Administration's ongoing war with the news media.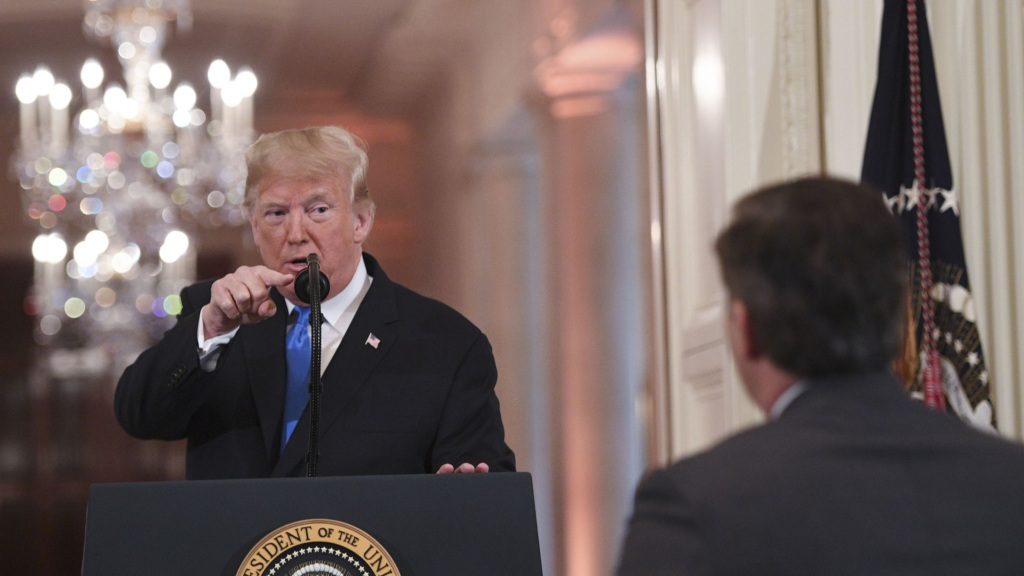 CNN has filed a lawsuit seeking the restoration of the press pass of their White House Correspondent Jim Acosta, who saw his press pass revoked last week after an incident at President Trump's post-midterm press conference:
CNN sued the Trump administration on Tuesday in an effort to reinstate the press credentials of its chief White House correspondent, Jim Acosta, escalating a dispute that has highlighted the increasingly tense dynamic between President Trump and the news media.

In a lawsuit filed in Federal District Court, the network argued that the removal of Mr. Acosta's White House press pass constituted a violation of his First Amendment rights to freely report on the government. CNN also alleged that the administration had violated Mr. Acosta's due process rights by revoking his credentials without warning.

Mr. Acosta, who has clashed with Mr. Trump on several occasions, angered the president at a formal news conference last week with questions about immigration and the special counsel's investigation. The CNN correspondent would not relinquish the microphone after Mr. Trump attempted to move onto another reporter.

Hours later, the press secretary, Sarah Huckabee Sanders, announced that the administration had removed Mr. Acosta's credentials, which allowed him access to the White House grounds. The administration claimed falsely that Mr. Acosta had placed his hands on a White House intern who had tried to take his microphone away during the news conference.

"While the suit is specific to CNN and Acosta, this could have happened to anyone," CNN said in a statement. "If left unchallenged, the actions of the White House would create a dangerous chilling effect for any journalist who covers our elected officials."

Ms. Sanders responded shortly after the lawsuit was filed.

"This is just more grandstanding from CNN, and we will vigorously defend against this lawsuit," the press secretary wrote in a statement, noting that dozens of other CNN journalists have retained their White House credentials.

In her comment, Ms. Sanders made no mention of her original claim that Mr. Acosta had reacted inappropriately with the intern. Instead, she wrote that "he physically refused to surrender a White House microphone to an intern, so that other reporters might ask their questions."

"The White House cannot run an orderly and fair press conference when a reporter acts this way, which is neither appropriate nor professional," Ms. Sanders wrote.

Mr. Acosta, who has a reputation as a showboat among some his press corps colleagues, is not the first White House reporter to aggressively question a president in public. One of his predecessors, the ABC correspondent Sam Donaldson, said in a memo filed with CNN's lawsuit that he knew of no precedent for a journalist's credentials being yanked and "never would have imagined such action was possible."

In turning to the courts, CNN has taken perhaps the most aggressive action yet by a news organization against a president who has systematically vilified journalists and media outlets since starting his campaign in 2015. Mr. Trump's denigration of the news media as "the enemy of the American people" — and his popularization of "fake news" as a way to dismiss critical coverage — has alarmed press freedom groups around the world.

Supporters of Mr. Trump, though, are likely to seize on the lawsuit as evidence for the president's claim that news organizations, especially CNN, are biased against him. "CNN sucks!" has been a frequent chant at Mr. Trump's rallies.

Floyd Abrams, the noted First Amendment lawyer, said in an interview on Tuesday that the network's legal action was necessary, even as he acknowledged the potential political fallout.

"I can understand the reluctance — at a time when the president is saying, 'CNN is hostile to me' — for a lawsuit to be filed with the caption 'CNN v. Donald Trump,'" Mr. Abrams said. "That said, sometimes a strong response is necessary, both for the institution itself and for the broader cause for which it effectively speaks."
More from CNN itself:
CNN has filed a lawsuit against President Trump and several of his aides, seeking the immediate restoration of chief White House correspondent Jim Acosta's access to the White House.

The lawsuit is a response to the White House's suspension of Acosta's press pass, known as a Secret Service "hard pass," last week. The suit alleges that Acosta and CNN's First and Fifth Amendment rights are being violated by the ban.

The suit was filed in U.S. District Court in Washington, D.C. on Tuesday morning.

Both CNN and Acosta are plaintiffs in the lawsuit. There are six defendants: Trump, chief of staff John Kelly, press secretary Sarah Sanders, deputy chief of staff for communications Bill Shine, Secret Service director Randolph Alles, and the Secret Service officer who took Acosta's hard pass away last Wednesday.

The six defendants are all named because of their roles in enforcing and announcing Acosta's suspension.

Sanders responded to the suit by saying that CNN is "grandstanding" by suing. She said the administration will "vigorously defend" itself.

Last Wednesday, shortly after Acosta was denied entry to the White House grounds, Sanders defended the unprecedented step by claiming that he had behaved inappropriately at a presidential news conference. CNN and numerous journalism advocacy groups rejected that assertion and said his pass should be reinstated.

On Friday, CNN sent a letter to the White House formally requesting the immediate reinstatement of Acosta's pass and warning of a possible lawsuit, the network confirmed.

In a statement on Tuesday morning, CNN said it is seeking a preliminary injunction as soon as possible so that Acosta can return to the

White House right away, and a ruling from the court preventing the White House from revoking Acosta's pass in the future.
"CNN filed a lawsuit against the Trump Administration this morning in DC District Court," the statement read. "It demands the return of the White House credentials of CNN's Chief White House correspondent, Jim Acosta. The wrongful revocation of these credentials violates

CNN and Acosta's First Amendment rights of freedom of the press, and their Fifth Amendment rights to due process. We have asked this court for an immediate restraining order requiring the pass be returned to Jim, and will seek permanent relief as part of this process."

The White House Correspondents' Association said it "strongly supports CNN's goal of seeing their correspondent regain a US Secret Service security credential that the White House should not have taken away in the first place."

CNN also asserted that other news organizations could have been targeted by the Trump administration this way, and could be in the future.

"While the suit is specific to CNN and Acosta, this could have happened to anyone," the network said. "If left unchallenged, the actions of the White House would create a dangerous chilling effect for any journalist who covers our elected officials."

(…)

As the prospect of a lawsuit loomed on Sunday, attorney Floyd Abrams, one of the country's most respected First Amendment lawyers, said the relevant precedent is a 1977 ruling in favor of Robert Sherrill, a muckraking journalist who was denied access to the White House in 1966.

Eleven years later, a D.C. Court of Appeals judge ruled that the Secret Service had to establish "narrow and specific" standards for judging applicants. In practice, the key question is whether the applicant would pose a threat to the president.

The code of federal regulations states that "in granting or denying a request for a security clearance made in response to an application for a White House press pass, officials of the Secret Service will be guided solely by the principle of whether the applicant presents a potential source of physical danger to the President and/or the family of the President so serious as to justify his or her exclusion from White House press privileges."

There are other guidelines as well. Abrams said the case law specifies that before a press pass is denied, "you have to have notice, you have to have a chance to respond, and you have to have a written opinion by the White House as to what it's doing and why, so the courts can examine it."

"We've had none of those things here," Abrams said.

That's why the lawsuit is alleging a violation of the Fifth Amendment right to due process.

Acosta found out about his suspension when he walked up to the northwest gate of the White House, as usual, for a Wednesday night live shot. He was abruptly told to turn in his "hard pass," which speeds up entry and exit from the grounds.

"I was just told to do it," the Secret Service officer said.

Other CNN reporters and producers continue to work from the White House grounds, but not Acosta.

"Relevant precedent says that a journalist has a First Amendment right of access to places closed to the public but open generally to the press. That includes press rooms and news conferences," Jonathan Peters, a media law professor at the University of Georgia, told CNN last week. "In those places, if access is generally inclusive of the press, then access can't be denied arbitrarily or absent compelling reasons.

And the reasons that the White House gave were wholly unconvincing and uncompelling."
CNN released a statement via Twitter, and also released statements from various legal authorities which you can see as part of the threaded tweet on the timeline of its Communications Office:
This morning, CNN filed a lawsuit against @realDonaldTrump and top aides. The White House has violated CNN and @Acosta's First Amendment rights of freedom of the press and Fifth Amendment rights to due process. Complaint: https://t.co/43oX6L8xA7 pic.twitter.com/RvJ0Cgh6oi

— CNN Communications (@CNNPR) November 13, 2018
And the White House issued the following statement in response to the lawsuit:
"We have been advised that CNN has filed a complaint challenging the suspension of Jim Acosta's hard pass. This is just more grandstanding from CNN, and we will vigorously defend against this lawsuit.

CNN, who has nearly 50 additional hard pass holders, and Mr. Acosta is no more or less special than any other media outlet or reporter with respect to the First Amendment. After Mr. Acosta asked the President two questions—each of which the President answered—he physically refused to surrender a White House microphone to an intern, so that other reporters might ask their questions. This was not the first time this reporter has inappropriately refused to yield to other reporters.

The White House cannot run an orderly and fair press conference when a reporter acts this way, which is neither appropriate nor professional. The First Amendment is not served when a single reporter, of more than 150 present, attempts to monopolize the floor. If there is no check on this type of behavior it impedes the ability of the President, the White House staff, and members of the media to conduct business."
The incident that allegedly prompted the White House to revoke Acosta's press pass occurred just a few days ago at the press conference that President Trump held in the wake of the midterm elections. I'll let The New York Times White House Correspondent Peter Baker, who was at this press conference, describe what happened:
WASHINGTON — President Trump took the exceedingly rare step of suspending the White House credentials of Jim Acosta, the chief White House correspondent for CNN, on Wednesday after an intense verbal clash at a news conference earlier in the day.

During a testy session with reporters after Tuesday's midterm elections, Mr. Trump recognized Mr. Acosta for a question. Their exchange grew heated when Mr. Acosta repeatedly challenged the president's characterization of a Central American migrant caravan as an invasion. Mr. Trump responded by lashing out at Mr. Acosta, saying, "Honestly, I think you should let me run the country — you run CNN."

Mr. Acosta, who was in the front row just feet from the president, refused several times to sit down or to return a microphone to a White House intern who sought to retrieve it. When he finally did give up the microphone, Mr. Trump said that Mr. Acosta was "a rude, terrible person."

"You shouldn't be working for CNN," the president said.

When Mr. Acosta tried to re-enter the White House on Wednesday evening for a live shot for his network, a Secret Service officer asked him to hand over his "hard pass," which grants journalists access to the compound. Mr. Acosta captured the episode in a grainy video on his cellphone and posted it to Twitter.

Sarah Huckabee Sanders, the White House press secretary, who has also repeatedly clashed with Mr. Acosta during televised briefings at the White House, announced the decision, claiming falsely that Mr. Acosta had placed "his hands on a young woman" who was responsible for giving the microphone to reporters asking questions.

"The fact that CNN is proud of the way their employee behaved is not only disgusting, it is an example of their outrageous disregard for everyone, including young women, who work in this administration," Ms. Sanders said.

The confrontation with the president came during a fractious encounter with reporters, only the third formal solo news conference held by Mr. Trump at the White House. In addition to clashing with Mr. Acosta, he scolded several other reporters he deemed offensive, including Peter Alexander of NBC, April D. Ryan of American Urban Radio Networks and Yamiche Alcindor of PBS.

Mr. Trump repeatedly told Ms. Ryan to sit down, and he complained that a query by Ms. Alcindor was a "racist question."

The decision to yank Mr. Acosta's credentials, effectively denying him access to the White House and the president's staff, was a nuclear-level response by the president and the administration's communications staff after more than two years of escalating tensions between the CNN correspondent, the president and the president's aides.

Coming the day after Mr. Trump's party suffered significant losses in Tuesday's midterm elections, the action sent a signal to other journalists that the president was willing to do what has almost never been done by his predecessors in modern times: blacklist a mainstream journalist from coverage at the White House.

Late Wednesday, CNN denounced the decision. "It was done in retaliation for his challenging questions at today's press conference," the network said in a statement. "In an explanation, Press Secretary Sarah Sanders lied. She provided fraudulent accusations and cited an incident that never happened. This unprecedented decision is a threat to our democracy, and the country deserves better."

A review of the video from the news conference did not suggest that Mr. Acosta put his hands on the woman, and a reporter who was present said that the White House account was not true.

"I was seated next to @Acosta at today's press conference and did not witness him 'placing his hands' on the young intern, as the White House alleges," Jeff Mason, a White House correspondent for Reuters, wrote on Twitter. "He held on to the microphone as she reached for it."
This entire incident isn't occurring in a vacuum, of course. For the better part of the Trump Administration the relationship between the Trump Administration and the press has been fairly toxic, with both the President and his Press Secretaries, first Sean Spicer and then Sarah Huckabee Sanders, attacking the network as the hallmark of what the President calls "Fake News," which of course we know means any news that the President considers to be critical of him or which holds him in a negative light. As the primary voice of his network at the White House, Acosta has of course borne the brunt of these attacks and he has fought back by becoming more and more aggressive in pursuing answers to his questions, and stepping in at press conferences and increasingly rare White House press briefings when it is clear that he and his network are being ignored. Some media critics and especially many conservatives have accused Acosta of grandstanding and, in one respect, I suppose there is some truth in that regard. At the same time, though, one could argue that the treatment that CNN in general and Acosta specifically have been on the receiving end of from this White House has been unlike anything we've ever seen in the modern history of the Presidency.
While there have been tense moments in the past involving individual correspondents and the White House — such as Dan Rather's relationship with President Nixon and his Press Secretary Ron Ziglar and of course the classic and memorable confrontations between Sam Donaldson and President Reagan and his Press Secretaries — none of them have come close to the conflict between President Trump and the Administration on one side and Acosta and CNN on the other. Both Trump and Sanders have displayed nothing short of utter contempt toward CNN generally and Acosta specifically even when Acosta has quite clearly done his best to be as respectful as possible in asking questions that quite obviously deserve an answer. Given that history, the fact that it ultimately came to the point where the Administration revoked Acosta's press pass is hardly surprising. This is the direction the deteriorating relationship has been headed for quite some time, and while one can place some of the blame on Acosta to the extent that he sometimes does seem to be playing for the cameras, the fact of the matter is that the White House is a government operation and it should not be permitted to use its power to determine who has access to the press office to punish political enemies in this manner.
As noted, there isn't a whole lot of legal precedent regarding this kind of case, but there have been a handful of lawsuits over the years regarding the issuance or denial of press passes by the White House that seems to work to CNN's advantage in this particular case. Generally speaking, the decisions in those cases appear to stand for the principle that the White House cannot deny a press pass to a legitimate news organization or reporter unless it can be shown that the person in question poses a security risk to the President or other White House personnel. In Acosta's case, there is precisely no evidence that this is the case. The "evidence" that the White House relied on to support of its decision, for example, is the allegation that Acosta essentially assaulted a White House Intern who tried to take the pool microphone away from him. However, neither the available video evidence nor the eyewitness reports from the reporters who were in the room and saw the event support that version of events and, interestingly enough, the statement issued today in response to the lawsuit makes no reference at all to an alleged assault and instead accuse him of trying to monopolize the press conference. This doesn't come anywhere close to making out a case that Acosta is a threat to anyone's safety.
In addition to these standards,  the 1977 case noted above also established the principle that a reporter seeking a press pass, or from whom one has been revoked, is entitled to some form of due process. That has not occurred in this case, and it is clear that had it been granted that the most likely outcome would be that the pass would not have been revoked to begin with. Given these twin standards, it seems to me as if CNN and Acosta have a good case. Moreover, with legal eagles like Ted Olsen on their side, and no less a First Amendment authority than the great Floyd Abrams, who has been at the center of some of the most important Freedom of the Press cases of the past fifty years, arguing in their favor, the argument that the network makes in its Complaint seems especially strong.
Neither the decision to revoke Acosta's press pass nor the contemptuous and inexcusable manner in which Trump has treated CNN and its employee should come as a surprise. From the time he entered the Presidential campaign more than three years ago right to today, this President has demonstrated that he has nothing but utter contempt for the media and freedom of the press. This, after all, is the President who has referred to the press as the "enemy of the people" on many occasions. On other occasions, both he and members of his Administration has suggested that the media should be criminally charged for publishing leaked information even when that information isn't classified. At a rally in Arizona last year, Trump upped his anti-media rhetoric by referring to members of the media as "sick people" who "don't like our country," and who are "trying to take away our history and our heritage." Recently, Trump admitted that when he said that when he refers to "Fake News" he means any news coverage that is critical of him or his Administration regardless of whether it's true or not. Finally, the President has admitted that the purpose behind all of these attacks on the media is quite simple in that it is aimed at discrediting the media in the minds of his supporters so that they won't believe any of the bad news that is reported about his or his Administration. When he was on the campaign trail before Election Day, Trump lavished praise on Congressman Greg Gianforte, who is best known as the guy who assaulted a reporter for asking a question about health care reform. This behavior and rhetoric on the President's part has, obviously, trickled down to those who work for him. most especially Sarah Sanders, who treats Acosta and other reporters who dare to ask hard questions with nothing but contempt and sees nothing wrong with openly insulting them even during a broadcast press briefing. Of course, given the fact that the President himself does this himself it's no surprise that those who work for him act the same way. Whether the courts will finally rein them in remains to be seen.
Here's the Complaint:
CNN Et Al v. Trump Et Al by on Scribd