Labor Secretary Alex Acosta Resigns Over Sweetheart Plea Deal With Jeffrey Epstein
After a firestorm of criticism for his handling of a decade-old plea deal with Jeffrey Epstein, Labor Secretary Alexander Acosta has resigned.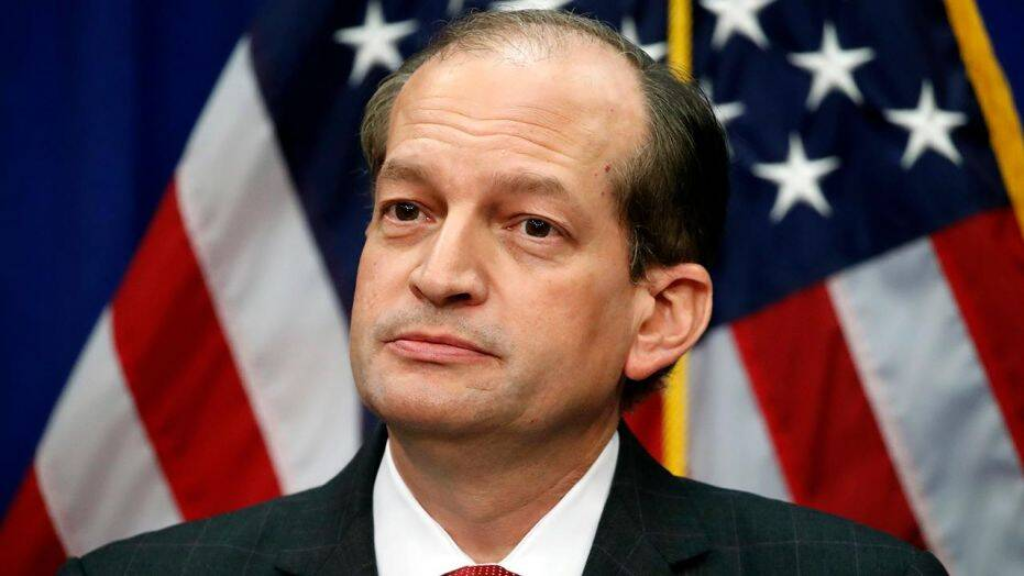 Secretary of Labor Alexander Acosta has resigned amid a firestorm of criticism over what can only be called a sweetheart plea deal that he struck with Jeffrey Epstein regarding sex trafficking and sexual abuse some ten years ago:
Labor Secretary Alexander Acosta is stepping down from his post, just two days after he held a news conference to defend a plea deal that he brokered for wealthy sex offender Jeffrey Epstein while serving as a U.S. attorney in Florida more than a decade ago.'

President Donald Trump alerted reporters this morning of Acosta's departure. "This was him, not me," said Trump, who saw Acosta largely as a source of favorable monthly statistics about unemployment and job growth. Trump called Acosta "a great labor secretary not a good one," a "tremendous talent" who "went to Harvard." He indicated Friday that he was satisfied with Acosta's explanation for the plea deal in Wednesday's news conference, saying, "He explained it."

But Acosta has had a rocky relationship in recent months with other White House officials, including acting chief of staff Mick Mulvaney, over the perceived slow pace of deregulation at the department.

Acosta, a 50-year-old Harvard-educated lawyer, came newly under fire for the lenient 2008 plea deal after Epstein was re-arrested July 6 in New York City and charged with sex trafficking. Under the earlier plea agreement, Epstein served only 13 months of an 18-month term and was permitted daily furloughs to go to the office. Epstein also was required to register as a sex offender and to pay restitution to his underage victims.

Things began to unravel for Acosta in November, when the Miami Herald published a lengthy reexamination of the case, and accelerated in February, when a district court judge ruled that the 2008 plea deal violated the Crime Victims Rights Act because Acosta never revealed the terms of the deal to Epstein's victims before it was finalized. Also in February, the Justice Department opened an investigation into whether Acosta's prosecution team committed professional misconduct in its handling the Epstein case.

Key details of Acosta's plea agreement with Epstein were known to senators at the time Acosta was confirmed as labor secretary, though initially these seemed minor compared to domestic abuse allegations against Trump's first pick for labor secretary, Andy Puzder.

Acosta defended his actions at a congressional hearing this past April, saying he entered the case only after a state grand jury recommended that only one charge be filed against Epstein — a course of action that would have resulted in no jail time for Epstein, no restitution to victims, and no registration as a sex offender.

"At the end of the day Mr. Epstein went to jail," Acosta said. "Mr. Epstein was incarcerated, he registered as a sex offender, the world was put on notice that he was a sex offender, and the victims received restitution."

Acosta has suggested that he and his attorneys were worn down by Epstein's all-star legal team, which included Alan Dershowitz and Kenneth Starr, the special prosecutor who investigated the Monica Lewinsky scandal in the 1990s. Among other tactics, the Epstein lawyers investigated the prosecutors looking for "personal pecadillos,"

Acosta wrote in 2011 to journalist Conchita Sarnoff, whose 2016 book "TrafficKing" chronicled the Epstein prosecution. Acosta called these efforts "a year-long assault on the prosecution and the prosecutors."

Acosta has also said that the full extent of Epstein's alleged abuse wasn't known at the time he struck the plea deal.

"Had these additional statements and evidence been known," he wrote in a letter Sarnoff, "the outcome may have been different."
More from The Washington Post:
Labor Secretary Alex Acosta resigned Friday amid intense scrutiny of his role as a U.S. attorney a decade ago in a deal with Jeffrey Epstein that allowed the financier to plead guilty to lesser offenses in a sex-crimes case.

President Trump told reporters Friday morning that Acosta had decided to step aside. He called Acosta a "great labor secretary, not a good one" and a "tremendous talent."

"This was him, not me," Trump said of the resignation decision, as Acosta stood by his side. "I said to Alex, you don't have to do this."

Acosta, the only Hispanic in Trump's Cabinet, said he had submitted his resignation to take effect in a week.

"I don't think it's right or fair to have this administration's labor department have Epstein be the focus instead of the incredible economy we have today," Acosta said. "It would be selfish for me to stay in the position and continue talking about a case that is 12 years old."

Trump said that Patrick Pizzella, currently deputy secretary of labor, will become acting secretary of the department.

The 2008 plea deal in Florida came under renewed scrutiny in light of Epstein's indictment Monday on more child sex trafficking charges in New York.

At a news conference Wednesday, Acosta defended his role as the federal prosecutor in brokering the plea deal for Epstein, but lawyers for alleged victims criticized his explanation and Democrats called for him to appear at a congressional hearing in two weeks.

He said a state's attorney in Palm Beach County was preparing to allow Epstein to plead to a single charge of solicitation that did not make a reference to the age of the female minor. That deal would have carried no jail time and would not have required Epstein to register as a sex offender.

"We wanted to see Epstein go to jail," Acosta said. "He needed to go to jail."

The former state's attorney for Palm Beach County at the time of the Epstein plea deal released a statement disputing Acosta's account following the news conference.

"I can emphatically state that Mr. Acosta's recollection of this matter is completely wrong," said Barry E. Krischer, who added that Acosta could have moved forward with a 53-page indictment that his office had drafted.

After Acosta's news conference, the reaction inside the White House was mixed, according to a senior White House official, who requested anonymity to speak more candidly.

Some aides thought Acosta had adequately explained his handling of the Epstein case, and had "won" by not further harming himself, the official said. But others had been expecting a more animated performance, and found Acosta's time before the cameras disappointing, saying he'd failed to mount a full-throated defense of himself.

Trump expressed skepticism at Acosta's performance and began asking senior aides what he should do about him, according to two White House officials, who also requested anonymity to speak candidly.
Acosta's resignation comes in the wake of the arrest last Saturday of Epstein's arrest upon his return to the United States and the charges that have been filed against him related to sex trafficking and sexual abuse of teen girls as young as 14 years old. In addition to this, it was revealed that a search of Epstein's Manhattan mansion uncovered what has been described as thousands of pictures of underage girls that constitute child pornography, a charge that on its own could lead to him spending the rest of his life in prison.
While Acosta awaits his fate in Federal Court in New York, Acosta came under fire for the role he played as United States Attorney for the Southern District of Florida in the negotiation of what amounted to a plea deal with Epstein. Under the terms of that agreement, Acosta's office agreed not to prosecute Epstein under Federal law provided that Epstein pled guilty to similar charges pending in Federal court. At the time, attorneys in Acosta's office had prepared, but not filed a 56-page Federal indictment that included charges that could have led to significant time in Federal prison had Epstein been convicted. Instead, Epstein pled guilty to a much smaller list of state charges that led to him serving a much shorter jail sentence of just 13 months during which he was permitted to leave jail during the day to work in his office. After that sentence was served, Epstein was required to register as a sex offender but we've since learned that he failed to do so in at least two of the jurisdictions he has lived in over the years since he was released from jail.
In addition to the fact that the plea deal that Acosta entered into with Epstein was, on its face, far too lenient, there were other defects with the agreement. Specifically, Acosta failed to inform or consult with Epstein's victims regarding the agreement he negotiated, this was in violation of Federal victims rights laws, as a Federal District Court Judge found earlier this year. Despite all of this, Acosta defended the agreement in a press conference on Wednesday and while most outside observers saw the performance as a disaster it had appeared at the time that it was sufficient for the one person whose opinion matters, the President of the United States. Today's "resignation" appears to reflect the realization that the controversy was only going to get worse if Acosta continued in office.