Jeffrey Epstein Charged With Multiple Counts Of Sex With Minors And Sex Trafficking
Billionaire Jeffrey Epstein was formally charged with multiple counts of procuring underage girls for sexual molestation.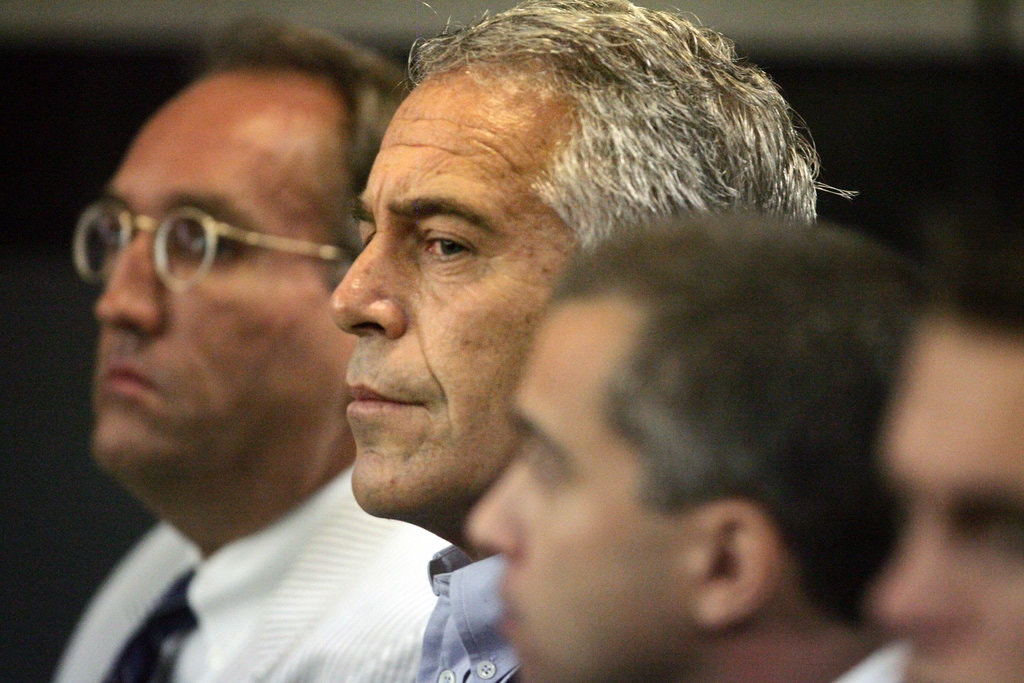 As I noted over the weekend, Jeffrey Epstein, the billionaire investor who has long ties to people of influence in politics and business and has been previously credibly accused of multiple counts of child sexual abuse, was arrested in connection with charges of sex trafficking that were previously abandoned when he was charged a decade ago. Today, those charges were unveiled as a previously sealed indictment was issued on the same day as his first appearance before a Federal Judge:
Federal prosecutors on Monday unsealed new sex trafficking charges against Jeffrey Epstein, alleging the politically connected multimillionaire abused dozens of female minors at his Manhattan and Palm Beach, Fla., homes and enlisted his victims to expand a network of possible targets.

Epstein — who was arrested over the weekend and is expected to appear in federal court in Manhattan — had previously pleaded guilty to Florida state charges of soliciting prostitution to resolve allegations he molested dozens of girls. That arrangement has been widely criticized as too lenient. As part of the deal, he had to spend just more than a year in jail and was allowed to leave daily for work, and he never faced any federal exposure.

The new charges, described in an explosive 14-page indictment brought by the U.S. attorney's office in Manhattan, could lead to a much harsher penalty. Epstein is charged in a two-count indictment with sex trafficking and sex trafficking conspiracy, for crimes alleged to have occurred between 2002 and 2005.

U.S. Attorney Geoffrey Berman said at a news conference that Epstein, now 66, faces the possibility of 45 years in prison and that prosecutors will seek to have him detained pending trial. The Justice Department is also seeking to seize Epstein's mansion on the Upper East Side of Manhattan, where some of the alleged crimes occurred.

Prosecutors wrote in a court filing Monday seeking to keep Epstein behind bars that in a search of Epstein's home this weekend, investigators "recovered hundreds — and perhaps thousands — of sexually suggestive photographs of fully- or partially- nude females," some of which appear to be of underage girls. Some of the photographs were found in a locked safe on CDs with handwritten labels such as "Misc nudes 1" and "Girl pics nude," prosecutors wrote.

"The alleged behavior shocks the conscience," Berman said, calling the victims "particularly vulnerable."

In court filings and in public statements, law enforcement officials described Epstein as a man of incredible wealth who was able to pay his victims, some as young as 14 years old, to find him others to abuse. Authorities said he was willing to go to great lengths to cover up his behavior and had "practically limitless" avenues to flee and escape justice.

In his previous case, prosecutors wrote, Epstein's attorneys contemplated having him plead guilty to an obstruction or witness tampering offense, and mentioned to prosecutors an incident in which Epstein apparently hired a private investigator to follow the father of someone involved in the case and force him off the road. They alleged Epstein was hardly a changed man.

"The defendant, a registered sex offender, is not reformed, he is not chastened, he is not repentant; rather, he is a continuing danger to the community and an individual who faces devastating evidence supporting deeply serious charges," prosecutors wrote.

According to the new indictment, Epstein recruited young girls to perform "massages," which would become "increasingly sexual in nature." He then paid the victims hundreds of dollars in cash for each encounter, according to the indictment.

The indictment also alleges that Epstein "actively encouraged certain of his victims to recruit additional girls to be similarly sexually abused" and that he "incentivized his victims to become recruiters by paying these victim-recruiters hundreds of dollars for each girl they brought to Epstein."

"This allowed Epstein to create an ever-expanding web of new victims," Berman said.

(…)

His alleged victims have long claimed the criminal justice system treated him differently because of his wealth and political connections, and his treatment has come under significant media and legal scrutiny.

Epstein's alleged victims have sued in civil court. The Washington Post and the Miami Herald, for example, have detailed in investigative reports how then-U.S. Attorney Alexander Acosta, now Trump's labor secretary, shelved a 53-page federal indictment that could have put Epstein behind bars for life in favor of the deal that allowed him to plead guilty only to state charges.

Acosta has defended the arrangement as guaranteeing that Epstein would go to jail. In the wake of the charges being unsealed Monday, Rep. Debbie Wasserman Schultz (D-Fla.), renewed her calls for Acosta to resign.

"The new sex trafficking charges announced today make it agonizingly clear that former U.S. Attorney Alex Acosta failed to deliver true justice for the underage girls that Jeffrey Epstein mercilessly exploited," she said. "Someone with such poor judgment and utter disregard for survivors should not be our Secretary of Labor . . . As Epstein now faces a real accounting for his crimes, it's time for Acosta to be held responsible for letting Epstein elude real justice for so long."

The Justice Department's Office of Professional Responsibility revealed earlier this year that it was probing whether the attorneys handling the case previously committed "professional misconduct." At the news conference, law enforcement officials credited the work of investigative journalists with helping move the case forward.

(…)

Prosecutors described in graphic detail Epstein's alleged crimes, explaining in the indictment how girls as young as 14 would arrive to one of his homes, be escorted to a room with a massage table, and then be instructed to partially or fully undress. Epstein, the indictment alleges, would grope the girls and perform other sex acts.

Epstein sometimes scheduled meetings himself, but often he "directed employees and associates . . . to arrange for these victims to return to the New York Residence for additional sexual encounters with Epstein," according to the indictment, which says three employees, identified only as Employee-1, Employee-2 and Employee-3, helped arrange the encounters.

When Epstein flew from New York to Florida, an employee or associate would "ensure that minor victims were available for encounters upon his arrival," the indictment alleges.

It was not immediately clear whether any of those employees will face criminal charges over their alleged conduct, because Epstein's previous plea deal struck with federal prosecutors in Florida said his co-conspirators would not be charged in that case. The New York indictment references Epstein's conduct in Florida that was the basis of that earlier plea, but the new indictment appears to hinge principally on his alleged victims in New York. Berman declined to comment on possible criminal exposure anyone connected to Epstein might face.

Prosecutors could run into challenges if the new charges overlap with the conduct that was covered by Epstein's guilty plea, though a person familiar with the case said officials were not particularly concerned about that. Berman said at the news conference that his office, the U.S. Attorney's Office in the Southern District of New York, had not signed on to the previous agreement by prosecutors in Florida and thus was not bound by it.
The New York Times has more, including the news that Federal authorities had discovered what amounts to child pornography when they searched Epstein's properties, suggesting that the indictment will likely be expanded as the seized evidence is examined by investigators:
Investigators seized nude photographs of underage girls from the Manhattan townhouse of Jeffrey Epstein as part of a new investigation into allegations he exploited dozens of minors for sex, prosecutors revealed on Monday.

That detail was mentioned by federal prosecutors on Monday as they unsealed an indictment charging Mr. Epstein with sex trafficking and made an appeal to other women who may have been abused by him to come forward.

"They deserve their day in court and we are proud to stand up for them by bringing this indictment," the United States attorney in Manhattan, Geoffrey S. Berman, said.

Mr. Epstein, 66, is accused of engaging in sex acts with dozens of vulnerable minors, some as young as 14, during naked massage sessions, then paying them hundreds of dollars in cash. He also asked some of the girls to recruit other underage girls, the indictment said.

"In this way, Epstein created a vast network of underage victims for him to sexually exploit in locations including New York and Palm Beach," the indictment said.

Mr. Berman's decision to seek an indictment in Manhattan was an implicit rebuke to the decision by prosecutors in Miami in 2008 to enter an agreement with Mr. Epstein that allowed him to avoid federal prosecution and a possible life sentence.

Under that deal, Mr. Epstein pleaded guilty to state prostitution charges and spent about a year in a Palm Beach jail. He was permitted to leave the facility six days a week to work.

Mr. Berman made it clear his office was not bound by the agreement, which was overseen by Alexander Acosta, then the United States attorney in Miami who is now President Trump's secretary of labor.

"That agreement, by its terms, only binds the Southern District of Florida," Mr. Berman said.

The agreement has been examined in a series of reports in The Miami Herald and is being challenged in court. A federal judge ruled earlier this year Mr. Epstein's accusers should have been consulted about the deal before it was signed.
As I said in the previous post, there really isn't much to say about these new charges against Epstein that isn't set forth in the indictment itself. The man is clearly a serial pedophile who used his vast wealth to procure young girls for sexual purposes, to buy the silence of employees and others who were aware of what was going on, and to shield himself from liability. There are also allegations, albeit unproven, that he used his private island in the Virgin Islands, which some news outlets have dubbed "Lolita Island" to lure young girls to locations where they could be molested. And, of course, it is alleged that his wealth and his connection played a significant role in the sweetheart plea deal in Florida a decade ago that allowed him to avoid jail time, or indeed any real punishment, for the crimes he was charged with in that case. Authorities are now in the process of trying to void that agreement on the ground that it did not comply with laws requiring the victims of crimes to be made aware of plea agreements regarding the people they have accused. As noted, the prosecutors in the Southern District of New York are already taking the position that they are not bound by the terms of that agreement even if it does remain in effect.
The one issue not addressed by the indictment is the question of whether or not Epstein may have procured minors for other people. As I noted in my post yesterday, there have long been allegations that Epstein may have procured such victims for people close to him, and some people have alleged, without evidence that this included people such as former President Clinton, President Trump, and Harvard Law Professor Alan Dershowitz. It should be noted that there is no evidence that any of these men, or indeed anyone that Epstein is known to have been associated with tangentially over the years were ever involved in such things. However, the fact that sex trafficking is among the charges that are pending against him suggests that Epstein may have been involved in procuring victims for other men. Presumably, such persons would be charged in the future.
In any case, the Judge who presided over today's hearing denied Epstein's request for bail, which isn't surprising given the ease with which he could abscond from the jurisdiction. This means that he will most likely remain in jail while the case advances to trial, which at least means he won't have he ability to inflict pain on any more victims.
Here's the indictment:
U.S. v. Jeffrey Epstein Ind… by on Scribd