Epstein Death Leads To Legitimate Questions And Baseless Conspiracy Theories
Jeffrey Epstein's death by suicide has led to many legitimate questions that should be investigated. It has also led to the rise of a number of baseless conspiracy theories.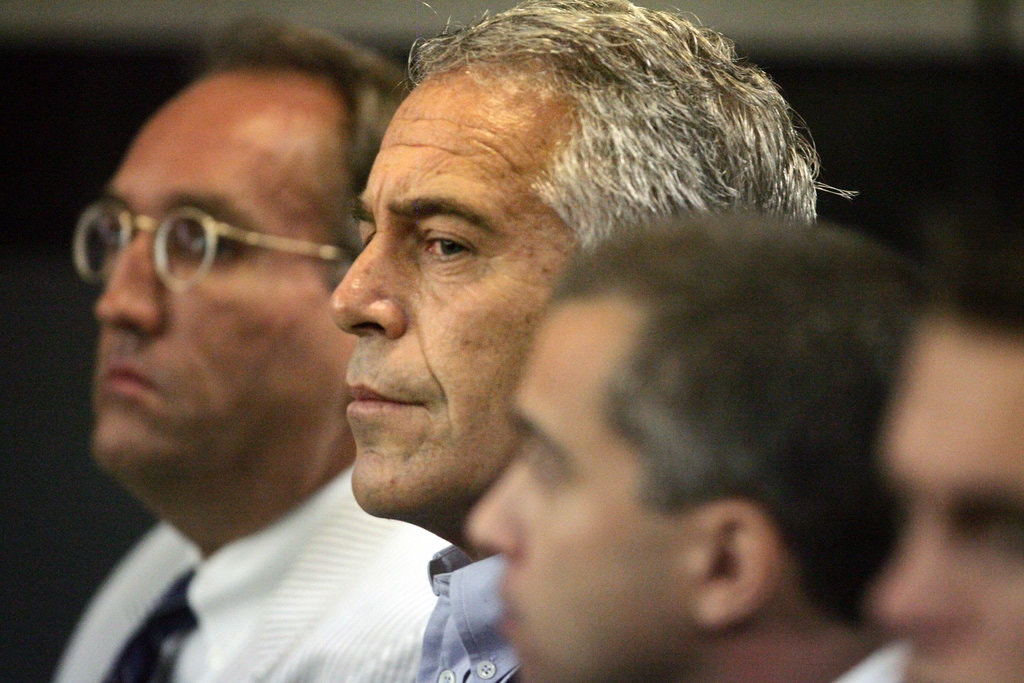 Within minutes after it was announced that billionaire financier, and accused and convicted pedophile, had committed suicide in his jail cell, social media was awash in conspiracy theories and questions about the circumstances of his death. On some level, of course, this is understandable given the circumstances of Epstein's death. Long before he was arrested earlier in the summer, there had been conspiracy theories circulating about connections between Epstein and countless numbers of powerful and well-known people ranging from former President Clinton and President Trump, Harvard Law Professor Alan Dershowitz, and even Prince Andrew, eighth in the line of succession to the British throne. In addition to those conspiracy theories, though, there are also legitimate questions that are already leading to investigations:
Jeffrey Epstein, the financier who was long dogged by accusations of sexual abuse of girls and who was able to cultivate an array of high-profile friends despite his lurid lifestyle, killed himself in his Manhattan jail cell, officials said on Saturday.

Mr. Epstein's death quickly reverberated from New York to Washington to Florida, spurring federal inquiries into why he was not being more closely monitored and angering his accusers, who said they had hoped to have his crimes aired in open court.

Mr. Epstein hanged himself, and was found at around 6:30 a.m. Saturday at the Metropolitan Correctional Center, officials said.

Last month, after being denied bail on federal sex trafficking charges, Mr. Epstein was found unconscious in his jail cell with marks on his neck. Prison officials had been investigating the incident as a possible suicide attempt.

Mr. Epstein was placed on suicide watch after the incident on July 23 and received a daily psychiatric evaluation, according to a person familiar with his detention. He was removed from suicide watch on July 29 and returned to the special housing unit, a segregated area of the prison with extra security, this person said.

The authorities did not immediately explain why he was taken off suicide watch. The F.B.I. said it was investigating, and Attorney General William P. Barr said in a statement that a special inquiry would be opened into what happened.

"I was appalled to learn that Jeffrey Epstein was found dead early this morning from an apparent suicide while in federal custody," Mr. Barr said. "Mr. Epstein's death raises serious questions that must be answered."

In addition to the F.B.I., the Inspector General, the Justice Department's internal watchdog, will open an investigation into Mr. Epstein's death, Mr. Barr said. The Metropolitan Correctional Center is run by the federal Bureau of Prisons.

Federal prosecutors in Manhattan last month charged Mr. Epstein, 66, with sex trafficking of girls as young as 14 and sex trafficking conspiracy. The indictment renewed attention on how Mr. Epstein — who had opulent homes, a private jet and access to elite circles — had escaped severe punishment in an earlier investigation of sexual abuse more than a decade ago in Florida.

He had avoided federal criminal charges in 2008 after prosecutors brokered a widely criticized deal that allowed him to plead guilty to state charges of solicitation of prostitution from a minor and serve 13 months in jail. Even while in custody, Mr. Epstein was able to leave the jail for 12 hours a day, six days a week, to work at his office in Florida.

The new federal indictment also focused scrutiny on luminaries in government, politics, business, academia, science and fashion with whom Mr. Epstein had associated over the years, including Donald J. Trump, Bill Clinton, Prince Andrew of Britain and the retail billionaire Leslie H. Wexner.

Mr. Epstein's defense team — the lawyers Reid Weingarten, Marty Weinberg and Michael Miller — declined to comment on the circumstances of death. "We are enormously sorry to learn of today's news. No one should die in jail," they said in a statement.

A fourth member of Mr. Epstein's legal team, Marc Fernich, blamed a host of actors — from prosecutors to victims' lawyers to the media — for bearing "some responsibility for this calamity."

Mr. Epstein's suicide derailed a prosecution that his accusers had hoped would finally show how he had been allowed to commit what they said was a string of depraved crimes for so many years — and what role his wealth, privilege and connections played.

Jennifer Araoz, who said she had been raped by Mr. Epstein after being recruited into his circle in 2001 outside her Manhattan high school, said she was angry that he would not have to face his accusers in court.

"We have to live with the scars of his actions for the rest of our lives, while he will never face the consequences of the crimes he committed — the pain and trauma he caused so many people," Ms. Araoz said. She said she hoped investigators would pursue charges against people who had aided and protected Mr. Epstein.

The United States attorney in Manhattan, Geoffrey S. Berman, said in a statement that the investigation into Mr. Epstein's misconduct would continue, pointing specifically to the conspiracy charge, which suggested Mr. Epstein was assisted by others who helped facilitate his illegal acts.

"Today's events are disturbing, and we are deeply aware of their potential to present yet another hurdle to giving Epstein's many victims their day in court," Mr. Berman said.
Of all the questions surrounding Epstein's death, the one that comes to the fore is why he wasn't on suicide watch:
Like all federal prisons, the Metropolitan Correctional Center in Lower Manhattan has a suicide prevention program designed for inmates who are at risk of taking their own lives.

After an apparent attempt three weeks ago, Jeffrey Epstein — the financier who was at the facility awaiting trial on charges he sexually abused dozens of girls — was placed on suicide watch and received daily psychiatric evaluations, a person familiar with his detention said.

But just six days later, on July 29, Mr. Epstein, 66, was taken off the watch for reasons that remained unclear on Saturday, the person said. Twelve days after that, he hanged himself. Guards making their morning rounds discovered his body at 6:30 a.m. on Saturday, the Bureau of Prisons said.

Mr. Epstein's suicide, coming shortly after prison officials in Manhattan deemed he was no longer at risk of taking his own life, raises questions about the steps prison officials took to keep him alive and ensure he would face his accusers in court.

The Justice Department immediately faced a backlash from elected officials and the public. Senator Ben Sasse, Republican of Nebraska on the Senate's Judiciary committee, said in a letter to the Justice Department that it was inexcusable that Mr. Epstein had not been under a 24-hour watch. "These victims deserved to face their serial abuser in court," he wrote.

Attorney General William P. Barr said in a statement that he "was appalled to learn" about Mr. Epstein's death in federal custody, and had asked the inspector general for the Justice Department to open an investigation into how it happened.

"Mr. Epstein's death raises serious questions that must be answered," he said. "In addition to the F.B.I.'s investigation, I have consulted with the Inspector General, who is opening an investigation into the circumstances of Mr. Epstein's death."

(…)

One federal prison official with knowledge of the incident confirmed Mr. Epstein had been taken off suicide watch recently and was being held alone in a cell in a special housing unit. The official, who spoke on the condition of anonymity for fear of being fired, said guards found Mr. Epstein in an otherwise empty cell during morning rounds. He had hanged himself and he appeared to be dead.

It would have been extremely difficult for Mr. Epstein to harm himself had he still been on suicide watch, a second prison official said, also speaking on the condition of anonymity for fear of dismissal.

Inmates on suicide watch are generally placed in a special observation cell, surrounded with windows, with a bolted down bed and no bedclothes, the official said. A correction officer — or sometimes a fellow inmate trained to be a "suicide companion" — is typically assigned to sit in an adjacent office and monitor the inmate constantly.

Robert Gangi, an expert on prisons and the former executive director of the Correctional Association of New York, said guards also generally take shoelaces and belts away from people on suicide watch. "It's virtually impossible to kill yourself," Mr. Gangi said.

Inmates can only be removed from the watch when the program coordinator, who is generally the chief psychologist at the facility, deems they are no longer at imminent risk for suicide, according a 2007 Bureau of Prison document outlining suicide prevention policies. The inmates cannot be removed from the watch without a face-to-face psychological evaluation.

To take an inmate off suicide watch, a "post-watch report" needs to be completed, which includes an analysis of how the inmate's circumstances have changed and why that merits removal from the watch, the document said.

Under Bureau of Prison regulations, the government's jails and prisons must have one or more rooms designed for housing an inmate on suicide watch, and the rooms must allow staff members to control the inmate without compromising their ability to observe and protect him. Every prison facility is required to have a suicide prevention program.

Suicide prevention cells must provide an "unobstructed view of the inmate" and "may not have fixtures or architectural features that would easily allow self-injury," according to a Bureau of Prisons policy.

The prison or jail staff members are supposed to operate in shifts to keep the inmate under constant observation and to keep a log of the person's behavior, according to federal regulations. The inmate is only supposed to be removed from the watch when he or she "is no longer at imminent risk for suicide," the regulations say.
These circumstances, and Epstein's subsequent suicide less than two weeks after being taken off suicide watch, certainly raise questions that need to be investigated. Suicides in jail are not uncommon, of course, and suicide risk is reportedly quite high among people who are accused of crimes such as those that Jeffrey Epstein was accused of, and this is especially true in situations like the one Epstein was faced with where it was likely that he was going to spend the rest of his life in prison, most of it in solitary confinement due to the risk that someone of his prominence and history would be subject to violence from fellow inmates. That being said, the fact that he was previously on suicide watch and removed from that status ten days ago raises a question about whether or not the proper procedures were followed in Epstein's case. If there is evidence that proper procedures were not followed then the persons responsible for that should be held responsible. It's also proper for these matters to be investigated by Congress as part of its general oversight rule in the operation of the Bureau of Prisons and the Justice Department.
At the same time that these legitimate questions are being raised, of course, Epstein's death has led to the inevitable conspiracy theories:
This president's political movement began with Trump's disproven allegations that Barack Obama was not born in the United States, and rose to power in an election that was manipulated by a Russian propaganda campaign, leading to an administration with near-daily denunciations of well-documented journalism as "fake news." It is not an environment conducive to giving any official utterance by an authority figure the benefit of the doubt — especially when the facts are authentically murky, as they are so far in the Epstein death.

The furious reaction from mainstream public officials as well as a swelling chorus of prominent voices on social media — it wasn't just from professional conspiracy theorists or guys at the bar — as soon as news of his death broke showed how pervasive this reaction is.

"If we were living in a paranoid fantasy universe," New York Times columnist Paul Krugman posted on Twitter, "I would be very suspicious about the Epstein suicide, even about whether it was really suicide. And you know what? The Epstein case itself shows that we *are* kind of living in a paranoid fantasy universe."

"A guy who had information that would have destroyed rich and powerful men's lives ends up dead in his jail cell. How predictably….Russian," tweeted MSNBC host Joe Scarborough.

"Something stinks to high heaven," agreed former Sen. Claire McCaskill (D-Mo.) "How does someone on suicide watch hang himself with no intervention? Impossible. Unless…."

Actually, Epstein had been on suicide watch after an earlier incident on July 23, but was no longer.

Why not is one of the "serious questions that must be answered," according to a statement from William Barr, who said he was appalled to learn of the death at a facility overseen by his Justice Department and was seeking an investigation.

But it was immediately clear that many people would not regard an inquiry overseen by Barr as credible. His handling of special counsel Robert Mueller's probe into the president and Russian election interference left many people, including most congressional Democrats, convinced he see his role not as defending rule of law, or the executive branch broadly, but President Donald Trump's personal interests.

"AG lied to us about the Mueller report in order to protect his boss, Trump. He was in charge of Epstein's care. And we're just supposed to trust him on this as news breaks that Mar-a-Lago was a site for trafficking," wrote Neera Tanden, head of the liberal Center for American Progress, on Twitter.

"We have to ask who stood to gain from his permanent silence," said Harvard Law Professor Lawrence Tribe. "Who could he have incriminated in an effort to win favorable treatment from the Trump Justice Department?" He demanded that Barr recuse himself from "overseeing an inquiry that cuts this close to the bone."

The reaction Saturday, including from people in prominent positions, was filled with frequently coarse innuendo about both men, with reactions split on familiar partisan lines. Trump himself Saturday evening was retweeting lurid Twitter posts asserting with no evidence a Clinton conspiracy connection to Epstein's death, including an item from comedian Terrence K. Williams saying, "#Jeffrey Epstein had information on Bill Clinton & now he's dead I see #TrumpBodyCount trending but we know who did this."

Lynne Patton, a Trump appointee to the Department of Housing and Urban Development, posted on Instagram a picture of Epstein with a caption saying he'd been "Hillary'd!! P.S. Let me know when I'm supposed to feel badly about this." Her post also invoked former Clinton White House lawyer Vincent Foster, who committed suicide in 1993, spawning years of official investigation and a generation of debunked conspiracy theories.

Even the President of the United States got in on the conspiracy-mongering:
President Trump used Twitter on Saturday to promote unfounded conspiracy theories about how Jeffrey Epstein, the financier accused of sex trafficking, died in a federal prison, even as the administration faced questions about why Mr. Epstein had not been more closely monitored.

For years Mr. Trump has brashly — and baselessly — promoted suspicion as fact and peddled secret plots by powerful interests as a way to broadcast his own version of reality. Those include the lie that former President Barack Obama was not born in the United States and that millions of votes were illegally cast for Hillary Clinton in the 2016 election.

Hours after Mr. Epstein was found to have hanged himself in his Manhattan jail cell, Mr. Trump retweeted a post from the comedian Terrence Williams linking the Clintons to the death. Mr. Epstein "had information on Bill Clinton & now he's dead," wrote Mr. Williams, a Trump supporter. In an accompanying two-minute video, Mr. Williams noted that "for some odd reason, people that have information on the Clintons end up dead."

There is no evidence to substantiate the claim, which derives from groundless speculation on the far right, dating to Mr. Clinton's early days as president, that multiple deaths can be traced to the Clintons and explained by their supposed efforts to cover up wrongdoing.

Responding to Mr. Trump's retweets, a spokesman for Mr. Clintonmockingly wrote, "Ridiculous, and of course not true — and Donald Trump knows it." The spokesman, Angel Ureña, added, "Has he triggered the 25th Amendment yet?" The 25th Amendment contains a provision allowing for the removal of a president if he is unable to perform his duties, potentially in the event of mental instability.

Posting from his luxury golf club in Bedminster, N.J., Mr. Trump also shared another tweet, from an unverified account, which claimed that recently unsealed documents involving accusations of Mr. Epstein's abuse had revealed that Mr. Clinton "took private trips to Jeffrey Epstein's 'pedophilia island.'"

A spokesman for Mr. Clinton has denied that Mr. Clinton traveled to Mr. Epstein's private island in the Virgin Islands. The documentsunsealed Friday also include an acknowledgment from one of Mr. Epstein's accusers, Virginia Giuffre, that an earlier claim she made about Mr. Clinton visiting Mr. Epstein in the Caribbean was untrue.

The pair of retweets come on a day when Mr. Trump expressed outrage on Twitter over what he called "dishonest" and "inaccurate" coverage of his presidency by the news media, including The New York Times. Mr. Trump insisted that reports that several survivors of the mass shooting in El Paso last weekend had refused to see him when he visited their hospital on Wednesday were false, but provided no evidence.

Like Mr. Trump, Mr. Clinton had been friendly with Mr. Epstein but broke ties with him many years ago. In a July statement, Mr. Ureña, Mr. Clinton's spokesman, said that the former president had taken several trips with Mr. Epstein on his private plane in 2002 and 2003 but that the men had not spoken in more than a decade. Mr. Clinton "knows nothing about the terrible crimes" of which Mr. Epstein has been accused and, in one case, had been sentenced, the statement said.

Even before Mr. Trump weighed in on the subject, Senator Marco Rubio, Republican of Florida, said on Twitter that while scrutiny of Mr. Epstein's death was warranted, "the immediate rush to spread conspiracy theories about someone on the 'other side' of partisan divide having him killed illustrates why our society is so vulnerable to foreign disinformation & influence efforts."

Earlier Saturday, one of the president's senior appointees at the Department of Housing and Urban Development, Lynne Patton, posted a headline about Mr. Epstein's death on Instagram, perpetuating a debunked right-wing narrative. Including the comment, "Hillary'd!!" she also referred to Vincent Foster, the Clinton White House counsel who died by suicide in 1994 — a crucial episode in the unfounded theory tying the Clintons to allegedly suspicious deaths.

Adding to the extraordinary nature of Mr. Trump's retweets was the fact that Mr. Clinton is a former president. American presidents have traditionally treated their predecessors and successors with pronounced respect, even when they are from different parties or ran bitter campaigns against one another. But after defeating Mrs. Clinton in a 2016 campaign during which he suggested he might imprison her, Mr. Trump has repeatedly ridiculed and taunted both Clintons.
This isn't the first time that President Trump has resorted to spreading conspiracy theories, of course, Throughout the time that former Special Counsel Robert Mueller was investigating Russian interference in the election and potential collusion between Russian officials and the Trump campaign, he was alleging that the entire investigation was a "Deep State" conspiracy against him to undermine his Presidency. He has also suggested, without evidence, that it was Hillary Clinton and her campaign that colluded with the Russians to undermine him rather than the other way around. Additionally, one of his biggest supporters and closest advisers, Fox News host Sean Hannity, spent the better part of a year pushing the so-called "Pizzagate" conspiracy theory that ended up getting someone killed while also dragging the name of Clinton campaign worker Seth Rich through the mud as part of yet another conspiracy theory.
Conspiracy theories have been part of American history since the founding, of course, but thanks to the Internet and a President who spends more time on Twitter than he does doing his job we're in an era where people repeat these baseless theories as if they are gospel truth. Now that they have a President playing the same game they do, it's only likely to get worse.