Trump Praises House Candidate For Assaulting Reporter
President Trump is heaping praise on a Congressman who physically assaulted a reporter.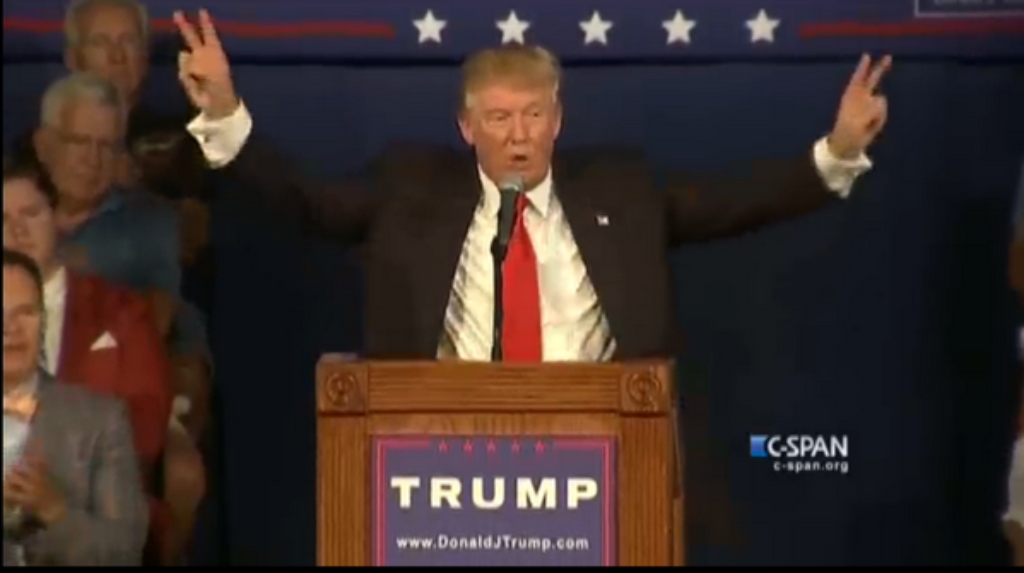 Last year, Montana Congressman Greg Gianforte was charged with assault after a run-in with Ben Jacobs, a reporter for The Guardian who was in Montana covering the Special Election in which Gianforte was running to replace Ryan Zinke, who President Trump had selected to become Secretary of the Interior. During the incident in question, which Jacobs captured in audio form on his smartphone, Gianforte attacked Jacobs after he had asked a question. Gianforte was ultimately charged with assault in the case but quickly settled with Jacobs and pled guilty to the crime, for which he ultimately received a sentence that involved anger management counseling and community service but no jail time. Notwithstanding the assault, which occurred in the closing days of the campaign, Gianforte ultimately went on to win the election and is now running for a full term in the midterm election that is now less than twenty years away.
Last night, President Trump held a campaign rally in Montana that was mainly meant to boost the campaign of Republican Senate nominee Matt Rosendale, who is seeking to unseat Democratic Senator Jon Tester, but that didn't stop the President from bringing up the Gianforte incident, and heaping praise on the Congressman for breaking the law:
MISSOULA, Mont. — President Donald Trump on Thursday openly praised Rep. Greg Gianforte (R-Mont.) for assaulting a reporter in his bid for Congress last year, as the United States faced an unfolding crisis over missing journalist Jamal Khashoggi, who is believed to have been killed by Saudi Arabian agents.

The remarks from Trump at a campaign rally — staged at an airport hangar here with a mountainous backdrop — drew boisterous cheers from the conservative crowd, who applauded as Trump noted of Gianforte: "By the way, never wrestle him."

"Any guy that can do a body slam, he's my kind of — he's my guy," Trump said.

Gianforte pleaded guilty to assaulting Guardian reporter Ben Jacobs, an altercation that occurred in the final days of Gianforte's special election race in May 2017 when Jacobs tried to interview him about the GOP health-care plan. The then-candidate grabbed Jacobs, threw him to the ground and punched him. Gianforte subsequently won the special election, and later pleaded guilty, receiving a six-month deferred sentence.

Trump had referenced the assault during a campaign swing in Billings, Mont., in September, noting in almost a winking manner to the crowd that Gianforte "has fought — in more ways than one — for your state."

But in Missoula on Thursday — a liberal enclave in the state surrounded by conservative territory — Trump went much further in his praise.

Trump recalled that as he was traveling in Rome last May, he heard that Gianforte had body-slammed a journalist shortly before voters went to the polls in his closely contested election race — and initially thought the altercation would damage Gianforte's prospects.

"Then I said, 'well wait a minute, I know Montana pretty well. I think it might help him,'" Trump told the crowd in Missoula. "And it did."

In a statement, the Guardian's U.S. editor denounced Trump's remarks as "an attack on the First Amendment by someone who has taken an oath to defend it."

"The President of the United States tonight applauded the assault on an American journalist who works for the Guardian," editor John Mulholland said, adding that in the wake of Khashoggi's death, Trump's statement "runs the risk of inviting other assaults on journalists both here and across the world where they often face far greater threats."

"We hope decent people will denounce these comments and that the president will see fit to apologize for them," he said.
Amber Phillips at The Washington Post comments:
The president celebrating physical violence against a journalist would be notable enough in a vacuum. But it comes during a week in which there is international outrage against the probable killing of another journalist, Jamal Khashoggi

Trump seems aware of the impact his divisive words against journalists carry — and he uses them anyway. He frequently calls the press "the enemy of the people." His White House press secretary refused to condemn Trump supporters' profanity directed at CNN's Jim Acosta at a recent rally.

At a rally in September in Montana, Trump hinted that he was proud of Gianforte for the attack against Guardian reporter Jacobs. That drew headlines too, though his words were less blunt than his comments Thursday.

"And I'll tell you what, this man has fought — in more ways than one — for your state," Trump said then.

On Thursday, Trump tacked on at the very end an acknowledgment about how it might get him in trouble: "I shouldn't say this."

In that "60 Minutes" interview about Khashoggi, Trump acknowledged that he wasn't the likeliest candidate to stand up for a reporter's disappearance:

"There's a lot at stake. And maybe especially so because this man was a reporter. There's something — you'll be surprised to hear me say that. There's something really terrible and disgusting about that, if that were the case."

It's generally not surprising to hear a president condemn violence against a journalist. It is surprising to hear him condone it.
New York Times columnist David Leonhardt says much the same thing:
Since he began running for president in 2015, Trump has tried to discredit almost any independent source of information he did not like — be it from journalists, federal judges, the C.I.A., the F.B.I., the Congressional Budget Office or scientists. Trump has also repeatedly encouraged or praised violence committed by people he considers allies against people he does not.

Trump is not — thank goodness — an autocratic ruler of the United States. But he is behaving like one. Encouraging violence against political opponents is no joke when it comes from the president. It is a classic tool of autocracy. And it's one more sign that Trump does not accept fundamental tenets of democracy, including the rule of law.

The president, writes The New Yorker's Jeffrey Toobin, "tonight celebrates an assault on a reporter in Montana at the same time as his Administration tries to minimize the murder of a reporter in Turkey. His words matter, and they reveal his character."
Here's the video:
Coming from any other President, of course, this would be surprising and shocking. Coming from Trump, it's just another example of his disdain for political and social norms and his utter contempt for the media and freedom of the press. This, after all, is the President who has referred to the press as the "enemy of the people" on many occasions. On other occasions, both he and members of his Administration has suggested that the media should be criminally charged for publishing leaked information even when that information isn't classified. At a rally in Arizona last year, Trump upped his anti-media rhetoric by referring to members of the media as "sick people" who "don't like our country," and who are "trying to take away our history and our heritage." Recently, Trump admitted that when he said that when he refers to "Fake News" he means any news coverage that is critical of him or his Administration regardless of whether it's true or not. Finally, the President has admitted that the purpose behind all of these attacks on the media is quite simple in that it is aimed at discrediting the media in the minds of his supportersso that they won't believe any of the bad news that is reported about his or his Administration.
Taking all that into account, it's hardly surprising that the same President who calls the media the "enemy of the people" would cheer on a Republican candidate who physically attacked a reported without provocation, or that the crowd he was speaking to would cheer it on in the rather sick manner that they did. This is the America Donald Trump is creating, and these are the people who support him.