Republican Greg Gianforte Wins Montana House Seat Despite Assault Charge
Greg Gianforte assaulted a reporter. Now he's going to Congress, but the outcome of the election really shouldn't be a surprise.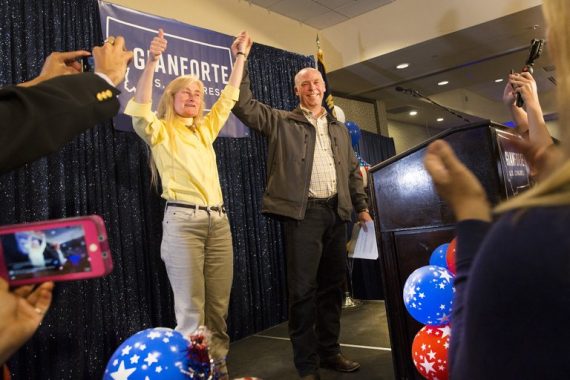 Notwithstanding an election eve encounter with a reporter that resulted in a misdemeanor assault charge, Republican candidate Greg Gianforte ended up winning yesterday's Special Election in Montana to fill the vacancy left by Ryan Zinke when he became Secretary of the Interior:
BOZEMAN, Mont. — Greg Gianforte, a wealthy Montana Republican who was charged with assaulting a reporter on Wednesday, nonetheless won the state's lone seat in the House of Representatives on Thursday, according to The Associated Press, in a special election held up as a test of the country's political climate.

Mr. Gianforte, 56, was widely seen as a favorite to win against Rob Quist, a Democrat and country music singer. But he seemed to imperil his own candidacy in the final hours of the race after he manhandled a journalist for The Guardian.

Addressing the altercation for the first time late Thursday night, Mr. Gianforte apologized to the Guardian reporter, Ben Jacobs, by name, acknowledged he "made a mistake" and vowed to the state's voters that he would not embarrass them again.

"You deserve a congressman who stays out of the limelight and just gets the job done," he said to a group of supporters at a hotel in Bozeman, who repeatedly yelled out that they forgave him.

Voters here shrugged off the episode and handed Republicans a convincing victory. Mr. Gianforte's success underscored the limitations of the Democrats' strategy of highlighting the House's health insurance overhaul and relying on liberal anger toward President Trump, at least in red-leaning states.

"Montana sent a strong message tonight that we want a congressman who will work with President Trump to make America and Montana great again," Mr. Gianforte said in remarks shortly after he was declared the winner.

Mr. Gianforte's capture of the seat vacated by Interior Secretary Ryan Zinke spares his party the short-term pain of losing a reliably Republican seat in Congress, but at the cost of having the newest member of the House majority arrive in Washington under a serious legal cloud.

Mr. Gianforte still faces a misdemeanor assault charge that will require him to appear in a Montana courtroom next month. Republicans in Washington indicated that they were unlikely to block him from taking office, despite the possibility of a criminal conviction in the coming weeks.

According to an audio recording and the account of a Fox News reporter, Mr. Gianforte flew into a rage and battered Mr. Jacobs after Mr. Jacobs asked him a straightforward question about the health care bill passed by House Republicans this month.

Mr. Gianforte faced mounting public demands on Thursday from Republican leaders, including Speaker Paul D. Ryan and Senator Steve Daines of Montana, to apologize.

For Democrats, their failure to notch a win, or even come close, raises pressure on their nominee to score a victory in a special House election next month in Georgia, where the party has spent heavily in hopes of capturing a Republican-held seat.

Even before its ugly conclusion, the race in Montana, a state that has long mixed conservatism with populism, had evolved into an early referendum on Mr. Trump and the Republican health care bill.

Republican groups, concerned about the growing backlash to Mr. Trump, poured more than twice as much money into the race as Democrats. The spending was initially a precaution. But Republican officials grew nervous after Mr. Quist, 69, caught fire with progressive activists, who eventually helped him raise over $6 million, narrowing the funding disparity in the race.

While Mr. Gianforte vowed to work with the Trump administration and campaigned with both Vice President Mike Pence and the president's son Donald Trump Jr., Mr. Quist focused his campaign in its final weeks on the unpopular House health care bill. He hammered Mr. Gianforte for telling a group of Washington lobbyists he was "thankful" the bill had passed while suggesting to Montana voters that he would have opposed it.

But while backlash against the bill may have helped Mr. Quist modestly narrow the gap against Mr. Gianforte, it was not a cure-all for a candidate with a messy financial history running in a state Mr. Trump had won by more than 20 points.
According to the results posted at the Montana Secretary of State's website, Gianforte won 50% (189,475 votes) to Quist's 44% (166,483 votes) while Mark Wicks, the Libertarian Party nominee, won 6% (21,509 votes), with roughly 54.1% of the state's ~700,000 registered voters casting ballots either yesterday or during the early and absentee voting period. This contrasts with last November's Presidential election in the state, which Donald Trump won by more than 20 percentage points and 100,000 votes and the Congressional election last year, which Zinke won by 16 percentage points and more than 80,000 votes. Viewed from that point of view, the race was closer than it should have been for an ostensibly red state like Montana. As I noted on Wednesday, though, Montana has elected Democrats to statewide positions in the recent past, most notably the U.S. Senate in the person of Jon Tester, who has held office since 2006, and the Governor's office, which has been in Democratic hands since 2004.
Notwithstanding those Democratic wins in the state, though, Montana has only gone Democratic on one occasion since Lyndon Johnson's 1964 landslide, and that happened in 1992 when Bill Clinton managed to pull off a narrow win in what ended up being a three-way race in a state where Ross Perot had one of his best showings in that election. In recent years, though, the state has become increasingly Republican in recent years, as reflected in the fact that Zinke had held his seat since 1994 and Steve Daines won the state's other Senate seat, which Republicans had not held since losing it in the Election of 1912. Additionally, as I noted yesterday, it is estimated that as much as 65% of the people who voted yesterday had voted early or voted absentee so their votes were locked in long before the news of Gianforte's attack on Jacobs broke late in the day on Wednesday. Finally, reporters interviewing voters headed to the polls yesterday found little evidence that the incident with Jacobs had turned many people away from supporting Gianforte if they were already inclined to vote for him. Indeed, sadly, in many cases, it seemed as those supporters actually liked the fact that he "stood up" to the media the way that he did. For example, late in the day, Buzzfeed's Alexis Levinson reported late in the day that she had yet to see any evidence that the incident had changed the mind of any of the voters she talked to at the polling places she visited. Taking all of this together, this was always an uphill battle for Democrats, and while the margin of victory was smaller than what we saw for either Trump or Zinke six months ago, it always was.
For his part, Gianforte did end up addressing the incident with Jacobs in his victory speech, offering an apology:
Shortly after winning the race for Montana's lone congressional seat, Greg Gianforte apologized to the reporter he was charged with assaulting a day before.

The Republican candidate's campaign was rocked after he was cited on misdemeanor assault charges for a Wednesday altercation in which a reporter for The Guardian newspaper, Ben Jacobs, claimed Gianforte "body-slammed" him, an incident caught on audio tape and witnessed by other journalists.

(…)

"When you make a mistake, you have to own up to it," he said at a victory party in Bozeman, Montana. "That's the Montana way. Last night I made a mistake and I took an action that I can't take back and I'm not proud of what happened. I should not have responded in the way that I did and for that I am sorry."

"I should not have treated that reporter that way and for that I am sorry Mr. Ben Jacobs," he said.

The comments served as a sharp reversal for Gianforte and his team, who remained mum on the subject for most of Thursday, and who shortly after the incident released a statement calling Jacobs' actions in seeking to interview the candidate "aggressive."

"Tonight, as Greg was giving a separate interview in a private office, The Guardian's Ben Jacobs entered the office without permission, aggressively shoved a recorder in Greg's face, and began asking badgering questions. Jacobs was asked to leave," Gianforte spokesman Shane Scanlon said.

He added: "After asking Jacobs to lower the recorder, Jacobs declined. Greg then attempted to grab the phone that was pushed in his face. Jacobs grabbed Greg's wrist, and spun away from Greg, pushing them both to the ground. It's unfortunate that this aggressive behavior from a liberal journalist created this scene at our campaign volunteer BBQ."

Jacobs had called for an apology from the GOP candidate during an appearance on CNN earlier Thursday.

"[Apologizing] would be the civilized thing to do when one adult acts — physically assaults someone else, an apology would be in order," he said early Friday morning, adding that physical altercations were "not an appropriate way for human beings to interact with each other."
I haven't seen a response from Jacobs either in the press or on his Twitter feed yet this morning, but it's early as I write this and Gianforte's victory speech last night occurred late at night so we may get a response later today. In any case, notwithstanding the apology, Gianforte will still be required to appear in Court regarding the charge in early June. Assuming he's charged under Montana's misdemeanor assault statute, he faces a fine of up to $500 or up to six months in jail or both. Realistically, unless he has a prior criminal record it's likely that the most he will get is a fine of some kind or, perhaps, a plea arrangement that would wipe the charge from his record provided he maintains a clean record for a certain amount a time, which is not an uncommon outcome in cases like this when a Defendant accepts responsibility for their actions. In any case, as I noted in yesterday's post, even if Republicans were inclined to try to bar Gianforte from taking his seat, there is nothing legally that can be done about it. Even with a guilty plea and a criminal assault conviction hanging over his head, he will be the next Congressman from Montana and he will most likely be easily re-elected in 2018 and for as long as he chooses to hold onto the seat.