Donald Trump Continues His Despicable War On The News Media
President Trump continues his war on one of the most important guardians of American democracy.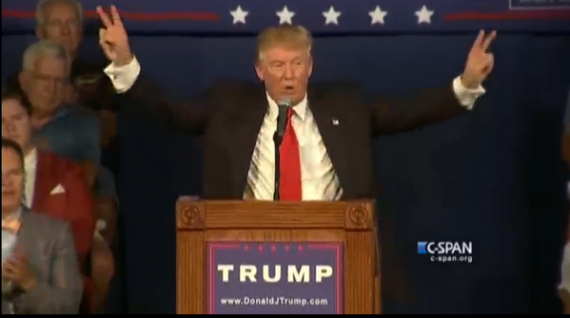 As he has so many times in the past, Donald Trump took aim at one of his favorite targets during his ranting speech in Phoenix on Tuesday night, the news media that in many ways are responsible for the popularity that propelled him into politics and the Oval Office:
Every time you think President Trump's anti-press rhetoric can't get worse, he finds a way of surprising you and not surprising you all at the same time.

That he will attack journalists on a regular basis should be expected at this point, and it is. The surprising part comes when he manages to outdo himself. After all, he couldn't possibly top "enemy of the people," could he?

Yet there he was in Phoenix on Tuesday, telling a crowd of thousands of ardent supporters that journalists were "sick people" who he believes "don't like our country," and are "trying to take away our history and our heritage."

The moment matters. Mr. Trump's latest attack on the media came at a time of heightened racial tension stoked by a white supremacists' rally in Charlottesville, Va., and continuing now in the national debate over removing statues that commemorate Confederate figures from the Civil War. Mr. Trump's speech in Phoenix reprised a question spawned by his raucous rallies during the presidential campaign: How long before someone is seriously hurt, or worse?

"Coming off the violence in Charlottesville, with tensions so high and the kindling so dry, it felt like President Trump was playing recklessly with fire, singling out a specific group of people — the media — for disliking America and trying to erase our country's heritage," Jim VandeHei, chief executive of the Axios news website, told me. "He's just wrong to paint so wildly with such a broad brush, and, worse, putting reporters at real risk of retribution or violence."

(In a passionate appeal on Twitter on Wednesday, Mr. VandeHei posted the following message: "To family/friends who support Trump: What he said last night was despicable, extremely deceptive, dangerous.")

The president's remarks on Tuesday were diciest for the news organizations that he identified by name.

"When you see 15,000 people turn on your colleagues behind a rope, yeah, you worry about it," George Stephanopoulos, the chief anchor for ABC News, told me on Wednesday. Mr. Trump insulted Mr. Stephanopoulos personally in Phoenix while singling out his news organization.

As usual, CNN got the worst of it, facing chants that included "CNN Sucks," although ABC and CNN both reported that none of their personnel had been threatened physically.

(…)

[T]o dismiss Mr. Trump's rhetoric would be to disregard the risk of violence that comes with the kind of presidential incitement we saw Tuesday night.

It would also mean disregarding an element of presidential leadership that we are all taught in grammar school: its broad influence — how it can set a tone for others to follow.

Yes, mistrust of the media was growing even before Mr. Trump emerged on the political scene. But this much is unmistakable: The president is significantly adding to what is, without question, the worst anti-press atmosphere I've seen in 25 years in journalism, and real, chilling consequences have surfaced, not just in the United States, but around the world.

Look at how People's Daily of China disputed reports about the torture that the human rights lawyer Xie Yang said he had endured at the hands of government interrogators, calling it "Fake News," and how Cambodia threatened to expel foreign news organizations, including Voice of America and Radio Free Asia, because of Mr. Trump's assertions that reporters were dishonest.

"It's providing cover for repression around the world," said Courtney Radsch, the director for advocacy at the Committee to Protect Journalists.
The answer, of course, is for journalists to continue doing their jobs and hope for the best, but the consequences of the President of the United States engaging in this kind of irresponsible conduct is clear:
"At some level," as Mr. Stephanopoulos told me, "that's all we can do."

He added: "You have to trust that if we do our job and do it well and do it with integrity and don't make mistakes, that in the end, the sort of fundamental idea behind the First Amendment — that the truth will out — will actually take place."

What seemed to particularly sting on Wednesday was the way that Mr. Trump had impugned journalists' patriotism.

"Claim bias. Fine. Claim elitism. Fine," Mr. VandeHei of Axios wrote on Twitter. "But to say reporters erase America's heritage, don't love America, turn off cameras to hide truth, are to blame for racial tension, is just plain wrong."
New York Times columnist Nick Kristoff also criticizes Trump's rhetoric:
Trump's caricature of journalists as dishonest is hypocritical, and it insults the courage and professionalism of my colleagues who sometimes risk their lives trying to get a story.

I've lost reporter and photographer friends in war zones all over the world, and have had other friends kidnapped and tortured. When Trump galvanizes crowds against reporters in the room, I worry that we may lose journalists in the line of duty not only in places like Syria but also right here at home. Trump will get people hurt.

also worry that Trump is buoying the repressive instincts of dictators around the world. Since Trump's election, I've been denied entry by Venezuela, Congo, South Sudan and Yemen, an unusual number of countries — and I wonder if foreign leaders believe that it is now easier to deny access to troublesome American journalists now that they are reviled by their own president.

(…)

This is an extraordinary moment in our nation's history, for we are enduring an epic struggle over the principles on which our country was founded. These include the idea that a flawed free press is an essential institutional check on flawed leaders.

So may I humbly suggest that when a megalomaniacal leader howls and shrieks at critics, that is when institutional checks on that leader become a bulwark of democracy.
This isn't the first time that Trump has taken aim at the news media, of course. During his Presidential campaign, Trump used his speeches to attack the reporters that were covering him and the networks that were airing his speeches. Often he would claim, falsely, that networks like CNN had turned off their cameras and were not covering his speech live even as the speech was airing live on CNN, MSNBC, and Fox News Channel simultaneously. As noted above, he has repeatedly referred to the news media and specific reporter in derogatory ways and accused them of hating America and encouraged the crowd to turn its ire on the reporters and camera crews that were typically located in the back of whatever venue he happened to be speaking in. In many cases, this resulted in members of the pro-Trump crowd shouting vile epithets and even threats at individual reporters to the point where they would often need to be escorted out of the venue by law enforcement officers or Secret Service agents in order to ensure their own safety. During the campaign, Trump banned reporters from two publications, The Des Moines Register and The Washington Post, from receiving press passes to cover events and speeches and then go on to accuse them of trying to censor his message to the voters because they weren't there to cover it.
Since becoming President, Trump has extended his war on the media in ways that have made this Administration far less transparent than its predecessors. The daily White House Briefing, for example, has gone from being something that occurs on an almost daily basis to something that only occurs irregularly. Additionally, when the briefing does occur it's often been the case that the White House Press Secretary, at first Sean Spicer and now Sarah Huckabee Sanders, has forbidden live television coverage of the event, forbidden live audio coverage, or simply not held the event at all and limited interactions with reporters to handing out press releases and statements that convey the Administration's version of events without allowing for any follow-up questions. On those rare occasions when there is a live broadcast press briefing it is typically far shorter than anything that has been held under previous Administrations, and Sarah Huckabee in particular has been very skilled at not answering reporters question or attempting to divert their attention with briefings about entirely irrelevant topics that could easily be handled by the press offices at one of the Cabinet Departments. Trump himself has only held two press conferences since becoming President, a pace that would put him at the bottom of the list of recent Presidents in that category if it continues for four years. And, of course, Trump has continued his war on the media on Twitter and it's typically his habit to label any piece of negative information, whether it involves economic data, the Russia investigation, or bad poll numbers, as "Fake News."
None of this is surprising, of course, because in many ways Trump is merely playing to a meme that has been part of conservative mythology for decades now. The idea of "media bias" against conservatives and Republicans is one that goes back to the Nixon Administration, and one that the politicians and pundits on the right have used many times to deflect attention from items in the news that reflect negatively on them. To some extent, it is true that there was some bias in the era when the media was limited largely to the three major broadcast networks and a group of newspaper reporters that all seemed to come from one or two publications. To a large degree, though, that bias was a geographic and cultural one rather than a political bias. That era, however, began to end when Ted Turner founded CNN in 1980 and expanded greatly with the expansion of Internet access and the invention of the World Wide Web, which has become a source to which people can turn for news, information, and opinion from all over the world. More recently, the rise of Twitter and other forms of social media has also transformed how news is transmitted and innovations such as fact-checking websites have made it easier for consumers of news to find out the truth about what's going on around them. Like any other institution, these innovations are not perfect, but they have made the press far more accessible and made it far less likely that an untrue news report will go unchallenged.
Despite these changes, conservatives continue to contend that the media is biased against them and this President has effectively picked up on that message in an effort to deflect attention away from negative reports about him. While this was problematic when he was a candidate for office, it is downright troublesome now that he is President of the United States. In the past, for example, candidate Trump said that he was open to the idea of changing American libel law to make it easier for politicians to sue reporters and media organizations, or potentially for them to even use the courts to quash stories altogether. He's also suggested that media organizations should be punished for reporting leaked information from inside the government. Finally, of course, there's the fact that Trump's ongoing attacks on the media in general and on specific reporters pose the danger of encouraging someone to actually commit an act of violence against a member of the media. All of this poses unique challenges to the entire concept of freedom of the press in the Trump Era. As I've said before, in Donald Trump's war on the news media there's only one right side, and it isn't on the side of the President.
If there is some good news in all of this, it is the fact that Trump's war on the news media doesn't seem to be working very well, except perhaps with his most ardent supporters. According to a new poll from Quinnipiac University, 65% of voters disapprove of Trump's attacks on the news media while only 35% approve of the way that Trump is attacking the media. Additionally, the poll also finds that 54% of voters trust the media over the President to "tell the truth about important issues" while only 36% say that they trust the President over the news media. At the same time, the poll finds that 55% of respondents disapprove of the way the media is covering Trump, although it's worth noting as Matthew Yglesias does that this number likely includes people who think the media isn't being critical enough of the President in its coverage.  In other highlights from this same poll that are likely driven by Trump's press coverage, 61% of respondents do not believe that the President is honest and that he does not have good leadership skill. 62% say that Trump does not provide the country with moral leadership, 57% do not believe he cares about average Americans, 63% believe the President does not share their values, and 68% do not think that the President is "level headed." The same poll found that only 35% of respondents approve of the job the President is doing, while 59% disapprove. These numbers persist across all demographic group with only two exceptions, self-identified Republicans and people who say they voted for Trump in 2016. If nothing else this would seem to establish that Trump's effort to minimize the damage to his Administration being done by news about the Presidents own tweets, his lack of accomplishments, the Russia investigation, and everything else by shooting the messenger isn't working. That alone is reason to have some faith that this distinctly un-American war on the press will end up backfiring on a President who has seen so many things backfire on him already.