Trump Goes To Phoenix And Returns To Old Form
Donald Trump gave a campaign-style speech in Phoenix last night and reminded us of everything that's wrong with him.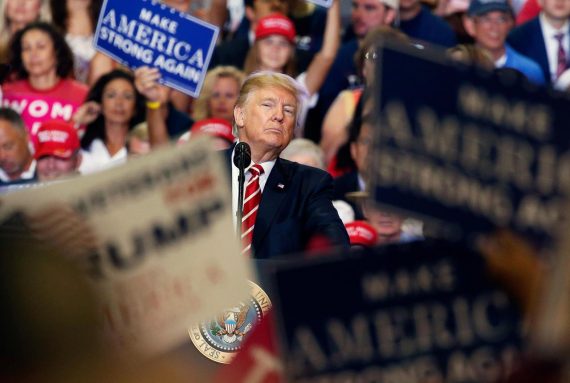 While there was much to criticize when it came to the substance, or lack thereof, of President Trump's speech Monday night on the future course of American policy in Afghanistan, he did get at least some credit from the media in one respect. Across the board, pundits observed how Trump's tone was much more understated and muted than it typically is for a speech and, much like his February address to a joint session of Congress, there were many who called it one of the most Presidential moments we've seen from this President. A good part of the reason for that, of course, is that Trump was ready before a group consisting almost entirely of military personnel and that he was reading from prepared remarks and (I believe but cannot confirm based on photographs alone) using a teleprompter. Even while they were semi-praising him for sounding Presidential at Fort Meyer, Virginia, though, most pundits predicted that this was not a sign of a new Donald Trump but rather a reflection of the audience he was speaking to and the subject he was speaking about and that he would soon return to form.
Given Trump's history, that wasn't a very hard prediction to make, of course. Time after time, Trump has managed to divert attention from any piece of news that might seem to be good for him and his Administration with some outrageous statement or another. Just last week, for example, he basically wrecked White House plans to focus on infrastructure with a press conference in which he made incredibly idiotic and offensive remarks regarding the racist rally and violence in Charlottesville. It's a trend that we've seen Trump follow from the start of the campaign, so predicting that it would happen again wasn't exactly going out a limb.
As it turned out, one didn't have to look too far ahead to guess when Trump would go off the rails this week. Even before the Afghanistan speech was scheduled, the Trump campaign armed announced weeks ago that the President would be speaking at a campaign rally in Phoenix last night. Not surprisingly, Trump returned to form and delivered the same kind of invective-filled rant that we've seen from the day he entered the race, and once again raised all the same doubts that have existed about him from the beginning:
PHOENIX — President Trump, stung by days of criticism that he sowed racial division in the United States after deadly clashes in Charlottesville, Va., accused the news media on Tuesday of misrepresenting what he insisted was his prompt, unequivocal condemnation of bigotry and hatred.

After declaring, "What happened in Charlottesville strikes at the core of America," Mr. Trump delivered a lengthy, aggrieved defense of his statements after the Aug. 12 violence that left one woman dead and the nation reeling at the images of swastikas in Thomas Jefferson's hometown.

Notably, he omitted blaming "both sides" for the violence as he had on Aug. 15. Those remarks had prompted intense criticism, including from fellow Republican leaders, for seeming to equate the hate groups and the protesters who turned out to oppose them.

Removing his earlier statements about the Charlottesville violence from his jacket pocket, Mr. Trump on Tuesday glibly ticked off a list of racist groups that he had been urged to explicitly denounce, and ultimately did two days after the clashes. But he said the news media quoted him selectively, accused him of responding too late and ignored his message of unity.

"I hit 'em with neo-Nazi. I hit them with everything. I got the white supremacists, the neo-Nazi. I got them all in there. Let's see. K.K.K., we have K.K.K.," Mr. Trump said sardonically of his rebuke to Charlottesville racists, after being faulted for failing to condemn those groups in his initial response on the day of the clashes.

Mr. Trump also implied that he planned to pardon Joe Arpaio, the former sheriff of Maricopa County, Ariz., who became a national symbol of the crackdown on undocumented immigrants with round-'em-up searches that landed him in legal trouble. "Was Sheriff Joe convicted for doing his job?" Mr. Trump asked to wild whoops and cheers.

"I won't do it tonight because I don't want to cause any controversy," Mr. Trump said. "I'll make a prediction: I think he's going to be just fine."

In an angry, unbridled and unscripted performance that rivaled the most sulfurous rallies of his presidential campaign, Mr. Trump sought to deflect the anger toward him against the news media, suggesting that they, not he, were responsible for deepening divisions in the country.

"It's time to expose the crooked media deceptions," Mr. Trump said. He added, "They're very dishonest people."

"The only people giving a platform to these hate groups is the media itself and the fake news," he said.

Mr. Trump also derided the media for focusing on his tweets, which are his preferred form of communication.

"I don't do Twitter storms," said the president, who often posts a few tweets in a row on a given subject, with exclamation points.

It was the latest shift in what has become a nearly daily change of roles for this president: from the statesmanlike commander in chief who sought harmony on Monday evening by citing the example of America's soldiers to the political warrior who, just a day later, preached unapologetic division to his supporters here, eliciting louder cheers with every epithet.

Returning repeatedly to Charlottesville, he said the news media failed to focus on anarchists, who he said turned out in their "helmets and the black masks — Antifa," Mr. Trump said, spitting out the nickname for the anti-fascist groups.

Mr. Trump accused the news media of "trying to take away our history and our heritage," an apparent reference to the debate over removing statues to heroes of the Confederacy, which prompted the rally by neo-Nazis and white supremacists in Charlottesville.

The president singled out a familiar list of malefactors — including the "failing New York Times," which he said erroneously had apologized for its coverage of the 2016 election; CNN; and The Washington Post, which he described as a lobbying arm for Amazon, the company controlled by the newspaper's owner, Jeff Bezos.

Pointing repeatedly to the cameras in the middle of a cavernous convention center, Mr. Trump whipped the crowd into fevered chants of "CNN Sucks." Members of the audience shouted epithets at reporters, some demanding that the news media stop tormenting the president with questions about his ties to Russia.

The people in Arizona on Mr. Trump's enemies list include both of the state's Republican senators: Jeff Flake, a longtime nemesis whom Mr. Trump has described as "toxic," not to mention a "flake"; and John McCain, who cast the decisive Republican vote in the Senate to dash Mr. Trump's effort to repeal President Barack Obama's Affordable Care Act.

His voice thick with sarcasm, Mr. Trump said he had been instructed not to mention either of the senators by name. Of Mr. Flake, he said, "Nobody knows who the hell he is." Of Mr. McCain, he repeated over and over, "One vote," which cost Republicans health care.
This, of course, is the Donald Trump that everyone is familiar with. His speech was filled with invective and dripping with hatred for everyone from immigrants and media to the two Senators from Arizona, although as noted he failed to mention them by name and did not endorse Kelli Ward, the Tea Party darling who is challenging Flake in the 2018 Republican Primary notwithstanding the fact that she has failed spectacularly in her previous challenge to John McCain. At the same time, Trump defended his remarks in the wake of the violence in Charlottesville by referencing the comments he made and claiming that he did indeed criticize the Nazis and the KKK. Of course, he did so by selectively reading from what he said in the wake of that violence and leaving out the parts where he claimed falsely that the violence came from "both sides" and that many of the people who showed up at the initial rally to defend the statue of Robert E. Lee were "good people." As I noted when commenting on the remarks gave both on the day of the violence and the following Tuesday, this simply wasn't the case and Trump's remarks at the time effectively amounted to coddling and claiming there is some sort of moral equivalence between the racists marching in Charlottesville and the people who were marching to oppose them, one of whom was murdered by a white supremacist who rammed into a crowd with his car.
In addition to defending himself and attacking his usual enemies in the press and Congress, Trump also heaped praise on former Maricopa County Sheriff Joe Arpaio, who was recently convicted of contempt of court for violating several Federal Court orders related to the operation of his department and treatment of undocumented immigrants. As recently as last week, there were rumors that Trump was considering pardoning Arpaio and that he might announce such a pardon at this event. Late yesterday, though, White House Press Secretary Sarah Huckabee Sanders told reporters that there were no plans for such an announcement at the rally and that Arpaio would not be appearing along with Trump. Trump's remarks, though, made it clear that he was likely going to eventually do something for Arpaio. Whether that amounts to a commutation of whatever sentence is imposed on the former Sheriff or a full pardon remains to be seen, but it seems clear that it will happen.
There was also speculation that Trump might use the rally as the occasion to endorse Kelli Ward in her race against Jeff Flake. While Ward in attendance at the rally, she did not appear with Trump and Trump did not mention either Flake or Senator John McCain by name. It was clear, though, who he was referring to when he spoke about Arizona's Senators, and it does appear as though he would be inclined to put his support behind Ward in the primary sooner rather than later. This would set up an interesting showdown between the President and Senate Republicans, most of whom seem to be coming out in support of their colleague. Most recently, for example, a PAC supported by Senate Majority Leader Mitch McConnell came out with an ad attacking Ward, and McConnell has reportedly scheduled a fundraiser in Kentucky to help Flake's campaign.
Last night proved something that anyone who has followed Trump as a candidate, or a private citizen, should have known long ago. No matter what happens to him or his Administration, Donald Trump is not going to change. Every time the Trump Administration has a week, or even a day, that manages to go well, it is inevitable that Trump himself will step all over it and reinforce all the bad impressions that he has created for decades now. Whether it's via a Tweet, a media appearance on cable news or a speech such as last night's in Phoenix, Trump cannot help but return to the same narcissistic, xenophobic, vitriolic style that we have seen from him since the start of his campaign. Nothing is going to cause him to "pivot." Not a change in personnel at the White House, not violence in the streets of an American city by people representing a philosophy fundamentally at odds with American democracy, not his family. There is no outside force or event that will ever cause Trump to change.
Part of this, of course, is due to Trump the man himself. As I've said before, the Donald Trump we see today isn't really different in quality or substance from the one we've known for decades now as a minor celebrity who ended up hosting a reality show that was never as highly rated as he claimed it was. At 70 years-old he simply isn't going to change from the person he's been for at least the past thirty years regardless of who his handlers are. The other part of it, of course, is Trump simply giving his supporters what they want and reflecting what they believe. He clearly loves the adoring roars of the crowd he draws when he speaks, and the roars only increase when he dishes out red meat like he did last night. So, this is par for the course for Trump and we're likely to see more of it.
Here's the full video of the speech if you can handle it:
Update: Politifact fact-checks the President's speech. The results are about what you'd expect.
Photo via Reuters