Trump Resurrects 'Both Sides Did It' Excuse For Charlottesville Violence
President Trump once again revealed his true self at a press conference yesterday.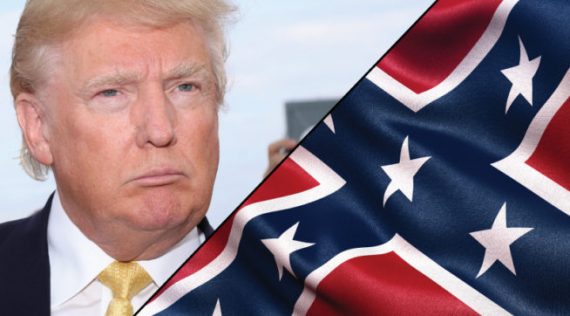 For the third time since the protests in Charlottesville that led to the death of a young woman at the apparent hands of an Ohio man who came to participate in a rally by the so-called 'alt-right," President Trump spoke out again late yesterday about the violence and ended up making the situation far, far worse for him, his Administration, and the country:
WASHINGTON — President Trump reverted Tuesday to blaming both sides for the deadly violence in Charlottesville, Va., and at one point questioned whether the movement to pull down Confederate statues would lead to the desecration of memorials to George Washington.

Abandoning his precisely chosen and carefully delivered condemnations of the Ku Klux Klan and neo-Nazis from a day earlier, the president furiously stuck by his initial reaction to the unrest in Charlottesville. He drew the very moral equivalency for which a bipartisan chorus, and his own advisers, had already criticized him.

"I think there is blame on both sides," the president said in a combative exchange with reporters at Trump Tower in Manhattan. "You had a group on one side that was bad. You had a group on the other side that was also very violent. Nobody wants to say that. I'll say it right now."

Mr. Trump defended those gathered in a Charlottesville park to protest the removal of a statue of Robert E. Lee. "I've condemned neo-Nazis. I've condemned many different groups," he said. "Not all of those people were neo-Nazis, believe me. Not all of those people were white supremacists by any stretch."

He criticized "alt-left" groups that he claimed were "very, very violent" when they sought to confront the white nationalist and neo-Nazi groups that had gathered in Charlottesville.

"Many of those people were there to protest the taking down of the statue of Robert E. Lee," Mr. Trump said. "So this week, it is Robert E. Lee. I noticed that Stonewall Jackson is coming down. I wonder, is it George Washington next week? And is it Thomas Jefferson the week after? You know, you really do have to ask yourself, where does it stop?"

It was a remarkable rejection of the criticism he confronted after waiting two days before naming the right-wing groups in the bloodshed that ended with the death of a young woman after a car crashed into a crowd of protesters.

Mr. Trump accused people he called the alt-left of "swinging clubs" as they "came charging at, as you say, at the alt-right." He said some of the right-wing members of the crowd in the Virginia park were "bad." But he added that the other side came "charging in without a permit and they were very, very violent."

Aides had urged him for days to take the high ground, persuading him on Monday to read a brief statement condemning the neo-Nazi groups from the Diplomatic Room in the White House. But over the past day, back in his private New York residence for the first time since becoming president, Mr. Trump was alone, without his wife and young son, and consuming hours of television, with many on cable news telling him he had not done enough.

On Monday night, he was tweeting his frustration, accusing the "fake media" of never being satisfied. But by Tuesday morning, the president was fuming again. At a scheduled event about the permitting process for infrastructure, Mr. Trump asked for questions — contrary to the wishes of his aides, including John F. Kelly, his new chief of staff, who stood to the side, looking grim.

Venting, his face red as he personally executed the defense of his own actions that no one else would, Mr. Trump all but erased any good will he had earned Monday when he named racist groups and called them "repugnant to everything we hold dear."

His largely unprovoked presidential rant on Tuesday instantly sparked an even more intense critique, especially from Republicans.

Speaker Paul D. Ryan called white supremacy "repulsive" and said "there can be no moral ambiguity." Representative Ileana Ros-Lehtinen, Republican of Florida, tweeted: "Blaming 'both sides' for #Charlottesville?! No." Senator Marco Rubio, Republican of Florida, said white nationalists in Charlottesville were "100% to blame" and wagged his finger at the president for suggesting otherwise.

"The #WhiteSupremacy groups will see being assigned only 50% of blame as a win," Mr. Rubio said on Twitter moments after Mr. Trump's remarks. "We can not allow this old evil to be resurrected."

Senator Todd Young of Indiana, a freshman Republican, wrote: "This is simple: we must condemn and marginalize white supremacist groups, not encourage and embolden them."

Even members of Mr. Trump's own military appeared to take quick offense to their commander's words. Hours after the president spoke, the Marine Corps commandant, General Robert B. Neller, wrote in a tweet that there is "no place for racial hatred or extremism in @USMC. Our core values of Honor, Courage, and Commitment frame the way Marines live and act."

Mr. Trump delivered his remarks in the lobby of Trump Tower, where officials had spent much of the day trying to erase certain telltale signatures of the brand that would be caught on TV — most significantly, a blue curtain was placed over the Ivanka Trump display in the lobby.

If Mr. Trump was aware of the reaction that would ensue after his clearly improvised remarks, he appeared immune to the consequences of those words, which electrified the lobby of his signature office building. It was there in 2015 that he launched his presidential campaign with a furious assault on illegal immigrants and a declaration that Mexicans were "rapists" bringing crime into the United States.

Instead, the president seemed determined to convince any doubters that he did not misspeak in his first reaction to the events in Virginia on Saturday.
You can read the transcript of the press conference at this link, or watch the whole thing if you managed to miss yesterday afternoon's train wreck:
The President's remarks came at the conclusion of a press conference at Trump Tower that was supposed to be about infrastructure and efforts to streamline the permitting process for infrastructure process. Indeed, originally the President was not supposed to take questions at all. Instead, he was supposed to speak for a brief period of time and then turn over the event to Cabinet officials such as Labor Secretary Elaine Chao and Treasury Secretary Steve Mnuchin, who ended up standing uncomfortably behind him as he unloaded with his vitriol and didn't end up saying anything publicly at all. Rather than following the playbook, though, Trump decided to open the event to questions, and he did so with the full knowledge that reporters were inevitably going to ask him about the events in Charlottesville, his initial response to those events, which were clearly weak and inadequate, and the stronger statement he made on Monday from the White House in what we can now clearly see was a statement that Trump only gave reluctantly.
As James Joyner notes in his post this morning, Trump's tirade left news commentators stunned, even on the usually pro-Trump Fox News Channel, while prompting those on the so-called alt-right, including avowed Nazis and racists such as Richard Spencer and David Duke, to cheer the President on and to say that his latest words are little more than a full-throated endorsement of the message they sought to bring to Charlottesville over the weekend. What's clear from what happened is that the initial reaction we saw from Trump is a far closer representation of what he actually believes, something that one can tell by the passion with which is quite visible in his facial expressions and body language as he makes the intellectually absurd argument that "both sides" are responsible for the violence in Charlottesville, especially when it's clear from numerous reports, photographs, and videos, that the violence in question was initiated by the people who were there to protest the proposal to remove the statue of Robert E. Lee that they had gathered around. To say otherwise is to either willfully ignore the truth of what happened, which wouldn't be a first for this President, or to condone that hatred. What the President actually intended with his words yesterday is something that only he knows in his heart, but one cannot deny the reality that the President of the United States stood up yesterday and defended the actions of white supremacists and Nazis. That's both infuriating, especially for those of us who were warning people about what kind of man Trump was before he was even a candidate for President, and really quite sad.