Trump's New Statement On Charlottesville: Too Little, Too Late
After two days, President Trump finally found the words to condemn the parties responsible for the violence in Charlottesville, but his remarks were far too little, far too late.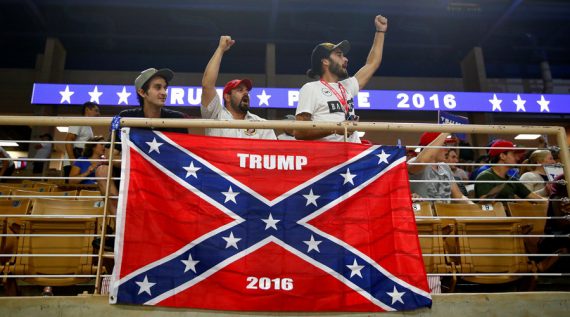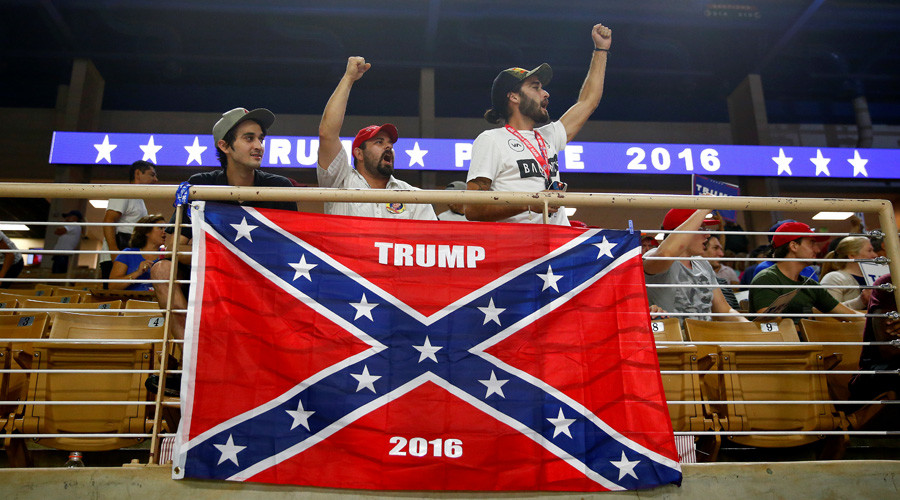 Two days after a Neo-Nazi alt-right "rally" in Charlottesville, Virginia descended into rioting and violence that resulted in the death of one woman and more than a dozen people injured, and initial remarks that were clearly weak and inadequate, President Trump spoke again today regarding what happened over the weekend, but his remarks were far too little, far too late:
President Trump denounced the Ku Klux Klan and neo-Nazis by name Monday, declaring racist hate groups as "repugnant to all that we hold dear as a nation," as he sought to tamp down mounting criticism of his response to the killing of a counterprotester at a white supremacist rally in Charlottesville over the weekend.

"Anyone who acted criminally in this weekend's racist violence, you will be held fully accountable," Trump said in brief remarks to reporters in the Diplomatic Reception Room of the White House, where he returned after a week of vacation in Bedminster, N.J. "We condemn in the strongest possible terms the egregious display of hatred, bigotry and violence. It has no place in America."

Trump added: "Racism is evil and those who cause violence in its name are criminals and thugs, including the KKK, neo-Nazis, white supremacists and other hate groups that are repugnant to all that we hold dear as a nation."

The statement came two days after the president failed to specifically condemn the white supremacist rally after a woman was killed and as many as 19 wounded by a driver who reportedly espoused racist and pro-Nazi sentiments and had taken part in the "Unite the Right" march in Charlottesville. Trump, who met Monday with Attorney General Jeff Sessions and FBI Director Christopher Wray, reiterated that the Justice Department has launched a civil rights probe into the death of Heather Heyer, 32, who was killed when a car allegedly driven by James Alex Fields, Jr., of Ohio slammed into a group of counterprotesters.

On Saturday, Trump condemned "the egregious display of hatred, bigotry and violence on many sides," sparking sharp criticism from Democrats, civil rights proponents and some Republicans for failing to single out and condemn the white supremacists who sparked the violence.

(…)

Trump's remarks, which were not on his daily public schedule, appeared hastily arranged in a bid to move the White House past the backlash to his performance over the weekend. Yet before addressing the Charlottesville situation, Trump opened his remarks touting the economy, noting that stock markets are near record highs and the unemployment rate hovering at a 16-year low.

Trump called Heyer's death tragic and said it "fills us with grief, and we send her family our thoughts, our prayers and our love," and he also praised the service of two Virginia state troopers, H. Jay Cullen and Berke Bates, who died Saturday during a helicopter crash while on duty monitoring the march.
You can read the transcript of Trump's remarks here, and here's the video:
While the President's remarks today are far more specific and appropriate than the "both sides" argument he made during his statement on Saturday, which was apparently ad libbed rather than being part of his prepared remarks according to multiple reports, they came far too late to have much meaning and say far less about him and his Administration than his initial comments. The first point was clearly illustrated earlier in the day when the White House and Trump woke up to the news that Kenneth Frazier, the African-American CEO of pharmaceutical giant Merck had resigned from Trump's American Manufacturing Council, specifically citing Trump's muted reaction to the events in Charlottesville as the reason he was doing so. Within less than an hour after that resignation was announced, Trump attacked Frazier by name in a tweet that said that he should use his free time to do something about rising drug prices, an argument that CNBC's Jim Cramer rebutted in a morning appearance on the network. This, of course, isn't the first time that Trump has personally attacked someone who spoke out against him, and it appears to have been prompted by widespread criticism of the fact that Trump was quicker to attack an African-American businessman than he was to criticize actual Nazis responsible for death and injury on the streets of an American city. I made note of this contrast myself after Trump's early afternoon remarks concluded:
It took 48 hours for @RealDonaldTrump to say Nazis are bad.

It took him 57 minutes to attack the CEO of Merck.

— Doug Mataconis (@dmataconis) August 14, 2017
This latest statement came, as I noted, two days after the incident in question and in the wake of what was clearly becoming a problem for the Trump Administration. In addition to being fodder for morning news shows for the second consecutive day, it was becoming clear that Trump's milquetoast response to racist violence was having a political impact. This was reflected most dramatically in the job approval numbers from the latest Gallup Tracking Poll, which showed the President's job approval at 34% and his disapproval at 61%, a high reached by only one other recent President, George W. Bush. The difference between Bush and Trump, though, is that Bush didn't reach that level until nearly 2800 days into his Administration while Trump has reached it after just over 200 days.  No doubt Trump's political advisers in the White House realized the impact of the President's refusal to condemn the source of the violence over the weekend and acted to get him to at least get something out there.
As German Lopez notes a Vox, it's both sad and pathetic that it took the President two days to say that Nazis and domestic terrorists are bad. This is especially true given that it's clear from his own Twitter feed that he is not a man who hesitates to attack people when they say or do things that he disapproves of or with which he disagrees. In addition to his attack this morning on Mr. Frazier, Trump has routinely attacked the news media, celebrities, journalists, judges, the news media, and hosts of morning news shows such as MSNBC's Joe Scarborough and  Mika Brezinski and CNN's Chris Cuomo and Don Lemon, often within minutes after they have said something critical of him. The fact that it took him forty-eight hours to do the same thing with regard to torch-bearing Nazis who clearly support his agenda suggests quite strongly that he is unwilling to do the same with those who support him no matter how vile or criminal their statements or actions may be. Indeed, as many have noted, Trump's milquetoast comments on Saturday were seen by these people as a tacit endorsement of their cause. Even if that wasn't Trump's intention, and it's hard to believe that the goal of not alienating supporters was on his mind when the Saturday remarks were being crafted, the fact that they could easily be interpreted in this manner. As Kevin Drum puts it, Trump knows what side his bread his buttered on, and he's not going to risk offending his base:
Today Trump grimly recited a prepared text from a teleprompter, but did so under such obvious pressure that his white nationalist fans understand he's just playing a role. This is exactly the way he handled the David Duke controversy last year: weasel words for a couple of days, followed by an obviously insincere condemnation under heavy pressure. Now, of course, it's time to move forward, let the healing begin, and stop arguing about who killed whom. While we're at it, though, you may be sure that Trump is making absolutely sure that his white supporters understand that nothing has really changed:
We live in a world where the United States of America finds it easier to attack D-List Celebrities than he does to attack actual Nazis who have murdred an American citizen. If it weren't actually happening, I'd think it w as all some kind of bizarre dream.
Photo via Reuters