No, Judge Curiel Has Not Demonstrated Bias Against Donald Trump In His Rulings
Donald Trump has claimed that the Judge presiding over the Trump University lawsuits is biased against him, but there's absolutely no evidence to support this argument.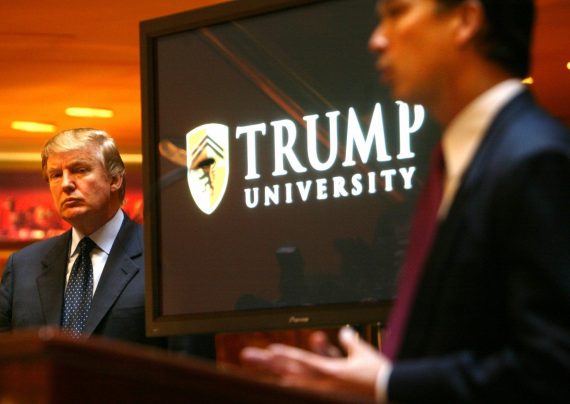 At the heart of the latest controversy surrounding Donald Trump's complaints about Federal District Court Judge Gonazlo Curiel is the claim that, because of Trump's position on issues such as immigration, Judge Curiel, who is of Mexican-American heritage to the extent that his parents were born in Mexico and immigrated to the United States, has demonstrated bias against Trump in his rulings due to Curiel's Mexican heritage and Trump's position on immigration. To Trump's mind, the fact that Curiel is of Mexican-American heritage and is a member of a Latino Bar Association means that he is inherently biased against Trump and explains why he hasn't ruled the way Trump would prefer in the Trump University cases that he is currently presiding over. Importantly, neither Trump nor his surrogates and supporters have been able to point to any specific ruling that Judge Curiel has made that displays evidence of that bias. Trump has also failed to directly respond to questions asking why he hasn't instructed his attorneys to file a motion to compel Judge Curiel to recuse himself from the case. Instead, Trump spent the last week continuing the attacks even as it became apparent that it was based in nothing other than assumptions that can only be called racist on Trump's part that have put Republicans as a whole on the spot and led many of them to renounce him and even, in some cases, withdraw their support.
Somewhat lost in all of this reporting about Trump's remarks, though, is the question of whether there's any merit at all to Trump's assertion that Judge Curiel has demonstrated bias against Trump or his business entities and whether or not there is any evidence of such bias in any of Judge Curiel's rulings. In an effort to answer those questions, and others that have arisen regarding the Trump University cases, Ken White at Popehat posted a "Lawsplainer" that does an excellent job of explaining the cases currently pending, which consist of two separate class action lawsuits that assert different claims under California and Federal law, and walks through what we know about the rulings in the two cases. For example, in connection with his ruling on Summary Judgment in one of the two cases, which is one issue that Trump has briefly mentioned during his many anti-Curiel rants and where Curiel ruled in part for the Plaintiffs and in part for the Defendants, White puts it this way:
First, keep in mind Judge Curiel hasn't given plaintiffs everything they wanted — not by a long shot. The point of a class action is to get your individual plaintiffs to represent a huge class of people, so you can prove their individual cases but get damages to cover hundreds or thousands or tens of thousands of people. It's a huge force multiplier and carries the potential for ruinously gigantic damages. Judge Curiel didn't certify the class on all the claims that plaintiffs wanted. That is, as to some of their claims, he said they could only seek their own personal damages, not damages on behalf of everyone who went to Trump University.

(…)

Later, on Trump's motion, Judge Curiel decertified the class in part. That means that he granted Trump's motion to take away part of their class representative status and modified how they must prove their cases. Specifically, Judge Curiel ordered that (1) the case would have a separate trial on liability and then a separate trial on damages only if plaintiff prevailed (which defendants generally like because it keeps plaintiffs' damages sob stories out of trial and keeps the jury from being prejudiced by big damages numbers or by evidence of how much money the defendants have); (2) rather than assuming if plaintiffs won that all class members would get a full refund, Trump and Trump University would be able to litigate how much value they got and how much or little of a refund they should get.

(…)

Judges aren't supposed to grant summary judgment if evidence is weak. They're only supposed to grant if if there's no dispute of fact. Here, the plaintiffs offered evidence which, if believed, would show that Trump was responsible for false statements and the students relied on those statements. I don't think it's a particularly notable decision.
On the ultimate question, White is, sadly, largely correct:
So does the record support that Judge Curiel is in the tank for the plaintiffs and outrageously biased against Trump?

No. I don't think it does. However, to reach that conclusion, you need to actually read stuff and have a vague idea of what you're talking about, so I don't expect it to take hold, frankly.
White is largely correct, of course. The majority of Americans will form their opinions regarding this entire controversy based on their opinion of Donald Trump. For those who support him, the mere fact that he is making the claim that Judge Curiel has been biased against him is sufficient reason for them to believe the claim, and it quickly becomes clear when talking to such people that they have no independent factual basis upon which to make that determination and haven't consulted any analysis similar to White's to support their belief. For those who oppose Trump, it's sufficient that he chose to make his dispute with Curiel about race to reject his argument that he's being treated unfairly. As I said, there's no question that his assertion that Curiel's ethnic background is the influence behind his rulings, a clear attack on the Judge's integrity which the rules of judicial ethics prevent him from directly responding to, is racist and that Trump is making the attack racial for specific political reasons. That doesn't preclude that possibility, though, that Curiel has made erroneous rulings, which is why it's a good thing that someone has actually taken the time to look at the rulings to try to determine the truth.
Along similar lines, Plaintiff's attorney Maxwell Kennerly has looked at the major substantive rulings in the most mature of the two Trump University class action cases and examines the claims, defenses, motions, and orders in detail. In conclusion, Kennerly says this on the issue of Judge Curiel's rulings and any evidence of bias:
The punchline is quite simple:

On the issues where Judge Curiel had discretion, he generally ruled against the plaintiffs, including refusing their request to amend the complaint and extend discovery, and, most recently, rejecting their trial plan.
On the issues where Judge Curiel had to rule on disputed legal concepts, he generally ruled against the plaintiffs. Trump's own lawyers said the class action certification was "narrow," and they're correct. The plaintiffs sought a nationwide class action over Trump University's deceptive "upsell" practices, but Judge Curiel refused to certify the claims for plaintiffs from 47 states, and, for the three states remaining, trimmed down the claims to just three "core" misrepresentations.
There's only really one issue where Judge Curiel truly sided with the plaintiffs, and that was over the appropriate proof of damages. Trump argued that the plaintiffs had to prove the "difference in value" between what they received and what they were promised, and the plaintiffs argued they were entitled to a full refund because they received nothing of value. Judge Curiel's decision was hardly unusual: to support it, he relied on a Ninth Circuit case (that's the appellate court which will eventually review this case) and a District Court case that assessed damages in a case involving a deceptive business coaching scam.
Or, as he puts it in his conclusion, "Judge Curiel is doing his job like a normal judge, issuing rulings consistent with the case law. But you already knew that."
In other words, there is no evidence that Judge Curiel has been biased against Trump in any of his rulings in these cases, that his rulings have been unusual, or that they have been contrary to existing law or precedent. Indeed, Judge Curiel's most recent action in the case is arguably very favorable to Trump. While the Plaintiffs were seeking to go to trial in July, just as the political conventions were taking place and the General Election Scheduling matters such as this are typically a matter entirely within the discretion of the trial judge. If he were biased against Trump, Curiel could have agreed with the Plaintiffs' request for a July trial date, or set the trial for September or October during the height of the campaign. Instead, he has bumped it to after the election. This obviously helps Trump since it removes the possibility of daily news reports about a potentially embarrassing consumer fraud trial disrupting Trump's campaign. That sure doesn't sound like a biased Judge to me.