Donald Trump v. The Rule Of Law
Donald Trump spent part of Labor Day engaged in yet another unhinged attack on his own Justice Department.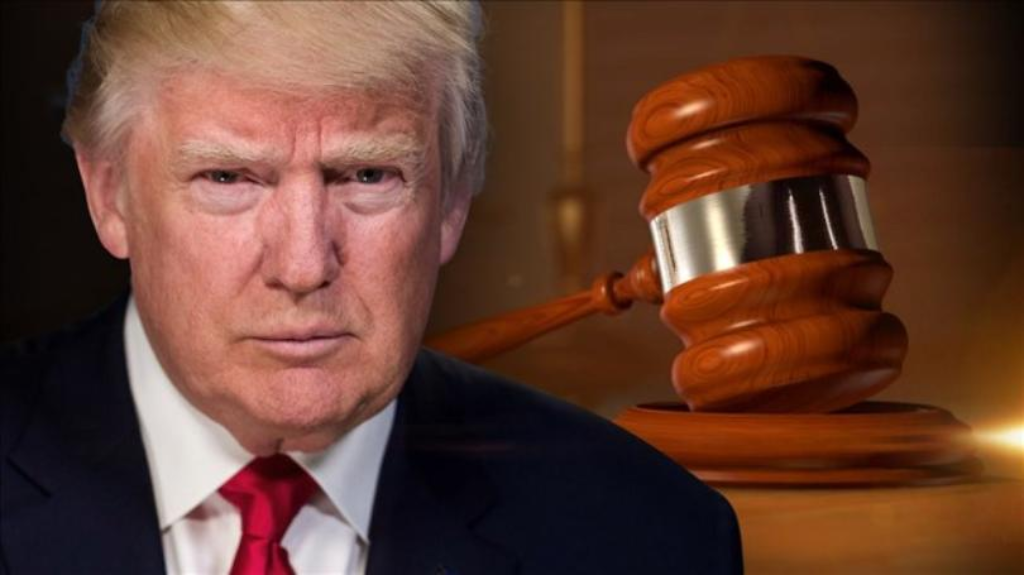 While most of America was marking Labor Day, the President took to Twitter to attack his Justice Department again. Instead of focusing on the Russia investigation, though, the President criticized the decision to bring charges against two top Republican Members of Congress, a move that potentially makes two previously safe Republican seats vulnerable in November:
WASHINGTON — President Trump on Monday attacked Jeff Sessions, his attorney general, over the Justice Department's decision to bring criminal charges against two Republican congressmen ahead of the midterm elections, linking the department's actions with his party's political fate.

In a pair of tweets sent midafternoon, Mr. Trump suggested that the Justice Department should not have brought charges against two "very popular" Republican lawmakers running for re-election so close to November because it could jeopardize the party's control of the House.

"Two long running, Obama era, investigations of two very popular Republican Congressmen were brought to a well publicized charge, just ahead of the Mid-Terms, by the Jeff Sessions Justice Department," Mr. Trump wrote on Twitter. "Two easy wins now in doubt because there is not enough time. Good job Jeff."

In another tweet, he suggested that Mr. Sessions, a former senator who was one of Mr. Trump's only vocal defenders early in his campaign, had fallen into favor with Democrats after the charges were delivered.

(…)

Mr. Trump has frequently berated Mr. Sessions and publicly questioned his judgment since the attorney general's decision in March 2017 to recuse himself from the special counsel's investigation into the Trump campaign's ties with Russia.

Until Monday, Mr. Trump had not so overtly tied the Justice Department's responsibility for pursuing charges against alleged criminals with Republicans' election prospects.

Last week, it even appeared that Mr. Trump would stop publicly toying with the idea of removing Mr. Sessions until after the midterm elections.

"I just would love to have him do a great job," Mr. Trump said in an interview with Bloomberg News in the Oval Office last week. "I do question what Jeff is doing."

By calling it the "Jeff Sessions Justice Department," Mr. Trump put even more distance between himself and the country's top law enforcement organization, which is investigating members of his inner circle and his business dealings.

Those inquiries are being conducted by the United States attorney's office in the Southern District of New York and by Robert S. Mueller III, the special counsel appointed to investigate Russian election interference and any ties to the Trump campaign.

Mr. Trump's tweets — sent from the White House on a searingly hot day that kept him from departing for his nearby Virginia golf course — criticized indictments that fall well within the Justice Department's window for bringing charges during an election cycle.

(…)

The Justice Department declined to comment. After Mr. Trump attacked the department, its methods and the outcome of its cases last month, in the wake of prosecutors' securing a guilty plea from Mr. Cohen and a guilty verdict for the president's former campaign manager, Mr. Sessions issued a rare rebuke.

"While I am attorney general, the actions of the Department of Justice will not be improperly influenced by political considerations," Mr. Sessions said in his statement. "No nation has a more talented, more dedicated group of law enforcement investigators and prosecutors than the United States."
Here are the Trump Tweets in question:
Two long running, Obama era, investigations of two very popular Republican Congressmen were brought to a well publicized charge, just ahead of the Mid-Terms, by the Jeff Sessions Justice Department. Two easy wins now in doubt because there is not enough time. Good job Jeff……

— Donald J. Trump (@realDonaldTrump) September 3, 2018
….The Democrats, none of whom voted for Jeff Sessions, must love him now. Same thing with Lyin' James Comey. The Dems all hated him, wanted him out, thought he was disgusting – UNTIL I FIRED HIM! Immediately he became a wonderful man, a saint like figure in fact. Really sick!

— Donald J. Trump (@realDonaldTrump) September 3, 2018
The President's comments drew a sharp rebuke from Nebraska Senator Ben Sasse, who has been sharply critical of the President in the past:
Republican Sen. Ben Sasse (Neb.) rebuked President Trump's latest attack against the Department of Justice (DOJ) on Monday, warning Trump that the United States "is not some banana republic."

Sasse condemned Trump's tweets Monday afternoon in which the president criticized Attorney General Jeff Sessions for pursuing criminal charges against two GOP congressmen.

Trump argued that Sessions should have taken into account the political ramifications of pursuing the cases against GOP Reps. Chris Collins (N.Y.) and Duncan Hunter (Calif.), who were both early backers of Trump.

"The United States is not some banana republic with a two-tiered system of justice – one for the majority party and one for the minority party," Sasse responded in a statement.

"These two men have been charged with crimes because of evidence, not because of who the President was when the investigations began," he continued.

"Instead of commenting on ongoing investigations and prosecutions, the job of the President of the United States is to defend the Constitution and protect the impartial administration of justice."

Trump earlier Monday took to Twitter to attack Sessions over charges brought against Collins and Hunter last month. The president suggested that Sessions had damaged the GOP's chances of retaining the seats in the November elections.

"Two long running, Obama era, investigations of two very popular Republican Congressmen were brought to a well publicized charge, just ahead of the Mid-Terms, by the Jeff Sessions Justice Department," Trump tweeted.

"Two easy wins now in doubt because there is not enough time. Good job Jeff," he continued.

Sasse, who has vocally criticized Trump in the past on certain issues, also came to Sessions's defense last month after Trump lashed out at the attorney general. Sasse said at the time that he has warned Trump that firing Sessions "would be a very, very, very bad idea."
Trump is, of course, referring to the indictments handed down against Congressman Chris Collins of New York and Congressman Duncan Hunter of California. In the Collins case, the Congressman, who announced shortly after his indictment that he was suspending his re-election campaign and apparently retiring from Congressman at the end of his current term, was indicted on securities fraud charges alleging that he passed insider information regarding a pharmaceutical company on whose board he served on to his son, who went on to sell his shares before derogatory information about the company was released. In the Hunter case, the Congressman and his wife, who served as his campaign manager, are accused of embezzling more than a quarter-million dollars from campaign funds to pay for campaign funds. Initially, at least, Hunter claimed that the charges were part of some "Deep State" conspiracy against him and later sought to blame his wife for the entire affair, although he seems to have backed down from that particular defense over the past week. Perhaps most notable is the fact that Collins and Hunter were among the first members of the House of Representatives to endorse Trump's campaign during the run for the Republican nomination.
In the Collins case particularly, Trump's criticism is utterly absurd. In that case, it's clear that, while Collins and his involvement in a controversial pharmaceutical company may have been under investigation prior to the time that Donald Trump took office, the acts that led to the charges against him all took place after Trump took office and after Trump's own appointees were in office. In fact, the indictment in the Collins case alleges that the Congressman was exchanging text messages with his son about the failure of the key drug being developed by this company while standing on the South Lawn of the White House during last year's Congressional Barbeque at the White House. There is even video available in which Collins can be seen furiously tapping away on his phone while standing in a crowd of other Members of Congress and their families. As it turned out, those messages were to his son and were illegally informing him of the fact that the drug had failed its latest Food and Drug Administration trial, a fact that would lead the FDA to refuse to certify the drug for use and would obviously cause the value of the company's stock to crash. In response to the news received from his father, the younger Collins immediately sold the vast majority of his shares. Thus, it was because of illegal acts committed while Trump was President and Trump's appointees were in charge of the Justice Department that Collins was indicted, to begin with.
In the Hunter case, the illegal use of campaign funds alleged in the indictment occurred both before and after Donald Trump became President. However, as with the Collins prosecution, the case was investigated and the charges brought under the supervision of Justice Department personnel and a U.S. Attorney appointed by President Trump and confirmed by the Republican-controlled Senate. The idea that these charges, or those against Collins, are part of some sort of political vendetta is therefore utterly absurd. Of course, absurd is par for the course with this President so I suppose it's not surprising.
Peter Baker and Nicholas Fandos of The New York Times note that the President is treading on dangerous ground:
Mr. Trump's suggestion would have been a major scandal under any other president, veterans of past administrations said. "His interference in an ongoing criminal investigation may be the single most shocking thing he's done as president," said Walter E. Dellinger, a former acting solicitor general under President Bill Clinton.

Senator Jeff Flake of Arizona, a Republican who has been among the president's most outspoken critics in his own party, had the same reaction. "Those who study this kind of thing say it's a lot more evidence for abuse of power or obstruction," he said. "I just know it's not healthy for the institutions of government to have the president want to use the Department of Justice that way."

Senator Lisa Murkowski, Republican of Alaska, likewise criticized the president's comments. "I'm looking at them just as you are looking at them," she told reporters. "I thought that yesterday's comments were not appropriate and they upset me."

Asked if Mr. Trump was only feeding Democrats' interest in impeachment, she said: "I have no idea what he is doing. I have no idea what he is thinking."

Other Republicans avoided commenting or seemed less concerned. "I have no reason to believe these prosecutions are politically motivated," said Senator Lindsey Graham of South Carolina. "I think it was a comment not designed to obstruct justice but in my view, not appropriate."
As absurd as they are, the President's attacks are also exceedingly dangerous. As with his previous attacks on the Justice Department and the Russia investigation, these comments are yet another example of the utter contempt that this President obviously has for the Rule of Law and the importance of the division between politics and the law enforcement that has been part of our political system from the start and which are currently being tested in a manner unseen since the days of Watergate. We saw this both during the campaign and after he became President, so this latest attack does not come as much of a surprise. Although that covers only roughly three years of history, it is replete with examples of how this President has sought to act more like one of the authoritarian rulers he clearly admires than the President of a representative democratic republic.
The most prominent example of that contempt, of course, has been his consistent attempts to undermine the investigations by Special Counsel Robert Mueller and Congress, an effort that his fellow Republicans are only too happy to help him with for the most part. In addition to the investigation, Trump has also attacked the Rule of Law when it impacts him personally. In the wake of the numerous occasions on which Federal Courts around the country have put Administration policies such as the Muslim Travel Ban, the effort to ban transgender Americans from openly serving in the military, his efforts to undo the DACA programs, and his attacks on the Tenth Amendment rights of the states by punishing so-called "sanctuary cities," Trump has repeatedly attacked the courts and the court system. In addition to these examples, the President has also tweeted his support for the death penalty for Sayfullo Saipov, the suspect in the Halloween 2017 attack in New York City, saying on Twitter that he "SHOULD GET DEATH PENALTY." Trump also commented on the sentence handed down in the case of Bowe Bergdahl, who received a Dishonorable Discharge and reduction in rank to Private after pleading guilty to walking away from his post in Afghanistan in 2009 before being captured by the Taliban. In the past, of course, Trump had referred to Bergdahl as a "dirty, rotten traitor," and as a "traitor" who should be executed for his crimes while a candidate for President, and said he stood by those comments shortly after Bergdahl pled guilty. In each of these incidents and others, Trump has shown his contempt for courts, for Judges, and for the legal system generally.
There was a preview of all of this, of course, during the campaign two years ago when he attacked the Federal District Court Judge who was presiding over the fraud lawsuits against him and his now defunct business venture "Trump University." In those attacks, Trump referred to the Judge, Gonzalo Curiel of the U.S. District Court for the Southern District of California as a "Mexican"notwithstanding the fact that he was born in Indiana, contended that his 'Mexican heritage' created some sort of conflict of interest, and claimed that Curiel was "biased" and "unfair."  In retrospect, it's clear that Trump's attacks were related to Judge Curiel's decision to authorize the release of documents related to the ongoing lawsuit, documents that clearly show the extent to which Trump's so-called "University" was little more than a fraudulent marketing scheme. In reality, though, an examination of Judge Curiel's rulings in the case demonstrated no evidence of the bias Trump alleged.
Back when Trump was still just a candidate, I made note of his obvious contempt for the Rule of Law:
Based both on his rhetoric and his actions, Donald Trump gives the impression of being a President who sees himself as  unconstrained by the law or the other branches of Government in the tradition of Jackson or Richard Nixon, both of whom set off Constitutional crises from which it took the nation years to recover. As in the case of those two previous Presidents, he would likely justify his actions by appealing to the same populist, anti-establishment rhetoric that has fueled his campaign from the start. The difference is that, this time, he would be President of the United States and his rhetoric would be tied to action that could do real damage to the Rule of Law and to the Constitution. Furthermore, unlike any of his predecessors, Trump seems to have command over a mob of supporters that would rush to his defense even when he was clearly wrong. This is why the arguments that equate Trump to the European far right, and even to fascists and authoritarians of the past, are completely on the mark. Either Donald Trump is lying to his supporters or he is the kind of man who cannot be trusted with political power even in a Constitutionally limited democratic republic. Under the circumstances, it would be foolish for anyone to believe that this is all a big con on Trump's part, and much safer to assume that he quite simply cannot be trusted with political power.
Those comments remain as true today as they were in 2016. In essence, in his tweets on Monday the President suggested that the Justice Department should not have gone after Collins and Hunter, both of whom appear to have committed serious violations of the law, for what amount to purely political reasons. This comes at the same time that he continues to suggest, as do many of his followers, that the Justice Department needs to reopen its investigation of Hillary Clinton and her campaign for President, going so far as to suggest that it was her campaign that was colluding with the Russians not his and that her campaign was working in concert with the Obama Administration to undermine the Trump campaign. There is, of course, absolutely no evidence to support this accusation but that has not stopped the President and his supporters from making the claim. As others have suggested, this seems to indicate that he continues to view the Justice Department and the entire apparatus of Federal law enforcement as little more than a political tool to be used to attack his enemies and protect his friends. This is not the attitude of the leader of a free nation, it is the attitude of an authoritarian more concerned with maintaining his position of power than abiding by the law. If nothing else, it's an attitude that makes this President potentially more dangerous as the walls continue to close in on him.