Jeff Sessions Failed To Disclose Contacts With Russian Officials
Attorney General Jeff Sessions apparently misled Senators when asked about his contact with Russian officials.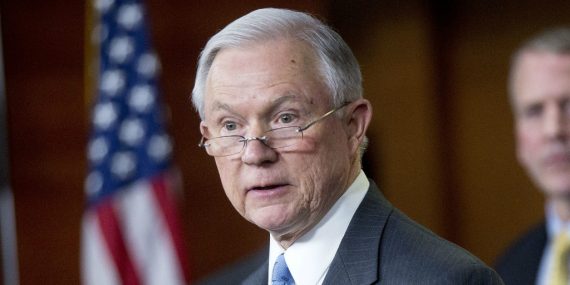 Late yesterday, The Washington Post reported that Attorney General Jeff Sessions met several times in 2016 with the Russian Ambassador to the United States in 2016 despite testifying under oath during his confirmation hearings that he had no contact with Russian officials:
Then-Sen. Jeff Sessions (R-Ala.) spoke twice last year with Russia's ambassador to the United States, Justice Department officials said, encounters he did not disclose when asked about possible contacts between members of President Trump's campaign and representatives of Moscow during Sessions's confirmation hearing to become attorney general.

One of the meetings was a private conversation between Sessions and Russian Ambassador Sergey Kislyak that took place in September in the senator's office, at the height of what U.S. intelligence officials say was a Russian cyber campaign to upend the U.S. presidential race.

The previously undisclosed discussions could fuel new congressional calls for the appointment of a special counsel to investigate Russia's alleged role in the 2016 presidential election. As attorney general, Sessions oversees the Justice Department and the FBI, which have been leading investigations into Russian meddling and any links to Trump's associates. He has so far resisted calls to recuse himself.

When Sessions spoke with Kislyak in July and September, the senator was a senior member of the influential Armed Services Committee as well as one of Trump's top foreign policy advisers. Sessions played a prominent role supporting Trump on the stump after formally joining the campaign in February 2016.

At his Jan. 10 Judiciary Committee confirmation hearing, Sessions was asked by Sen. Al Franken (D-Minn.) what he would do if he learned of any evidence that anyone affiliated with the Trump campaign communicated with the Russian government in the course of the 2016 campaign.

"I'm not aware of any of those activities," he responded. He added: "I have been called a surrogate at a time or two in that campaign and I did not have communications with the Russians."

Officials said Sessions did not consider the conversations relevant to the lawmakers' questions and did not remember in detail what he discussed with Kislyak.

"There was absolutely nothing misleading about his answer," said Sarah Isgur Flores, Sessions's spokeswoman.

In January, Sen. Patrick J. Leahy (D-Vt.) asked Sessions for answers to written questions. "Several of the President-elect's nominees or senior advisers have Russian ties. Have you been in contact with anyone connected to any part of the Russian government about the 2016 election, either before or after election day?" Leahy wrote.

Sessions responded with one word: "No."

In a statement issued Wednesday night, Sessions said he "never met with any Russian officials to discuss issues of the campaign. I have no idea what this allegation is about. It is false."

Justice officials said Sessions met with Kislyak on Sept. 8 in his capacity as a member of the armed services panel rather than in his role as a Trump campaign surrogate.

"He was asked during the hearing about communications between Russia and the Trump campaign — not about meetings he took as a senator and a member of the Armed Services Committee," Flores said.

She added that Sessions last year had more than 25 conversations with foreign ambassadors as a senior member of the Armed Services Committee, including the British, Korean, Japanese, Polish, Indian, Chinese, Canadian, Australian and German ambassadors, in addition to Kislyak.

In the case of the September meeting, one department official who came to the defense of the attorney general said, "There's just not strong recollection of what was said."

The Russian ambassador did not respond to requests for comment about his contacts with Sessions.

The Washington Post contacted all 26 members of the 2016 Senate Armed Services Committee to see whether any lawmakers besides Sessions met with Kislyak in 2016. Of the 20 lawmakers who responded, every senator, including Chairman John McCain (R-Ariz.), said they did not meet with the Russian ambassador last year. The other lawmakers on the panel did not respond as of Wednesday evening.

"Members of the committee have not been beating a path to Kislyak's door," a senior Senate Armed Services Committee staffer said, citing tensions in relations with Moscow. Besides Sessions, the staffer added, "There haven't been a ton of members who are looking to meet with Kislyak for their committee duties."

Last month, The Post reported that Trump national security adviser Michael Flynn had discussed U.S. sanctions with Kislyak during the month before Trump took office, contrary to public assertions by Mike Pence, the vice president-elect, and other top Trump officials. Flynn was forced to resign the following week.

When asked to comment on Sessions's contacts with Kislyak, Franken said in a statement to The Post on Wednesday: "If it's true that Attorney General Sessions met with the Russian ambassador in the midst of the campaign, then I am very troubled that his response to my questioning during his confirmation hearing was, at best, misleading."

Franken added: "It is now clearer than ever that the attorney general cannot, in good faith, oversee an investigation at the Department of Justice and the FBI of the Trump-Russia connection, and he must recuse himself immediately."
The September meeting wasn't the only time that Sessions met with Kislyak:
Two months before the September meeting, Sessions attended a Heritage Foundation event in July on the sidelines of the Republican National Convention that was attended by about 50 ambassadors. When the event was over, a small group of ambassadors approached Sessions as he was leaving the podium, and Kislyak was among them, the Justice Department official said.

Sessions then spoke individually to some of the ambassadors, including Kislyak, the official said. In the informal exchanges, the ambassadors expressed appreciation for his remarks and some of them invited him to events they were sponsoring, said the official, citing a former Sessions staffer who was at the event.
Here's the video of Sessions confirmation hearing testimony in which contacts with Russia were discussed:
The reaction to the revelations about Sessions has been swift and immediate, with Democrats calling for Sessions to recuse himself from the ongoing Justice Department investigation of Russian interference in the election and contacts between Russian officials and the Trump campaign, with several calling for the appointment of a special prosecutor to handle the matter. Other Democrats have already called for Sessions to resign, although it seems far too early to even discuss that possibility. As of this morning, several Republicans, including Senators Lindsey Graham and John McCain, House Majority Leader Kevin McCarthy, Michigan Congressman Justin Amash, and House Oversight Committee Chairman Jason Chaffetz have joined Democrats in saying that he should recuse himself from the Justice Department investigation. For his part, Sessions said in a statement last night, and again this morning, that he was only meeting with Kislyak in his capacity as a Senator and member of the Senate Armed Services Committee, not as a representative of or surrogate for the Trump campaign. Given the fact that both of these meetings occurred during the height of the campaign, that one of them took place in Cleveland while the Republican National Convention was taking place, and that Sessions was apparently the only member of the Senate Armed Services Committee to meet with the Russian Ambassador during the entirety of 2016, one can judge the veracity of that statement for oneself.
This incident obviously brings up questions of whether or not Sessions committed perjury, and while the fact that he answered the way he did under oath the answer isn't quite as simple as that. With respect to his written response to the question by Senator Leahy, for example, Sessions was specifically asked whether or not he met with Russian officials to discuss issues related to the campaign. In response, he answered with a simple "No.," and if it is the case that his meetings with Kislyak were not about the campaign then there was no perjury with respect to that question since the Leahy question specifically limited itself in scope. Had Leahy asked him about any meetings with Russian officials for any purpose and Sessions had responded the same way, then it would be a clear lie under oath and something that would merit potential investigation for perjury. The response to the question from Senator Franken is somewhat different. Franken asked a question about Russian contact with the Trump campaign and how he would act if it became clear that there were indeed contacts between the Trump campaign and the Russian government or people close to Russian President Vladimir Putin. Rather than directly answering that question, Sessions said that he was unaware of any such contact and volunteered that he did not have contact with Russian officials. In this response, he didn't qualify his response to say that he didn't have contact as a Trump surrogate or that he didn't discuss the campaign, he said that he no contact. Whether or not this constitutes perjury, though, is a different matter. Proving such a charge beyond a reasonable doubt would involve somehow proving what the content of the conversations between Sessions and Kislyak actually were and proving that Sessions was intentionally withheld the information about these meetings in his responses. As I note, that's essentially impossible with respect to the Leahy question since it was so limited in scope and at the very least would be highly difficult with respect to his response to the Franken question since it essentially comes down to trying to determine what Sessions understood the question to be asking and what his intent was in answering the way he did. Ideally, of course, Sessions should have disclosed the two meetings even if they weren't about the campaign. The fact that he didn't, though, may not be as legally problematic as it appears on the surface. Absent additional evidence, though, it seems unlikely to me that Sessions would ever actually be charged with perjury.
Even if there is nothing criminal going on here, of course, that doesn't mean that there won't be political repercussions from the fact that Sessions failed to disclose his meetings with the Russian Ambassador. At worst, what Sessions did was commit perjury. At best, his responses were misleading and incomplete and look like the same playing with words that Republicans accused President Clinton of engaging in misleading wordplay in his responses to questions about his relationship with Monica Lewinsky, responses that led them to take the extraordinary step of impeaching him and putting him on trial in the Senate. At the very least this means that he needs to recuse himself from any investigation into the entire scope of the issues surrounding Russia and the 2016 Presidential campaign, whether that means handing responsibility and decision-making off to career prosecutors in the Department of Justice or appointing an independent outsider to lead the investigation as was last done during the investigation into the Valerie Plame leak during the George W. Bush Administration. Additionally, as The Washington Post's Chris Cillizza points out, it seems clear from these latest revelations that Republicans on Capitol Hill would be taking a big political risk if they failed to investigate the matter themselves:
It does not take a political genius to understand how big a problem this is for Sessions, Trump and congressional Republicans more broadly. (Sessions's response — I talked to a lot people! — isn't going to cut it.)

Before this report, most congressional Republicans were resistant to the idea of appointing a special prosecutor to investigate the contacts between Russia and Trump campaign officials and surrogates — insisting that the ongoing FBI investigation and congressional committees looking into the issue were more than enough.

That's going to become an untenable position for Republicans — starting with House Speaker Paul D. Ryan (R-Wis.) and Senate Majority Leader Mitch McConnell (R-Ky.) — in light of this new information about Sessions. Not only is there a very serious question about whether Sessions misled — purposely or accidentally — his colleagues while under oath, but this is only the latest incident involving unanswered questions about the ties among Trump, his top advisers and Russia.

Former national security adviser Michael Flynn lost his job last month after lying to Vice President Pence — and lots of other people — about the nature of his conversations with Kisylak. Trump has repeatedly refused to condemn Russian President Vladimir Putin while insisting that stories about his ties to Russia are "fake news."

In short: Where there's smoke and smoke and smoke and smoke and smoke, most reasonable people will assume there is fire — or that there should be an independent investigation to determine whether there is fire. Arguing that "there's nothing to see here" is simply not a tenable position for Republicans at this point.
As I've already noted, some Republicans have already recognized these facts, and I expect others will as the day and the rest of the week unfolds.
One other thing that is clear is that, once again, the Trump Administration has managed to ruin a news cycle for itself. For the most part, Trump was getting positive reviews for his speech on Tuesday night and it looked like he was headed for what would have otherwise been the first good week the Administration has had since Inauguration Day. With this story, we're basically guaranteed that this, and ther aspects of the story regarding Russian interference in the election, will be what dominates the news cycle for the rest of the week, and the calls for Sessions to recuse himself will only increase.