Donald Trump Continues His Efforts To Undermine The Russia Investigation
Even during an overseas trip, President Trump continues to try to undermine the Russia investigation.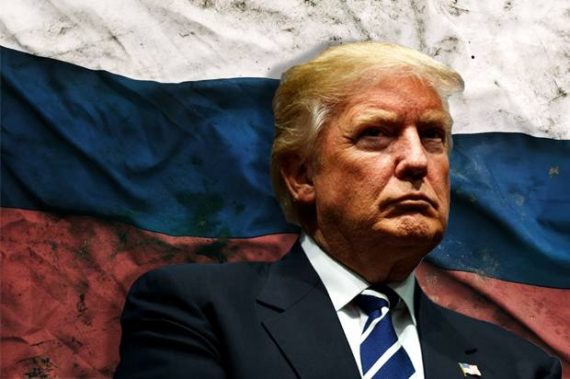 While he was in Vietnam for the Asian Pacific Economic Cooperation summit, President Trump had a private meeting with Russian President Vladimir Putin and made clear afterward that he believed Putin's denials that Russia did not interfere in the 2016 Presidential election:
DANANG, Vietnam — President Trump said on Saturday that he believed President Vladimir V. Putin was sincere in his denials of interference in the 2016 presidential elections, calling questions about Moscow's meddling a politically motivated "hit job" that was hindering cooperation with Russia on life-or-death issues.

Speaking after meeting privately with Mr. Putin on the sideline of the Asia Pacific Economic Cooperation summit meeting in Danang, Vietnam, Mr. Trump said that he had again asked whether Russia had meddled in the contest, but that the continued focus on the issue was insulting to Mr. Putin.

Mr. Trump said it was time to move past the issue so that the United States and Russia could cooperate on confronting the nuclear threat from North Korea, solving the Syrian civil war and working together on Ukraine.

"He said he didn't meddle — I asked him again," Mr. Trump told reporters traveling with him aboard Air Force One as he flew to Hanoi for more meetings. "You can only ask so many times. I just asked him again. He said he absolutely did not meddle in our election. He did not do what they are saying he did."

Mr. Trump did not answer a direct question about whether he believed Mr. Putin's denials, but his account of the conversation indicated he was far more inclined to accept the Russian president's assertions than those of his own intelligence agencies, which have concluded that Mr. Putin directed an elaborate effort to interfere in the vote. The C.I.A., the National Security Agency, the F.B.I. and the Office of the Director of National Intelligence all determined that Russia meddled in the election.

"Every time he sees me he says, 'I didn't do that,' and I really believe that when he tells me that, he means it," Mr. Trump said of Mr. Putin. "I think he is very insulted by it, which is not a good thing for our country."
Trump also talked about the meeting on Twitter yesterday:
Met with President Putin of Russia who was at #APEC meetings. Good discussions on Syria. Hope for his help to solve, along with China the dangerous North Korea crisis. Progress being made.

— Donald J. Trump (@realDonaldTrump) November 12, 2017
When will all the haters and fools out there realize that having a good relationship with Russia is a good thing, not a bad thing. There always playing politics – bad for our country. I want to solve North Korea, Syria, Ukraine, terrorism, and Russia can greatly help!

— Donald J. Trump (@realDonaldTrump) November 12, 2017
Does the Fake News Media remember when Crooked Hillary Clinton, as Secretary of State, was begging Russia to be our friend with the misspelled reset button? Obama tried also, but he had zero chemistry with Putin.

— Donald J. Trump (@realDonaldTrump) November 12, 2017
Trump later walked back the comments to some degree, claiming that he did not dispute the conclusion reached by every American intelligence agency that Russia did indeed take steps to intervene and interfere with the election process and that it has done the same thing with regard to the electoral process in Europe and elsewhere around the world. However, it's clear from Trump's comments to reporters and his tweets that, once again, his meeting with Putin did not include any kind of rebuke against the Russian leader for what his country obviously did and attempted to do in 2016, that he continues to resist saying anything bad about Putin either in public or in private while at the same time attacking long-standing American allies in Europe and elsewhere quite openly and often to their faces. Additionally, it reinforces the fact that the Administration has long fallen back on the idea that the entire Russia investigation is an example of so-called "fake news" and that there is no reason for either special counsel Robert Mueller or the Intelligence committees in either the House or the Senate to continue their investigation of the reports of Russian interference and allegations of collusion or coordination between people tied to the Trump campaign. We've seen this phenomenon manifest itself several times since Trump became President, not only in his Twitter feed but also in public comments and in actions such as when he asked F.B.I. Director James Comey if he could end the investigation of former Trump National Security Adviser Michael Flynn and later when he fired Comey abruptly just days after he had testified about the investigation into Russia and the Trump campaign before a Senate committee. As we know now, Trump later openly admitted that he took that later action specifically because of the Russia investigation.
Firing Comey, of course, didn't end the Russia investigation and arguably only enhanced it since it led directly to the appointment of former F.B.I. Director Robert Mueller as special counsel to head the investigation. In theory, of course, Trump could seek to fire Mueller, but at this point, even he seems to realize that doing so would only enhance the investigation and raise even more questions about potential obstruction of justice. Nonetheless, it's clear that the Russia investigation is clearly bothering Trump and those around him, and there can really only be a few explanations for that.
At the very least, one can explain the pushback as being motivated by a sense of unease by Trump regarding how people perceive his own legitimacy as President. Notwithstanding his claims to the contrary, Trump's election was a relative anomaly in American in history in that he is one of only five people who became Presidents without having won a majority of the popular vote and that, of those five, his gap in the popular vote is the largest in American history. As I've noted before, a shift of roughly 70,000 votes in three states would have led to Hillary Clinton narrowly winning the Electoral College vote. Additionally, Trump entered office with the lowest approval rating of any elected President since World War Two, and his numbers continue to languish in negative territory with no sign of changing in the foreseeable future. Admitting that the Russians sought to influence the election in his favor, which is clearly the case, would be to admit that he probably didn't become President in his own right. Someone with Donald Trump's super-inflated ego is never going to admit that.
The other, more sinister, possibility that explains how Trump and his Administration is acting, of course, is that they have something to hide regarding the campaigns contacts with Russia during the primary and the General Election. While there has yet to be any direct evidence of this, of course, there is plenty of circumstantial evidence on the record that makes it seem like there could be something to these charges. This includes, for example, the guilty plea entered by Trump campaign adviser George Papadopoulos to charges of lying to the F.B.I. regarding his meetings with Russian officials while working with the campaign. In the wake of that plea, we also learned new details about the contact that campaign officials such as Carter Page reportedly had with Russians while they were working on the campaign. Perhaps closest to Trump himself, though, were the revelations about the meeting that took place at Trump Tower between Donald Trump Jr., Paul Manafort, Jared Kushner, and a lawyer with ties to the Russian government. With regard to that last matter, the Russian lawyer recently stated in an interview that Trump Jr. offered a quid pro quo in exchange for damaging information about Clinton. While both Trump Jr. and the White House initially claimed the purpose of the meeting was to discuss the state of the law regarding American adoptions of Russian orphans and the sanctions imposed by the so-called Magnisky Act, it quickly became clear that this was not the case. We soon learned, for example, that the President himself participated in drafting a statement that made this claim on the way home from a trip to Europe on Air Force One. That statement quickly proved to be untrue after Trump Jr. released a string of emails between himself and other campaign officials regarding the meeting. Those emails made it clear that the purported purpose of the meeting was based on the claim that the Kremlin-linked lawyer could deliver allegedly damaging information about Hillary Clinton. Based on this, Trump's rhetoric and the foot-dragging we've seen from the Administration on making information public takes on a far more sinister tone.
Whatever the explanation, though, the biggest take away from the President's remarks this weekend is that he seems to take Putin at his word despite all the available evidence to the contrary, and that he's willing to throw his own intelligence agencies under the bus to achieve whatever goal it is he has in mind here. Even taking all of this in its most innocent light, it's shameful behavior on the part of an American President and a display of weakness before an obvious adversary that can only serve to lead Putin to believe that he can continue to manipulate Trump and to undermine free elections around the world, with impunity. For a man who openly accused his predecessor of acting to undermine the country on numerous occasions over the years, it's outrageous and hypocritical. In other words, it's typical Donald Trump.