Duncan Hunter Blames Wife, Deep State, For Embezzling Campaign Funds
Recently indicted Congressman Duncan Hunter Jr. is blaming his apparently estranged wife and the so-called "Deep State" for the fact that he's charged with embezzling a quarter million dollars from his campaign.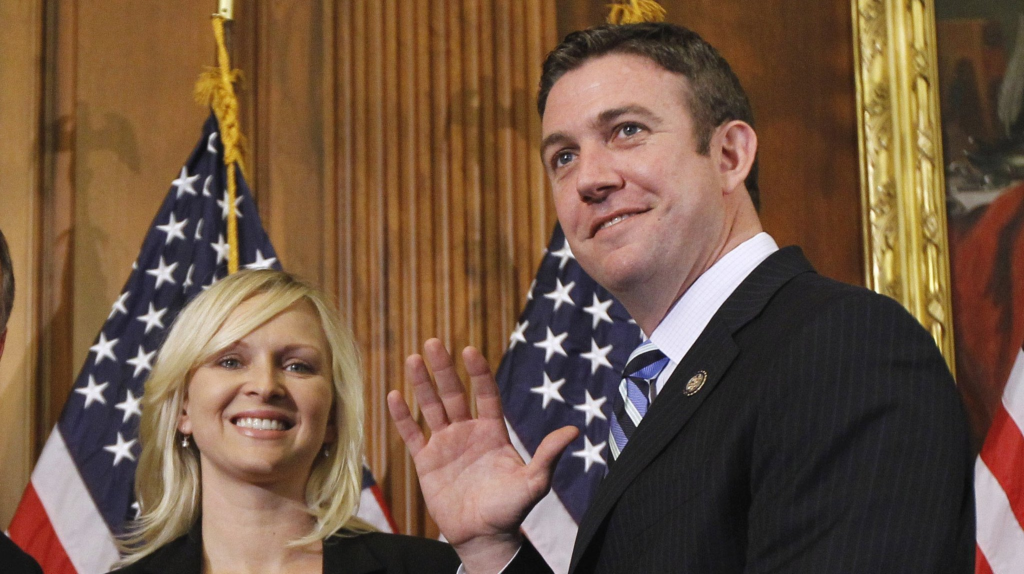 Just days after being indicted for widespread violations of Federal law related to spending more than a quarter million dollars in campaign funds on personal expenses, California Congressman Duncan Hunter Jr. is blaming his co-Defendant, who also happens to be his wife:
Rep. Duncan D. Hunter seemed to shift any blame onto his wife, Margaret, on Thursday for alleged campaign fund abuses, saying she was the one handling his finances.

"She was also the campaign manager, so whatever she did that'll be looked at too, I'm sure," the California Republican said on Fox News.

"But I didn't do it," Hunter said. "I didn't spend any money illegally."

Duncan and Margaret Hunter pleaded not guilty Thursday morning to federal charges that they had stolen a quarter of a million dollars in campaign funds to furnish their lavish lifestyle. The Hunters had been indicted earlier this week, accused of spending the campaign money on expenses including a $14,000 Italian vacation, groceries and other household items.

"My campaign did make mistakes," Hunter said in the Fox interview. "There was money spent on things not by me but by the campaign, and I paid that back before my last election."
Chris Cillizza notes that Hunter basically threw his wife under the bus the first chance he got:
Indicted California Congressman Duncan Hunter (R) offered a glimpse into his legal strategy in an interview with Fox News on Thursday night: Blame his wife for the whole thing.

"She was also the campaign manager, so whatever she did that'll be looked at too, I'm sure," Hunter said of his wife, Margaret. "But I didn't do it. I didn't spend any money illegally."

Ooomph.

The turn to pushing his wife directly under the bus is a change even from 24 hours earlier when Hunter insisted that the 47-page indictment detailing 200 separate instances of the misuse of campaign funds for personal use was nothing more than the "Democrats' arm of law enforcement" (aka the Justice Department) organizing a "witch hunt" (his words) against him just like they did with President Donald Trump.

This is what panic looks like when facing down an onrushing federal prosecution that could lead to significant jail time. You'll say or do anything to lessen your legal jeopardy — up to and including insisting that your wife did it all and you tried to tell her no but she wouldn't listen.

There was some inkling that things were headed this way when Hunter and his wife made their first appearance on the charges in a San Diego courtoom on Thursday. CNN's Maeve Reston wrote of the scene:

"The congressman entered the courtroom with his lawyers, but not his wife, around 9:45 a.m. PT in a navy blue suit. Margaret Hunter arrived at court separately with her legal team and entered through a side door. Duncan Hunter and Margaret Hunter sat four seats apart in the courtroom after she entered."

Trouble in paradise!
Politico's Rachel Bade, meanwhile, reports that Hunter's fellow Republicans on Capitol Hill aren't reacting well to his defense:
Hunter's brazen attempt to throw his spouse under the bus in particular has more than half a dozen Hill Republican lawmakers and aides shaking their heads. All requested anonymity to speak freely about a House colleague. Asked about the matter, one of his friends in Congress simply replied, exasperated, "I can't."

"Ridiculous," said one California Republican Hill aide. "If you read the indictment, clearly it was both of them… Like, how do you stay married to a guy who does that?"

A senior House Republican predicted the two would be divorcing soon: "You can't blame your wife and stay married to your wife."

Another House Republican added: ""He's trying to save himself… and I don't believe he didn't know about it."

At the very least, Hunter's attacks on his wife have given his Democratic challenger ample fodder to call him a coward. Congress-hopeful Ammar Campa-Najjar said Hunter is refusing to take responsibility and "shifting the blame to everybody and dragging everybody with him."

"Taking it out on his campaign manager, who happens to be his wife, it's just another example of that toxic masculinity, that corruption, that infallibility he has about himself that has blinded him and made him unfit to serve," Campa-Najjar said. "It's sad… but the buck stops with the boss."

Blaming his wife is but one defense tactic Hunter appears to be employing. He's also called the entire probe into his campaign finances a political "witch hunt" against him.

"This is pure politics," he said on Fox News. "My prosecutor and the acting U.S. attorney that issued the court orders to search my house and my office, they had just attended a Hillary Clinton fundraiser!"

He also accused prosecutors of altering his text messages to set him up: "They've edited some of these text messages to make them look different than they are," he said.

The strategy is also a favorite of Hunter's political ally, Trump, who has repeatedly attacked special counsel Robert Mueller's Russia investigation as an attempt to discredit his presidency.

(…)

Hunter's deflection to his wife is not altogether surprising. When first pressed Hunter on alleged misuse of campaign funds back in February, he suggested it was his wife's fault as well. She had the campaign credit card, he said, and if you look at the transactions in question, they occurred in California when he was in Washington, he argued at the time.

Attempts to reach Margaret Hunter in San Diego Friday were unsuccessful. When a reporter showed up to their California home to try to speak with Margaret, Hunter's father, former Rep. Duncan Hunter Senior, would not allow POLITICO to see her or ask if she wanted to comment.

Margaret Hunter and the couple's children have been living in Hunter, Sr.'s home ever since the younger Hunter sold his house to pay back $60,000 in misused campaign funds. The couple has been struggling financially for years.

To be sure, many of the transactions laid out in the indictment appeared to come from Margaret Hunter, including thousands spent on every-day household items and to pay for airplane tickets for her family members, for example.
As a preliminary matter, I would hope from Mrs. Hunter's sake that she has counsel separate and independent from whoever is representing her husband given the fact that he appears to be trying to set her up as the "fall guy" in this entire affair. Given the fact that they apparently have not been living together for quite some time, one presumes that this is the case, but the rather obvious conflict of interest that being represented by the same lawyer, or indeed the same law firm would create. This remains true that notwithstanding the fact that the defense itself has no real legal merit. As the candidate, Hunter is ultimately responsible for all filings with the Federal Election Committee and he is the one who signs off on those reports with the representation that they are true and accurate under penalty of perjury, just like the representation that is on the tax return that all of us sign off on every April. Pleading ignorance and trying to blame his wife for what appears to be the embezzlement of more than $250,000 in campaign funds is, in addition to being hard to believe, legally irrelevant.
Leaving aside the law, though, the indictment that was filed against Hunter and his wife makes it clear that the "blame the wife" defense simply doesn't have any basis in reality. Throughout the indictment, the evidence that prosecutors have chosen to share at this early stage of the case makes clear that Hunter was as involved as his wife in consciously deciding to use campaign funds to pay for personal expenses. This is documented in text message exchanges between Hunter and his wife and in other documents. Additionally, in many of the instances recounted in the indictment, Hunter used a credit card meant for campaign expenses to pay for obviously personal items. While it might be understandable if this occurred a handful of times and Hunter had reimbursed the campaign for the expense when it was brought to his attention, the fact that it happened repeatedly and usually coincided with times during which the Hunter's were overdrawn on their personal accounts makes it clear that he was consciously using campaign funds to fund his overly extravagant lifestyle. As for those occasions where Mrs. Hunter was apparently acting on her own to use campaign funds for personal expenses, the indictment alleges that Hunter was warned about this by campaign staff and ignored the warnings entirely. For him to plead ignorance at this point strains credulity.
In addition to blaming his apparently estranged wife, Hunter also appears to be borrowing a page from the President and blaming the so-called "Deep State":
Faced with a 47-page indictment that details — in excruciating specificity — allegations that he and his wife repeatedly misused campaign funds for personal use, Republican California Rep. Duncan Hunter Jr. offered up this response: This is all just one big Democratic conspiracy.

OK, I'm over-simplifying but not by much.

"This is the Democrats' arm of law enforcement, that's what happening right now," Hunter said in an interview with a San Diego TV station. "It's happening with [President] Trump, it's happening with me. We're going to fight through it and win and the people get to vote in November … I think they've used every dirty trick in the book, so it'll go to court when they want it to."

(Did I mention that Hunter gave this interview on his way to a fishing trip in advance of his court appearance on Thursday?)

Hunter sounded a very similar note in a formal statement in response to the indictment. "The fact is that there is a culture operating within our Justice Department that is politically motivated," he said. "We are seeing this with President Trump; we are seeing this with my case. This is evidenced by the fact that after two years of investigating, the Department of Justice decided to take this action right before my election."

Before we go any further, let's go over a few facts, shall we?

Fact #1: The Justice Department is run by Jeff Sessions, a former Alabama Republican senator. He was nominated to that job by President Donald Trump, a Republican. His nomination as attorney general was approved by the Senate, which is controlled by, wait for it … Republicans.

Fact #2: The charging document in Hunter's case alleges that he and his wife overdrew their personal checking account more than 1,100 times in a seven-year period as they spent lavishly and well beyond their means. It lists 200 examples of the Hunters allegedly dipping into funds for personal use. 200!

(…)

In lieu of a factual pushback against the charges against him, Hunter is simply throwing his arms around Trump and telling conservatives "See, I'm just like him! We're both victims of the deep state!" Aside from making the direct comparison between himself and Trump, Hunter's official statement makes several other clear attempts at mimicking Trump:

Hunter describes the investigation as a "witch hunt."
He makes mention of the fact that Hillary Clinton was never indicted for her role in establishing a private email server when she served as secretary of state
He throws out some red meat for conspiracy theorists — noting that two prosecutors involved in his case went to a fundraiser at a private home during office hours.

In short; Hunter is laying the image of himself as a Junior Trump — a victim of a corrupt Justice system — on very, very thick. If Hunter were a comedian, he would not only tell the joke, but then come into the audience and explain it to you, and then borrow a cocktail napkin and diagram exactly why the joke works. Like, dude, enough already! We get it!
This "Deep State" defense is, of course, as absurd as the "my wife did it" defense based solely on the evidence as set forth in the indictment. If he actually raised it in court, Hunter would find himself quickly laughed out of the courtroom. I suspect, though, that this part of his "defense" has nothing to do with the legal case against him and everything to do with his campaign to hold on to his seat in Congress, which he apparently intends to see through to the end. In an ordinary year, Hunter would easily be re-elected in what is ostensibly a reliable Republican district, but this indictment changes things significantly and potentially gives Democrats an opening in a district they'd otherwise had no chance of winning. Falling back on the same ridiculous "Deep State" conspiracy theories that President Trump has made famous on his Twitter feed is quite obviously Hunter's way of trying to appeal to base Republican voters in the district in the hope that it will be enough to allow him to pull off a victory in November. Whether it works or not is a question we'll have to wait until Election Day to get an answer to.