Wife Of Duncan Hunter Jr. Pleads Guilty, Will Testify Against Him
Congressman Duncan Hunter Jr's defense of campaign law violations against him suffered a big setback yesterday when his wife and co-Defendant entered into a plea agreement with prosecutors.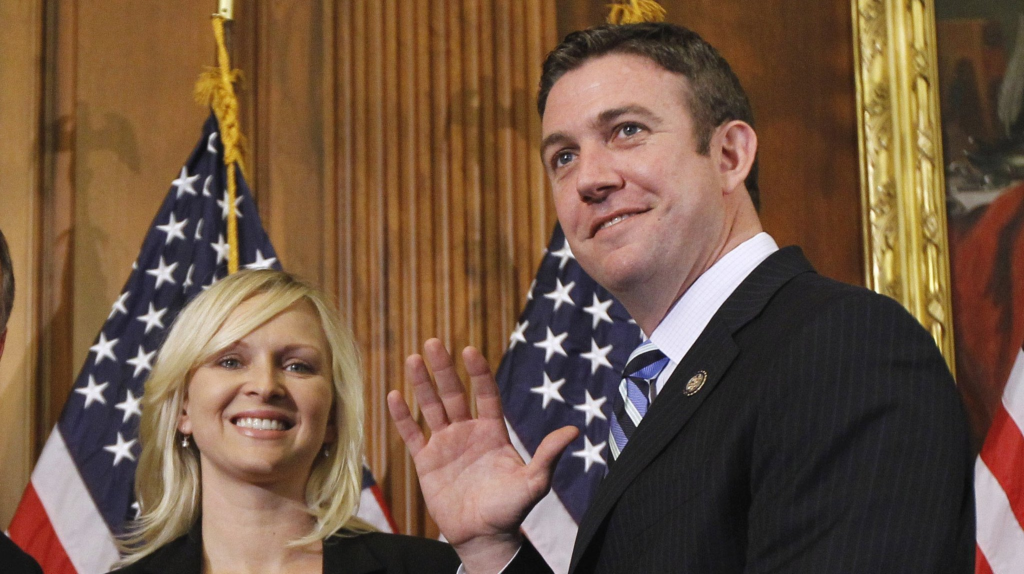 The wife of Congressman Duncan Hunter Jr., who faces charges along with her husband in connection with what appears to be a multi-million dollar diversion of funds from Hunter's campaign fund to pay personal expenses, has dealt her husband's legal case a significant setback by pleading guilty to the charges against her, raising the possibility that she could be a witness against him if he takes his case trial:
The wife of Representative Duncan Hunter of California pleaded guilty on Thursday to one criminal count in a case in which she and her husband were accused of using more than $200,000 in campaign funds for personal use — including lavish dinners, vacations, private school for their children, and even plane tickets for their pet rabbit.

Margaret Hunter, who has also agreed to cooperate with prosecutors, admitted in Federal District Court in San Diego that she had conspired with her husband to violate campaign finance law.

"I am deeply remorseful, and I apologize," Ms. Hunter, 44, said through her lawyers, Tom McNamara and Logan Smith. "I have accepted full responsibility for my conduct." She will face up to five years in prison and a $250,000 fine when she is sentenced on Sept. 16, about a week after Representative Hunter is to go on trial.

Mr. Hunter, a former Marine in Iraq and Afghanistan who was first elected in 2008 to a seat held by his father, did not attend the hearing on Thursday. But in a statement, he said that the case was politically motivated.

"I do not have the full details of Margaret's case, but it's obvious that the Department of Justice went after her to get to me for political reasons," he said. "The fact remains that this entire matter should have been handled by the Federal Election Commission."

In a statement before the hearing, Gregory Vega, Representative Hunter's lawyer, said Ms. Hunter's guilty plea would not have an immediate impact on his client's case.

"At this time, that does not change anything regarding Congressman Hunter," Mr. Vega said, according to The San Diego Tribune. "There are still significant motions that need to be litigated."

Mr. Hunter, a Republican, has sought to blame his wife for the corruption charges, saying in a 2018 Fox News interview that she was responsible for the couple's finances.

"Whatever she did, that will be looked at, too, I'm sure," he said. "I didn't do it. I didn't spend any money illegally."

Mr. Hunter has also responded to the charges by blaming a "deep state" conspiracy.
The origin of all this, of course, lies in the indictment issued against Hunter last August just before the start of the General Election campaign. As I noted at the time, the charges against the couple appear to be well-documented and there doesn't seem to be much question that what they did was illegal. Even back then, Hunter's response to the charges was to blame his wife and an alleged conspiracy against him, for what happened and vowed to fight the charges. It's also notable that, despite the charges, Hunter was re-elected in November although it was by a somewhat narrower margin than he has seen in the past.
In her plea agreement, which I've embedded below, Ms. Hunter agrees to cooperate fully with prosecutors in their investigation and in future court proceedings against other Defendants, implicitly including her husband. The agreement also includes language in which Hunter acknowledges and swears to the truth of the factual basis for the claims against her and her husband, something that will be incredibly damaging to her husband's defense. It also appears from the Plea Agreement that prosecutors have obtained the coverage of the Treasurer of Hunter's previous campaigns for office, who will apparently testify regarding the disbursements that were made from campaign funds for personal expenses incurred by the Hunters that were entirely unrelated to the campaign.
Although not stated in the news coverage, one assumes from the news coverage that the Hunters are currently estranged and are, at the very least, pursuing very different legal strategies. Where Ms. Hunter has, wisely it appears to me, chosen to cooperate with prosecutors in exchange for a lighter sentence, Congressman Hunter appears to be prepared to fight these charges notwithstanding what appears to be the overwhelming evidence against him and despite the fact that his alleged co-conspirator has apparently agreed to testify against him. This not only seems like an unwise move on this part but is made even more questionable by the fact that his defense doesn't seem to be about questioning the evidence the prosecution has made clear in the indictment issued against him. Instead, he appears intent on arguing that he is the victim of some sort of "Deep State" conspiracy.
Good luck with that one, Duncan.
Here's the plea agreement:
United States v. Margaret H… by on Scribd