Chris Collins And Duncan Hunter Jr. Re-Elected Despite Indictments
For Chris Collins and Duncan Hunter, Jr. being indicted didn't stop them from being re-elected.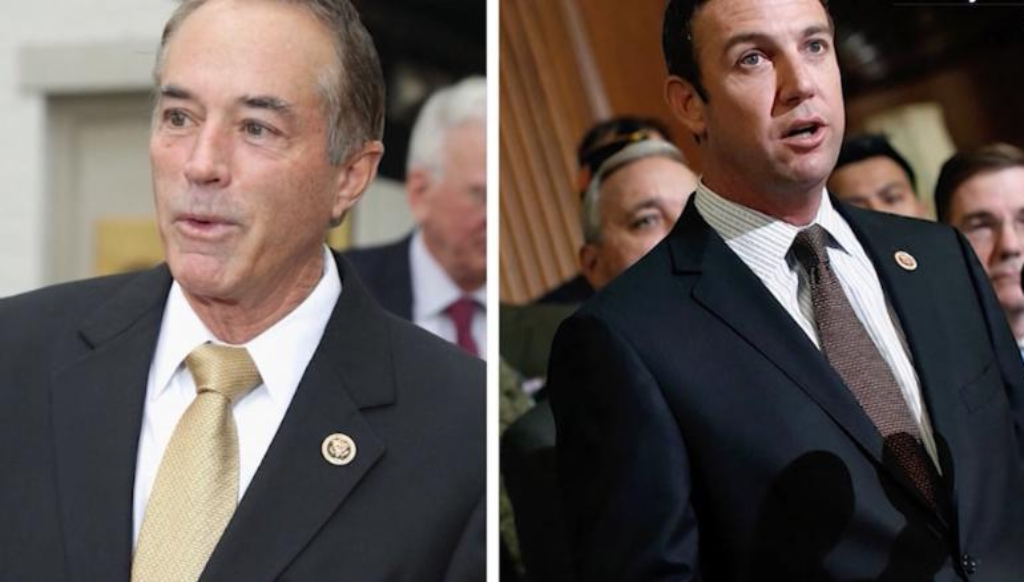 Two Republican Members of Congress who were indicted prior to the election yesterday but nonetheless decided to stand for re-election were nonetheless re-elected by the voters in their respective districts:
Republican Reps. Chris Collins and Duncan Hunter, who are both facing federal indictments, were re-elected to Congress Tuesday night, CNN projects.

Both men were early supporters of President Donald Trump, who blasted the Justice Department earlier this year for investigating the two Republicans.

Despite the federal charges against him, which he calls "meritless," Collins has been actively campaigning to keep his seat in New York's 27th Congressional District.

Collins, the first House member to endorse Trump's 2016 campaign, has been charged with securities fraud, wire fraud and false statements stemming from alleged insider trading in stock of an Australian pharmaceutical company.

Hunter, who represents California's 50th Congressional District, was indicted the same month as Collins in August — but for charges of campaign corruption related to a quarter-million dollars' worth of charges on his campaign credit card. Hunter claimed he was framed by a "corrupt" Department of Justice but also placed blame on his wife.

He went on to suggest that his Mexican-Palestinian-American opponent — a 29-year-old former Obama administration aide who is Christian — is a Muslim with ties to terrorism who would threaten the security of US soldiers.
Collins, who was among the first Members of Congress to endorse Donald Trump's bid for the Republican nomination and the Presidency, was indicted on multiple counts of securities fraud and insider trading related to the stock of a company for which he sat on the Board of Directors. Initially, Collins said that he intended to fight the charges and that he would remain on the ballot in November, which posted obvious challenges for Republicans hoping to hold on to a district that the GOP would ordinarily win. Several days after his indictment, though, Collins announced that he was suspending his campaign and appeared to indicate that he would leave Congress at the end of his term. That announcement set in motion efforts by Republican officials in upstate New York to find an alternative candidate and a legal method to get Collins off the ballot in a manner permitted by New York's somewhat convoluted election laws. In September, though, Collins announced that he was unsuspending his campaign and would stand for re-election despite the fact that he faces a trial in the Spring.
Like Collins, Hunter was an early supporter of Trump's who was indicted back in August along with his wife on charges that he used hundreds of thousands of dollars of campaign funds for personal expenses and luxuries in an indictment that seems to be rather airtight. In response, Hunter sought to blame his wife and the so-called "Deep State" for what he claimed was a meritless indictment. At the same time, as noted Hunter ran a campaign that basically consisted of little more than attacks on the Palestinian heritage of his Democratic opponent in some of the vilest campaigning of the entire midterm cycle.
Left unstated in all of this is whether either Collins or Hunter will find their cases referred to the House Ethics Committee pending their criminal power. With the new makeup of the House, Democrats may seek to do just that.