Sgt. Bowe Bergdahl Pleads Guilty To Desertion And Other Charges
The Bergdahl case comes to an end.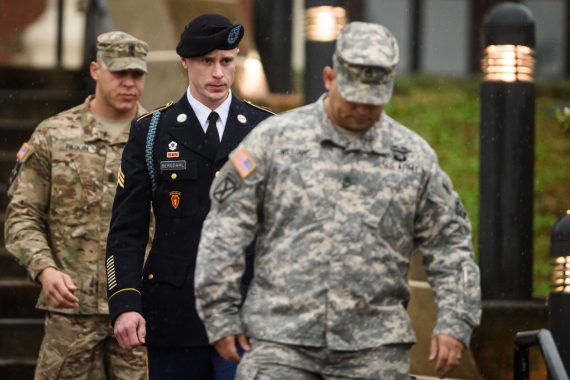 Sgt. Bowe Bergdahl, who had been held as a prisoner of the Taliban for five years before being released as part of a deal that quickly became a point of political and legal controversy, has pled guilty to desertion and other charges in relation to his abandonment of his post in Afghanistan and subsequent capture by Taliban forces:
FORT BRAGG, N.C. — Sgt. Bowe Bergdahl, who walked off his base in eastern Afghanistan in 2009, setting off a huge military manhunt and a political furor, pleaded guilty on Monday to desertion and to endangering the American troops sent to search for him.

The guilty pleas by Sergeant Bergdahl, a 31-year-old Idaho native now stationed at an Army base in San Antonio, Tex., were not part of any deal with prosecutors.

It will now be up to an Army judge here at Fort Bragg to decide the sergeant's punishment, following testimony at a hearing that is expected to begin as soon as next week. The desertion charge carries a potential five-year sentence, and the charge of endangering troops — formally known as misbehavior before the enemy — carries a potential life sentence.

In a military courtroom here on Monday morning, Sergeant Bergdahl stood before the judge, Col. Jeffery A. Nance, and described his actions as inexcusable.

"You just walked away?" Colonel Nance asked him.

"Yes, sir," Sergeant Bergdahl replied. "Unfortunately, I got lost in my first 20 minutes."

Sergeant Bergdahl has previously said that he had intended to walk from his unit's outpost to a larger base about 18 miles away, in order to report what he felt were leadership problems in his unit. He said he wanted to cause a major stir, to ensure that he received an audience with a high-ranking officer.

But he told Judge Nance on Monday that he never meant to set off the huge manhunt that followed his disappearance.

"At the time, I had no intention of causing search and recovery operations," said Sergeant Bergdahl, who was a private first class when he disappeared. "I didn't think they would have any reason to search for one private."

His decision to plead guilty appeared to reflect the impact of a string of victories by Army prosecutors in motions and hearings over the past year. They include rulings by Colonel Nance to allow the case to go forward despite inflammatory statements on the campaign trail by President Trump, and to allow prosecutors to introduce evidence of grievous injuries suffered by service members who, the judge ruled, were searching for the sergeant at the time.

Sergeant Bergdahl was captured by Taliban militants within hours of disappearing from his remote outpost, and was held captive for five years.

He endured torture, including beatings with rubber hoses and copper cables, that his military debriefer later characterized as the most profound abuse sustained by any American service member since the Vietnam War. He was released in May 2014, when the Obama administration freed five detainees from Guantánamo Bay, Cuba, in exchange for him.

His case soon turned into a politically charged referendum in Washington on the Obama administration's foreign policy. After he was freed, President Obama's national security adviser, Susan Rice, said Sergeant Bergdahl, who was promoted while in captivity, had served with "honor and distinction," and Mr. Obama appeared with his parents at the White House.

But Republicans attacked the trade that led to his release, and some critics asserted that he had deserted to the Taliban or that some troops had died searching for him. During the presidential race last year, Mr. Trump also described the sergeant a "dirty rotten traitor" and called for him to be executed, pantomiming a firing squad.

At a preliminary hearing, the Army's chief investigator, Maj. Gen. Kenneth Dahl, testified that he had found no evidence that any soldiers had been killed while specifically searching for Sergeant Bergdahl. Neither was there evidence that the sergeant intended to desert and join the Taliban, he said.

General Dahl — now a lieutenant general — also testified that he found Sergeant Bergdahl to be truthful, albeit naïve and delusional, and that jailing the sergeant would be "inappropriate."

Sergeant Bergdahl's defense team later argued that Mr. Trump's comments made a fair trial impossible, since everyone who could play a role in deciding his fate — including prosecutors, the judge and the general who controls the case — now ultimately reports to Mr. Trump as commander-in-chief. But Colonel Nance concluded that while Mr. Trump's comments were "disturbing," there was no reason to dismiss the charges.

Though the guilty pleas entered on Monday are of enormous legal significance, few significant facts were in dispute about what Sergeant Bergdahl did or why he did it. Several months after he was freed, he spent a day and a half answering every question put to him by General Dahl, filling a nearly 400-page transcript.
It does not appear that the guilty plea came about as a result of a deal between Bergdahl and the military prosecutors in charge of prosecuting him, nor does it appear that there was any agreement regarding a potential sentence. Because of that, it will be entirely up to the Judge presiding over his trial to determine what his sentence should be, although that sentence could be revisited by a higher authority. Additionally, it's possible that the underlying charges themselves or the sentence could be overturned on appeal if Bergdahl chose to exercise those appeals. If he did, the most likely avenue of appeal would seem to be the military court's previous denial of Berghdahl's motion to have the charges against him dismissed due to the comments made about his case made by President Trump while he was still a candidate for the Presidency. Those comments included several occasions in which Trump referred to Bergdahl at various points as a "dirty, rotten traitor," as a "traitor" who should be executed for his crimes, although Bergdahl does not face the death penalty in the instant case against him, Trump repeated this mantra at many points during the campaign, although he has not repeated them since becoming President last January. During the hearing on Berghdahl's motion, the Judge hearing the case called Trump's comments "disturbing," but as I said ultimately ruled that they were not sufficient to constitute the kind of undue Command influence that could lead to dismissal of the charges.
As noted, the sentence that Bergdahl faces could end up being quite serious, although it's possible that his willingness to accept responsibility for the charges against him will work in his favor. The maximum penalty that could be imposed would be life in prison, but at first glance it seems unlikely that this will happen given his willingness to plead guilty. At the very least, though, he will likely face at least some time in prison as well as a reduction in rank, a loss of rank, and an eventual dishonorable discharge that will follow him for the rest of his life. All in all, that seems like a fitting punishment for what was a wholly irresponsible action on his part, even if one accepts his explanation for what motivated him to abandon his post.