Bowe Bergdahl Charged With Desertion, Other Offenses As White House Narrative Collapses
Bowe Bergdahl will face charges of desertion and misbehavior before the enemy, and the White House's narrative about this release lies in tatters.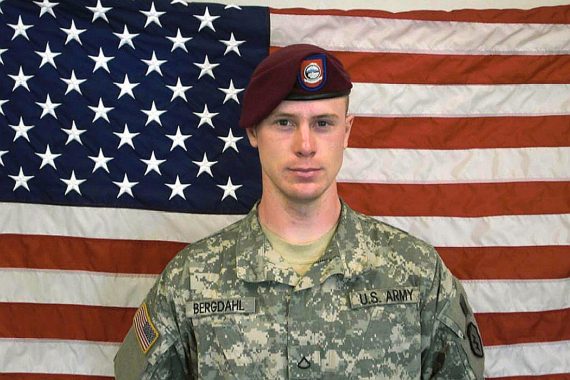 Late yesterday, the Army officials at Fort Bragg in North Carolina announced that Sgt. Bowe Bergdahl, who was returned to the United States from five years of Taliban captivity thanks to a deal that included the release of five prisoners from the military prison at Guantanamo Bay, will be charged with desertion and other offenses that could lead to him spending the rest of his life in a military prison:
On Wednesday, the Army announced that it was charging Sergeant Bergdahl with misbehavior before the enemy and desertion, raising the possibility that he could be imprisoned again, this time for life.

In announcing the charges against Sergeant Bergdahl, the military reignited the political firestorm that took place last summer after the sergeant was released in a swap for five Taliban detainees at Guantánamo Bay, Cuba.

For President Obama, it reopens the contentious political question of whether the United States should have agreed to the exchange. Administration officials have steadfastly maintained that even if Sergeant Berdahl did voluntarily walk off his remote base in Afghanistan, it was the duty of the United States to take all appropriate steps to free him.

The president's national security adviser, Susan E. Rice, was harshly criticized when she said last summer that Sergeant Bergdahl had served "with honor and distinction" at the same time that his former platoon members were appearing on television accusing him of deliberately leaving the base, an act that they said put in danger the lives of the American military members who searched for him.

Sergeant Bergdahl is charged with misbehavior before the enemy, which carries a maximum sentence of up to life in prison, and with desertion, which carries a maximum penalty of five years in prison. He could also face a dishonorable discharge, reduction in rank and forfeiture of the pay he was owed while in captivity if he is tried and convicted, Army officials said during a news conference in Fort Bragg, N.C.

The case will now go to Fort Sam Houston, Tex., for a hearing that is similar to a grand jury in a civilian court. After that, a military tribunal will determine whether Sergeant Bergdahl should be court-martialed.

Sergeant Bergdahl's lawyer, Eugene R. Fidell, said Wednesday that the sergeant's legal team had not decided how it would proceed, including whether it would try to negotiate a discharge for Sergeant Bergdahl in lieu of trial by court-martial. In a March 2 letter to Gen. Mark A. Milley, the commanding general of United States Army Forces Command at Fort Bragg, Mr. Fidell wrote that an impartial court-martial would be impossible to form because of the political tension over Sergeant Bergdahl's captivity and release.

"While many Americans have taken a broader and more sympathetic view, the depth and breadth of the current hostility to Sergeant Bergdahl are extraordinary and have enveloped the case with a lynch mob atmosphere," Mr. Fidell wrote.

The materials disclosed by Mr. Fidell say nothing about Sergeant Bergdahl's mind-set when he left his platoon at a remote outpost in eastern Afghanistan, and the Army has not laid out details of the case against him.

In his letter to General Milley, Mr. Fidell summarized what he described as parts of an unreleased report by Maj. Gen. Kenneth R. Dahl, whointerviewed Sergeant Bergdahl and conducted the military's investigation into his disappearance. Mr. Fidell's description of the report's executive summary suggests that it offers mitigating conclusions that could help Sergeant Bergdahl at any court-martial.

"While hedging its bets, the report basically concludes that Sergeant Bergdahl did not intend to remain away from the Army permanently," Mr. Fidell wrote.
The circumstances of Bergdahl's release have, of course, been clouded in political controversy from virtually the moment that President Obama appeared in the White House Rose Garden in late May of last year with his parents to announce that Bergdahl, who had been held in captive by the Taliban for five years, was now safely back in American custody. In his remarks, President Obama spoke of never leaving a member of the military behind, while National Security Adviser Susan Rice said that Bergdahl had "served with honor and distinction." The deal quickly came under criticism from Republicans due both to the terms, which led to the United States releasing five Taliban prisoners, and because of the stories that quickly began to leak out which suggested that Bergdahl's capture occurred after he had abandoned his post, and even allegations that Bergdahl had aided the enemy in some way while in captivity. The Administration found itself in more political hot water when even Democrats pointed out that they had violated existing law by failing to inform Congress of the release of Guantanamo prisoners prior to that release taking place. In the weeks after Bergdahl's release, the accusations that Bergdahl had deserted his post became louder, thanks in no small part to members of Bergdahl's unit who came forward in the weeks after his release to speak about what they knew about this time in the military. While the Army eventually cleared Bergdahl of any charges that he aided the enemy, the investigation of his possible desertion continued. Now, it appears that the the investigation is complete and, while Bergdahl is of course entitled to the same presumption of innocence as any other person charged with a crime in a civilian or military court, it's also quite apparent that, as The Daily Beast put it, everything the Obama Administration told us about Bowe Bergdahl was wrong, and that the deal that led to his release is now likely to become even more controversial.
As Jonathan Turley notes, all of this makes it likely that the proceedings in Bergdahl's case, which is likely headed for a court martial, will likely become a political football:
The fact that Bergdahl may be a deserter might not have changed the merits of the decision to seek his release in a trade. President Obama must have known that there was an allegation of desertion before ordering the swap. It is clear that he acted out of an honest concern for an American in deplorable and dangerous conditions. However, the decision of the White House to avoid informing Congress, as required under federal law, clearly reflected a discomfort of the administration over the merits of such a trade with terrorists. That debate is now going to happen as part of a very public trial.

Indeed, it will be a challenge to insulate a trial from the powerful political winds swirling around Bergdahl and the deal that led to his freedom. The fact is that Bergdahl is not just a defendant. He has entered that dangerous realm of being a symbol in a political scandal.

In the end, it will not be a political symbol but an Army sergeant who will have to answer for these alleged crimes. Bergdahl may, for the first time, publicly answer some of these allegations for himself. It will not only be the first time that he will be heard, but the first answer that the public has received in months of controversy over his release.
So far at least, there has been no response form the White House regarding the charges against Bergdahl and, given the fact that the President is Commander in Chief we are unlikely to hear anything from them at all. As we've seen before, statements from the President can potentially have serious consequences for military prosecutors, and given everything else that has happened in this case it is unlikely that the White House is going to want to be seen as having done something that aids Bergdahl's defense in any respect. That being said, though, the Bergdahl case is likely to hang over the Administration like a political albatross as it makes its way through the court system. Even if you believe that everything should have been done to secure Bergdahl's release from captivity, a position I tend to agree with, it's fairly clear that the White House mishandled this matter from the start. Not informing Congress as required by law was, quite simply, unacceptable and even Democrats on Capitol Hill have called the Administration out for that failure. Beyond that, though, the allegations about Bergdahl's possible desertion have been known by the military for years and, presumably, were passed on to the White House at some point during this entire process. Given those allegations, it should have been obvious that Bergdahl's release would be a controversial one and that hailing it in a White House Rose Garden statement and claiming that Bergdahl had served with "honor and distinction" was quite simply an unnecessary lie.