Republicans Criticize Deal That Led To American P.O.W.'s Release
Petty politics, or valid concerns?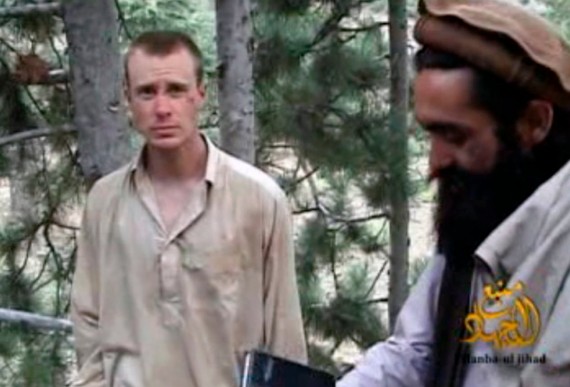 Several Republican Members of Congress are criticizing the deal that led to the release of Sgt. Bowe Bergdahl after five years of Taliban captivity:
Amid jubilation Saturday over the release of U.S. Army Sgt. Bowe Bergdahl from captivity by the Taliban, senior Republicans on Capitol Hill said they were troubled by the means by which it was accomplished, which was a deal to release five Afghan detainees from the military prison in Guantanamo Bay, Cuba.

The top Republicans on the Senate and House Armed Services Committees went so far as to accuse President Obama of having broken the law, which requires the administration to notify Congress before any transfers from Guantanamo are carried out.

"Trading five senior Taliban leaders from detention in Guantanamo Bay for Bergdahl's release may have consequences for the rest of our forces and all Americans. Our terrorist adversaries now have a strong incentive to capture Americans. That incentive will put our forces in Afghanistan and around the world at even greater risk," House Armed Services Committee chairman Howard P. McKeon (R-Calif.) and ranking Senate Armed Services Republican James Inhofe (R-Okla.) said in a joint statement.

Lawmakers were not notified of the Guantanamo detainees' transfer until after it occurred.

The law requires the secretary of defense to notify relevant congressional committees at least 30 days before making any transfers of prisoners, to explain the reason and to provide assurances that those released would not be in a position to re-engage in activities that could threaten the United States or its interests.

Before the current law was enacted at the end of last year, the conditions were even more stringent. However, the administration and some Democrats had pressed for them to be loosened, in part to give them more flexibility to negotiate for Bergdahl's release.

A senior administration official, agreeing to speak on the condition of anonymity, acknowledged that the law was not followed.

"Due to a near-term opportunity to save Sergeant Bergdahl's life, we moved as quickly as possible," the official said. "The administration determined that given these unique and exigent circumstances, such a transfer should go forward notwithstanding the notice requirement."

Sen. John McCain (R-Ariz.) said that the detainees transferred from Guantanamo to Qatar, where they are to stay for at least a year, "are hardened terrorists who have the blood of Americans and countless Afghans on their hands. I am eager to learn what precise steps are being taken to ensure that these vicious and violent Taliban extremists never return to the fight against the United States and our partners or engage in any activities that can threaten the prospects for peace and security in Afghanistan."
I can't speak to the legal issues at play here, but I would imagine that the law in question has at least some exceptions contained within it that would apply in a situation such as this where time is of the essence. Even without those exceptions, though, it's unclear what the penalty might be for failure to comply with the 30 day notice requirement other than giving Congress the ability to air a legitimate complaint.
As to the broader issue, though, it strikes me that it's going to be hard for the GOP to come out of a real battle with the President over this looking good, if that's what they choose to do here. Yes, it's true that we have "negotiated with terrorists" to ensure the release of an American Prisoner of War, but it's not as if we haven't done that before. President Reagan did it on several occasions as part of the efforts to ensure the release of the Americans and others who were kidnapped in Lebanon back in the 1980s and, indeed, went so far as to engage in secret diplomatic negotiations with Iran to advance those discussions. But what else were he and President Obama supposed to do? In both cases, rescue seemed to be unlikely due to where the men in question were being held. So, if you want to get the prisoner out alive, you have to talk to the people holding them. Yes, we're admittedly taking a risk in releasing these five men from Guantanamo, but prisoner exchanges have been a part of war since time immemorial, why is it such a bad thing this time?
On a final note, I guess I'd just have to wonder what these Republicans would say to Sgt. Bergdahl's parents. Would they tell them that we should have let their son continue to be held hostage to prove a broader political point? We like to say that we would never leave a solider behind, and today we proved that. Sgt. Bergdahl is coming home, and that strikes me as a good thing. Perhaps Republicans should stop trying to score political points against the President and be thankful for that.