Lone American P.O,W. From Afghan War Freed In Prisoner Swap With Taliban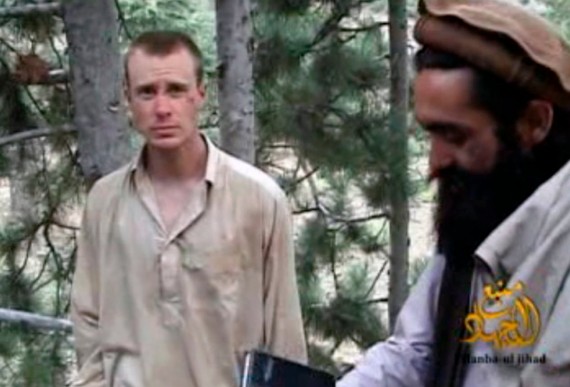 Sgt. Bowe Bergdahl, the only American ever held as a POW by the Taliban, has been freed after five years in captivity:
WASHINGTON — The lone American prisoner of war from the Afghan conflict, captured by insurgents nearly five years ago, has been released to American forces in exchange for five Taliban prisoners held at the Guantánamo Bay, Cuba, detention facility, Obama administration officials said Saturday.

The soldier, Sgt. Bowe Bergdahl, was handed over to American Special Operations forces inside Afghanistan about 10:30 a.m. Saturday by a group of 18 Taliban, officials said.

American officials said that Sergeant Bergdahl was in good condition and able to walk.

The five Taliban prisoners at Guantánamo were being transferred into the custody of officials from Qatar, who will accompany them back to that Persian Gulf state, where they will be subject to security restrictions, including a one-year travel ban.

Talks on the exchange resumed in earnest about a week ago with Qatari officials who were acting as intermediaries for the Taliban.

President Obama personally telephoned the soldier's parents on Saturday, shortly after Sergeant Bergdahl was transferred to the American military; the Bergdahl family was in Washington after a visit here for Memorial Day, officials said.

"Sergeant Bergdahl's recovery is a reminder of America's unwavering commitment to leave no man or woman in uniform behind on the battlefield," President Obama said in a statement.

Sergeant Bergdahl is believed to have been held by the militant Haqqani network in the tribal area of Pakistan's northwest frontier, on the Afghan border. He was captured in Paktika Province in Afghanistan on June 30, 2009.

The circumstances of how he was separated from his unit and captured have remained a mystery.
The White House has issued a statement from President Obama on the release of Sgt. Bergdahl:
Today the American people are pleased that we will be able to welcome home Sergeant Bowe Bergdahl, held captive for nearly five years.  On behalf of the American people, I was honored to call his parents to express our joy that they can expect his safe return, mindful of their courage and sacrifice throughout this ordeal.  Today we also remember the many troops held captive and whom remain missing or unaccounted for in America's past wars.  Sergeant Bergdahl's recovery is a reminder of America's unwavering commitment to leave no man or woman in uniform behind on the battlefield.  And as we find relief in Bowe's recovery, our thoughts and prayers are with those other Americans  whose release we continue to pursue.

For his assistance in helping to secure our soldier's return, I extend my deepest appreciation to the Amir of Qatar.  The Amir's personal commitment to this effort is a testament to the partnership between our two countries.  The United States is also grateful for the support of the Government of Afghanistan throughout our efforts to secure Sergeant Bergdahl's release.

This week the United States renewed its commitment to the Afghan people and made clear that we will continue to support them as their chart their own future.  The United States also remains committed to supporting an Afghan-led reconciliation process as the surest way to achieve a stable, secure, sovereign, and unified Afghanistan.  While we are mindful of the challenges, it is our hope Sergeant Bergdahl's recovery could potentially open the door for broader discussions among Afghans about the future of their country by building confidence that it is possible for all sides to find common ground.
This is exceedingly good news and, from the photograph above, it appears that Sgt. Bergdahl is in relatively good condition given the circumstances of his condition, especially since its unlikely that his captors were abiding by the Geneva Convention. The prisoner swap is apparently something that negotiators have been working on for some time and, while some may complain about it, it strikes me that it was well worth it. Here's hoping that Sgt. Bergdahl returns to the United States as soon as possible and that he receives all the treatment he needs.