Bowe Bergdahl Receives Dishonorable Discharge, Reduction In Rank, Will Not Serve Prison Time
Bowe Bergdahl received a dishonorable discharge and reduction in rank, but will not serve time in prison.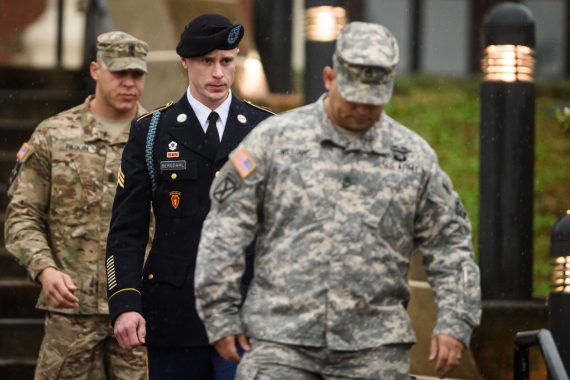 Sgt. Bowe Bergdahl, who had been held as a prisoner of the Taliban for five years before being released as part of a deal that quickly became a point of political and legal controversy, was sentenced today to a reduction in rank and dishonorable discharge, but will not face prison time for the 2009 incident in which he abandoned his post and was later captured by the Taliban and held prisoner for five years:
FORT BRAGG, N.C. — Sgt. Bowe Bergdahl was dishonorably discharged from the Army by a military judge on Friday, but received no prison time, for desertion and endangering troops, ending a drama that began more than eight years ago in war-torn Afghanistan.

At the sentencing hearing, the military judge, Col. Jeffery R. Nance of the Army, also reduced Sergeamt Bergdahl's rank to private and required him to forfeit $1,000 a month of his pay for 10 months.

The sentencing took only minutes: The judge entered the courtroom, read the verdict, and left shortly after. Colonel Nance did not explain the reasoning for the sentence that he imposed.

The sentence will be reviewed by Gen. Robert B. Abrams, who convened the court-martial, and has the power to lessen the punishment. If the final sentence still includes a punitive discharge, it will then automatically be reviewed by the United States Army Court of Criminal Appeals.

Sergeant Bergdahl was 23 and a private first class when he walked off his base in eastern Afghanistan in June 2009. Army investigators would later characterize his departure as a delusional effort to hike to a larger base and cause enough of a stir that he would get an audience with a senior officer to report what he felt were problems in his unit.

But the soldier, who is now 31, was captured by the Taliban within hours, and would spend five years as a prisoner, his treatment worsening after every attempt he made to escape. He was beaten with copper cables, and held in isolation in a metal cage less than seven feet square. He suffered dysentery for most of his captivity, and cleaned feces off his hands with his own urine so that he could eat enough bread to survive.

The military searched for him, and several troops were wounded during search missions. One of them, Sgt. First Class Mark Allen, was shot through the head and lost the ability to walk, talk or take care of himself, and now has minimal consciousness. His wife, Shannon, testified that he is not even able to hold hands with her any more. On a separate rescue mission, Senior Chief Petty Officer Jimmy Hatch, a Navy SEAL, suffered a leg wound that would require 18 surgical procedures and end his long career in special operations.

Sergeant Bergdahl — he was promoted while in captivity — was freed in 2014 when the Obama administration exchanged five Taliban detainees at Guantánamo Bay for him, setting off a political furor that still reverberates. Congressional Republicans were angered by the release of Taliban prisoners and by the way the Obama administration portrayed the sergeant, including a statement by the national security adviser, Susan E. Rice, that he had served with "honor and distinction."

Army investigators quickly dismissed claims that troops had died searching for Sergeant Bergdahl, or that he had intended to defect to the Taliban. They suggested that he could be prosecuted for desertion and for some lesser crimes. But in March 2015, the Army raised the stakes, accusing him not only of desertion but also of misbehavior before the enemy, an ancient but rarely charged crime punishable by up to life in prison. In this case, the misbehavior was endangering the troops who were sent to search for him.

Even so, the sergeant's defense seemed to have some momentum. The Army's chief investigator on the case testified at Sergeant Bergdahl's preliminary hearing that he did not believe any jail time was warranted, and the preliminary hearing officer suggested that the whole episode might have been avoided "had concerns about Sergeant Bergdahl's mental health been properly followed up." But the four-star general in charge of the case at Fort Bragg ordered that Sergeant Bergdahl face a court-martial on both charges.

Politics dogged the case from the start. The Obama administration's embrace of Sergeant Bergdahl gave the president's opponents a new target to attack, according to some military justice experts. After the preliminary hearing officer recommended leniency, Senator John McCain, the Arizona Republican whose committee oversees senior military appointments, warned that he would hold a hearing if the sergeant were not punished.

Then, last year, Donald J. Trump made denunciations of Sergeant Bergdahl as a "dirty rotten traitor" a staple of his campaign speeches, and called for the sergeant to be executed.

Once Mr. Trump was inaugurated, Sergeant Bergdahl's defense team, led by Eugene R. Fidell, who teaches military justice at Yale Law School, demanded that the case be dismissed. There was no way the sergeant could receive a fair trial, his lawyers said, since everyone in the military justice system now reported to Mr. Trump as commander in chief.

Colonel Nance labeled Mr. Trump's comments "disturbing" but declined to throw out the case. Then, last month, President Trump seemed to endorse his earlier sentiments about Sergeant Bergdahl, saying, "I think people have heard my comments in the past."

After another protest by the defense, Colonel Nance ruled that he would consider the president's comments as evidence in mitigation as he deliberated on a sentence.

People could conclude, the judge explained, that the president had "wanted to make sure that everyone remembered what he really thinks should happen" to Sergeant Bergdahl.

During the sentencing hearing, Sergeant Bergdahl took the stand and apologized for his actions, saying that he never intended for anyone to get hurt, and that he grieved "for those who have suffered and their families."

He added, "I'm admitting I made a horrible mistake."
Bergdahl's sentence will be reviewed by the General who convened the court martial, and if necessary by the Court of Criminal Appeals, but as noted the sentence can only be reduced, not increased. Additionally there does not appear to be any means under which the sentence could be overturned for being too light or otherwise returned for further proceedings. Therefore, it seems clear that Bergdahl will not serve any time for what happened, which seems to me to be the correct decision under the circumstances. Based on the available facts, it is clear that Bergdahl did not walk off base with the intention of deserting to the enemy and that the main reason for his actions were a combination of his dissatisfaction with the way his unit was operating and the fact that he simply wasn't well-suited for the position he was placed in. In other words, what he did was wrong in some sense of the word but it didn't amount to the kind of charge for which jail time was appropriate.
One of the biggest issues at the trial ended up revolving not around Bergdahl's actions, but around the comments that the President of the United States made about him. Those comments included several occasions in which Trump referred to Bergdahl at various points as a "dirty, rotten traitor," and as a "traitor" who should be executed for his crimes, although Bergdahl did not face the death penalty in the instant case against him, Trump repeated this mantra at many points during the campaign, although he has not repeated them since becoming President last January. Those comments formed the basis of a pretrial motion by Bergdahl's attorneys alleging that the President's comments, even though they were made when he was a candidate, tended to place undue influence on the trier of fact in the case in violation of the Uniform Code of Military Justice. The Judge presiding over the case denied the motion to have the charges dismissed, but nonetheless called them "disturbing," and he repeated that comment during the sentencing proceedings when it was noted that Trump had recently said that he stood by those comments, although he fell short of actually repeating them. The extent to which those comments played a role in the sentence that Bergdahl received is unclear, but the President clearly isn't pleased by the outcome, as a tweet this afternoon makes clear:
The decision on Sergeant Bergdahl is a complete and total disgrace to our Country and to our Military.

— Donald J. Trump (@realDonaldTrump) November 3, 2017
As I said, I think that the sentence is appropriate under the circumstances. Bergdahl suffered enough in his captivity and holding him in a military prison would not accomplish anything at this point. As it is, the dishonorable discharge and reduction in rank will follow him the rest of his life, which seems fitting.