Judge In Bergdahl Court Martial Calls Trump's Comments About Case 'Disturbing'
Could Donald Trump's comments about Sgt. Bowe Bergdahl on the campaign trail lead to the case against Bergdahl being dismissed? A military judge will have to decide.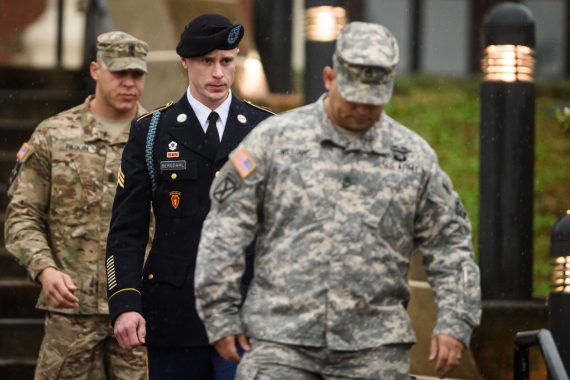 The Judge presiding over Sgt. Bowe Bergdahl's court martial on charges related to his desertion from his post while serving in Afghanistan is questioning the potential legal impact of comments that President Donald Trump made about Bergdahl's case while running for President:
FORT BRAGG, N.C. — A military judge called President Donald Trump's scathing campaign-trail criticism of Army Sgt. Bowe Bergdahl "disturbing" on Monday and questioned whether it would make the public think the soldier can't get a fair trial for walking off his post in Afghanistan in 2009.

During a pretrial hearing, defense attorneys played part of a video exhibit in which Trump repeatedly says at campaign appearances that Bergdahl is a "traitor" who should be harshly punished. Bergdahl's lawyers argue the comments violate their client's due-process rights and that the case should be dismissed.

The judge, Army Col. Jeffery Nance, didn't immediately rule on the defense request, but called the footage of Trump condemning Bergdahl "disturbing material." A written decision was expected later.

Defense lawyers played about five minutes of the footage in which Trump repeatedly used phrases such as "no good traitor" to refer to the soldier who was held captive by the Taliban and its allies for five years.

Bergdahl sat mostly still during the video presentation, looking away at times. By the end of the footage, the muscles Bergdahl's jaw were visibly bulging as he apparently clenched his teeth.

Prosecutors say Trump's comments amounted to campaign rhetoric against actions taken by the Obama administration to bring Bergdahl home.

"These comments are clearly intended to try to attack a political opponent for political gain," said Army Maj. Justin Oshana, a prosecutor.

The Obama administration's decision in May 2014 to exchange Bergdahl for five Taliban prisoners prompted some Republicans to accuse Obama of jeopardizing the nation's safety.

Oshana said potential jurors' exposure to Trump's comments could be addressed through questioning during jury selection. He added that it would be unprecedented to dismiss the case without first trying to seat a jury.

But Nance asked, "How does that relate to overcoming the black eye to the military justice system … the view the public might have?"

That question goes to the heart of the defense argument that Trump's comments constitute unlawful command influence by the new commander in chief. Even the appearance of such unfairness can theoretically derail a military case.

The defense's motion, filed shortly after Trump was sworn in as president, cites more than 40 instances of Trump's criticism at public appearances and media interviews through August 2016.

 Eugene Fidell, Bergdahl's defense attorney, argued Monday that Trump has kept other campaign promises, so his comments about Bergdahl should be taken seriously. They played a clip of Trump promising his audience at a December 2015 campaign rally to review the case if Bergdahl got a light punishment.

Nance also took note of that statement, asking prosecutors: "You're not at all concerned about the statement he made, 'If I get in we will review his case' … after ranting and raving about no jail time?"
As noted in the Washington Post article linked above, Trump made reference to Bergdahl many times on the campaign trail and made some rather specific comments about the potential outcome of the Berghdahl court martial several times during the course of the campaign. Two months after he entered the race in June 2015, Trump called Bergdahl a "dirty, rotten traitor."  In October of that year, Trump referred to him as a "No good traitor" who would have been executed thirty years ago. In the year that followed until Election Day in November, Trump repeated the treason charges, and continued to opinion, based most likely solely on what he's seen on television, that Bergdahl was guilty of the charges against him. In remarks before the election that cited Trump's long history of comments about the case, Bergdahl's attorneys contacted Trump's campaign in March seeking to depose Trump regarding his comments seeking his deposition. By contrast, the only comments that Hillary Clinton appears to have made regarding the Bergdahl matter appear to be a passage in her book Hard Choices that appears to suggest that she was doubtful about negotiating directly with the Taliban as well as subsequent comments during her book tour where she said that the fact that Bergdahl might have deserted his unit does not mean that the United States should not have tried to bring him home in the manner it did.
Trump's comments while running for President are relevant to Bergdahl's trial due to a concept in the law governing criminal proceedings in military courts that doesn't have a real counterpart in the civilian world called "undue command influence" that exists to ensure that a defendant in a court-martial gets a fair trial. Because juries in such cases are comprised of members of the military, as are the Judges, prosecutors, and defense counsel (unless the defendant choose to retain a civilian attorney), the concern behind the concept is that remarks by higher ranking officers would unduly influence the outcome of the case or bring to the attention of participants facts that they should not be considering in their deliberation. It is defined in Article 37 of the Uniform Code of Military Justice:
(a) No authority convening a general, special, or summary court-martial, nor any other commanding officer, may censure, reprimand, or admonish the court or any member, military judge, or counsel thereof, with respect to the findings or sentence adjudged by the court, or with respect to any other exercises of its or his functions in the conduct of the proceedings. No person subject to this chapter may attempt to coerce or, by any unauthorized means, influence the action of a court-martial or any other military tribunal or any member thereof, in reaching the findings or sentence in any case, or the action of any convening, approving, or reviewing authority with respect to his judicial acts. The foregoing provisions of the subsection shall not apply with respect to (1) general instructional or informational courses in military justice if such courses are designed solely for the purpose of instructing members of a command in the substantive and procedural aspects of courts-martial, or (2) to statements and instructions given in open court by the military judge, president of a special court-martial, or counsel.
What this basically means is that superior officers should refrain from commenting on the merits of specfic cases or opining on the guilt or innocence of Defendants in military court proceedings due to the danger that their comments may unduly influence the opinions of the Judge and Jury in a relevant Court Martial and place pressure upon them to decide the case in a certain manner because of the comments made by someone higher up in the chain of command even if it is someone they don't directly report to. This is similar to the civilian world in some respects in that Judges and Attorneys in civil trials try to ensure that prospective jurors will be able to judge a case based only on the facts and law presented to them and that they have not been tainted by popular sentiment for or against a defendant, witness, or member of the prosecution team. Because the military is different from the civilian world in that higher ranking officers have the potential authority to impact the career of an officer serving in a Court Martial proceeding, though, the potential sanction is even tougher than it would be in civilian court where the most that would be likely to happen is that someone being influenced from the outside could be removed from a jury. Under Article 37, a finding that a superior officer has made comments that could or did unduly influence a proceeding could result in the charges in those cases being dismissed due to the prejudicial impact on a Defendant's right to a fair trial. In the last several years, this defense has been successfully used to result in the dismissal of charges in outstanding criminal cases under the UCMJ.  In June 2014, for example, attorneys for a Marine on trial for sexual assault successfully argued that comments made by the Commandant of the Marine Corps regarding sexual assault cases in his branch of the military were sufficiently specific to constitute the kind of undue influence that ought to result in dismissal of the underlying charges. As James Joyner noted at the time, while the Commandant's comments were not regarding the specific facts of the case against the Marine, they were sufficiently specific to constitute an admonishment to members of the jury that they should start with the assumption that claims of sexual assault are true rather than a presumption of innocence as required by law. Just a year earlier in a separate case, charges against two Navy Defendants were dismissed because of similarly generalized comments by President Obama, the Secretary of Defense, the Chief of Naval Operations, and several others below them in the chain in command earlier in 2013. The Judge in Bergdahl's case did not rule directly on the arguments that Bergdahl's attorneys raised during yesterday's hearing, but a ruling will likely come in the near future. According to the last ruling about the timing of these proceedings, the trial itself is supposed to be held sometime this spring, and a ruling could follow the close of evidence either relatively quickly or after the passage of months. We'll likely get a ruling on this issue long before the trial portion of the Bergdahl Court Martial proceedings begin.
The idea that Trump's comments about Bergdahl on the campaign trail could lead to legal problems for the prosecution if Trump were elected President is not new. I first raised the possibility in May of last year when it was apparent that Trump was coasting to a win in the race for the Republican nomination. At the time, of course, the idea that Trump had any reasonable chance of being elected President of the United States was dismissed by most observers, myself included, as being a rather absurd notion. Because of that, concerns about the impact Trump's remarks could have on the proceedings against Berghdal were theoretical at best. Obviously, had Trump lost the election then his comments would not be an issue at all since he would not be part of the military chain of command. As President, though, he sits as Commander in Chief of the armed forces and, just as Obama's comments about sexual assault cases were deemed by at least two military judges, there's at least the possibility that what Trump said as a candidate could be seen as potentially so prejudicial to Bergdahl's rights that he cannot get a fair trial. This would seem to be especially true given the fact that Trump's comments were vehement and spoke about Bergdahl's case specifically. If Obama's generalized comments about sexual assault in the military, which made no mention at all of the cases in which they became an issue, were sufficient to warrant dismissal, then the argument that Trump's comments, which he presumably still agrees with, then surely the potential impact of Trump's words ought to be taken seriously.
As they say, stay tuned……