Army Will Investigate Desertion Charges Against Bowe Bergdahl
It's good that Bowe Bergdahl is free, but questions remain about how he went missing that need to be answered.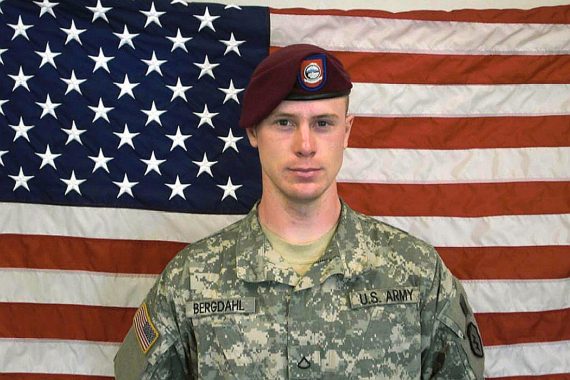 Among the stronger arguments that have developed in the days since Sgt. Bowe Bergdahl was released from Taliban captivity are those that have arisen due to the questions regarding how he managed to become a captive to begin with. For some time, there have been those making the argument that he deserted his post and wandered off into the Afghan wilderness, while others have gone so far as to make the unsubstantiated charge that he was somehow a collaborator with the Taliban. As CNN's Jake Tapper notes, some of the strongest arguments about Bergdahl have come from the soldiers who served with him:
(CNN) – The sense of pride expressed by officials of the Obama administration at the release of Army Sgt. Bowe Bergdahl is not shared by many of those who served with him, veterans and soldiers who call him a deserter whose "selfish act" ended up costing the lives of better men.

"I was pissed off then, and I am even more so now with everything going on," said former Sgt. Matt Vierkant, a member of Bergdahl's platoon when he went missing on June 30, 2009. "Bowe Bergdahl deserted during a time of war, and his fellow Americans lost their lives searching for him."

Vierkant said Bergdahl needs to not only acknowledge his actions publicly but face a military trial for desertion under the Uniform Code of Military Justice.

A reporter asked Defense Secretary Chuck Hagel on Sunday whether Bergdahl had left his post without permission or deserted — and, if so, whether he would be punished. Hagel didn't answer directly. "Our first priority is assuring his well-being and his health and getting him reunited with his family," he said. "Other circumstances that may develop and questions, those will be dealt with later."

Said Bergdahl's former squad leader, Greg Leatherman: "I'm pleased to see him returned safely. From experience, I hope that he receives adequate reintegration counseling. I believe that an investigation should take place as soon as health care professionals deem him fit to endure one."

Another senior Defense official said Bergdahl will not likely face any punishment. "Five years is enough," he told CNN on condition of anonymity.

Questions surround the circumstances of Bergdahl's disappearance. Conflicting details have since emerged about how the militants managed to capture Bergdahl. Published accounts have varied widely, from claims that he walked off the post to claims that he was grabbed from a latrine.

"We really don't know why he left the base and under what circumstances," Pentagon spokesman Rear Adm. John Kirby said Monday. Details of that will come out, he said, adding that the Army has never classified Bergdahl as a deserter and has scheduled the soldier for a promotion next month. But the details around a soldier being taken captive "don't matter," he said, when it comes to the military's response.

"We're going to do all we can to get you back," he said. "That's an obligation that we have, all the people that put on this uniform."

According to firsthand accounts from soldiers in his platoon, Bergdahl, while on guard duty, shed his weapons and walked off the observation post with nothing more than a compass, a knife, water, a digital camera and a diary.

At least six soldiers were killed in subsequent searches for Bergdahl, and many soldiers in his platoon said attacks seemed to increase against the United States in Paktika province in the days and weeks following his disappearance.

"Any of us would have died for him while he was with us, and then for him to just leave us like that, it was a very big betrayal," said former U.S. Army Sgt. Josh Korder, who has the name of three soldiers who died while searching for Bergdahl tatooed on his back.

Many of Bergdahl's fellow troops — from the seven or so who knew him best in his squad to the larger group that made up the 1st Battalion, 501st Infantry Regiment, 4th Brigade Combat Team, 25th Infantry Division — told CNN that they signed nondisclosure agreements agreeing to never share any information about Bergdahl's disappearance and the efforts to recapture him. Some were willing to dismiss that document in hopes that the truth would come out about a soldier who they now fear is being hailed as a hero, while the men who lost their lives looking for him are ignored.

"I don't think I could have continued to go on without being able to share with you and the people the true things that happened in this situation," Korder said Monday. "Because if you guys aren't made aware of it, it will just go on, and he'll be a hero, and nobody will be able to know the truth."
At least some of the correspondence sent by Bergdahl prior to his disappearance seems to create the impression that he was disillusioned about what was happening around him, perhaps even suffering from depression:
E-mails reported by the late Michael Hastings in Rolling Stone in 2012 reveal what Bergdahl's fellow infantrymen learned within days of his disappearance: He told people that he no longer supported the U.S. effort in Afghanistan.

"The future is too good to waste on lies," he wrote to his parents. "And life is way too short to care for the damnation of others, as well as to spend it helping fools with their ideas that are wrong. I have seen their ideas and I am ashamed to even be American. The horror of the self-righteous arrogance that they thrive in. It is all revolting."

Bergdahl wrote to them, "I am sorry for everything. The horror that is America is disgusting."

CNN has not independently verified the authenticity of the e-mails.

Spc. Cody Full, a former member of Bergdahl's squad, tweeted this weekend that before he disappeared, Bergdahl once told him, "If deployment is lame, I'm going to get lost in the Mountains and make my way to China."

Leatherman told CNN that Bergdahl "always looked at the mountains in the distance and talked of 'seeing what's on the other side.' "

Full noted in his Twitter recollections a story that others from Blackfoot Company relay. While soldiers were searching for Bergdahl, a platoon "came upon some children, they asked him have they seen an American. The children said 'yes, he was crawling on his belly through weeds and acting funny a while ago,' " according to Full.

The platoon went to the village where the children said the American had gone. "Villagers said an American did come through the area and was wanting water and someone who spoke English," Full shared.

Korder says he believes Bergdahl was looking for an adventure "without having anybody to answer to" when he left his post.

"He wanted to go see Afghanistan for himself without the Army stopping him or having to tell him what to do," Korder said.
Adding to the misgivings that many are feeling about the totality of the circumstances of this story is the fact that at least six Americans are known to have died on missions that were sent out looking for Bergdahl in the days and weeks after his disappearance. These men were, of course, doing their duty but the fact that they lost their lives on a search for someone who may have walked away from his post for reasons that don't seem to be entirely clear understandably is causing some misgivings and dampening the good feelings that one ought to expect to feel with regard to the release of an American who had been held by the enemy for five years.
Responding to these allegations, and indeed to questions that have been raised about Bergdahl's disappearance since 2009, Martin Dempsey, the Chairman of the Joint Chiefs of Staff, is stating publicly that the Army will investigate the circumstances surrounding Bergdahl's disappearance:
The Army will investigate charges that rescued Sgt. Bowe Bergdahl deserted his post in Afghanistan, Joint Chiefs Chairman Martin Dempsey said Tuesday.

"When he is able to provide them, we'll learn the facts. Like any American, he is innocent until proven guilty," Dempsey said in a post to his Facebook page. "Our Army's leaders will not look away from misconduct if it occurred."

A Pentagon investigation concluded in 2010 that Bergdahl had walked away from his unit before being captured by the Taliban, the Associated Press reported Tuesday. And according to The New York Times, Bergdahl left a note in his tent saying he was disillusioned with the U.S. Army and did not support the U.S. mission in Afghanistan.

Bergdahl has come under criticism from some service members and Republican lawmakers who have accused the soldier of costing American lives in efforts to rescue him in Afghanistan. They have also questioned the decision to free five Taliban militants being held at the Guantanamo Bay prison in exchange for Bergdahl's release.

But Dempsey and other administration officials have looked to separate the rescue effort from questions over Bergdahl's conduct.

"In response to those of you interested in my personal judgments about the recovery of SGT Bowe Bergdahl, the questions about this particular soldier's conduct are separate from our effort to recover ANY U.S. service member in enemy captivity," Dempsey said. "This was likely the last, best opportunity to free him."
This strikes me as an entirely appropriate step for the Army to take. The circumstances surrounding Bergdahl's disappearance and apparent capture have been in doubt for nearly the entire time that he was missing. Indeed, as noted above, the Pentagon had apparently concluded in 2010 that Bergdahl had indeed walked away from his unit and, after that point, there were not further serious efforts to locate and rescue Bergdahl, who was apparently being held in Taliban controlled territory near the border of Afghanistan and Pakistan at that point in any case.  The correspondence and notes that were left behind, along with the comments from his fellow unit members, certainly raise some serious questions that ought to be looked into rather than covered up. Understandably, his parents avoided addressing these concerns during the time that he was missing, but now that he is back in American care it would be wrong to simply sweep the matter under the rug. Desertion is a serious charge in the military, after all, and even if it is eventually decided that Bergdahl should not be punished because of the circumstances of his confinement, if the evidence supports the charges then they ought to be brought forward.
Understandably, this places the Administration in a difficult position. When Bergdahl's release was announced and President Obama appeared with Bergdahl's parents in the White House Rose Garden late Saturday afternoon, President Obama praised Bergdahl as an American solider held captive who was returned home, although he didn't exactly take the next step of praising his actions as a soldier. That task fell to National Security Adviser Susan Rice who, in an appearance on ABC's This Week, said that Bergdahl had "served the United States with honor and distinction" and that "Sergeant Bergdahl wasn't simply a hostage; he was an American prisoner of war captured on the battlefield." Quite obviously, if the allegations against Bergdahl are true, then Rice's statements are patently false and amount to little more than an effort to spin the release in the best way possible.
None of this is to say that it was wrong for the Obama Administration to enter into a deal to get Sgt. Bergdahl home. President Obama was correct on Saturday when he made reference to the nation's commitment to the safe return of soldiers help prisoner in war, a commitment that is seared in American memory in many respects thanks to the legacy of the Vietnam War. With the U.S. committment in Afghanistan coming to an end, it was time to work to bring Sgt. Bergdahl home. None of that should obscure the fact that there are legitimate questions about this young man and how it is he actually happened to end up in Taliban custody. That is something that most assuredly should be investigated and, if the evidence warrants it, charges should be brought. The American people, Sgt. Bergdahl's fellow soldiers, and the men w ho died looking for him deserve nothing less than the truth.