Military Judge Declines To Dismiss Case Against Bowe Bergdahl Based On Trump's Comments
A military judge has rejected a motion to dismiss the case against Bowe Bergdahl based on comments made by Donald Trump when he was a candidate for President.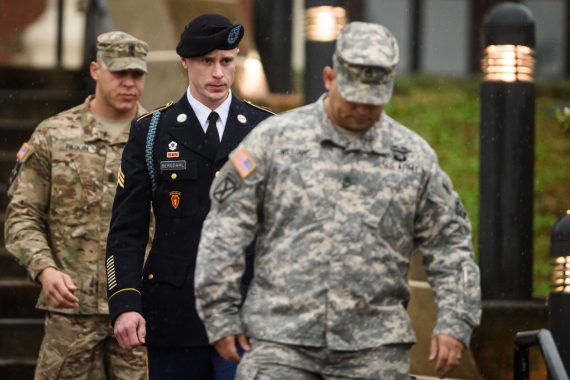 The military Judge hearing the court martial proceeding against Sgt. Bowe Bergdahl on desertion and other charges has ruled that pre-election comments by President Trump did not sufficiently prejudice the case against him to warrant dismissal:
A military judge in North Carolina ruled on Friday that while President Trump's campaign-trail calls for the execution of Sgt. Bowe Bergdahl were "troubling," his statements had not prejudiced the Army's case against the sergeant, and that he saw no reason to dismiss the serious charges against him.

Sergeant Bergdahl, 30, faces a court-martial as soon as April on charges of desertion, which carries a potential five-year sentence, and endangering troops sent to search for him, which carries a potential life sentence. The charges came after he walked off his remote Army outpost in Afghanistan in 2009 and was held captive by the Taliban for five years, until President Obama approved a deal to swap him for five detainees from Guantánamo Bay prison.

While campaigning last year, Mr. Trump repeatedly denounced Sergeant Bergdahl as a "dirty rotten traitor," and even mimicked the sound of a rifle as he pantomimed a firing squad executing him.

After Mr. Trump was sworn in as president, Sergeant Bergdahl's lawyers asked the military judge handling the case, Col. Jeffery R. Nance of the Army, to dismiss the charges. They said a fair trial was now impossible given such inflammatory comments from the man who is now the military's commander in chief.

In his ruling on Friday, Judge Nance wrote that Mr. Trump's statements "were disturbing and disappointing," and carried a "problematic potential" for the case.

But the judge concluded: "No reasonable member of the public, apprised of all the facts and circumstances and seeing campaign rhetoric for what it is, would believe that because candidate Trump said those troubling things and is now President Trump, the accused has been or will be denied a fair trial."

Sergeant Bergdahl's chief defense lawyer, Eugene R. Fidell, said he would appeal the ruling to the United States Army Court of Criminal Appeals on Monday.

"The issues presented are of tremendous significance for the rule of law in the armed forces and the integrity of the military justice system," Mr. Fidell said during a telephone interview.

Mr. Fidell had contended that Mr. Trump's statements constituted "unlawful command influence," which is defined in military case law as commanders or anyone with the "mantle of command authority" wrongly taking actions that influence decisions about a defendant's fate.

Since all the officers who could play a role in deciding the outcome of Sergeant Bergdahl's case — including the judge and jurors — now ultimately report to Mr. Trump, they cannot be impartial in deciding guilt or innocence, Mr. Fidell argued.
As I noted when I wrote about this motion a few weeks back, Trump's attacks on Bergdahl as a candidate weren't limited to a single instance. Usually, they were used as a proxy for an attack on President Obama and his policies in the war on terror, including policies that included the release of certain prisoners from confinement at the prison on the American base at Guantanamo Bay, Cuba. Over the course of his campaign, he referred to him at various points as a "dirty, rotten traitor," as a "traitor" who should be executed for his crimes, although Bergdahl does not face the death penalty in the instant case against him, and he repeated those charges at various times during the campaign. So far at least, though, Trump has not made any similar comments since winning the election or since becoming President in January, and that appears to be the distinction that the Judge handling case is relying upon in his ruling.
The defense argument in this case relied on an idea called 'undue command influence' that is unique to the military criminal justice system and exists primarily due to the fact that due to the nature of the chain of command in the military. Essentially, it is designed to ensure against the possibility that the officers and the Judge hearing the case against Bergdahl, or any other military criminal defendant, aren't unduly impacted by superior officers who are actively trying to influence the outcome of a criminal case one way or the other, or who appear to be doing so to the extent that the members of the jury or the Judge might feel that they are being compromised in their effort to not consider anything other than the facts, evidence, and law presented to them at trial. In its most recent application in cases that became public, the doctrine was used to dismiss sexual misconduct charges after President Obama and top military commanders had made public comments about the importance of cracking down on sexual assault cases in the military. Those generic comments were later found sufficient to warrant the dismissal of claims against a Marine and a member of the Navy.
Had Trump been President when he made these comments, it's entirely possible that the outcome of this ruling would have been different. Also, if Trump were to repeat these or similar comments while Bergdahl's trial is pending then it is likely that his attorneys will renew their motion and that the outcome will be different given the fact that Trump is now Commander in Chief. It's also possible that this ruling will be overturned on appeal. As things stand now, though, the case against Bergdahl will continue to move forward, although there may be a delay while the appeal of this motion is considered.